The NFL has not only devalued the safety position in terms of contracts handed out in recent years. The league has also devalued the position in terms of NFL draft slot.
We haven't seen a single safety go in the first round in the past two years. But that's going to change in 2022, and if early evaluations hold, we could very well see multiple players reversing that trend because of how talented this safety class is at the top.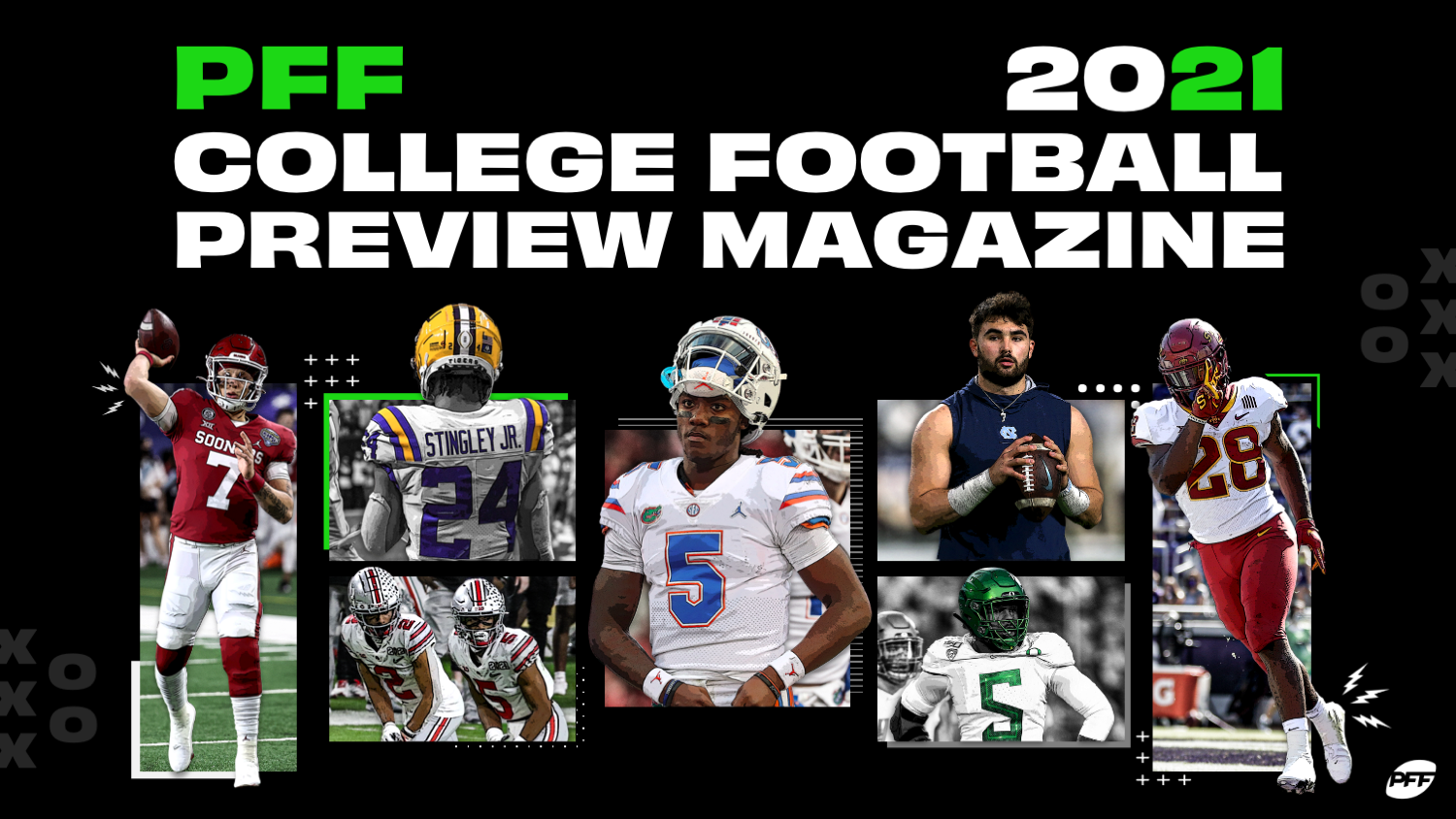 I didn't think I'd be talking about any safety prospect in the same breath as Derwin James anytime soon, but Hamilton deserves to be in that conversation, given what he's done his first two years with the Fighting Irish. Listed at 6-foot-4 and 219 pounds, Hamilton is not your average safety by any means.
His unique size makes him a weapon in many different ways. While his weight would usually suggest box safety or linebacker in today's NFL, that's not the case with Hamilton. In two seasons for the Irish, Hamilton has already broken up 11 passes and picked off five more. Here he is mirroring a dig route from second-round pick Tutu Atwell last season:
Kyle Hamilton (Notre Dame SAF #14) gets in the hip pocket of the WR on this crosser and makes a great play. Love the effort! pic.twitter.com/Kiyt2Ofjdz

— Russell Brown (@RussNFLDraft) June 19, 2021
The high-level plays in coverage are littered all over his tape, while his combination of range and instincts is unlike anything we've seen from a safety his size. One of my favorite aspects of Hamilton's game, though, is his fearlessness. He attacks with little regard for his own well-being and shows no hesitation when coming downhill. Any scheme in the league could use Hamilton's skill set.
Battle got lost in the shuffle a bit with all the other big names on Alabama's championship roster, but he played a key role in his own right. He's got the modern, do-it-all skill set NFL evaluators will love, lining up almost everywhere for Alabama's defense across 1,220 snaps through two years. And he graded out very well in the process (80.9 overall this past season).
Jordan Battle laid the hit stick ????

(via @CBSSports)pic.twitter.com/pkaElwrmKh

— Bleacher Report CFB (@BR_CFB) October 3, 2020
Battle's range is tremendous for a 210–pounder, and it's that size that makes him such a versatile weapon. While there are a few instances of him getting cooked on tape the past two years, the good far outweighs the bad.
Subscribe to
If you want a rangey single-high safety, you've come to the right prospect. Joseph can flat-out scoot; he garnered six picks in only nine games last season in his first season as a starter. While there were some "gimmes" in there, that number didn't come about by pure luck.
Favorite part of Northwestern safety Brandon Joseph (@BrandonJoseph_1) is his quick diagnostic skills. He sniffs out the jet touch pass in a flash… able to flow inside-out and make the stop.

Jessie Bates vibes early.

Also… abolish touch passes counted as passes. It's dumb. pic.twitter.com/KGGP1MqqQH

— Ryan Roberts (@RiseNDraft) July 26, 2021
Joseph is a tad small for the position at 192 pounds, but it's not a massive deal considering his best role will come downfield or covering the slot. The NFL sorely lacks rangey middle-field players, meaning Joseph may get coveted even more than most traditional safeties come draft time. 
Brisker is nearly the polar opposite of the player above him on this list. He's the box safety prototype and may even get some run at linebacker at the next level. That's how physical Brisker plays the position. At 6-foot-1 and 212 pounds, Brisker is in the running for biggest hitter in the country.
Wake them up then! @JaquanBrisker

Best safety in the country right here. He can make the open field tackles, has incredible awareness when the ball is in the air, and isn't afraid to make the big hit. #WeAre ????⚪️

???? @SEditzhd pic.twitter.com/kEF9PAw1d1

— The Basic Blues Podcast (@BasicBluesPod) May 19, 2021
And unlike some big hitters, Brisker's playstyle is far from reckless. He earned one of the highest run–defense grades of any safety in the country last year at 86.7. The Penn State safety made 59 tackles on the season while only missing one. While you can get by with him as a deep safety, Brisker is a guy you want around the ball.
Smith may be short — he is listed at 5-foot-10, so probably 5-foot-9 — but don't call the 198-pound defensive back small. No other player in the country blows up wide receiver blocks on screens quite the way Smith does, and he's got the kind of aggressive play style that you can't help but root for.
He's racked up 51 defensive stops over the past two seasons, fourth among all returning defensive backs. He's also broken up nine passes and picked off two more. Those are absurd numbers for a player only two years into his college career.
After manning the overhang/slot role in West Virginia's defense over the past two years, Smith transferred to Georgia this offseason.
Somehow Tykee Smith is still underrated

(via @JBP_Official)
pic.twitter.com/PEqD6mTv9W

— PFF College (@PFF_College) July 7, 2021
While I said above that Hamilton is a rare breed at the safety position at his size, Weatherford is actually listed as the same height (6-foot-4) and two pounds heavier (221 pounds). Still, he's no box/linebacker hybrid. Weatherford broke up eight passes and picked off another in his last full season (2019) while playing primarily as a deep safety. He's physical enough in the run game to switch to linebacker if NFL teams so choose, but he has shown more than capable enough in coverage to stay at true safety, as well.
There is a lot to like with #MiamiOH safety Sterling Weatherford. Makes plays from depth as a single high safety, as a overhang defender, and as a second level defender.

Great instincts, physical player who flashes tools, with tons of versatility for next level.#BlueChipSummer pic.twitter.com/CrHO4wmrzJ

— Devin Jackson (@RealD_Jackson) July 17, 2021
Prospects to Watch
The 2022 class is chocked full of tall safeties, and the 6-foot-4 Pola-Mao certainly qualifies as one of them. But unlike some of the other tall safeties in this class, Pola-Mao is primarily a deep safety in USC's scheme. That length played far more when he was around the line of scrimmage. Watching him press tight ends last season looked like child's play for him. Here's hoping we see a little more of him in a playmaking role around the line in 2021.
Sterling is one of the most consistent safeties in college football and has very few holes in his game. It's why he's earned coverage grades of 83.7 and 85.3 the past two seasons in the pass-happy Big-12. His 65 total stops the past two seasons were the most of any defensive back in college football. It's his physical traits for the position that still leave something to be desired, as Sterling doesn't quite have the desired length and range that get draft early.
Bolden's description will read much like the opposite of Sterling's above. He has all the traits you could want at 6-foot-3, 204 pounds, and was an all-everything recruit who started at USC before transferring to the Hurricanes. And while an injury-plagued 2019 saw him only play five games, he played a healthy 662 snaps in 2020. His 66.7 overall grade is indicative of the up-and-down player he is at this point. The flashes are special, but he still has too many missed tackles — 16 on 89 attempts — and missed assignments. 
Corker is a physical presence in the middle of Kentucky's defense with a stingy track record in coverage. Over the past two seasons, Corker has only allowed 28 catches from 49 targets for 305 yards in his coverage. He's also a reliable tackler, with 20 misses on 165 career attempts. He may not be the most "toolsy" safety at 6-foot, 197 pounds, but he gets the job done.
Blankenship is a former Bruce Feldman's Freaks List member who has some legit range and coverage skills. He's been a four-year starter for Middle Tennessee but decided to return for a fifth year after an uncharacteristically ugly 2020 that saw him earn easily the worst grade of his career (42.0 after never grading below 68.8). He's not a physical player and often times seems like a square peg in a round hole at safety. Blankenship could be a slot or corner transition candidate.
Superlatives
I'm not going to speculate to Joseph's 40 time, but I'll just say that watching his tape elicited a similar reaction to watching Darnell Savage when he was coming out of Maryland (Savage ran a 4.36). The uncanny ability to crank it up to full speed in the blink of an eye and take a straight line to the ball without needing to alter course is the same. That's what you want in a first-round safety.
Single-high, split field, slot, box, press, blitzing — you name it, Hamilton is probably one of the best at the safety position in college football at it. He is the defense's answer to modern offenses.
.@Jordan_Reid recently highlighted this play from Notre Dame safety Kyle Hamilton. #Elite pic.twitter.com/GO9Tm70rL6

— Matt Freeman (@mattfreemanISD) May 21, 2021
We'll likely find out if he can be more than just a slot defender this season, but even if that's all you're getting, Smith is still the best slot option in the class. The talented defensive back has earned an 84.3 overall grade across 703 slot coverage snaps — the highest of any returning Power Five defender. 
The game Tykee Smith had against TCU was spectacular.

I saw just 2 targeted passes, 0 catches allowed and an INT on an incredibly savvy play on an RPO to ice it against TCU.@WVUfootball has themselves a gem at their SPEAR position in @TykSmith pic.twitter.com/9x0QnvQqmc

— Cam Mellor (@CamMellor) November 14, 2020
Brisker has been the highest-graded returning safety in the country from a box alignment over the past seasons. You won't find a more willing run defender at the safety position in college football.
Jaquan Brisker has really had himself a solid season, confidence on display to crash down on this play so aggressively. pic.twitter.com/8rz6nC3CjH

— Ben Jones (@Ben_Jones88) December 6, 2020
As mentioned above, Brisker missed a grand total of one tackle all of 2020 on 60 attempts. He not only wraps up extremely well, but he also brings a thump into contact that will play at every level.
#PennState S Jaquan Brisker was heading to the Senior Bowl 6 months ago before deciding to take the NCAA up on the extra year of eligibility

Very versatile DB. High school CB now playing SS. Really reliable tackler – he rarely misses! Excited for Year 2 as a starter #WeAre pic.twitter.com/McyaRqiR5L

— Fran Duffy (@EaglesXOs) May 26, 2021
Just watch:
Wowwwww Northwestern's Brandon Joseph pick off Justin Fields with an incredible one-handed interception https://t.co/k9BGKrYhD4pic.twitter.com/QO8H4qq6dd

— For The Win (@ForTheWin) December 19, 2020
Joseph picked off six passes in his first year as a starter and few came easy. He attacks the ball in the air the way a receiver would (or should).