With just one day remaining before the 2021 NFL Draft kicks off in Cleveland, PFF's Big Board is finalized. I decided to make use of that board, in conjunction with The Athletic's Consensus Big Board, to identify potential values and reach candidates over the next few days.
I compared the ranks on the consensus draft board to the ranks for players inside the top 100 on PFF's Big Board to locate the biggest differences from that group, both positive and negative. Naturally, there will be bigger differences for players who PFF views more highly. That's to be expected when the sample consists of only our top 100 players.
We'll kick things off with PFF's CB9 and consensus CB20.
View PFF's 2021 NFL Draft position rankings:
QB | RB | WR | TE | T | iOL | DI | EDGE | LB | CB | S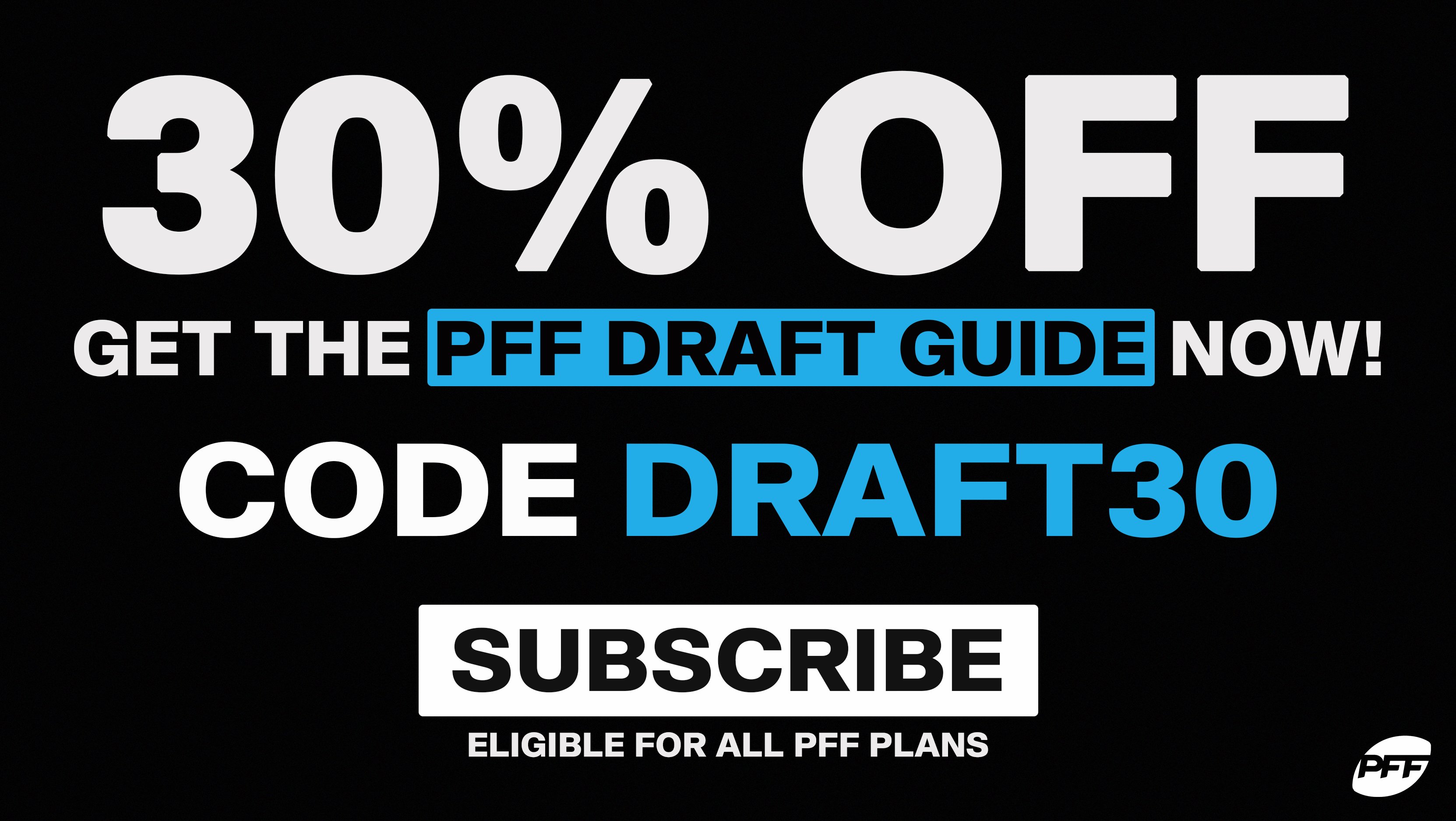 Best potential values according to PFF's Top 100
Difference: +142 spots on PFF's board
Gowan's career began at Miami (OH) before he transferred to JUCO Butler Community College and later UCF. He also opted out of the 2020 season due to COVID-19 concerns — specifically, the health of his daughter. As a result, Gowan has one year of FBS tape, which came in 2019 against AAC competition. It's not hard to see why he would be lower on most people's draft boards. There was a lot to like about that 2019 campaign, though. 
He checks the boxes physically at 6-foot-1 with good speed and a fluidity to his movement in coverage. The production was there, as well. Gowan allowed just 20 of the 50 passes thrown into his coverage to be completed while notching two interceptions and seven pass breakups. It may be a small sample, but it's one that could make a team happy in the later rounds if he slides.  
Difference: +100 spots on PFF's board
Tennessee's offense did not do Palmer any favors. Just over 37% of Palmer's targets across his final two seasons with the Volunteers were charted as uncatchable. For reference, the highest overall rate among all Power Five offenses in that span was 34.0% (Georgia Tech). It's not surprising that his production underwhelmed when put in that context. 
Palmer was used primarily in a vertical role with Tennessee. He showed that he can win in that role as one of the few wideouts to beat Patrick Surtain II deep, but there is a suddenness to the way he runs routes that indicates he can be more than a deep threat. 
He's a prime candidate to be a more productive NFL wide receiver than he ever was in the college ranks. 
Difference: +74 spots on PFF's board
The knock on Johnson is his length (32-inch arms) and the weak level of competition he faced at Tulane. His tape provides reason to overlook some of those concerns, though.
Johnson exploded onto the scene with a 91.3 pass-rushing grade and 44 total pressures as a sophomore in 2018. He earned an 85.2 overall grade on over 2,000 defensive snaps over the past three seasons, profiling as one of the more productive edge rushers in this draft class. 
Johnson isn't quite as undersized as some PFF college darlings of the past, like Sutton Smith. Additionally, he has a good "feel" as a pass rusher, does a good job of using his hands and tested well at his Pro Day. That should give him a chance to outplay his expected draft position in the NFL. 
Difference: +68 spots on PFF's board
Graham joins teammate Jevon Holland as a top-100 player on PFF's Big Board. However, he sits at 144th overall and CB14 on the consensus board. 
Graham could be dinged by NFL teams for opting out of the 2020 season, but he does have three years of 800-plus defensive snaps on tape. The best way to describe his play over that stretch, particularly across the 2018 and 2019 seasons, might be "solid." Graham made plays on the ball (32 combined pass breakups and interceptions at Oregon) and limited offensive production reasonably well, allowing an 83.4 passer rating into his coverage. 
His bottom line in the PFF Draft Guide reads, "Graham looks like one of the more scheme-diverse and versatile corners in this class. He just doesn't quite have the high-end traits." 
There are worse things to be labeled as a cornerback than steady and versatile. 
Difference: +66 spots on PFF's board
Little is the only player in this section who PFF has labeled as a first-round talent — 26th overall on the final big board. That's good for OT4, behind only Penei Sewell, Rashawn Slater and Christian Darrisaw if Alijah Vera-Tucker is grouped with the interior offensive linemen. That's quite the contrast with a consensus big board that lists Little as the 92nd-ranked prospect overall and OT13. 
The reasoning behind our ranking really comes down to Little's traits. He was a top-10 overall recruit coming out of high school. The athleticism and physical traits are both there. He showed in his true sophomore season at Stanford that he could pass protect at a high level, as well. Little came away from that season with an 81.2 pass-blocking grade. 
The issue is that he has played just 72 total snaps since that season because of injury and a 2020 opt-out, leaving him no opportunities to showcase continued development. NFL teams will have to imagine that development, which could allow a team to snag a first-round talent at tackle on Day 2.
Potential reaches according to PFF's Top 100
Difference: -43 and -36 spots on PFF's board
Part of this disconnect is that PFF's board has Javonte Williams as RB1, whereas he is listed as RB3 on the consensus board. The bigger reason for the discrepancy in rankings is the valuation of the running back position. Even Williams ranks just 53rd overall on our board.
Harris' smoothness and receiving ability for a running back of his size is impressive, and Etienne brings elite burst and multiple years of production in Clemson's offense with him. Both are in a similar tier as Williams and wouldn't be a reach if they were the first running back drafted. But it all depends on where that selection falls in the draft order. 
It's just tough to get behind a team — say, the Pittsburgh Steelers at 24th overall — selecting a running back in the first round with other pressing needs at more valuable (and scarce) positions on the roster.  
Difference: -32 spots on PFF's board
The interior defender position has little clarity across boards in the industry, largely due to the weakness of this class as a whole. 
Onwuzurike turned in a dominant 2018 performance (90.8 PFF grade) at Washington in a rotational role. There was no progression from that point, though. He took a small step back as a starter in 2019 and then opted out of the 2020 season. Consistency was the main issue in an increased role two seasons ago. 
Onwuzurike is still the fourth-ranked interior defender on PFF's board, and there are reasons to think he can be successful in the NFL. He's a plus athlete for the position who can explode off the line of scrimmage and get after the passer. You can also make the argument that Onwuzurike would have been more productive at Washington had he not been playing out of position at nose tackle as often as he did. 
There are just a few things on tape that give us more pause than most.  
Difference: -23 spots on PFF's board
NFL teams will value Stokes' combination of size, speed and explosiveness at the cornerback position. He was relatively steady for Georgia over the past three seasons, posting coverage grades of at least 73.0 each year. Stokes allowed just 145 yards into his coverage in nine 2020 starts while intercepting four passes, though that number may overstate his instincts in coverage given the quality of those interceptions. 
The reason PFF is lower on Stokes than the consensus is that he didn't look very fluid on tape. He didn't participate in any of the change-of-direction drills at his Pro Day to put a stop to those questions, either. Stokes also could be heavily impacted by the differences in the illegal contact rule between college and the NFL, similar to what we saw with DeAndre Baker coming out of Georgia. 
A cornerback with solid size, great speed and quality press-man experience will generate interest from NFL teams — just maybe not in the first round given some of the other concerns with his game.  
Difference: -23 spots on PFF's board
Tryon is the second Washington defensive lineman to find his way onto this list. He joined Onwuzurike in opting out of the 2020 season. The main difference is that Tryon had yet to produce at a high level in the college ranks in any role, earning a 65.6 PFF grade in 2018 and a 67.7 grade in 2019. The physical traits and attacking mentality are there for him to become a high-end pass rusher, but he still has a ways to go technically given what we last saw from him. 
Tryon does boast ideal size and length for the position, and his explosiveness was apparent at his Pro Day. People around him have also talked about how he rebuilt his body during the year off in 2020. Onwuzurike said of Tryon in an interview with PFF's 2 for 1 Drafts podcast, "I don't know if you've seen him now … dude is big as hell. He's just been working his ass off." 
That kind of work ethic paired with Tryon's physical gifts gives reason to believe his technique will come along. But there are edge defenders in this class with high-end traits and better on-field production than Tryon.
---
More of PFF's 2021 NFL Draft tools here: 
2021 NFL Draft Big Board | 2021 NFL Draft Guide | 2021 NFL Draft Stats Export | NFL Mock Drafts | NFL Mock Draft Simulator