The 2021 quarterback class is hands down the single best PFF has ever scouted in its seven years of grading college football. That means these superlatives are quite literally the best of the best.
The sheer talent in this class made these superlatives quite easily the most hotly contested of any positional group in the draft.
View PFF's 2021 NFL Draft position rankings:
QB | RB | WR | TE | T | iOL | DI | EDGE | LB | CB | S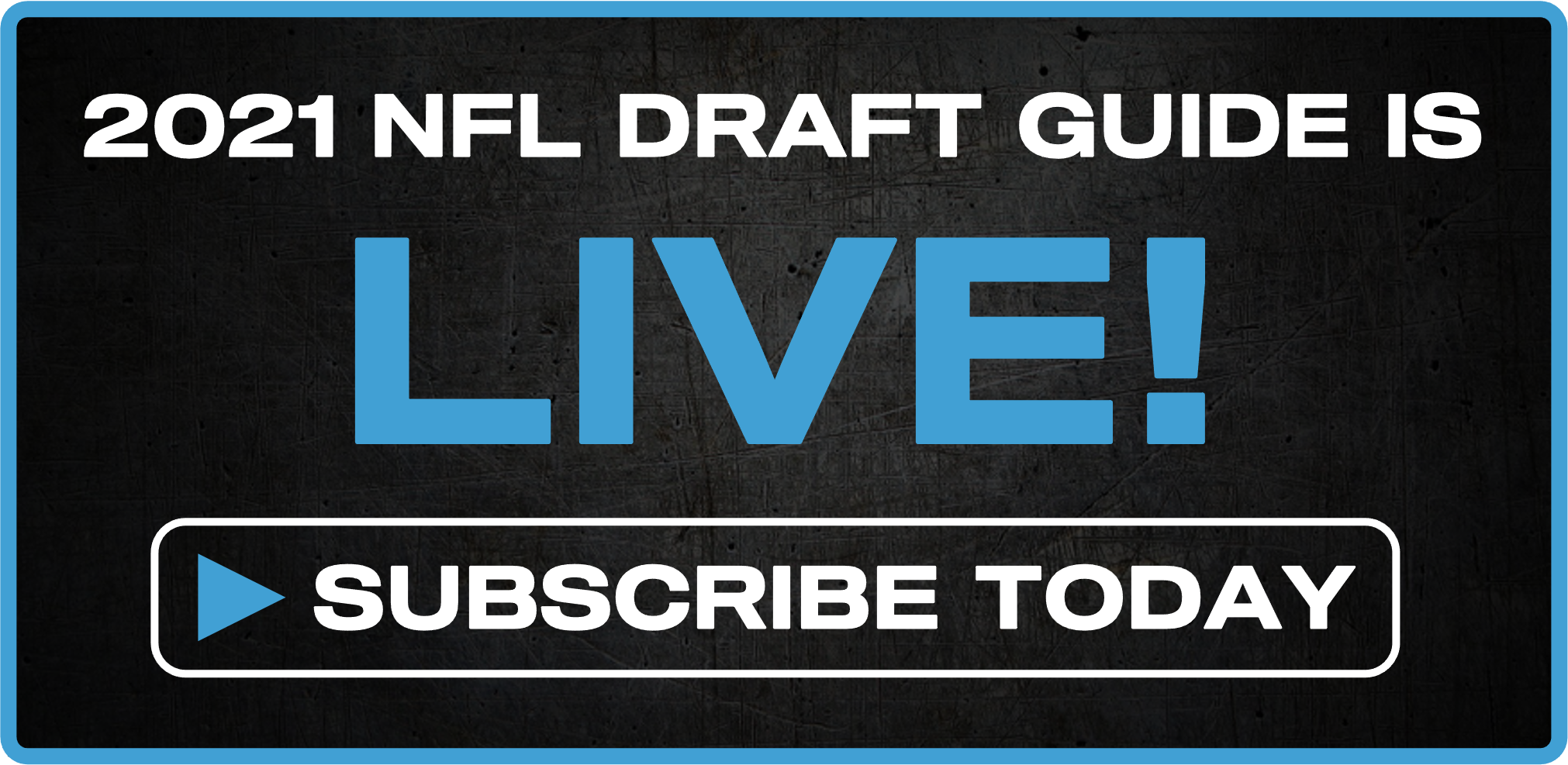 Not only does Lance have easy juice on the ball already, but there's also reason to think he could get even stronger because he is the youngest quarterback in the draft. Even in only one season of play, Lance still has throws all over his tape that make you say "wow" with the velocity he puts on them.
The farthest career throw from Trey Lance

~62 yards

(2019 vs. Montana State, Q1 3:03) pic.twitter.com/HFel8hWRhq

— Mike Renner (@PFF_Mike) February 8, 2021
That's arm talent.
We'll let PFF's ball-placement charting do the deciding here. Justin Fields is tops in the class on all passes thrown five-plus yards downfield over the past two seasons with a 61.6% on-target rate, narrowly edging out Alabama's Mac Jones. That's not quite at the 66.1% we saw from Joe Burrow last year, but it far outpaces most of the other top quarterbacks in the class. No one besides Jones (61.5%) in the class is within five percentage points.
Justin Fields can thread the needle ???? @OhioStateFB pic.twitter.com/78AjC8Pi5b

— ESPN College Football (@ESPNCFB) April 5, 2021
Lawrence still racked up deep shots despite never having a true sub-4.5-40-yard-dash type of wide receiver on the outside. His 77 career deep completions are 12 more than the next closest quarterback ranked in the top-10 of the 2021 draft class (BYU's Zach Wilson).
An absolute dime from Trevor Lawrence at his Pro Day ???? @Trevorlawrencee @ClemsonFB

(h/t @nflnetwork) pic.twitter.com/8Crvg1cmmB

— The Checkdown (@thecheckdown) February 12, 2021
This is Jones' calling card, as he thrives within the tempo of the offense. No one came close to Jones statistically on "in-rhythm throws." His 97.6 passing grade, 13.4 yards per attempt and 152.5 passer rating on these plays led college football. Jones got the ball where it needed to go consistently for the Crimson Tide.
Can somebody find me a better timing/anticipation throw than this one by Mac Jones from any of the other QB prospects in this draft? pic.twitter.com/uSqdypcDOj

— Jamal (@FinessedBuckets) March 24, 2021
While there is no shortage of athletes at the position in this class, Lance not only has the physical tools, but he also has the on-field proof. He racked up 823 yards on 101 designed runs in 2019 and 327 yards on 33 scrambles, as well. Over his career, he averaged over 9.0 yards per attempt, and 18 of his 154 rushes ended up with a score.
Great run from Trey Lance to start the second half. He reads in between the tackles like a RB and is tough to bring down with his size and speed.

His throws have been suspect, but he's looked the part as a runner today. pic.twitter.com/0CCwWWuUCh

— Jacob Infante (@jacobinfante24) October 3, 2020
Best Outside the Pocket: Zach Wilson
This is Wilson's special trait that has him penciled in behind Trevor Lawrence on the PFF draft board. The man doesn't have to have his feet set in the pocket to drop dimes. His 86.4 passing grade outside the pocket in 2020 was the highest of any quarterback in the class. He averaged 9.3 yards per attempt, completed 65.5% of his passes and recorded a passer rating of 127.2 on throws outside the pocket. That's doing work.
I'm ready to start talking about BYU QB Zach Wilson as a first-rounder pic.twitter.com/9JLHgLYd4o

— Mike Renner (@PFF_Mike) October 5, 2020
This one was hotly contested, as truly none of the top quarterback prospects have had near the turnover issues we've seen from first-rounders such as Jordan Love, Sam Darnold or even Deshaun Watson in recent seasons. However, it's hard to go against Lance as he only threw one pick and had six turnover-worthy plays in his entire college career. To start as a redshirt freshman and protect the ball that well — even if it is against FCS competition — makes him easily deserving of this superlative.
While Lawrence has had several highly touted receivers over his time at Clemson, the same can't be said for his offensive line. Guard John Simpson (fourth round, 2020), right tackle Tremayne Anchrum (seventh round, 2020) and left tackle Jack Carman (likey Day 2, 2021) are the only Clemson offensive linemen who have been drafted, or will be drafted, in Lawrence's tenure. Still, he's averaged fewer than 16 sacks a season and has been excellent at avoiding those plays altogether. It's arguably the biggest reason why most feel so confident about him as a prospect.
Trevor Lawrence's pocket presence is literally elite. pic.twitter.com/93CPOFInhF

— Jaguars United (@Jaguars_United) March 28, 2021
Not that there was really any other way to slow down Alabama's offense in 2020, but blitzing certainly didn't work. Jones led college football in every single statistical category when blitzed last season: yards (1,365), touchdowns (18), yards per attempt (11.4) and completion percentage (77.5%). Maybe most impressively, Jones was only sacked three times on 124 blitzed dropbacks.
Mac Jones beating the blitz. ????#TheDraftStartsInMobile pic.twitter.com/mLZ1sgPY3p

— Jim Nagy (@JimNagy_SB) February 21, 2021
Worst Supporting Cast: Kellen Mond
While he had a solid offensive line by his senior season, Mond worked with who's who of big, slow receivers who couldn't separate worth a lick in his Texas A&M career. None of the wide receivers he's thrown to over the past three years have been drafted. If Jhamon Ausbon changes that this year, it will be late on Day 3 (true sophomore Ainias Smith will change that whenever he declares in the future).
Working with that against SEC corners is no easy task and must be factored into Mond's evaluation.
Wait. Kellen Mond did what?! ???? pic.twitter.com/Kom2fw1mOE

— Pro Football Network (@PFN365) March 30, 2021
Quickest Decision Maker: Davis Mills
Mills gets the ball out of his hands at the kind of pace NFL evaluators are sure to love. In fact, his 2.39-second average time to throw in 2020 on plays that weren't screens, RPOs or play action was the fastest in the draft class. That's a tenth of a second faster than the next closest quarterback (Trevor Lawrence, 2.49 seconds) and over two-tenths quicker than Mac Jones.
#Stanford QB Davis Mills (6-foot-4, 217) —

Can attack all levels of the field from the pocket. Footwork + the ability to throw with anticipation. Former five star recruit — with developmental upside. @NFLMatchup pic.twitter.com/nlSc3VEvWL

— Matt Bowen (@MattBowen41) March 30, 2021