Of all the position groups in the 2021 draft class, this edge class may be the one that turns into the biggest crapshoot if we don't see college football this fall. The amount of pure, physical talent in this class is unlike any other in recent memory — there are four or five guys who could end up as top-10 picks next spring if they put it all together this season.
[Editors Note: PFF's customizable NFL Mock Draft Simulator gives you the opportunity to be the GM of any team and is now updated with a select group of 2021 prospects] 
1. Greg Rousseau, Miami (FL)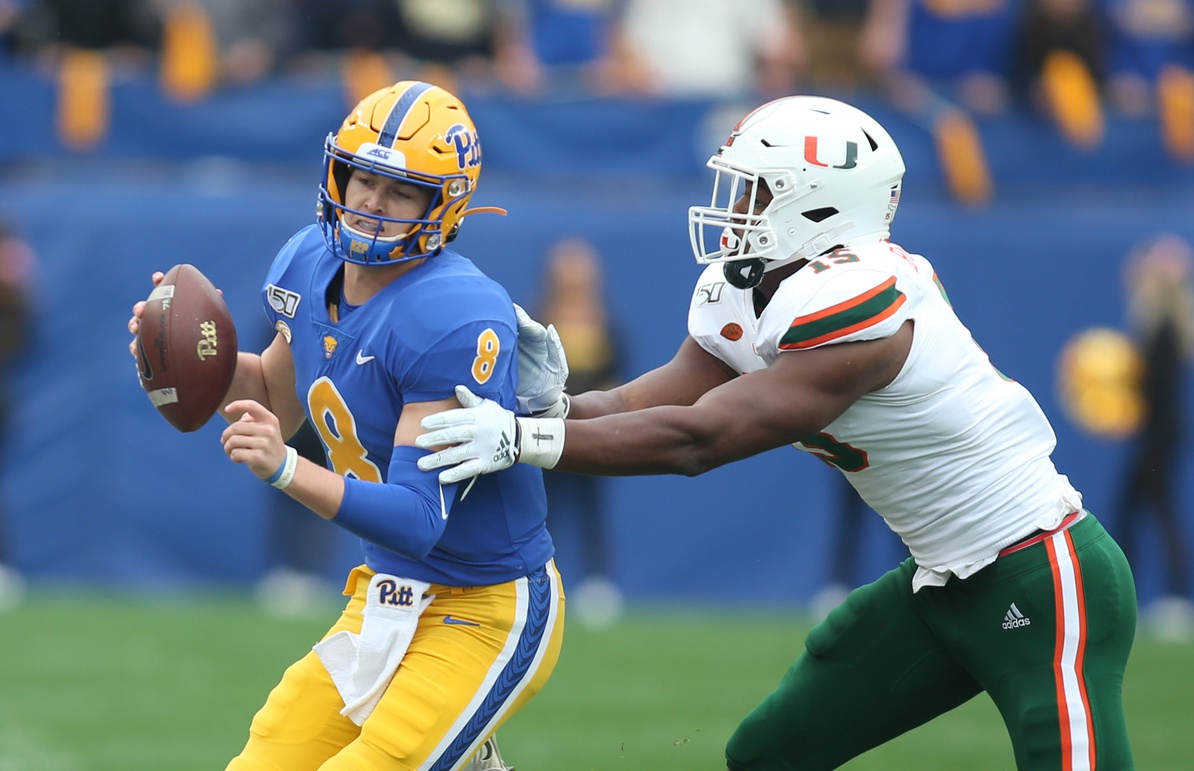 Rousseau has already announced that he's opting out in 2020 to prepare for the 2021 NFL Draft. I wrote at the time why his decision was a little different from the players who previously opted out. Basically, for as freaky as Rousseau is physically, and as impressive as his 16 sacks were last season, his down-to-down consistency in 2019 was sorely lacking. Those 16 sacks came with only 46 pressures and an 80.7 pass-rushing grade.
There are a couple of obvious caveats here:
1. It was his very first season of college football after hurting his ankle in 2018.
2. He played last season at 247 pounds and is reportedly up to nearly 270 now.
With those in mind, we expected nothing short of dominance from Rousseau in 2020, but now we have only 529 snaps from 2019 and a 2021 combine performance to base an evaluation off. The reason I'm still so high on Rousseau, though, is that you see it. It may only come in flashes, but the high-end reps are scintillating.
Gregory Rousseau's FSU tape is nsfw, IOL had no answer for him.pic.twitter.com/b0Pb3GHoI4

— Austin Gayle (@PFF_AustinGayle) July 21, 2020
His combination of length and bend at his size is rare, and it presents so many problems for opposing offensive linemen — especially when he kicks inside — as you can see in the clips above (120 of his 529 snaps last year came between the tackles). With his frame, he could end up as an Aldon Smith-type rusher who can routinely control every single interaction he's a part of.
2020 Outlook
Thankfully for Rousseau, the NFL gives far less credence to on-field production than we do here at PFF. His inconsistency won't do his draft stock any favors, but some GM is going to fall in love with the physical skill set he brings to the table. I doubt he falls out of the top-10 in 2021.
2. Carlos Basham Jr., Wake Forest
Basham's combination of size and explosiveness is about as good as it gets in the country — he reportedly has a 36-inch vertical at 280 pounds. When you pop on the tape, his get-off is evident immediately. Combine that with some prodigious raw power, and you can see why he had multiple games last season with double-digit pressures.
Some college tackles cannot physically match up with Basham. The problem is that he still hasn't consistently bought into a style of play. He could work almost all his moves off the bull rush and be a pure power 4-3 defensive end in the style of a Cameron Jordan or Brandon Graham. Yet, he's almost too agile for his own good and tries to get cute with his rushes at times. That's not going to be his game in the league.
What will be his game is consistent pocket-pushing and ironman qualities. Even as a jumbo defensive end, Basham doesn't come off the field; he's played 750-plus snaps in each of the past two seasons and racked up over 50 pressures in each of them. That sort of workload will be looked favorably upon come draft time.
2020 Outlook
The biggest thing this season will be refining his bull rush. Sinking low consistently into and through contact will be a must. That should be his meal ticket in the NFL, and there's no reason to think he can't be a higher pick than someone like Marcus Davenport (Pick 14 in 2018), who had a fairly similar skill set.
3. Chris Rumph, Duke
Rumph is the most polished defensive lineman in college football (possibly related: his father is the outside linebackers coach for the Texans). The pure bevy of moves he has at his disposal is awe-inspiring for a college edge rusher.
With Rousseau opting out, I think the top pass rusher attention on the field this year turns to @DukeFOOTBALL's Chris Rumph

His performance vs. Miami last year is one of the best 2021 prospect games I've watched pic.twitter.com/ZxSBUDEono

— Connor Rogers (@ConnorJRogers) August 6, 2020
The scary thing is he can do it from anywhere. Rumph generated a 33.1% pass-rush win rate and a 92.1 pass-rushing grade on 121 pass-rushing snaps off the edge. And he had a 28.8% pass-rush win rate and 90.9 pass-rushing grade on his 66 pass-rushing snaps from the interior. Those are elite production numbers and a testament to how refined his entire skill set is. Even at his size, he can still play with power and even has bull-rush pressures on his tape.
The elephant in the room is that Rumph is a mere 6-foot-3, 225 pounds. Even the most successful edge rushers in recent memory who came into the league super light — Robert Mathis (235 pounds) and Cameron Wake (236 pounds) — ended up being listed at 245 and 263 pounds, respectively. What I'm trying to say is, Rumph better pack on some mass ASAP or else he's getting moved off-ball.
2020 Outlook
The two questions looming for Rumph are: Can he put on weight? And what will his game look like with that weight? Agility is a massive part of his arsenal, and he can't afford to lose his quicks. Just watch him give first-rounder Jedrick Wills Jr. the business with that ability to stop on a dime.
We have a winner! Perfect undersized college pass-rusher at 6-3, 225 pounds. No clue what he'll be in NFL or how Duke has the best pass-rusher, but he's dominant https://t.co/slxDbEhFEd pic.twitter.com/UeU0ml2Lhu

— Mike Renner (@PFF_Mike) April 29, 2020
Right now, I believe that he'll get there physically, and that's why he's ranked where he is.
4. Aidan Hutchinson, Michigan
We are likely going to be higher on Hutchinson than the NFL will be given the skill sets often coveted highly in the draft. When you see him running out in space like the clip below, you'll see he's nowhere near the level of athlete as others on this list.
Aidan Hutchinson takes the air out of his gap before showing off his motor & running down the ball carrier. @aidanhutch97 takes a great pursuit angle & makes the tackle.

Effort will never betray you! #GoBlue #StopTheRun pic.twitter.com/ROtFVm3Lrd

— DLineVids (@dlinevids1) November 15, 2019
However, that's fine with the way he wins. Similar to Iowa's A.J. Epenesa last year, Hutchinson's calling cards are his versatility and the power behind his hands. He can line up in any technique and not look out of place. He'll also consistently win hand placement and leverage battles with opposing offensive linemen. While that's not a particularly sexy combination, it's one that gets the job done in the NFL.
Hutchinson rarely came off the field for Michigan's defense. He played 746 snaps a season ago, earning a run-defense grade of 83.6 and a pass-rushing grade of 76.0. He wins with hands, technique and the physicality to never cede an inch at the line of scrimmage. Here he is swatting away first-rounder Tristan Wirfs' hands in a flash for a quick pressure against Iowa: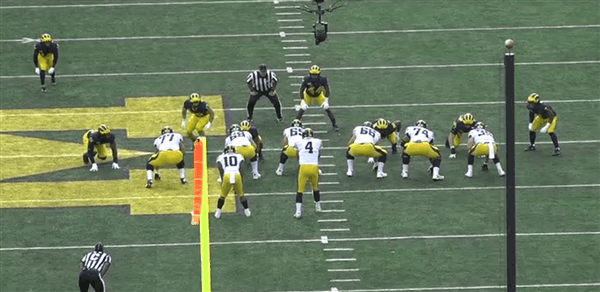 That's the way he's going to have to win at his listed 6-foot-6, 269 pounds. That plays both on the outside, where he took 454 snaps last year, and on the interior, where he took 292 snaps. Ideally, he'll continue to grow throughout his Michigan career to maintain that versatility in the league.
2020 Outlook
While he was solid last season, Hutchinson needs to take his production to an elite level to be thought of as a first-rounder. Right now, he's on the fringe in a similar vein to where Epenesa was last year and Boston College's Zach Allen was in 2019. Both were productive, but not dominant game in and game out. It's likely he's back at Michigan in 2021.
5. Xavier Thomas, Clemson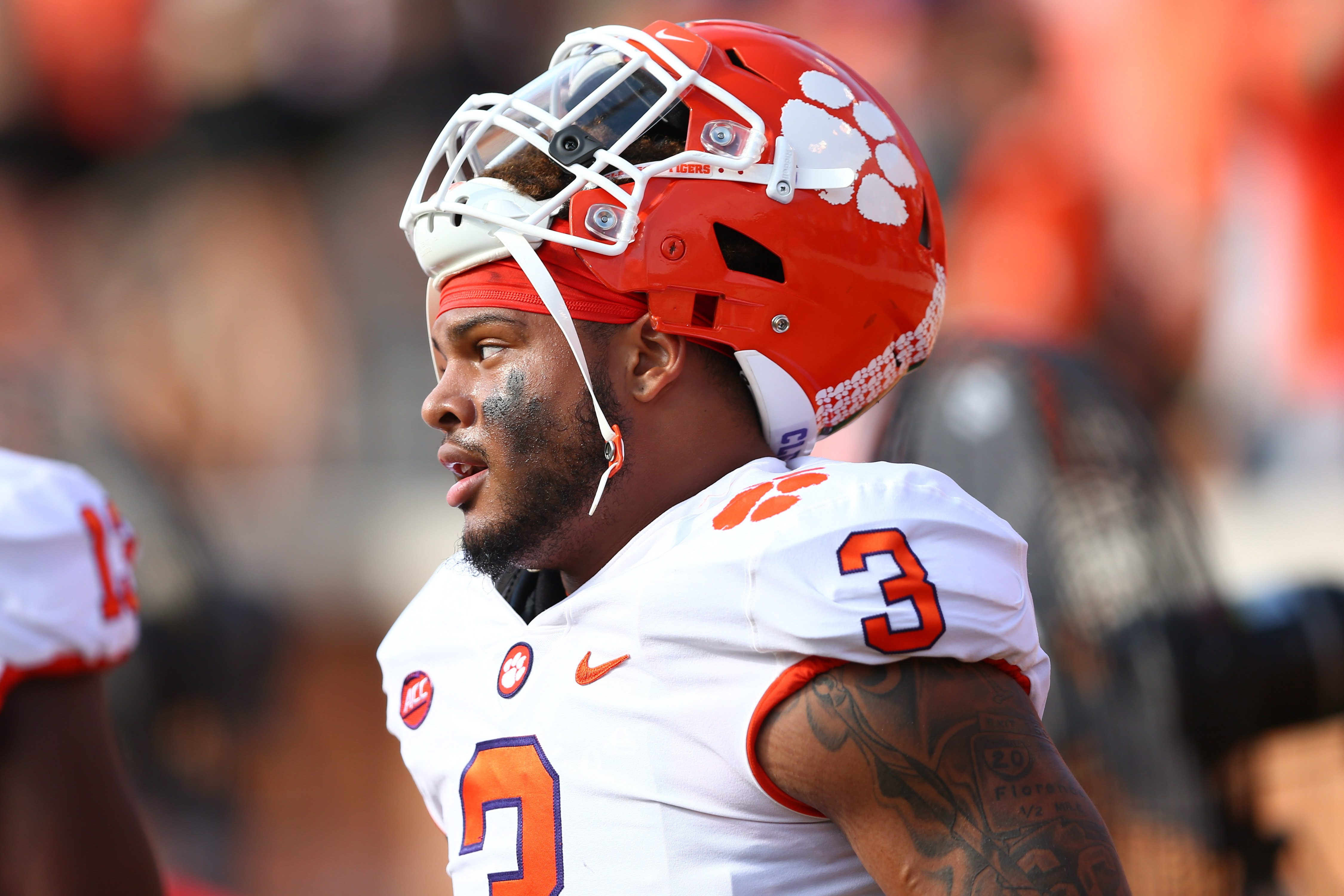 Unfortunately, it's looking unlikely that we will see Thomas put his name in the 2021 draft class. The former five-star recruit reportedly gained weight while quarantined, tested positive for COVID-19 shortly after and then after recovering had a spat with strep throat that still has complications to this day. Because of it, he's still unable to make it through practices and may not even play this season.
At 6-foot-2, 265 pounds, Thomas has an ideal 4-3 defensive end body type. With his strength and leverage, he can forklift offensive tackles into the backfield with ease — and he routinely did so even as a freshman on Clemson's loaded 2018 defensive line. He racked up 26 pressures and an 84.2 pass-rushing grade on 150 pass-rushing snaps that season.
Dabo Swinney: "You want to see what the 'eye of the Tiger' looks like?

Go run the tape on that Xavier Thomas sack." #BOOM ???? pic.twitter.com/RoQZ74U5pj

— Clemson Football (@ClemsonFB) September 29, 2018
His role saw a significant change this past season, though, as Clemson's blitz and three-man-rush-heavy "317" defense saw his opportunities to pin his ears back to rush the passer decline significantly. Even when he did get his chances, Thomas' performance was still uninspiring, as he earned a 59.6 pass-rushing grade on 94 true pass-rushing snaps.
2020 Outlook
Thomas is talented but nowhere near so to be able to rest on past accomplishments and still go early in the draft. He'll be back at Clemson in 2021 if he can't play this season.
6. Kwity Paye, Michigan
No one on this list had more to gain from the 2020 season than Paye, and, in turn, no player had more to lose by it being canceled. Physically, he has it all — strength, quicks, bend, etc. It's a special combination that landed him the No. 1 spot on Bruce Feldman's 2020 Freaks List. Those freaky traits haven't come close to producing freaky results on the football field, however. As a junior last year — his first season as a starter — Paye earned an 83.4 run-defense grade and 77.8 pass-rushing grade. All too often, his production looked like the plays you can see below.
Another Saturday, another @KwityPaye_19 multi-sack performance. pic.twitter.com/SpLSqlOfKb

— Michigan On BTN (@MichiganOnBTN) October 6, 2019
There's little in the way of technique on either of those sacks. That's Paye simply being too big and quick for the opposing offensive lineman to handle, and a good deal of Paye's production came from Michigan stunting or spiking their ends. With his size and agility, Paye is a tall task to block slanting off the snap, and it's a role you'd be crazy not to utilize him in. The fact that he earned quality grades with unrefined moves is encouraging and gets you excited about where he could push his game in the future. The problem is that a lot of similar things were said about former teammate and first-round pick Rashan Gary, and we've still yet to see any tangible improvement from him in that regard.
2020 Outlook
With that kind of physical skill set, Paye will still be drafted relatively highly next spring. Paye will be a first-round draft pick if he does truly run a 6.37 three-cone — as he reportedly can — though I'd still be hesitant to take him there based on what we've seen on film so far. It will be interesting to see if Paye participates in the Senior Bowl, as he needs live reps to up his stock.
7. Quincy Roche, Miami (FL)
A lot of what I wrote above about Rumph also applies to Roche, as well. Last season at Temple, Roche was utterly dominant with 68 total pressures and a 93.3 pass-rushing grade. He was also only listed at 235 pounds and racked up those pressures without a bull rush.
The reason that's important is that the ability to beat a Group of 5 tackle is a little different than that needed to beat an NFL tackle. If you can't threaten with a bull rush at the NFL level, tackles are going to sit back with their arms wide and their pads open, unafraid in the knowledge that you can't play through them and just waiting to clamp down on any move.
The good news is that Roche is already listed at 245 pounds on Miami's website, meaning he recognized it was an issue. That's still on the small end for the position, but it is within reason. With how good he is at setting up his rushes based on the offensive tackle, Roche may still be able to get by at that size in the NFL.
EDGE Quincy Roche (TEM, now MIA) had a field day vs USF's OL. Here he wins the edge easily. Against better OT Roche is not as effective, though he does not back down in the run game. #SnapScout21 pic.twitter.com/C7BjJ83vtR

— Chad Reuter (@chad_reuter) April 25, 2020
2020 Outlook
Going up against better competition in the ACC this season could prove hugely beneficial for his draft stock. While he dominated Power 5 offensive lines from Maryland (nine pressures) and Georgia Tech (seven pressures) last season, Roche now gets to see multiple NFL-caliber tackles.
8. Jayson Oweh, Penn State
You won't find many defensive ends at any level of football as well put together as Oweh. At 257 pounds, he's reportedly only 4.9% body fat. Oh, and he's clocked as low as 4.33 in the 40-yard dash.
Those things are obvious when you flip on the tape, but it's difficult to deduce what kind of player he is, given that we've barely seen him on a college football field. He's got all of 238 career pass-rushing snaps to his name as he was a designated pass-rusher only last season. If you watched his performance against the run, you'd know why. Oweh plays high with poor leverage in the run game and doesn't possess much pop in his hands.
As a pass-rusher, his get-off is his biggest weapon at this point. There's not a lot of refinement in his hand usage or rush plans at the moment, but he can get to the edge in a blink, and a lot of college tackles can't come close to getting enough depth. That won't be the case in the league, so he has to develop a Plan B and hopefully even a Plan C.
2020 Outlook
I don't care how athletic someone is, 397 career snaps without ever having started is a terrifying proposition early in the draft. Without a fall season, Oweh is helpless to change that.
9. Tyreke Smith, Ohio State
Of all the possible breakout candidates on this list, the one I felt best about actually making the leap in 2020 was Smith. Now, he won't get that chance. The reason I felt that way about Smith, though, was because of how well he deploys his hands already in run defense and as a pass-rusher. Those types of players often thrive the more they get to face an offensive tackle over the course of a game, and Smith was only a rotational player with 245 snaps last season.
He shocks offensive tackles on contact in the run game. His hump move against Wisconsin — as you can see below — was my favorite rep I saw from anyone in this class against the run all last year.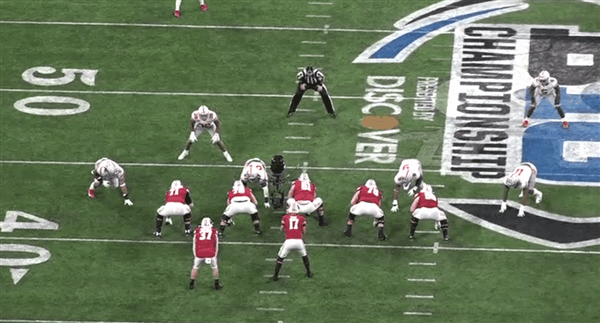 That sort of power from a true sophomore is uncoachable. You saw it show up as a pass-rusher, as well, where he had a respectable 19 pressures on 140 pass-rushing snaps.
2020 Outlook
Smith is yet another victim of the Big Ten cancelation. Expect Smith back in Columbus in 2021 without a fall season. He's not the toolsy prospect that Oweh and Paye are, and with only 426 career snaps, he'd be best served to return.
10. Joshua Kaindoh, Florida State
Kaindoh is yet another player who shows physical tools from the very first snap on tape. He's a lanky 6-foot-7, 265 pounds yet can play low to the ground. Even though he looks skinny on tape, Kaindoh walked back offensive tackles with ease because they couldn't come close to getting into his pads or gaining leverage.
Joshua Kaindoh looks explosive off the edge here. Encouraging sign for FSU.

More video coming at https://t.co/bjGaBhNRX5 (video provided by FSU Athletics/FSU Sports Information) pic.twitter.com/SyaWKVgzMO

— Brendan Sonnone (@BSonnone) August 9, 2020
The worrisome thing is that these physical tools are nothing new. Kaindoh was a consensus five-star recruit in 2017 and has seen playing time since he was a true freshman for the Seminoles. Yet, in terms of overall grade, Kaindoh peaked that freshman season with a mark of 66.2. The game consistently looks like it's moving too fast for him, as he's a tick slow to react and engage in the run game. If the light switch doesn't flip on in Year 4, will it ever?
2020 Outlook
Kaindoh is another player who needs 2020. He's yet to play more than 389 snaps in a season for his career and is coming off of just 122 in 2019 due to injury. If he was to put together a full productive season, Kaindoh is a first-rounder. The games to watch against future NFL competition are Notre Dame with left tackle Liam Eichenberg and Clemson with left tackle Jackson Carman.