About a month and a half ago, I identified the biggest offseason needs for all 32 NFL teams. Now, we're filling them. While I never advocate drafting purely for need — that's what free agency is for — if those needs go unaddressed in free agency, these are early- and later-round prospects who make sense for each franchise.
ARZ | ATL | BLT | BUF | CAR | CIN | CHI | CLE | DEN | DAL | DET | GB | HOU | IND | JAX | KC | LVR | LAC | LAR | MIA | MIN | NE | NO | NYG | NYJ | PHI | PIT | SF | SEA | TB | TEN | WFT
---
Early-Round Fit: Caleb Farley, Virginia Tech
Later- Round Fit: Shakur Brown, Michigan State
Defensive coordinator Vance Joseph is known for his zone-heavy schemes, and Farley and Brown both have proven adept at playing off. The only question is if the opt-out Farley falls all the way to No. 16. Brown, on the other hand, would be perfect toward the end of Day 2.
Early-Round Fit: Richie Grant, UCF
Later-Round Fit: Richard LeCounte, Georgia
There's not a safety worthy of a top-10 pick in this draft, so we're talking Round 2 for Grant and about Round 4 for LeCounte. Grant put on a show at the Senior Bowl and was easily the best safety in attendance.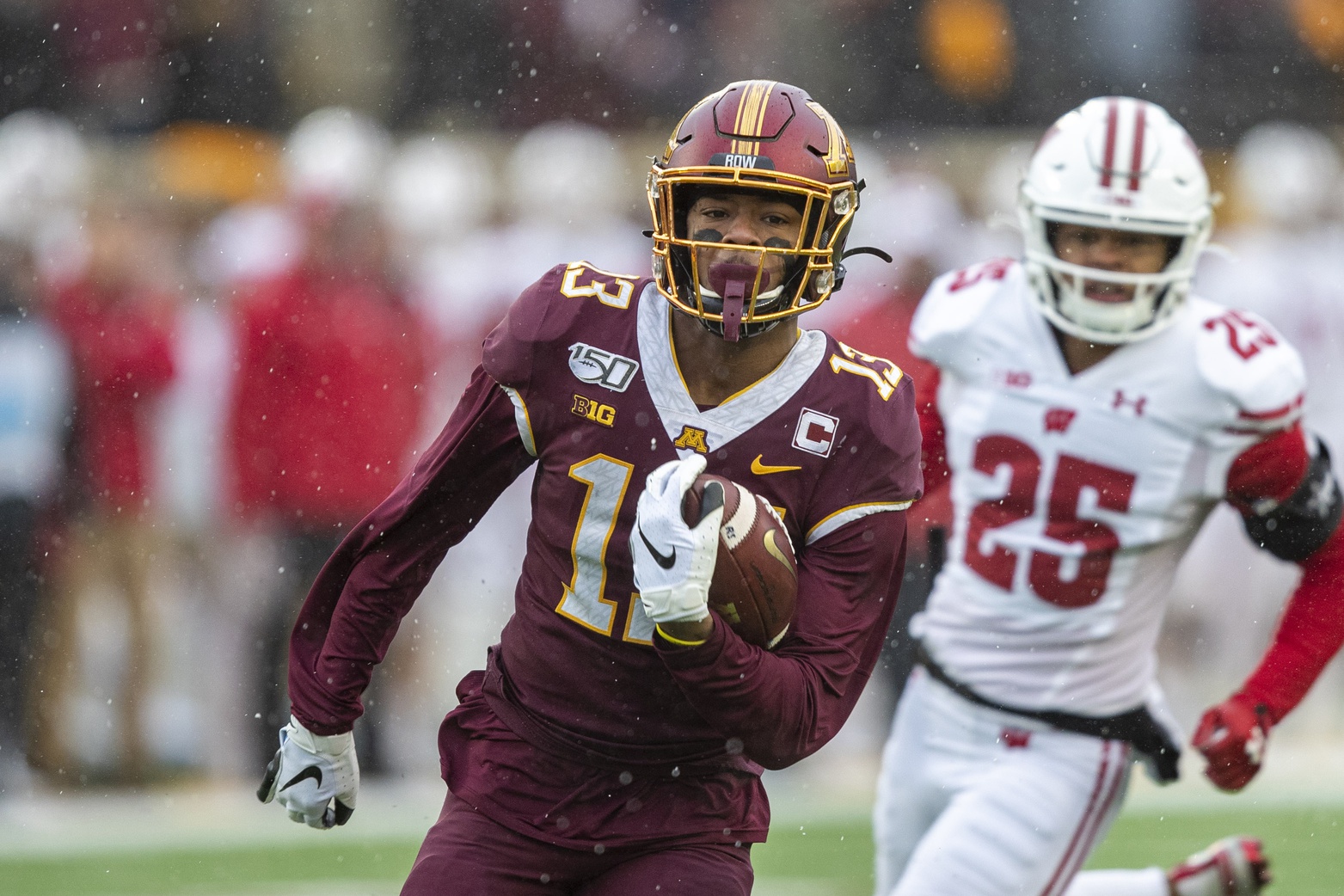 Early-Round Fit: Rashod Bateman, Minnesota
Later-Round Fit: Sage Surratt, Wake Forest
Bateman and Surratt both have superb ball skills and contested-catch ability. Bateman is a bit more of a downfield threat and likely won't be on the board when the Ravens pick in the second round. Surratt's lack of speed should drop him, but he can win over the middle of the field — an area Lamar Jackson loves to attack.
Early-Round Fit: Wyatt Davis, Ohio State
Later-Round Fit: Quinn Meinerz, Wisconsin-Whitewater
You'd be hard-pressed to find too many one-on-one losses in pass protection on Davis' tape. If the Bills really want to have a shot against Chris Jones in the playoffs next year, he's their best chance. Meinerz was one of the highest-graded interior linemen throughout the week of practice at the Senior Bowl, which helped put him on the map.
Early-Round Fit: Micah Parsons, Penn State
Later-Round Fit: Baron Browning, Ohio State
Parsons only makes sense if the Panthers don't covet a quarterback early. Browning would be available late on Day 2 or early on Day 3 and fit in with how Carolina has coveted versatile athletes on its defense. The former five-star recruit wore a number of hats for Ohio State over his career but earned only a 70.2 overall grade last season.
Early-Round Fit: Alijah Vera-Tucker, USC
Later-Round Fit: Robert Hainsey, Notre Dame
Vera-Tucker is an incredibly clean offensive line prospect after securing pass-blocking grades of 87.9 and 84.2 at left guard and left tackle, respectively, the past two seasons. He could slot in at guard right away. Hainsey played right tackle at Notre Dame but impressed on the interior at the Senior Bowl.
Early-Round Fit: Penei Sewell, Oregon
Later-Round Fit: James Hudson, Cincinnati
The Sewell fit is obvious, and fingers will be crossed from now until draft day. Hudson is a bit of a project athletic tackle after switching from defensive line early in his college career. He can start at guard early, though, and had one of the highest win rates in the one-on-ones at the Senior Bowl.
Early-Round Fit: Nick Bolton, Missouri
Later-Round Fit: Justin Hilliard, Ohio State
Bolton is a safe bet as a do-it-all, between-the-tackles linebacker after two years of quality play at Missouri. Hilliard is a former top recruit with a lengthy injury history who came back to be arguably the Buckeyes best defender in 2020. He earned an 82.4 overall grade in his first year as a starter.
Early-Round Fit: Christian Barmore, Alabama
Later-Round Fit: Bobby Brown, Texas A&M
Pick No. 10 might be too early for Barmore, but the Cowboys aren't going to find a suitable impersonation of the highest graded pass-rushing defensive tackle in the country any later on. Brown is a stout run defender who could have used more seasoning, but he offers more in that regard than what the Cowboys have now.
Early-Round Fit: Justin Fields, Ohio State
Later-Round Fit: Feleipe Franks, Arkansas
Fields' accuracy with the Broncos' weapons would be a deadly combination. He tied for the FBS lead with the highest percentage of passes deemed accurate in 2020. Franks would be a completely different route, though, if the Broncos continue to roll the dice with Drew Lock. He'd be capable of running similar concepts to Lock with a cannon for an arm to try to develop.
Early-Round Fit: Jaylen Waddle, Alabama
Later-Round Fit: Cade Johnson, South Dakota State
Even if the Lions keep Kenny Golladay, they desperately need some speed to open up the offense. Waddle has that in a big way, and so does Johnson. The South Dakota State product earned the highest grade of any receiver in the one-on-ones at the Senior Bowl and could sneak into Day 2.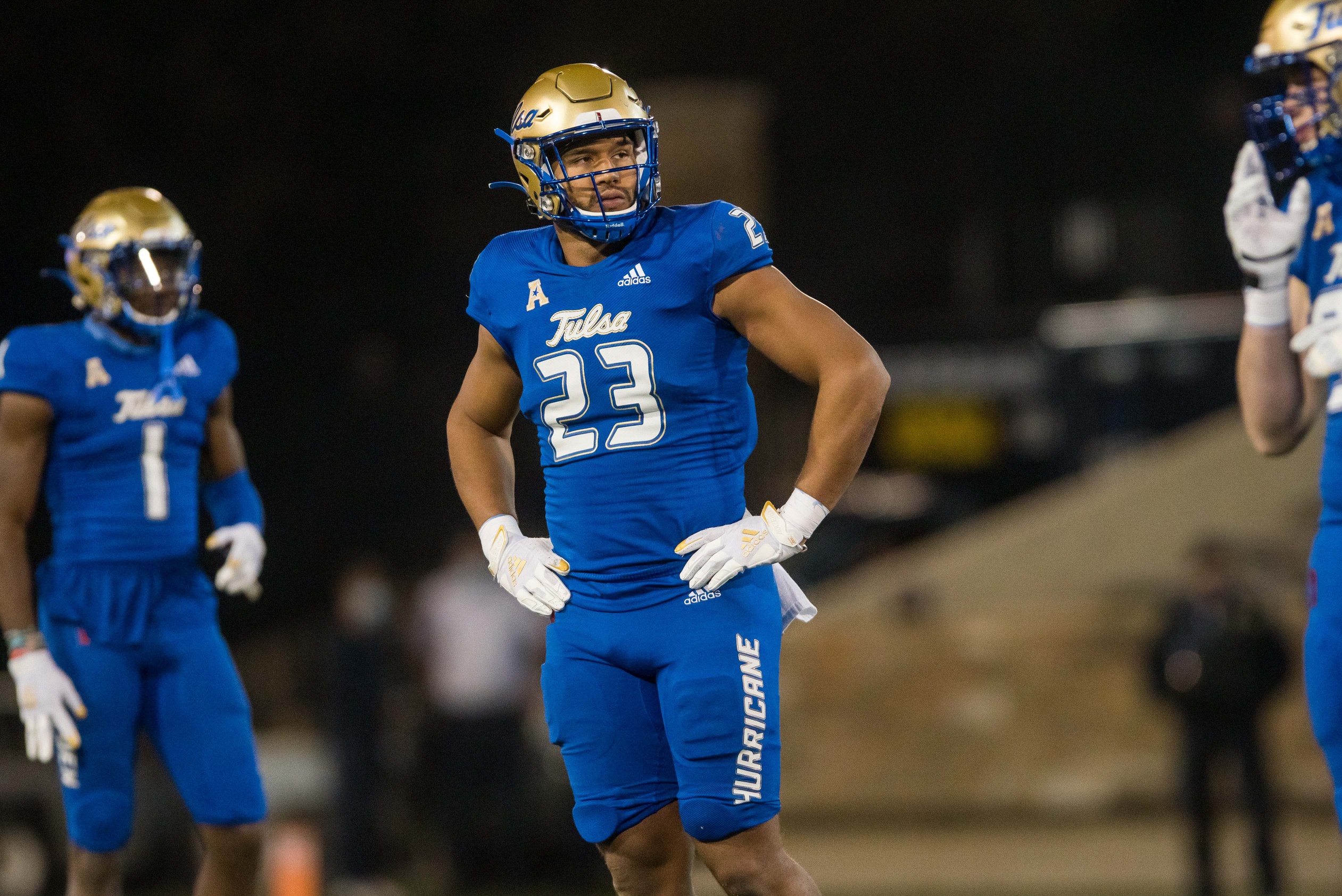 Early-Round Fit: Zaven Collins, Tulsa
Later-Round Fit: Jamin Davis, Kentucky
The Packers are likely to have a number of needs but won't have to pigeonhole themselves into one early. Davis is an intriguing early Day 3 name for his work in run defense this past year, where he earned an 87.5 grade as a junior.
Early-Round Fit: Tay Gowan, UCF
Later-Round Fit: Robert Rochell, Central Arkansas
Gowan and Rochell each offer the one thing that every team is looking for at the cornerback position: speed. Both are athletic projects, but the Texans have some time to rebuild here. They won't be picking until the third round, anyway, so the early- and late-round distinction here is blurred.
Early-Round Fit: Mac Jones, Alabama
Later-Round Fit: Davis Mills, Stanford
Both of these guys can operate an NFL offense. Now, will they go above and beyond their talent level? That remains to be seen. Jones was tied with Justin Fields for the most accurate quarterback in college football this season.
Early-Round Fit: Trevor Lawrence, Clemson
Later-Round Fit: No
There's no need to double up here. With a roster chock-full of holes, the Jaguars just need to go best value available.
Early-Round Fit: Jaelan Philips, Miami (FL)
Later-Round Fit: Rashad Weaver, Pittsburgh
Phillips will likely fall after having previously been forced to retire due to concussions. The Chiefs can take a chance on his talent without much regard for the long term, as they desperately need someone who can get that defensive line over the hump after knocking on Lombardi's door. They had the lowest graded pass-rushing edge group in the NFL this season.
Early-Round Fit: Azeez Ojulari, Georgia
Later-Round Fit: Osa Odighizuwa, UCLA
Anywhere and everywhere along the defensive line could be addressed. They just haven't been good enough. Ojulari would bring a speed-rushing presence not currently on the roster, and Odighizuwa could be a pocket-pusher and stout run presence in Round 3.
Early-Round Fit: Rashawn Slater, Northwestern
Later-Round Fit: Trey Smith, Tennessee
Slater is the dream scenario for the Chargers sitting at 13 overall. He's versatile enough to play all five positions and the most technically advanced lineman in the draft. Smith is more of a boom-or-bust player who, despite his hype, never earned above a 73.1 pass-blocking grade in four seasons at Tennessee.
Early-Round Fit: Jabril Cox, LSU
Later-Round Fit: Monty Rice, Georgia
It won't be until the second round, but the Rams have to do something about their linebackers after what we saw last year. They had the league's best defense despite them but could be wholly unstoppable with a difference-maker at the position. Cox was quite easily the best coverage linebacker at the Senior Bowl, where he broke up four passes in the one-on-ones throughout the week — no other linebacker had more than one.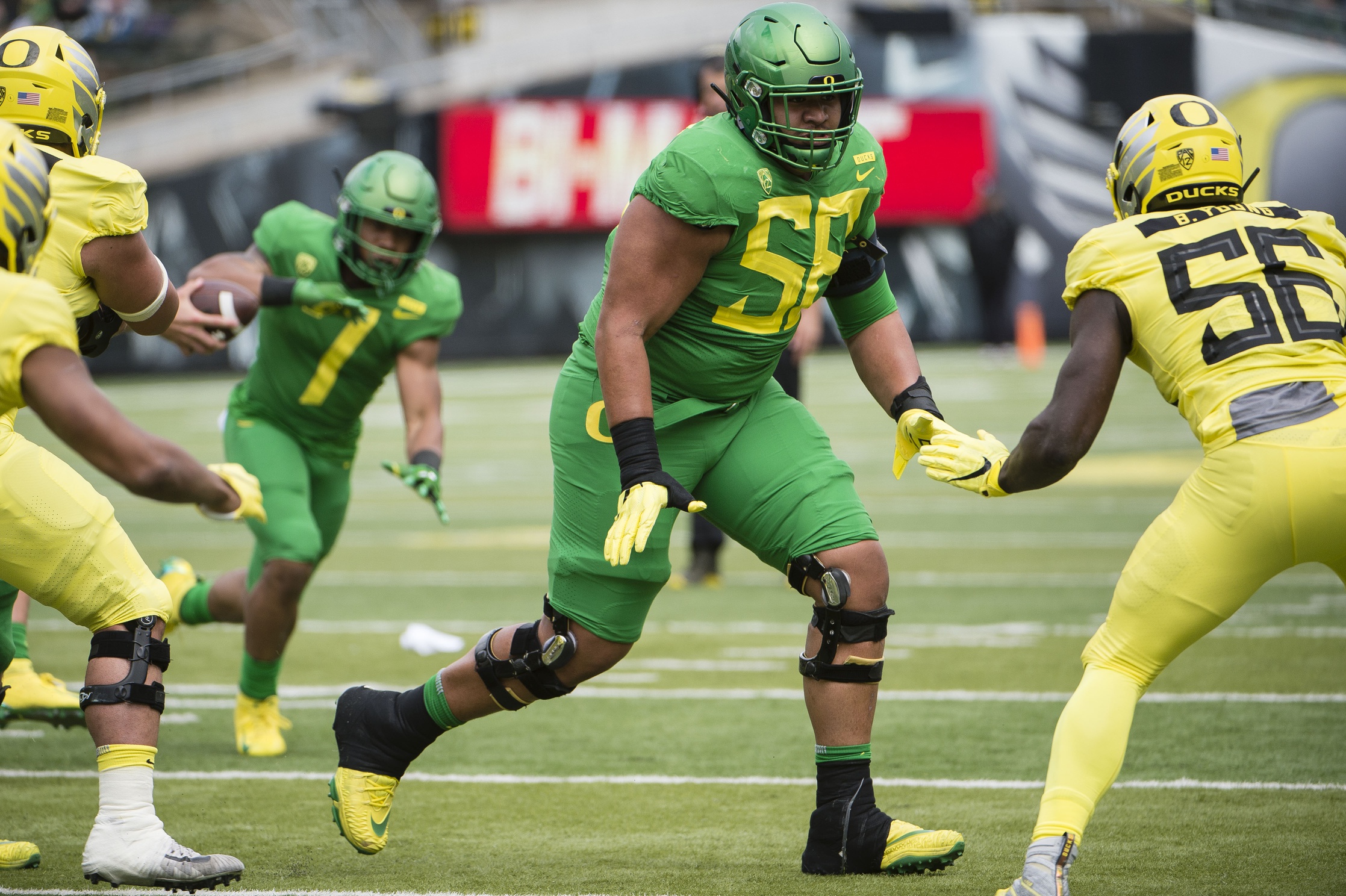 Early-Round Fit: Penei Sewell, Oregon
Later-Round Fit: Landon Dickerson, Alabama
You won't find a player like Sewell anywhere after pick 3. Dickerson is the closest thing in terms of physical presence on the interior, though. He led all Power-5 linemen with 14 big-time blocks this past season and would give them one of the league's most physical lines.
Early-Round Fit: Gregory Rousseau, Miami (FL)
Later-Round Fit: Joshua Kaindoh, Florida State
The Vikings have a type, and it's Rousseau and Kaindoh. Both are listed at 6-foot-7 and have ridiculously long arms to match. Zimmer loves his edge-setters and both look capable of that with some refinement.
Early-Round Fit: Justin Fields, Ohio State
Later-Round Fit: Kellen Mond, Texas A&M
Fields is almost certainly going to take a trade up for the Patriots to land. He's got a much more moldable skill set into the Patriots offense than what we've seen from Trey Lance. Mond would make sense if the Patriots continue their trend of mid-round quarterbacks, as he has a similar skill set to Jacoby Brissett. Mond can operate at the intermediate area of the field, but his deep accuracy leaves a lot to be desired.
Early-Round Fit: Kadarius Toney, Florida
Later-Round Fit: Dyami Brown, North Carolina
Some speed and dynamism are in order for the Saints receiving corps. They need high-value positions they can build around for years to come. Toney would give Sean Payton another chess piece in an offense full of them. Brown would be much more of an Emmanuel Sanders replacement as a true outside receiver.
Early-Round Fit: Kwity Paye, Michigan
Later-Round Fit: Elerson Smith, Northern Iowa
Paye is Edge1 on the PFF board and the only one that makes sense at pick 11 in our eyes. He told us he dropped weight to around 260 pounds to play on the edge in the NFL. That would be ideal in the Giants scheme. Smith is around 260 as well and impressed at the Senior Bowl, where he was the second-highest-graded defensive lineman in attendance. Still, because of his competition level, the Giants could possibly snag him early on Day 3.
Early-Round Fit: Zach Wilson, BYU
Later-Round Fit: No
Another situation where it just doesn't make sense to go quarterback anywhere other than No. 2 overall. Get your man early, then give him some weapons.
Early-Round Fit: Micah Parsons, Penn State
Later-Round Fit: Pete Werner, Ohio State
I know, I know, I know. Howie Roseman won't draft a linebacker top-10. Maybe he's changed his tune, though, after how disastrous the Eagles' group was last season. If not, Werner is a much more well-rounded linebacker than the limited players — in one way or another — currently on the roster, even if Werner doesn't offer too much to get excited about. If you can get him on Day 3, that would be great value.
Early-Round Fit: Teven Jenkins, Oklahoma State
Later-Round Fit: Spencer Brown, Northern Iowa
The Steelers are second to none when it comes to offensive line development. Jenkins won't need much in that department after a 92.0 overall grade this past season. He's a bully in the run game who would fit right in with the Steelers' preferred run concepts. Brown, on the other hand, is a pure athletic project. The man is built like a World's Strongest Man participant at 6-foot-8, 314 pounds, but his technique needs to be reworked from the ground up.
Early-Round Fit: Justin Fields, Ohio State
Later-Round Fit: Jamie Newman, Wake Forest
Call it a hunch, but I think Kyle Shanahan wants some mobility back in his offense. We all saw the magic he worked with RG3 back in the day, and Fields brings even more to the table as a passer. Newman's biggest issues come working within an offense, but if you can scheme him open receivers, he'll hit them.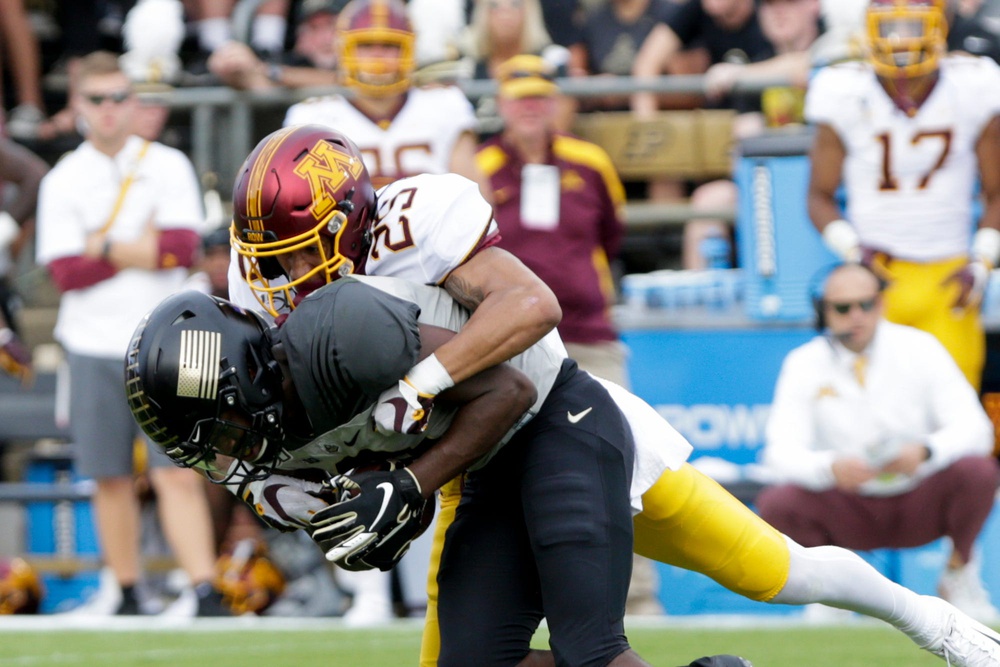 Early-Round Fit: Benjamin St-Juste, Minnesota
Later-Round Fit: Israel Mukuamu, South Carolina
Two of the longest cornerbacks in the draft class. The Seahawks have coveted length for years but don't have a first-round pick to get in on the top of the class. St-Juste put on a show at the Senior Bowl, where he was the highest-graded of the cornerback group in the one-on-ones. His 80-inch wingspan is insane for a cornerback and will give him a lot of leeway in that scheme.
Early-Round Fit: Jayson Oweh, Penn State
Later-Round Fit: Deangelo Malone, Western Kentucky
This one depends on whether or not they're able to run it back with Shaquil Barrett. If he leaves for more money after putting on a show on big stages throughout the playoffs, the Bucs will be in need at pick 32. Oweh may fall after not recording a sack this season, but that doesn't worry us too much as he still earned an 85.3 overall grade. Malone is an undersized speed-rusher who may not be ready right away but could be deployed as a stunt or blitz weapon on third downs.
Early-Round Fit: Carlos Basham, Wake Forest
Later-Round Fit: Payton Turner, Houston
The Titans could use some size and length since Jadeveon Clowney is likely to depart. Both of these guys have that. Basham is an ultra-explosive 280 pounds and can reset the line of scrimmage with ease. Turner has a freaky 7-foot wingspan but is more of a project. He came on strong as a senior with an 87.7 grade on 201 snaps this past season.
Early-Round Fit: Mac Jones, Alabama
Later-Round Fit: Kyle Trask, Florida
This is either first- or second-round here. There isn't much particularly compelling about the "fit" of either, but these are likely the only choices in the draft. With the current roster, I'd be surprised if they don't address quarterback pre-draft.