This has been an objectively odd lead up to the 2021 draft process. It started off relatively normal, with our college-to-pro projections highlighting some analytical darlings early and showing how well Virginia Tech cornerback Caleb Farley stacked up against previous players in our system.
Subscribe to
Due to COVID-19, a decent number of these players will not get to play in 2020. As such, our evaluation of them as draft prospects for next April (?) has already begun. Miami's Gregory Rousseau is one of those intriguing prospects, as he has opted out of his final college season. Rousseau is currently seventh in my colleague Mike Renner's most recent mock draft, based largely on his freak athleticism and size at 6-foot-7 and over 250 pounds.
The interesting thing about Rousseau is that he is very much a projection, with just one full year of football and less than 550 total defensive snaps under his belt. His pass-rushing moves are limited for a player with his type of production through one season, in large part due to his ability to get pressure from the interior and on the offense's right side against inferior athletes (see his snap distribution below). However, a 16.4% pressure rate in the ACC as a redshirt freshman is nothing to sneeze at, even if his circumstances were very favorable.
Gregory Rousseau 2019 Snap Breakdown
| | |
| --- | --- |
| Position | Snaps |
| Left EDGE | 422 |
| Nose tackle | 68 |
| Left interior defender | 19 |
| Right EDGE | 11 |
| Right interior defender | 5 |
| Slot corner | 2 |
| Inside linebacker | 1 |
How Rousseau Projects as a Pass-Rusher
Rousseau's stat line of 16 sacks on just 46 pressures is pretty hard to sustain at the college level, let alone at the NFL level, but there is something in our college-to-pro model for the small chance that Rousseau is a good "finisher" — i.e., He converts pressures to sacks at an outsized rate.
The projection we have to make here is on his aforementioned athleticism. If we assume that a player of his size performs well at the combine and/or their pro day, then their athleticism score will be fairly high. Since athleticism tracks to NFL performance (relative to college production) for pass-rushers more than any other trait, this gives Rousseau some pretty good NFL comps: Dee Ford, Chandler Jones, Dante Fowler and Trey Flowers.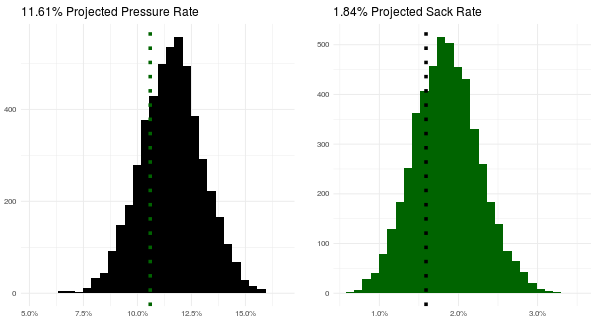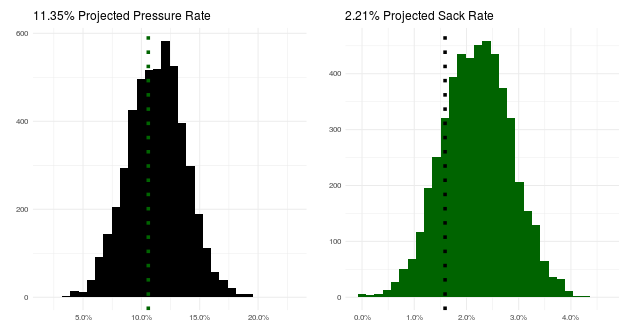 How Rousseau Projects as a Run Defender
As a run defender, Rousseau has a pretty good comp in Cameron Jordan of the New Orleans Saints. As impressive as Rousseau was as a pass-rusher in his one full year at Miami, he was equally so as a run defender, generating 40 stops on just 234 run-defense snaps (17.1% run-stop percentage).
Despite all of the uncertainty associated with his projection, he looks to be an above-average run defender from the start. Thus, the comparisons to Jadeveon Clowney made on the 2-for-1 Drafts podcast last week, while not necessarily statistically supported given Clowney's lack of production as a pass-rusher, are likely warranted from a "traits" perspective, given that Rousseau has been a monster against the run in college.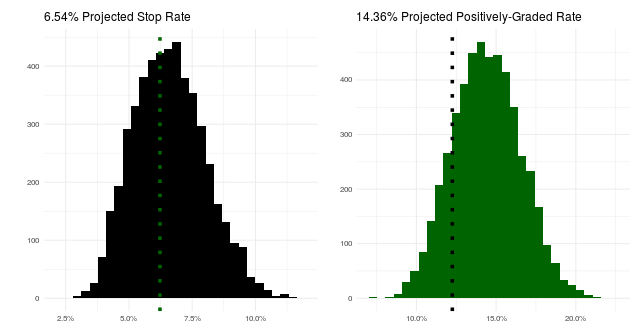 Conclusion
Assuming Rousseau tests like we expect him to, the hype is warranted for the rising sophomore out of Miami. He was uber-productive in college, generating a stop or a pressure on roughly one in six of his snaps as a redshirt freshman in the ACC. While his 10 missed tackles are a concern, he was called for only one penalty, which could be a hidden value to his future NFL team.
My only reservation in recommending him as a clear-cut, top-10 pick is the lack of data on him. Much like Mekhi Becton, there simply is not a ton of information on him doing things he'll do at the NFL level, and as such, he may take longer than the average edge player to develop.
With much of the value inherent in drafting an edge the difference between their salary and that of a well-paid veteran, any years lost in development are costly. That said, much of the production at the position is dependent on physical traits, and he looks to have them, leading to a fascinating case study during unprecedented times.