The highly anticipated National Championship game between LSU and Clemson is right around the corner. This one, in particular, is set to be historic, as the top-to-bottom talent these teams have on their rosters is unmatched. There are basically five first-round locks in the 2020 NFL Draft class that'll be taking the field and numerous others that'll be in the first round of the next two drafts. With the focus being on this year for now, we give you the top 10 prospects in the 2020 class that'll be playing for this year's National Championship:
(Check out the impact plays you should expect to see during the game here.)
1. QB Joe Burrow, LSU
This one is an easy decision. Joe Burrow took the world by storm throughout the 2019 college season and locked himself in as the number one overall pick in this draft after leading LSU to victory over Alabama back in Week 11. Burrow's 94.6 overall grade not only leads all FBS quarterbacks this season but is tied for the highest we have seen in the PFF College era (since 2014) with Baker Mayfield in 2017 and Kyler Murray in 2018. There really hasn't been a major flaw in Burrow's game on the field this season. Some may say one exists in that he went from unknown in 2018 to the best in 2019, but this shouldn't be a concern considering the elite level of play we have seen.
Burrow has put on a clinic when it comes to tight-window passing. His 87.3 passing grade to tight windows is far above anyone else (second is at 76.4), and his uncatchable pass rate sits 17 percentage points below the FBS average. Some of Burrow's non-believers have talked about his receivers bailing him out or the system being catered to him — and while both have been great, Burrow is the one throwing the ball, and the tight-window accuracy reflects why he is above everyone else.
Even pressure has hardly fazed him when passing the ball — his PFF grade under duress leads all FBS quarterbacks. Whether he steps up in the pocket and makes a play with defenders all around him or bails and creates outside of the pocket, the accuracy and undeniably great play remain. When under pressure, Burrow has attempted 24 throws of 20-plus yards and completed 17, with just 10% of those being uncatchable and eight of the completions going for a touchdown. For perspective on how good that uncatchable pass rate is, fellow first-round prospect Jordan Love sits at 70% on those same throws. No one can create something out of nothing better than Joe Burrow.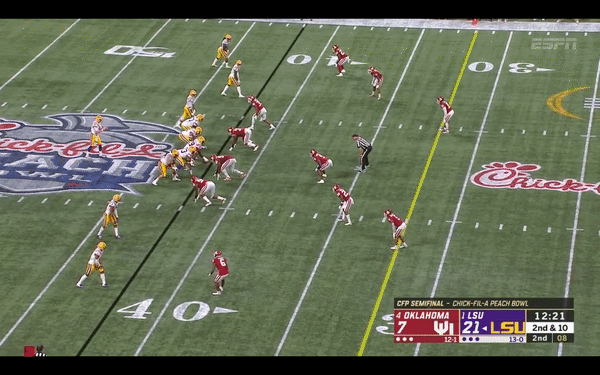 2. LB/S Isaiah Simmons, Clemson
Clemson's Isaiah Simmons is perhaps the most versatile defensive player in this draft class. Whether he's playing on the line, in the box, in the slot or at free safety, he sees success. Simmons impressed in his 2017 redshirt freshman campaign but went from good to great in the year following when he was given the full-time starting duties at weakside linebacker, paving the way for him to produce an elite coverage grade.
As said, Simmons has played all over the place this year, seeing 100-plus snaps at every alignment group besides outside corner. He has proved he's capable of doing this by producing run-defense, pass-rush and coverage grades all above 80.0. In coverage, the most important facet for his position(s), Simmons' most yards allowed in a single game in 2019 came against one of the best offenses in the FBS in Oklahoma — and even then, he allowed just 40 yards while picking off a pass. He won't be playing in the same hybrid manner he is now at the NFL level and will likely be a sole linebacker. No matter what, though, he is still a top-10 draft candidate.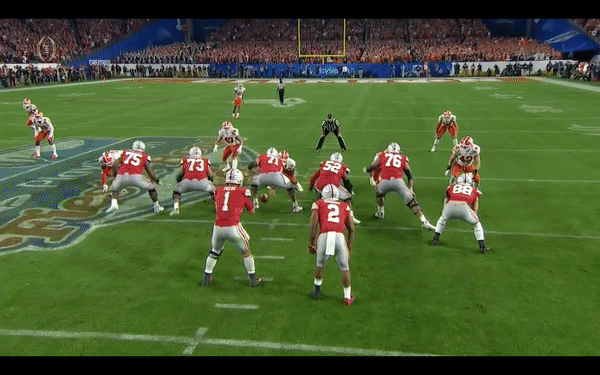 3. CB Kristian Fulton, LSU
After not playing a single snap for over a year and a half due to suspension, Fulton was thrown into a starting role at outside corner prior to the 2018 season and made an immediate impact. This season, particularly, Fulton's PFF grade was among the 10 best at his position, and he had the highest forced incompletion rate (32.2%). Fulton at the catch point has been one of the best in the country, though he's at his peak in press man coverage. His 306 coverage snaps played in press coverage were the third most in the country, and he was among the 15 best FBS corners in raw PFF grade per snap in press against stiff competition.
4. S Grant Delpit, LSU
Safety Grant Delpit disappointed in 2019, lowering his PFF grade from 84.4 last year to 67.0 this season. As a result, he's dropped down the PFF draft board a bit but is still a first-round lock given he did win the Thorpe Award. The biggest concern with his play is the amount of missed tackles he's racked up this season. Over 27% of his tackling attempts this year have resulted in a whiff. While his performance in coverage hasn't been up to the level he was at in 2018, Delpit has still been a lockdown member of the secondary. Whether he's in the slot or playing deep safety, he has held his own. Delpit's ability to make a play on the ball is special, and if it weren't for poor tackling, he would be far higher up the PFF big board.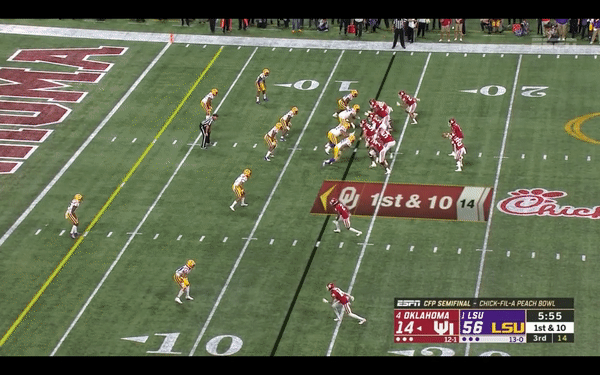 5. WR Tee Higgins, Clemson
Wide receiver Tee Higgins has taken a step forward in each of his three seasons with Clemson and is entering the National Championship as the second highest-graded wide receiver in the country (91.5). His per route production has been everything we wanted to see — Higgins' 3.94 yards per route run sits as the fourth most in the country. His hands are arguably the best in the class, and he owns a ridiculous catch radius. On targets of 10-plus yards specifically, Higgins has hauled in contested catches at the fourth-highest rate (69.2%). In addition to being able to win at the catch point in contested situations, Higgins can do damage after the catch, posting 12 broken tackles on his 56 receptions, which paved the way to over 36% of his targets resulting in an explosive play of 15-plus yards — over 16 percentage points above the FBS average.
6. CB A.J. Terrell, Clemson
Cornerback A.J. Terrell took a big step forward this past season, working his way to a likely second-round pick. In coverage this year, Terrell has yet to allow more than 60 yards in a single game and has been one of the stingiest outside corners in college football. Among players with at least 300 coverage snaps at that alignment, Terrell has allowed the fewest number of catches (14) and the eighth-lowest passer rating (49.1). The red flag with Terrell thus far has been his inability to win on a consistent basis in contested situations, but as said, he has shown he is worthy to be taken at least in round two.
7. RB Travis Etienne, Clemson
Don't let anyone fool you — Travis Etienne is the best running back in the 2020 draft class. The lack of positional value is the reason why he has a second-round grade in our eyes, but if anyone carries some value and worth at running back in this class, it's Etienne. A running back who poses a threat in the receiving game is massive and is what separates the good from the great. Etienne was reportedly asking Clemson quarterback Trevor Lawrence to stay after practice to "run routes and catch passes" this past summer to help him improve in this facet — and it's evident he has. After dropping four of his 17 targets in 2018, Etienne dropped only three of 36 this season while gathering 11 broken tackles and 2.17 yards per route run. In the run game, Etienne sustained the elite rushing grade he had in 2018. He produced a higher rate of explosive runs and was far better after contact — Etienne averaged 5.2 yards after contact per attempt, which led the FBS and was better than over 100 other running backs' average yards per attempt in general. Not to mention, he averaged .45 broken tackles per attempt, leading the country.
8. WR Justin Jefferson, LSU
After his 227-yard, four-touchdown performance against Oklahoma in the College Football Playoff semifinal, Justin Jefferson seems to be a lock to be off the board before the end of the second round. Some other experts in the NFL draft world have Jefferson as a first-round pick, but there should be some reservations there, as most of his production has come from holes in zone coverage. Jefferson has the second-most yards and catches from such instances, and the target density map below can attest to that: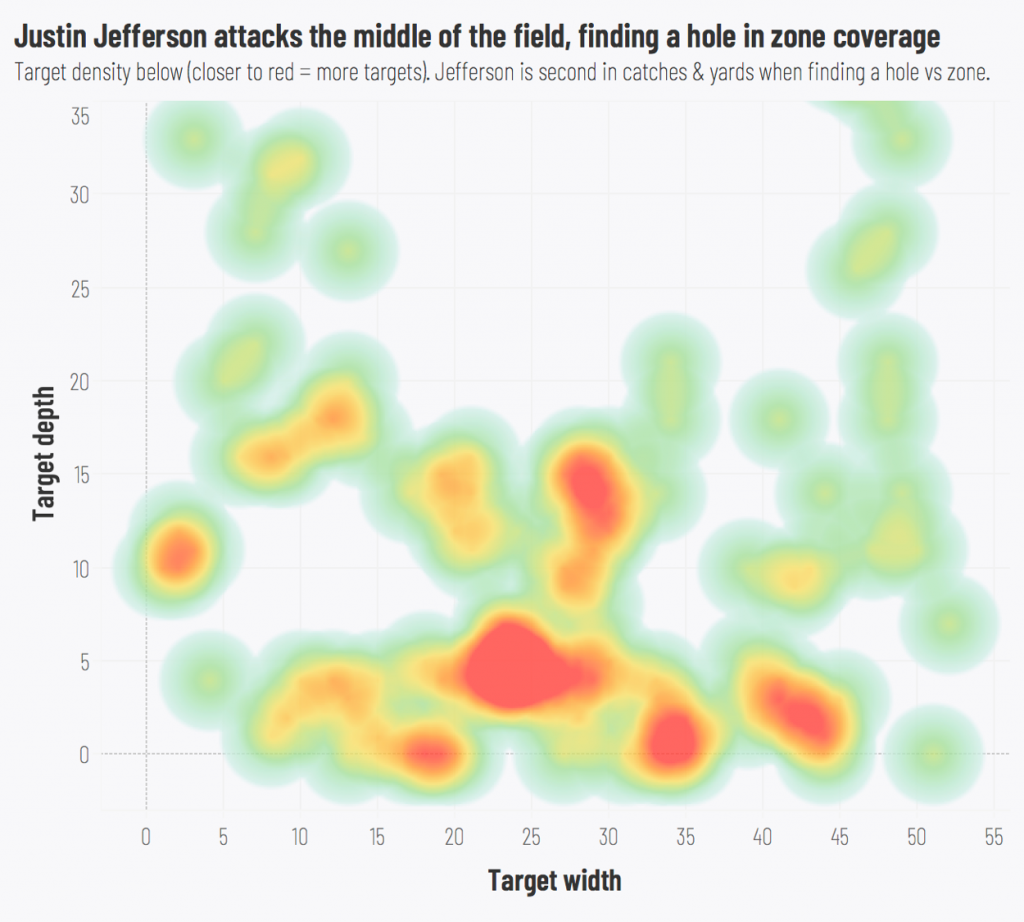 He has to beat man-to-man coverage on a consistent basis to warrant a high selection. That being said, Jefferson is lethal with an ounce of separation and an open field ahead of him. His 22 broken tackles are tied for the fourth most, and his 643 yards after the catch were the seventh most.
9. EDGE K'Lavon Chaisson, LSU
K'Lavon Chaisson hasn't been on the field a whole lot in his three years at LSU, but he's shown promise in his meager playing time. He's by no means a lock to declare for the 2020 draft, but if he does, he'd be one of the more athletic players in the class. Over the last three weeks, Chaisson has improved upon his pass-rushing by producing 15 total pressures, with eight being a sack or hit.
10. S K'Von Wallace, Clemson
When tasked with playing in the slot, K'Von Wallace has locked it down. His 82.7 coverage grade at that alignment is fifth in the FBS. Wallace hasn't had nearly the same success in the box but fits the prototypical dime back player at the NFL level. He hasn't been much of a ballhawk in coverage prior to this year but improved in that area with 10 combined pass breakups and interceptions.