This is not a banner safety class by any means. If you need one, chances are you should pull the trigger early on. There are three guys at the top who look as if they can be versatile coverage weapons off the rip, but after that there are question marks with the rest of our top-10.
[Editor's note: The Senior Bowl edition of PFF's 2020 NFL Draft Guide is live! Subscribe to PFF's EDGE or ELITE subscription today to download your copy.]
1. Grant Delpit, LSU
Draft Board Rank: 18th
Delpit has coverage ability you just can't teach. He's had at least six combined picks and pass breakups in every single year of his career at LSU. Some players on this list have yet to do that for a single season. Even in a "down" year in 2019, Delpit still only allowed 13-21 receiving for 196 yards and one score. At 6-3, 203 pounds, Delpit has great size for a modern safety and can execute pretty much any role asked of him.
It's what happens after the passes have already been caught though that's the worry with Delpit. He missed 20 tackles on 78 attempts this past season. That's a disastrous rate. While an ankle injury is to blame for some of that, Delpit had 16 misses on 81 attempts in 2018 as well. This isn't a new problem and may just be something you have to accept with Delpit.
2. Ashtyn Davis, California
Draft Board Rank: 25th
A former track standout, Davis' range is as good as it gets in the safety class. He's made a handful of picks and pass breakups from the deep middle of the field over the course of his career. That's not all he can do though, as he's shown an ability to drop down and play man coverage against the slot or tight ends. In fact, he picked off Justin Herbert earlier this year while covering the slot.
While he's made some big hits over the middle of the field, Davis isn't going to be a fit as a box player in a defense. He didn't want any part of taking on blocks at Cal and you want to keep him clean at all costs. Davis is a deep safety with the ability to come down and man the slot in a pinch.
3. Xavier McKinney, Alabama
Draft Board Rank: 32nd
Productive and versatile, McKinney ticks two of the most important boxes in our eyes for a safety. He executed everything asked of him at Alabama the past two seasons at a high-level. He's earned run defense grades of 79.1 and 79.4, coverage grades of 80.9 and 89.2, and pass-rush grades of 85.2 and 90.3. That's as good a grading profile as exists at the safety position in this class. And it came from very much being a versatile piece in the Crimson Tide defense. He took 285 snaps in the box, 227 snaps from the slot, and 271 snaps deep this past season.
McKinney may not be a freakish athlete, but he's extremely fluid. He's made multiple picks where he's had to turn over one shoulder, locate the ball, and then finish. Arguably his best skill is covering the slot though where his read and react ability shines though. McKinney rarely cedes an inch on the underneath route tree and plays with consistent balance.
4. Terrell Burgess, Utah
Draft Board Rank: 45th
Burgess is a one-year wonder for the Utes, as he never played more than 222 snaps in a season prior to 2019. This year he broke out with a 90.4 coverage grade as he allowed only 26-40 receiving for 190 yards and no scores. His most coveted skill will be his ability to come up and play press-man on the slot or tight ends. Burgess could have easily passed for a corner with how adept he was in the one-on-ones at the Senior Bowl.
Not only is his one year of productivity concerning, but also his size elicits worry. He checked in at 192 pounds at the Senior Bowl with only a 72-inch wingspan — both those figures were the lowest of any safety in attendance. Undersized with limited length is a bad combo to have when projecting to the NFL. It's not impossible to overcome, but his testing will be important at the combine.
5. K'Von Wallace, Clemson
Draft Board Rank: 69th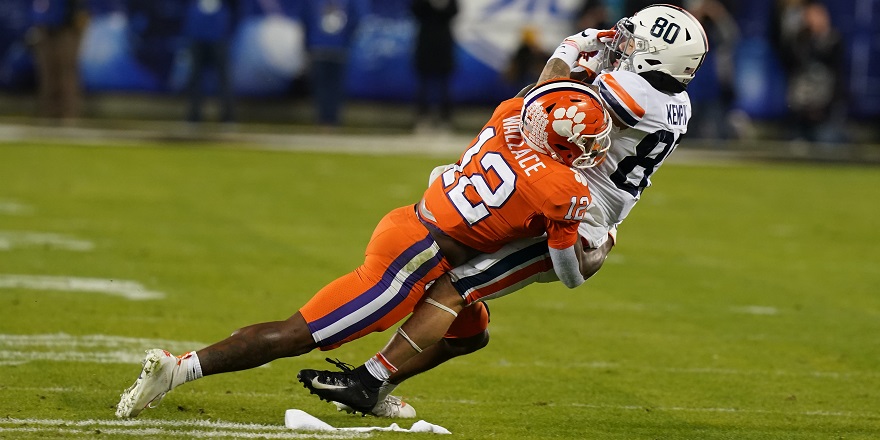 Wallace is listed with the safeties here, but in actuality he's a pure slot cornerback. While that's limiting his value to some degree as most slot corners aren't yet full-time players in the NFL, Wallace looks like the best pure slot in the class. He earned an 89.7 coverage grade this past season as his 47 targets only resulted in 13 first downs. He's a solidly built 199 pounds and has been an excellent tackler for his career. The Clemson defensive back has missed only 13 tackles on 159 attempts over the past three years.
One thing Wallace needs to work on are his hands. He's dropped eight picks over the past two seasons, the most by any player in college football over that span. Odds are that's more fluke than projectable skill, but it's interesting nonetheless.
6. Antoine Winfield Jr., Minnesota
Draft Board Rank: 79th
Winfield's name comes with some serious injury concerns as he's actually gotten two medical redshirts already and even though 2019 was his fourth year at Minnesota, Winfield still had two more years of eligibility. He's been starting when healthy ever since his true freshman season though and even played some good ball way back then. The first thing you notice about Winfield is that he definitely learned to tackle from his father. He has no fear whatsoever attacking ball carriers and resembles a heat seeking missile in the angles he takes.
The next thing you notice is that he makes some wow plays on the back end. Of his seven picks in 2019, more than a couple of them were jaw-droppers. His feel for splitting zones and breaking on deep routes looks like some of the best in the class.
7. Julian Blackmon, Utah
Draft Board Rank: 89th
Blackmon was a corner for his first three years at Utah before switching to safety as a senior and putting up a career year. He earned an 88.7 coverage grade in 2019 as he racked up four picks and five more pass breakups. What was most impressive to me about his play this season was how little he looked like a corner playing safety. He has a pass breakup against Washington State earlier this year where he had to split two vertical routes as a deep safety in Cover-2. Most corners struggle to be patient in a situation like that, but Blackmon waited until he knew where the ball was going to break on the targeted receiver. The ironic thing is that it's his man coverage ability that is arguably his biggest question mark, which might explain why he was moved from corner in the first place.
8. J.R. Reed, Georgia
Draft Board Rank: NR
If Reed could play Notre Dame every game, he might be a top-five pick. In that matchup earlier this year, he had a pick and two pass breakups as he allowed 1-4 receiving for eight yards. He was far from a consistent playmaker though on the back end for Georgia's defense in his three years as a starter though.
Reed just doesn't have the juice you'd like at the safety position. He's not much of a hitter and takes a while to get up to full speed. That showed up a good deal this year as he missed more tackles (11) than he made stops (10).
9. Alohi Gilman, Notre Dame
Draft Board Rank: NR
Gilman started his career at Navy where he started as a freshman before transferring to Notre Dame and putting up a monster season in 2018. That year he was the only safety in the country to earn grades of 90-plus in run defense and coverage. Gilman excels in the box where his physical play style is most effective. He looked like one of the most adept players in press coverage at the Senior Bowl — amongst all defensive backs, not only the safeties — as he took some receivers completely out of the play at times. Put him in space though and you'll see some athletic limitations. He got torched in the semifinal against Clemson last season and on several occasions in 2019. Gilman's best role is likely as a nickel/dime safety in the league.
10. Jalen Elliott, Notre Dame
Draft Board Rank: NR
Elliott possesses a similar skillset to Gilman, but with a little more length to break up passes. He locked down tight ends with ease in the one-on-ones at the Senior Bowl and has forced 11 incompletions over the past two seasons. Like Gilman though, Elliott's range is limited on the back end. Far too many of his angles from deep safety get rounded as his aiming points are inconsistent. There was definitely a stiffness in his hips as well that he made up for with physical play downfield that won't fly with illegal contact rules in the NFL. Keeping him close to the line of scrimmage should be a priority.