The Carolina Panthers selected former Auburn interior defensive lineman Derrick Brown with the seventh overall pick of the 2020 NFL Draft, which raises a fascinating discussion about value, certainty and overall draft strategy.
Almost nobody doubts that Brown will become a good NFL player. The question is, can he be good enough in the right areas for him to be worth a top-10 pick?
[Editor's note: Check out PFF's 2020 Mock Draft Hub, NFL Draft Big Board and NFL Mock Draft Simulator. PFF Elite subscribers can also download the 1,250-page 2020 NFL Draft Guide. For extensive coverage of the 2020 NFL Draft, check out all of PFF's 2020 NFL Draft coverage in one place.]
There may be no safer pick in the draft or a player with a higher floor. Mike Renner, PFF's lead draft analyst, recently ranked the bust potential of the top picks and had Brown as one of the safest options anybody could come away with. A player being "safe" isn't a reason to take him inside the top 10, though. You need to be convinced that he can move the needle enough, as well.
Brown's issue is that the way he affects the game the most — in run defense — is the least valuable aspect of defensive play. Over the course of the pre-draft process, PFF eventually jumped South Carolina's Javon Kinlaw over Brown on our Big Board, simply because Kinlaw is a superior pass-rushing force, and that's where the value lies in interior linemen.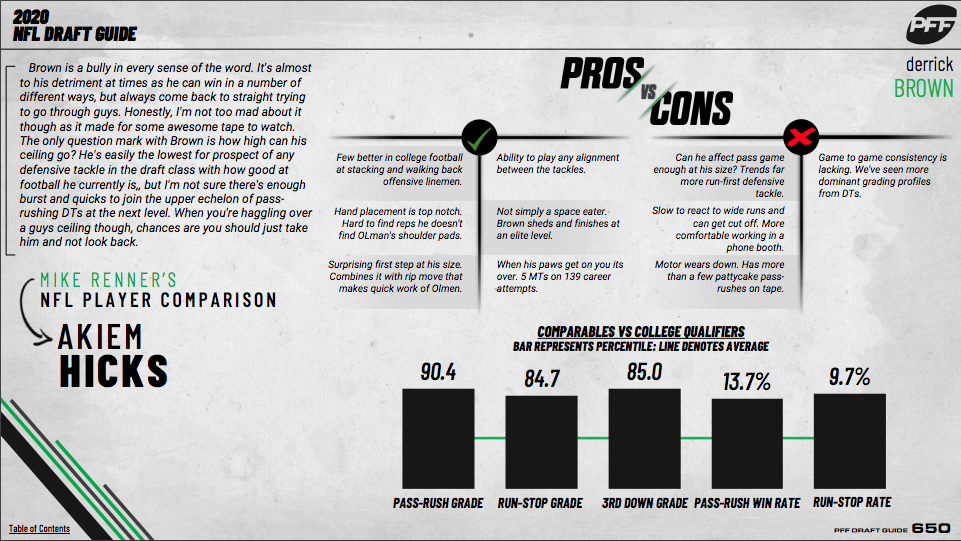 We compared Brown to Akiem Hicks in the 2020 PFF Draft Guide, and if that's accurate, selecting him inside the top-10 feels like a reach. At his best, Hicks has been an exceptionally good player, but he has one season with a PFF pass-rush grade above 70.0, and he has never topped 51 total pressures in a season. In five of his seasons in the league, Hicks has totaled fewer than 30 pressures, which is just a couple more than Jamal Adams — a safety — had in 2019.
Subscribe to PFF Edge to continue reading
Already have a subscription? Sign In