After giving you the biggest pro and con for all the top quarterbacks, wide receivers and defensive backs, it's time to turn our focus to the big men up front. Using PFF's 1,250-plus page 2020 NFL Draft Guide, we give you the biggest pro and con for every top offensive lineman prospect.
[Editor's note: Check out PFF's 2020 Mock Draft Hub, NFL Draft Big Board and NFL Mock Draft Simulator. PFF Elite subscribers can also download the 1,100-page 2020 NFL Draft Guide.]
Biggest Pro: Production
Thomas started from day one as a true freshman in 2017 and was an above-average pass-blocker, recording a 76.7 pass-block grade. He flipped sides in 2018 and took his run-blocking to the next level, which helped raise his overall grade from 68.4 to 80.6. Then in 2019, Thomas had a near perfect year by posting an elite 92.5 overall grade that was the third-highest at his position and performed at a top-10 level in both pass-pro and as a run-blocker. Doing all of that against the SEC is unheard of.
Biggest Con: Feet in pass sets
He has the size, strength and athleticism, but, as the PFF Draft Guide says, his feet are all over the place in pass sets. That said, this isn't remotely close to being enough to take him off the OT1 spot — his pass sets are still great relative to other tackle prospects. With his physical tools and consistently great production in an NFL type of scheme, Thomas should be the first tackle off the board.
Biggest Pro: Freakish athleticism at his size
Wirfs came to Indianapolis for the NFL Scouting Combine at 6-foot-5, 320-pounds and left after demonstrating freakish traits during testing: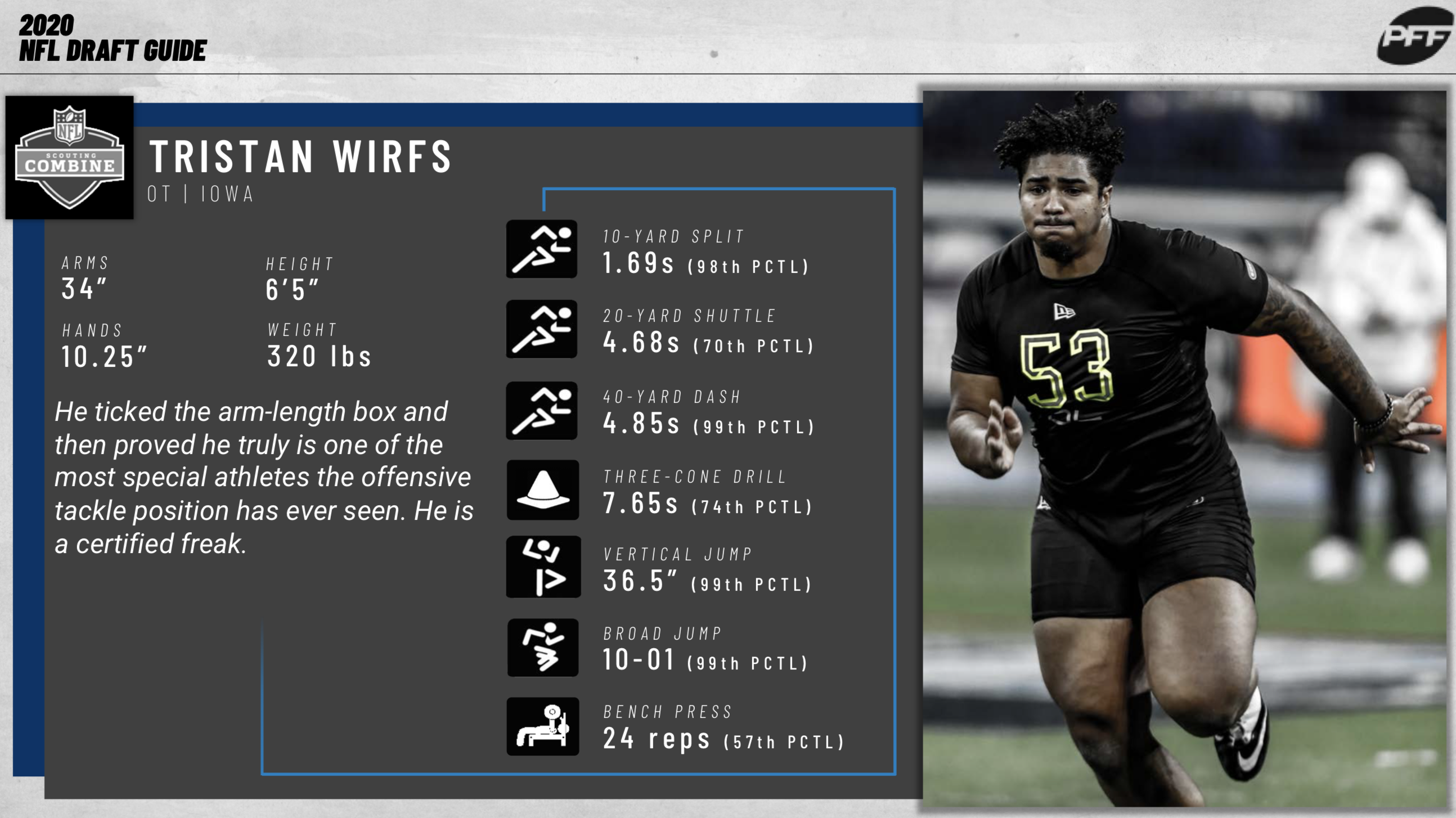 He has all the physical tools to stick at tackle, and when you mix all of that with his production, you get yourself a top-10 prospect in this draft class. Wirfs was right behind Thomas in overall grade, posting a 91.8 mark that ranked fourth in the FBS. Over his last seven games in particular, Wirfs played unbelievably well — he allowed only one pressure and was the only Power-5 tackle to have elite grades in both pass-pro and in run-blocking.
Biggest Con: Opening inside door in pass-pro
As much of a freak athlete as Wirfs is, his lateral agility isn't on the same freak level, and he struggled with inside moves as a result. But don't let this sway your opinion on Wirfs as a prospect too much. Wirfs was still an excellent and physically dominant pass-protector over the course of the year and posted the seventh-best pass-block grade on his true pass sets.
Biggest Pro: Explosiveness and change of direction
Wills' explosiveness and agility jumps off the screen when watching him in both pass-pro and when run-blocking. He moved guys like a snowplow as a run-blocker — Wills had a 90.5 run-block grade this past year that was sixth in the FBS and had more big-time blocks (PFF's highest-graded blocks) than anyone in the class.
Biggest Con: Base in pass-pro
Wills explodes out of his pass sets and gets depth but has a bit of a wide base that makes him susceptible to bull rushes — this led to him giving up 13 pressures this past season. He had a great pass-block grade of 82.5, but it might take him time to get his pass-pro up to elite status like his run-blocking, which makes him OT3 on our board.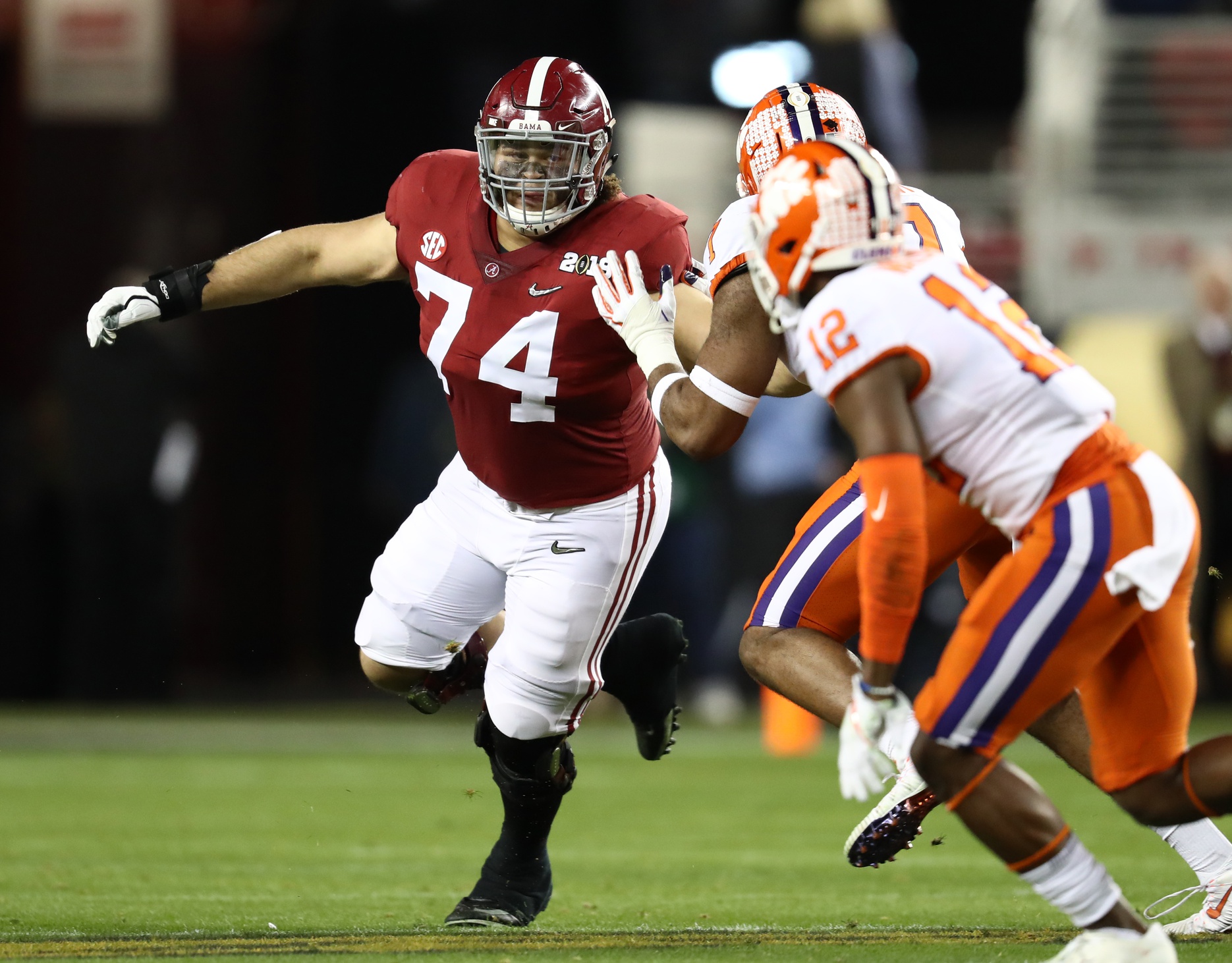 Biggest Pro: Hand usage
PFF lead draft analyst Mike Renner has said that Jones has the most advanced hand usage of anyone in this class. Pass-rushers really just had no answer for Jones this past season — on his 325 pass-block reps, Jones didn't allow a single sack or hit and allowed just two hurries. That's elite-level production.
Biggest Con: Kickslide technique
One of the things holding Jones back from being a top-10 overall prospect and top-three offensive tackle is his footwork. There's not a whole lot of technique there, and he is pretty much just walking backwards out of his stance. That said, the fact he dominated as much as he did with that technique says a lot about what he could be. Jones put up the highest grade we have ever given to a Group-of-5 tackle at 93.4 in 2019.
Biggest Pro: Looked like a worker at IHOP with the number of pancakes he served up
Muti quite literally tossed guys around as a run-blocker. Pay attention to the LG here: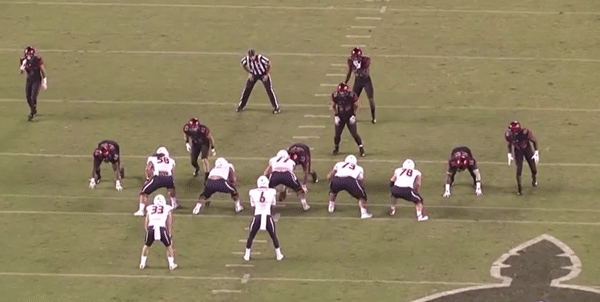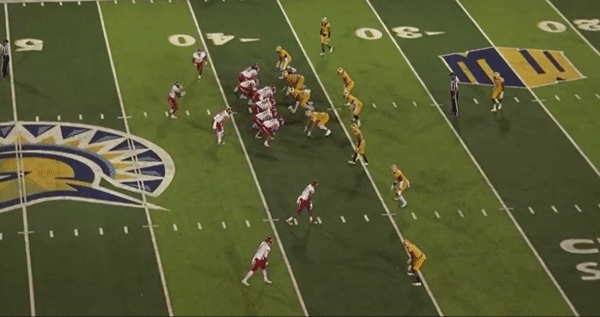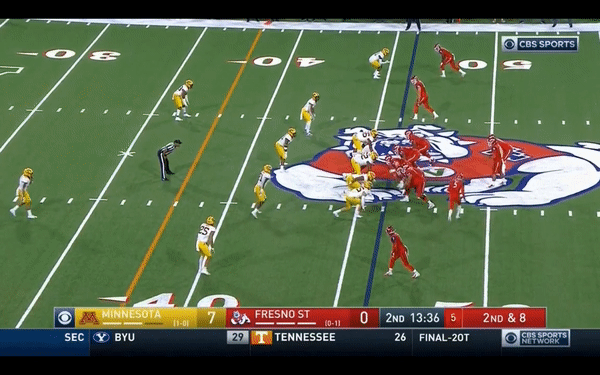 I'm sure I'm not the only one to audibly say "damn" after watching those. As you can see, Muti has unreal strength and power and is just nasty. He could only do the bench press at the combine due to injury, but he managed to put up 44 reps of 225 pounds. Throughout his career as a run-blocker, he posted an 81.4 grade, which ranks seventh of 22 qualifying guards.
Biggest Con: Injury baggage could not be much worse
Muti played in only five games over the last two years and missed all of the 2016 season due to injury. He's played under 1,300 snaps in his four-year career with the Bulldogs, but despite all the injuries he is still the top interior offensive linemen in this draft on the PFF Draft Board. When in pass-pro throughout his career (697 snaps), Muti produced an 86.8 pass-block grade and allowed just a 1.9% pressure rate. He's a freak of nature regardless of whether he is in pass-pro or run-blocking.
Biggest Pro: Short sets
Jackson, a PFF favorite, took home the award for best pass sets in the draft class and is a largely underrated prospect. As Renner said in that article, he gets on interior defenders incredibly quickly. Jackson has lined up all across the interior for Ohio State and Rutgers the last few years and had incredible production — his grade on true pass sets since 2017 is well above the 90th percentile.
Biggest Con: Average physical profile
Jackson didn't do himself any favors with his testing at the NFL Scouting Combine, as his numbers overall were pretty subpar. He doesn't have a whole lot of power and is not going to move guys in the run game like Muti. But his pass-blocking is too good to ignore — he's the best pass-protecting guard in the class, which is more than enough to look past his average physical profile.
Biggest Pro: Under control play style
The fact that at 20 years old Ruiz played as consistently great as he did is pretty remarkable. He didn't have any of the ugly losses like several others did in this class and didn't allow a single pressure in eight of his 13 games played. Ruiz isn't the most agile interior offensive linemen, nor is he the most physical, but he plays under control and can play anywhere on the interior.
Biggest Con: Stunt recognition
Ruiz was nearly flawless in pass-pro last year for Michigan. He recorded an 86.5 pass-block grade, which was by far the best among Power-5 centers. Of the very few negatives of Ruiz's play in pass-pro, a high rate of them were a result of his stunt recognition. As a matter of fact, Ruiz lost as many reps against stunts as he did when there wasn't a stunt despite a more than 200 snap difference in plays with and without (350 pass-block reps without stunt, 142 with stunt).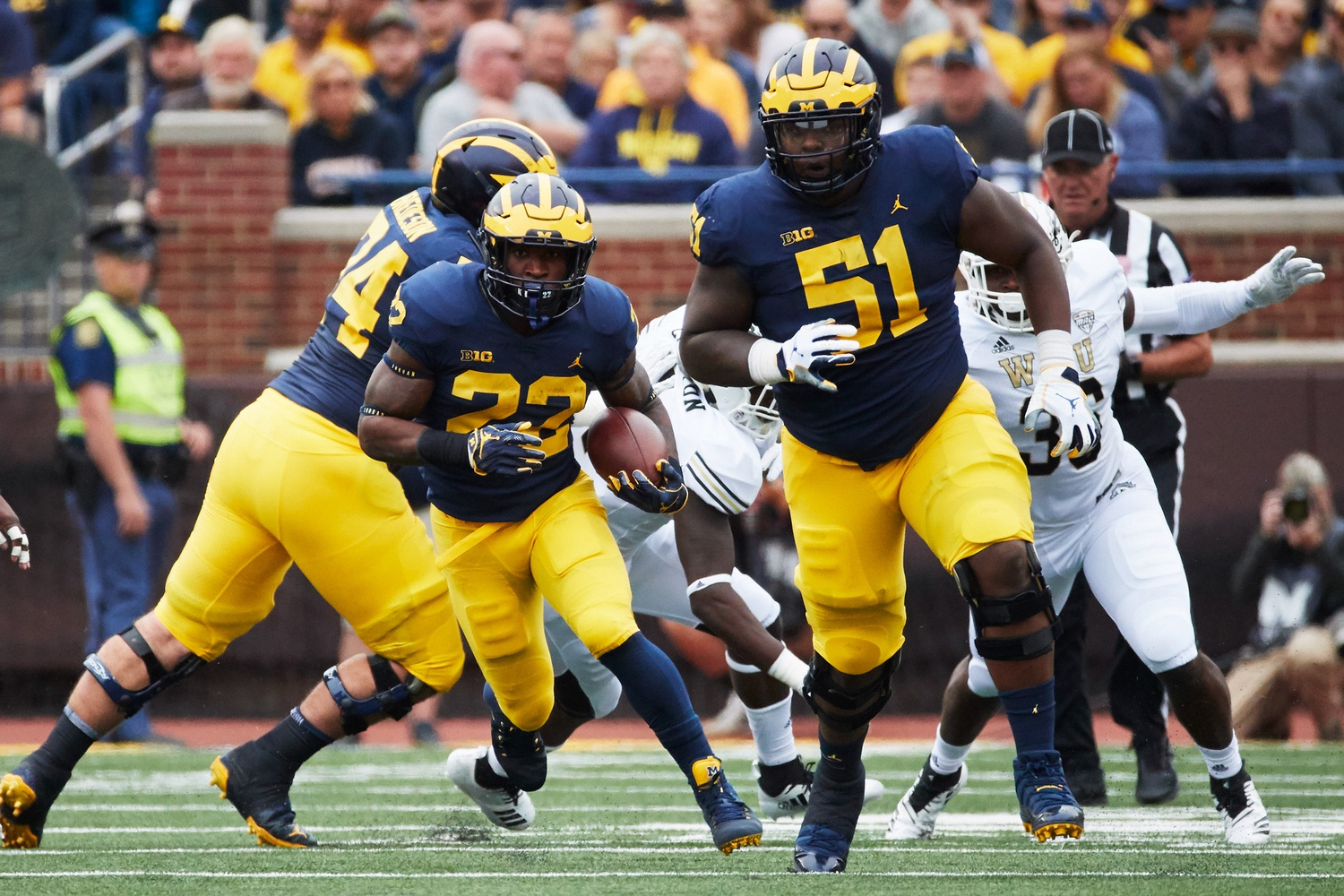 Biggest Pro: He is an outlier of a human with his size and athleticism
At 6-foot-7, 364-pounds with 35 5/8-inch arms and a 40 time of 5.1 seconds, Mekhi Becton is just a different animal than anyone else on the field. As noted in the PFF Draft Guide, he's the largest player in the draft but sure as heck doesn't move like it. Becton produced one of the highest PFF athletic scores at his position and has all the tools needed to get scouts salivating over his potential.
Biggest Con: Was protected in Louisville's scheme
Notice the last word of his biggest pro: "potential." That's all Becton really is at the moment. He didn't face a tough slate of pass-rushers this past year, and Louisville's play-action and screen-heavy offense really protected him. True pass sets are the most stable and predictive way to evaluate performance in pass-pro, and Becton's sets raise a lot of red flags. First off, he had only 73 true pass sets on the year, which is incredibly low. Second, he allowed a whopping eight pressures on those 73 true pass sets. Becton is an absolute unit and can toss undersized guys around, but his true pass sets are a big red flag for us and part of the reason we are hesitant to call him a first-round prospect. We promise you it's not the fact he loves to cook more than play football, as one scout said.
Biggest Pro: Strong hands
Division III product Ben Bartch rings in with a second-round grade and as OT6 in PFF's eyes. One of his best traits is his strong hands that we routinely saw at St. John's as well as down in Mobile at the Senior Bowl. His hands locked defenders up and he'd reset them after being swatted away.
Biggest Con: One of the biggest risks in the draft considering he'll go from facing D-III defensive linemen to the NFL
Yes, Bartch may have recorded a 97.3 pass-block grade and allowed only four pressures on 541 pass-block reps, but he did this against D-III schools like Gustavus Adolphus, St. Olaf and Rose-Hulman. You can't put much stock into those reps when projecting him to the NFL. You should, however, look at how he fared at the Senior Bowl, where he showed the same dominance as he did at St. John's and actually had one of the highest win rates of anyone there.
Biggest Pro: Elite athlete
Let's take a look at some of the numbers Cleveland posted at the NFL Scouting Combine via the PFF Draft Guide: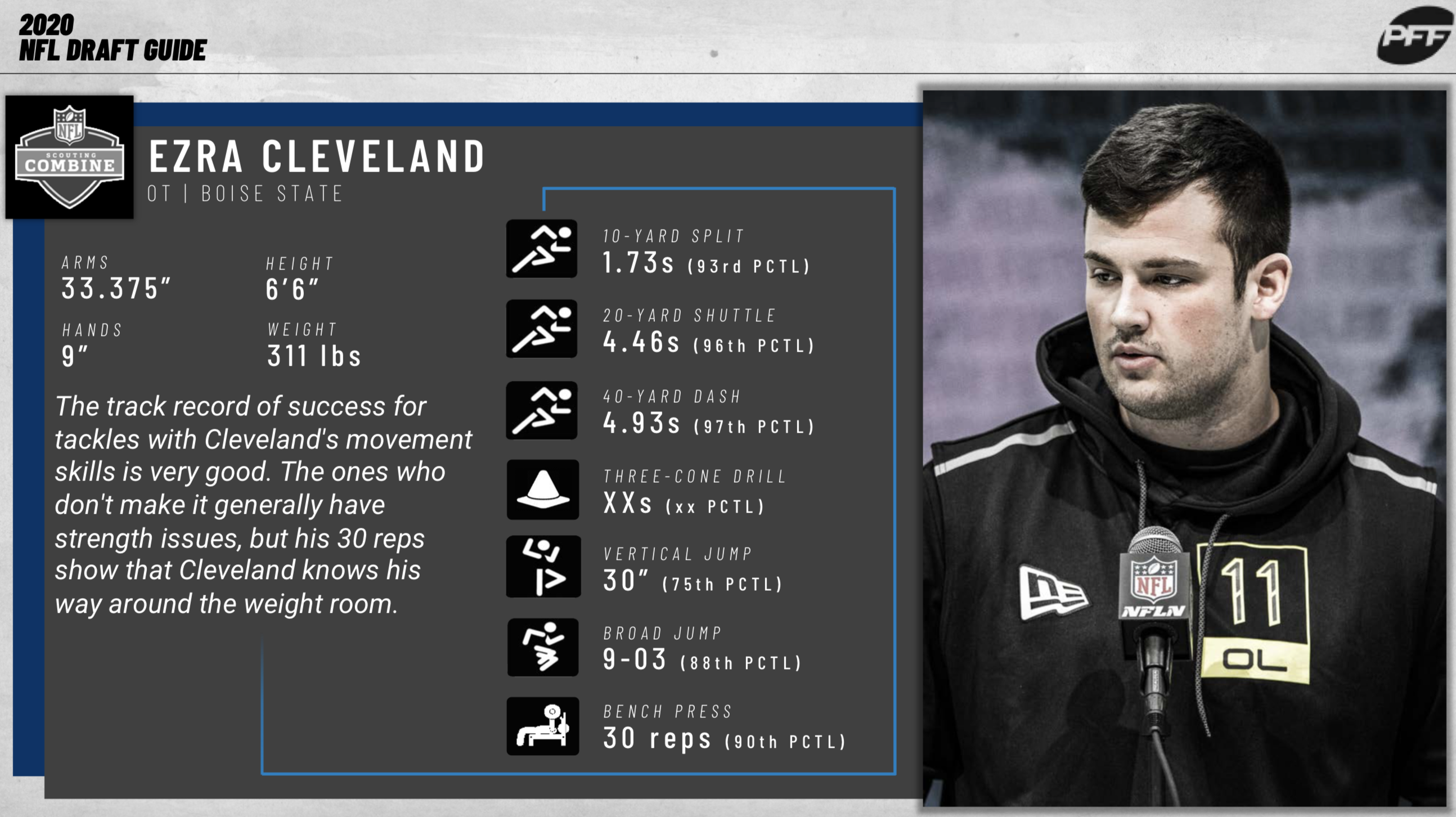 That's a lights-out performance right there, which led to him skyrocketing up virtually everyone's draft boards. Cleveland didn't go up against the most elite edge rushers at Boise State, but when he came across ones who had great athleticism, he could match them and shut them down like everyone else. He posted a pass-block grade above 81.0 in all three of his years starting at Boise State, which was consistently above the 85th percentile among FBS tackles.
Biggest Con: Core strength
As you can see above, Cleveland threw up an impressive 30 reps on the bench press at the Combine, but he doesn't play as strong as that on the field. He never "wowed" you with dominant reps against Group-of-5 competition, and as the PFF Draft Guide notes, he has a "thin frame that's lacking strength you'd like in the lower half."