With the 2020 NFL Draft right around the corner, talk is heating up regarding the quarterback position and where the top prospects will end up falling in the pecking order. Some are being more hyped up than deserved, which will likely lead to four or five quarterbacks taken in the first round. That being said, let's dive into every top quarterback's biggest strength that some teams are falling in love with as well as their biggest flaw that might sway some away:
[Editor's note: Check out all of PFF's 2020 NFL Mock Drafts and NFL Draft Big Board. PFF Elite subscribers can also download the 1,100-page 2020 NFL Draft Guide.]
Burrow broke numerous PFF records in his unforgettable 2019 season, but perhaps the most impressive facet was his accuracy. He was one of the most accurate, if not the most, to all levels in any situation:
Burrow % of accurate passes thrown rank by situation in 2019
| | |
| --- | --- |
| Situation | FBS rank |
| Passes beyond line of scrimmage | 1st |
| Tight window throw | 1st |
| Deep passes (20-plus yards) | 1st |
| Clean pocket | 1st |
| Under pressure | 5th |
| Outside the pocket | 1st |
| First read | 1st |
| In rhythm | 1st |
Accuracy is widely considered the most important attribute for a quarterback prospect to have, and Burrow clearly knocks this well out of the park. His accurate pass rate in 2019 — on anything beyond the line of scrimmage — was nearly four percentage points higher than anything we have seen the past three seasons. Over the past two seasons, Burrow has had just under 8% of his passes result in an incompletion that was faulted to him, which is by far the best rate in the 2020 draft class.
Biggest Con: Age is really the only concern
Age is really the biggest concern for Burrow, as he will turn 24 next December. But the fact that his age is the biggest con for him says a lot about how great of a prospect he is. For perspective on how flawless Burrow was last season, take a look at how his 2019 campaign stacks up compared to every other quarterback season PFF College has recorded in regard to PFF WAA: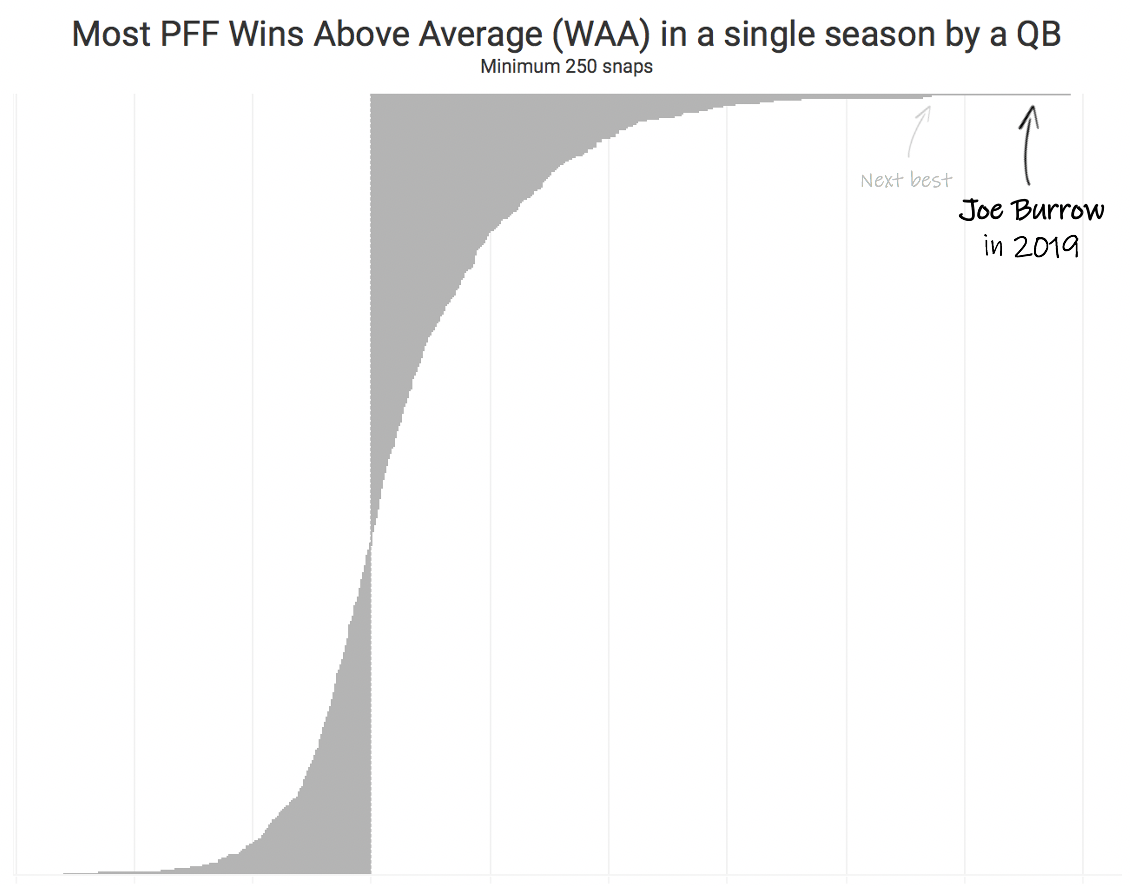 No other quarterback even sniffs Burrow's 2019 season. If there is any other concern or con with his play translating to the next level, it's his willingness to stay inside the pocket — which can sometimes invite in pressure or even a sack, as PFF Senior Analyst Steve Palazzolo has said. Burrow was charged with seven sacks and 22 total pressures in 2019 — both of which were still below-average marks. This is nit-picky and nothing to be alarmed about, though. Burrow is the best prospect we have ever evaluated in the PFF College era.
Like Burrow, Tagovailoa carries the most important trait: sharp accuracy. On throws beyond the line of scrimmage last year, Tagovailoa posted the highest rate of perfectly placed passes before coming back in 2019 and generating the fourth-highest rate. Granted, he saw a high rate of open throws. But on the limited tight-window passes he had to make, Tagovailoa was still sharp by ranking fourth in uncatchable pass rate to a tight window in 2019.
The one stat that would terrify me if I'm considering draft Justin Herbert or Jordan Love is this…

% of uncatchably off-target throws targeting when an OPEN receiver 5-18 yards downfield in 2019:

Tua 4.3%
Hurts 5.0%
Burrow 5.1%
Love 14.1%
Herbert 18.1%

— Mike Renner (@PFF_Mike) April 13, 2020
The above tweet is about Herbert and Love being remarkably high, but check out who ranks first on that list.
Biggest Con: Injury aside, easy situation
The gruesome hip injury is clearly the biggest con on Tagovailoa's draft profile, but aside from that, the elite situation he was in is perhaps the most worrisome part when projecting him to the NFL. Over the past two years, no wide receiver unit was nearly as valuable in total WAA than that of the Crimson Tide's. Tagovailoa had two 2020 top 10 draft prospects to throw to in Jerry Jeudy and Henry Ruggs III, as well as two potential 2021 first-round picks in DeVonta Smith and Jaylen Waddle. Still, he took advantage of that and made minimal mistakes with his arsenal of elite receivers, posting elite grades and top-15 finishes in positively graded and negatively graded throw rate in each of the past two seasons. Similar to Burrow, this is being nit-picky, if anything. He's not on Burrow's level, but Tagovailoa is up there with one of the best prospects we have ever seen.
It's easy to fall in love with arm strength, and that's a large reason why Herbert is viewed so highly by most NFL scouts. He can thread some needles into tight windows with the zip he puts on the ball and launch it deep downfield:
Look at this strike by Oregon QB Justin Herbert pic.twitter.com/vgvaNZSBeq

— Steve Palazzolo (@PFF_Steve) September 30, 2018
And we have routinely seen the zip he has on tight-window throws to receivers running toward the sideline. Herbert had 62 passes when he was leading the receiver across the field and ended up outside the numbers, producing the third-highest grade in 2019. On top of that, he owns 12 big-time throws on 40-plus yard passes since 2017, which is the eighth most. Friendly reminder that this is a good trait to have but is lower on the totem pole than accuracy, decision making and pocket presence.
Biggest Con: Gets panicky in big moments or when things don't go his way
Herbert has been heavily criticized for poor performances in big games, and it's certainly something to be worried about. Arguably the three biggest games of Herbert's 2019 season are the following: Week 1 vs. Auburn, Pac-12 Championship vs. Utah and the Rose Bowl vs. Wisconsin. All three were among his four worst single-game grades of the season and combined to make up a 58.2 overall grade.
Being able to show poise and avoid mistakes when under duress is a vital trait to have. In Herbert's case, you could see panic when any type of pressure was coming his way, which led to a lot of errant throws. Herbert posted the fourth-worst negatively graded throw rate when under pressure in 2019. That doesn't necessarily scream "top-10 quarterback."
We have said before how Hurts brings running back-esque ability to the table, and he more than proved that with his absurd testing numbers at the NFL Scouting Combine. Hurts was among the best in college football when it came to his scrambling ability, whether he was improvising on a long-developing play or taking advantage of an open hole. Over 25% of his total scrambles resulted in an explosive rush of 10 or more yards. As a matter of fact, Hurts overall actually produced the second-most carries of 10-plus yards, behind only a triple-option quarterback. While his overall rushing ability isn't on the same level as Kyler Murray or Lamar Jackson coming out of college, Hurts brings a lot of value to the RPO and read-option attacks and clearly has the athleticism to create outside the structure.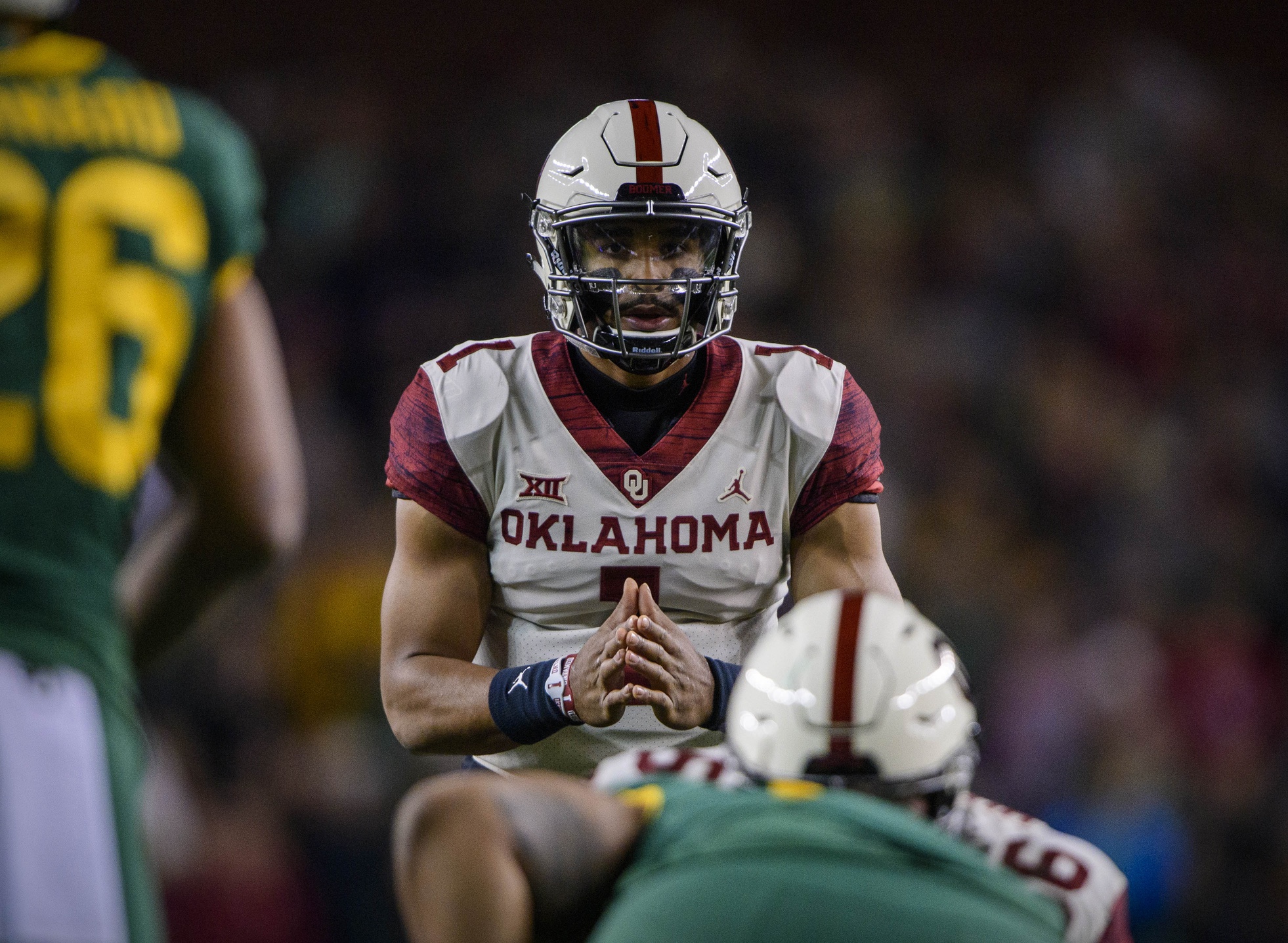 Biggest Con: Slow decision-maker. which won't fly in the NFL
Hurts had the slowest average time-to-throw this past year at 3.08 seconds, which was far slower than any other FBS quarterback (second slowest was at 2.91 seconds). Throw in the fact that he has a slow release, and it makes projecting him to the NFL a bit concerning. He does have the rushing ability, accuracy, decision-making and collegiate production that leads us to believe he can succeed at the next level, but it'll take an NFL team being open to completely changing their playbook to cater to his playstyle.
Biggest Pro: Can protect the football as well as anyone
In 2019, Fromm produced a turnover-worthy play rate that ranked fifth among FBS signal-callers, trailing only Utah's Tyler Huntley for the best in the 2020 draft class and ranking a spot ahead of Joe Burrow. On 98 dropbacks under pressure, Fromm had just one turnover-worthy play — a feat only two other FBS quarterbacks accomplished. The fact he did it against the SEC makes it just that much more impressive.
Biggest Con: Not going to create a play himself and very dependent on his supporting cast
The big concern with Fromm is that Georgia relied more on everyone else to win games. He fits the "game manager" title and wasn't someone who could create outside the structure of the play. He had only 25 dropbacks on which he scrambled outside the pocket and tried to create a play, which ranked 148th among college quarterbacks. On those dropbacks, Fromm produced a grade in the low 30.0s. For perspective, Burrow had over 100 such dropbacks and produced an elite PFF grade.
This is one of the traits many have praised when evaluating Love — and rightfully so, for the most part. Love has had an above-average pocket presence and evaded sacks as well as anyone. Last year, just 15.5% of his pressured dropbacks ended up as a sack, which was three percentage points below the FBS average.
He could scramble outside the pocket and give himself an opportunity to make a play — which is a great trait to have — but the problem was his decision-making when escaping a pressured pocket. Love had an FBS-high nine turnover-worthy plays when creating outside the structure in 2019. He had an above-average completion percentage when creating outside the structure, but there were just too many head-scratching throws for comfort.
Biggest Con: His best throws came only in favorable situations — accuracy suffered massively when he didn't have an easy throw to an open receiver
When he targeted a receiver with a step or more of separation, Love had the second most big-time throws in the FBS (23) and limited his turnover-worthy play count to just two. When throwing into a tight window, though, Love posted a below-average big-time throw rate and an FBS-high 15 interceptions en route to a PFF grade that barely cracked the 25th percentile among FBS quarterbacks. As a matter of fact, Love led the country in QB-fault incompletions when throwing to a tight window (nearly two-and-half times more than Burrow). He's also been a below-average quarterback when under pressure compared to his counterparts in PFF grade.
Love may have won over some hearts against Kent State's 113th-ranked defense in the Tropical Smoothie Café Frisco Bowl to close out the season, but he failed to come up big in the true spotlight against Power-5 competition. In his two games against Power-5 schools, Love posted grades of 54.8 (at Wake Forest in Week 1) and 44.0 (at LSU in Week 6), which were two of his four worst games of the season.
Moral of the story: Don't overdraft on potential.
Biggest Pro: Excellent accuracy underneath
At the helm of Mike Leach's infamous Air Raid attack, Anthony Gordon saw his fair share of passes — most of which were short, quick throws — and he was excellent on such throws. Gordon actually posted the highest accurate pass rate on throws of nine yards or less in 2019, even better than Joe Burrow (barely). On throws that were two seconds or less from the snap and weren't a screen, Gordon owned the second-highest rate of accurate passes. Granted, these throws have minimal difficulty, but that's still a rather impressive number.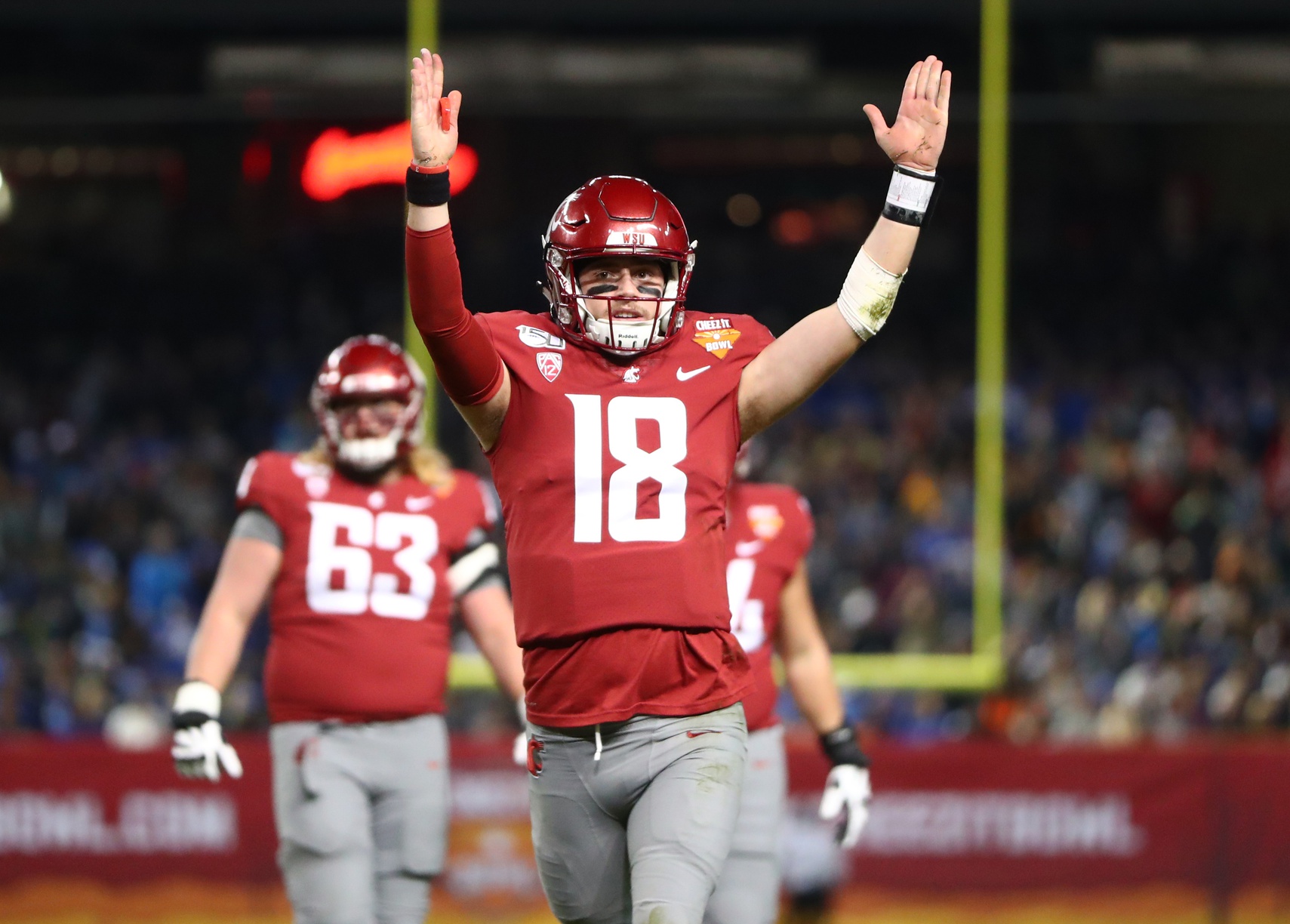 Biggest Con: Decision-making was average at best, especially when he was going deeper downfield
Gordon made quick decisions perfectly and thrived in Leach's offense with his tight release. But on deeper throws, his decision-making was vastly different. Gordon produced a negatively graded throw rate on attempts of 10 or more yards downfield that was the third worst among FBS quarterbacks. And it's not like he was completely inaccurate on these throws, either — he still ranked top 15 in accurate pass rate on such throws — Gordon just had a bunch of questionable passes.
That said, he does project well to the NFL — as found by PFF's Research and Development team — and could be a steal if he falls to Day 3.
Biggest Pro: Arm talent is easy to fall in love with
Jacob Eason's arm talent has been a large reason why he's referred to by some as a darkhorse first-round talent. Throw in the fact he's 6-foot-6, and he certainly looks like he can be a franchise quarterback when throwing against air. As PFF Lead Draft Analyst Mike Renner said in the PFF Draft Guide, Eason has "easy zip on the ball" and "50 yards on a line is nothing for him." You see it when he's in a clean pocket, as he owns a top-10 PFF passing grade and the 13th most big-time throws. But when he's knocked off his rhythm, man does it get ugly.
Biggest Con: Performance under pressure was about as bad as it can get
Eason owned a 29.4 passing grade when knocked off his rhythm, ranking 81st of 96 quarterbacks. When under pressure in general, Eason posted the second-worst negatively graded play rate in college football. And he completely collapsed when he went up against real deal college pass-rushes. That's obviously not getting any better at the NFL level.
Love converted pressure to sacks on just 9% of his pressured dropbacks, which is an elite rate and the second best of 2019. Overall on the year, we charged Love with only six pressures invited, which ranked fifth-lowest among starting signal-callers. Love stayed poised in collapsing pockets, delivering the fourth-most big-time throws (10) and a top-10 passing grade under pressure.
Love delivered some seeds deep downfield, but you were never sure when they'd come — he was largely all over the map when throwing deep. On throws of 20-plus yards, Love threw just 30% of his passes accurately, ranking just 65th of 89 qualifiers. As bad as his deep accuracy was, he was still the eighth-most valuable quarterback of the 2019 season. NFL teams probably want nothing to do with him being an undersized, small school product, but he's worth taking a flier on.
Biggest Pro: Mistakes made were minimal
Luton has been a PFF draft board riser lately, and his sharp decision-making is one of the reasons why. This past season, Luton had a turnover-worthy play rate that was the 12th best in college football. He was charged with only four pressures all season long, which was the third fewest among starters, and he was among the few that didn't have a single fumble. Standing at 6-foot-7, Luton has a solid arm and deserves more looks than he is currently getting. And the fact he isn't getting more attention given the size and arm is a bit surprising.
Biggest Con: Poor mobility and doesn't offer much outside the pocket
With that size, though, Luton offers virtually no mobility. He would very rarely scramble with the ball, instead taking a rather alarming rate of sacks when under duress. On the occasion he did try and create outside the structure, things got ugly. Luton ranked 76th of 85 quarterbacks in passing grade on such plays, completing only 4-of-29 passes (lowest completion rate in college football).
McDonald had nine completions on throws of 40 or more yards downfield, leading all FBS quarterbacks last season. He racked up 17 deep passing touchdowns (20-plus air yards), which ranked behind only LSU's Joe Burrow, UNC's Sam Howell and Ohio State's Justin Fields. However, McDonald ranked just 68th of 96 qualifiers in deep passing grade, which leads us to his Jameis-esque style of play at Hawaii.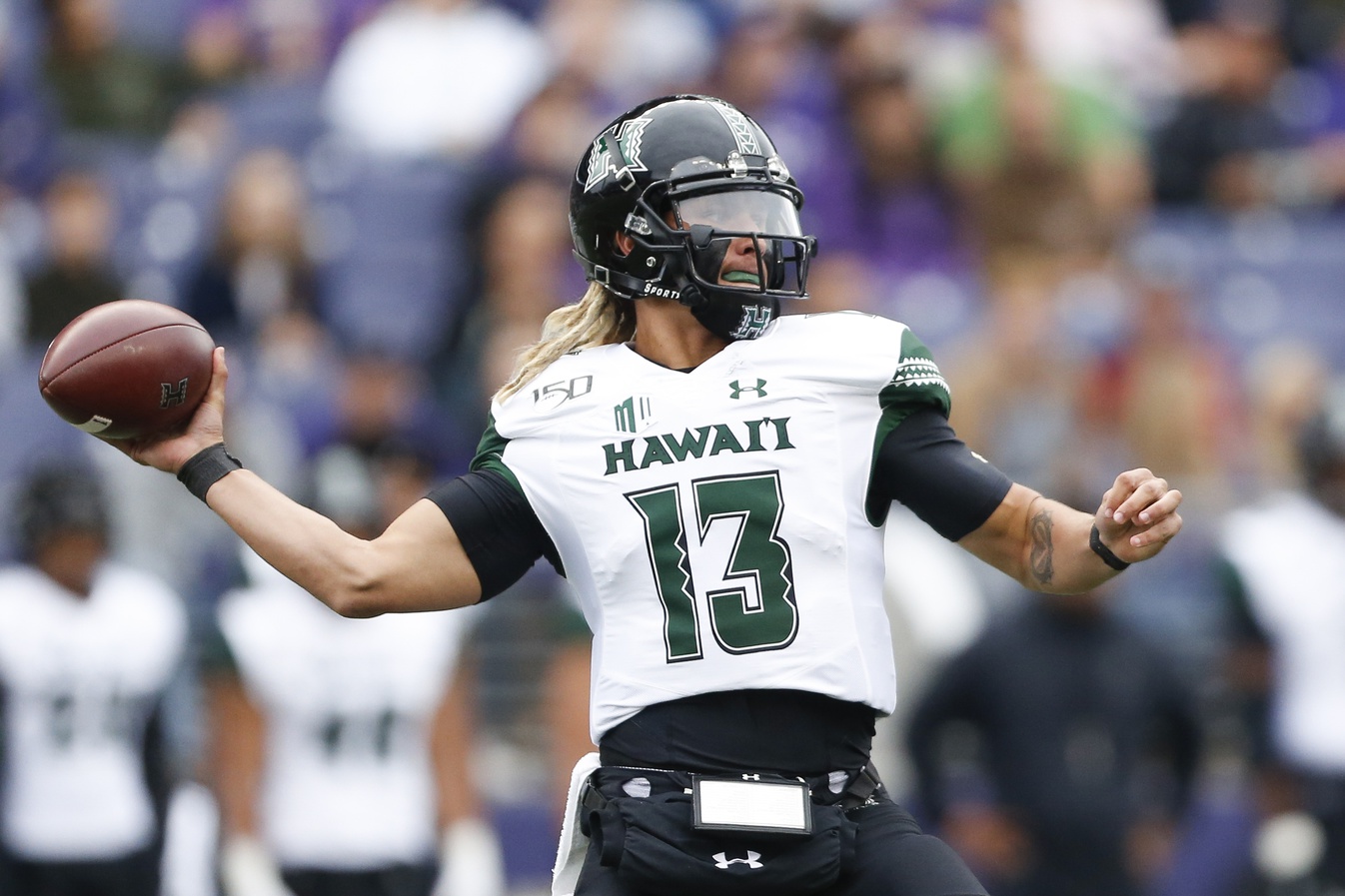 Just when you see McDonald deliver a strike downfield, you see him respond with an ugly throw that makes you say to yourself, "What the hell was that?" McDonald posted the 12th-worst turnover-worthy play rate, but also the 18th best big-time throw rate. With that type of decision-making, he's going to be a project.
As much of a roller coaster as he is throwing the ball, McDonald is a tremendous athlete and can bring something to the table in the run game. He posted an elite 4.58-second 40-yard dash time for a quarterback at the NFL Scouting Combine.
One of the most undervalued players in the entire NFL Draft, regardless of position, is Utah's Tyler Huntley. He was nothing more than a slightly above-average passer prior to 2019, but he looked like a completely different player this past season by raising his passing grade from 74.1 to 89.0. One thing that did remain the same was his pinpoint accuracy.
When throwing beyond the line of scrimmage in 2018, Huntley posted the second-best accurate pass rate in college football — ranking a few spots ahead of Tua Tagovailoa, Kyler Murray and Joe Burrow. In 2019, he posted a near-identical rate in that metric but dropped a few spots down to fifth. Combing the two seasons, he ranks second — sandwiched between Burrow and Tagovailoa.
And it's not because he didn't throw deep often — Huntley was still the fourth-most accurate quarterback on 10-plus yard passes. Accuracy is king when examining quarterback prospects, and Huntley has it.
Biggest Con: Undersized and wasn't asked to win games for Utah
As stated in the PFF Draft Guide, Huntley was rarely asked to win games for Utah. In only two games did he have more than 35 dropbacks, and he didn't necessarily play the best in the Utes' two biggest contests to close out the year. His size is nothing that impresses you, either, at 6-foot-1 and barely over 200 pounds. But to say Huntley is a UDFA prospect because of these two things is just absurd. Huntley clearly has the accuracy to thrive at the next level, and that's without mentioning his great poise under pressure (fourth in pressured passing grade), mobility (233 designed carries in his career and above-average rushing grades each season) and decision-making (best turnover-worthy play rate among Power-5 quarterbacks).