The wide receiver class in the 2020 NFL Draft is incredibly deep and the best we have ever seen here at PFF. The position makes up 25% of the top 40 players on our final Big Board, with three wideouts in the top 10. That being said, let's dive into every top wide receiver's biggest strength and most concerning flaw in this loaded class.
[Editor's note: Check out all of PFF's 2020 NFL Mock Drafts and NFL Draft Big Board. PFF Elite subscribers can also download the 1,100-page 2020 NFL Draft Guide.]
Biggest Pro: Routinely created separation and was deadly in open field when he did
What Jeudy has done the past couple of seasons is remarkable. He produced the best two-year receiving grade we have seen from an SEC receiver and constantly created separation with his near-flawless route-running. In that span, Jeudy recorded 53 catches where he gained 15-plus yards and had at least a step or more of separation — eight more than any other FBS receiver in that timeframe. Reminder: he was a part of an elite receiving unit at Alabama and played in the toughest conference in college football.
At 6-foot-1, 193 pounds, Jeudy is a tad bit undersized, and there is concern with how he will handle the physicality of NFL corners. He saw only 17 contested targets the past two years at Alabama (roughly 8% of his targets), and that surely is going to rise in the NFL. Granted, he performed considerably well on those limited reps, but the physicality and contact he'll face at the next level is going to be far more than anything he saw in college. This is being nitpicky, though, and as you can see from his Big Board ranking above, it's not a big looming concern with projecting him to the next level. There's a lot to love and little to not like with Jeudy as a prospect. With his route-running, we are confident in calling him WR1 in the 2020 NFL Draft and the second-best wide receiver we have ever evaluated behind Amari Cooper.
Biggest Pro: Lights out after the catch
Lamb made some starting defenses look like scout teams with the damage he did after the catch. Since 2018, Lamb has broken the third-most tackles after the catch (38) and has tied for the fifth-most yards after the catch per reception (9.2). Of those 38 broken tackles, 16 came on targets of 10 or more yards downfield, which tied for second. And on those same targets, Lamb averaged an absurd 7.7 yards after the catch per reception. Lamb does just about everything at an elite level, and his after-the-catch ability is the highlight.
Biggest Con: Faced very few elite cornerbacks in the Big 12
The Big 12 conference is known for high-scoring shootouts and poor secondaries, which means Lamb didn't get the opportunity to go up against a lot of elite defensive backs like Jerry Jeudy in the SEC. Perhaps the best cornerback Lamb faced in his time at Oklahoma (for more than one or two routes) came in the 2018-19 College Football Playoff semifinal against Alabama's Patrick Surtain II. Lamb did have his way with Surtain, who at the time was a true freshman, hauling in six catches on eight targets for 88 yards and one touchdown.
Biggest Pro: Explosive play machine with his generational speed
Indianapolis erupted when Ruggs ran a blazing 4.27 40-yard dash and a 1.43 10-yard split at the NFL Scouting Combine. Watching him at Alabama, you saw this generational speed of his completely terrorize defenses every single week. Removing screens, Ruggs had open separation (more than a couple of steps) on 67.7% of his targets when lined up on the outside in 2019, which led all FBS receivers and was 30 percentage points above the average. His releases and route-running are precisely what you want in a wide receiver prospect. And when combining that with his speed, you get an after-the-catch monster (averaged 10.5 yards after the catch per reception in 2019).
Biggest Con: Target share at Alabama was incredibly low for a top-three WR prospect
Ruggs did not see a high target share in Alabama's loaded offense that featured Jerry Jeudy and potential 2021 first-round picks DeVonta Smith and Jaylen Waddle, which has lowered his stock in the eyes of some. But just because he didn't see a significant target share doesn't mean he isn't a top-three wide receiver in this class and a top-10 prospect overall. Ruggs made the most of every target he saw, and as PFF's Ben Linsey has previously noted, his production is an outlier — no other receiver with a target rate below 20% the last two years managed to average more than 11.0 yards per target. Ruggs sat at 12.0.
Shenault is lethal with the ball in his hands and looks like a running back after the catch. In fact, PFF Lead Draft Analyst Mike Renner actually gave him a player comp to Saquon Barkley in the PFF Draft Guide. He has broken an FBS-high 44 tackles since 2018 and averaged an impressive 7.4 yards after the catch per reception in that span. He's not the most refined route-runner yet, but he's proven to be one of the most dangerous receivers you'll see on screens and sweeps — where he has broken nine more tackles than any other receiver over the past two years and averaged 10.8 yards after the catch per reception.
if Laviska Shenault falls to the end of Round 2 I will riot pic.twitter.com/PRdUJqolRs

— Anthony Treash (@PFF_Anthony) April 10, 2020
While he remains 18th on PFF's Draft Board, Shenault has drastically fallen down a lot of others due to his brutal injury history. Shenault had suffered multiple injuries over the past couple of seasons, one of which was reaggravated at the NFL Scouting Combine when he ran the 40-yard dash. Consequently, his time was a lot slower than anticipated, and the injury forced him to undergo surgery that sidelined him for a few weeks. It's an understandable red flag and is largely the reason why Shenault went from a top-15 prospect to, perhaps, a mid-second-round pick for a lot of people. But we still view Shenault as a player a team should absolutely look at in the back half of the first round. Creative offenses such as the Ravens (pick No. 28), 49ers (pick No. 31) or Bears (pick No. 43) should be jumping for joy if Shenault falls to them.
Biggest Pro: Explosive athlete, which will make him an elite deep threat in the NFL
When Reagor had the ball in his hands, it was evident he was a gifted athlete with unreal explosiveness. Over the past two years, Reagor generated an explosive play of 15-plus yards on 51.6% of his catches — the second-highest rate in college football and nearly 20 percentage points above the FBS average. With that athleticism, Reagor constantly gets behind defenses and was named the top deep threat in the class in the PFF Draft Guide as a result.
— Mike Renner (@PFF_Mike) April 3, 2019
Biggest Con: Could not have been in a worse situation at TCU
Reagor's production was as bad as it gets this past season at TCU, hauling in only 43 of his 88 targets for 611 yards and five scores. This was largely because he had to endure horrendous quarterback play and poor usage. Reagor saw a catchable target just 61.4% of the time, which ranked 118th among 120 wideouts who saw at least 80 targets. He was also thrown at right wide receiver for over 83% of his offensive snaps. This wasn't Reagor's fault, but it doesn't help any in projecting him to the NFL.
Biggest Pro: Near perfect ball skills
Standing at 6-foot-4 with 32.5-inch arms, Pittman owns a massive catch radius and near-perfect ball skills. He dropped just 2.8% of his catchable targets throughout his college career (among the five lowest rates in the FBS in that span) and can adjust to any off-target throw and snag what would typically be an incomplete pass.
Biggest Con: Doesn't offer much after the catch
With that size, Pittman offers very little after the catch. In his career, Pittman has averaged about 5.3 yards after the catch per reception and has broken just 20 tackles on 171 career receptions, which forms a rate that barely cracks the 25th percentile. But that shouldn't sway teams away from Pittman — he's very much a top-25 prospect in this class and a great possession receiver.
The 6-foot-4 Higgins has some of the best hands and biggest catch radius you'll see. Over the past two years on targets of 10 or more yards, Higgins hauled in 88.2% of catchable passes, dropped only 2.6% of them, and reeled in over half of the contested throws that came his way. He didn't need open separation to win deep — he'd dominate any corner in tight coverage with his size. Higgins actually produced the best grade against tight coverage since 2018. He has elite ball skills that NFL teams have to love.
Clemson WR Tee Higgins has some of the best hands in CFB and an insane catch radius.

He's @PFF's highest-graded Power 5 WR and will likely be a steal in a loaded WR class in the 2020 draft. pic.twitter.com/KP24Iwh2Fj

— Anthony Treash (@PFF_Anthony) December 26, 2019
Biggest Con: If anything, he was in one of the best situations at Clemson with Trevor Lawrence
Yes, this is nitpicky, but it's true — playing with the best underclassman we have ever seen in Trevor Lawrence will skew your production some — but that's not to say Higgins didn't earn his second-ranked PFF receiving grade and fourth-most yards per route run (3.31) over the past two years. He certainly earned most of that compared to what was handed to him from Lawrence, and he has all the traits to succeed at the next level.
Jefferson's ball skills are exactly what you want to see in a prospect. As stated in the PFF Draft Guide, he "attacks the ball and plucks it out of the air." Over the past two seasons, Jefferson hauled in 56% of his contested targets, which was one of the 10 highest rates among FBS receivers.
Biggest Con: Never proved he could win on the outside
In 2018, Jefferson spent most of his time as an outside receiver — as opposed to the slot, which is where he lined up for 98.6% of his snaps in 2019 — and he was pretty poor against single coverage; he recorded a PFF grade that didn't crack the top 100, and he caught under 70% of his catchable targets. For that reason, we aren't as high as everyone else on Jefferson. He never proved he could beat press coverage, which is one of the biggest things we want to see from a wide receiver prospect.
Biggest Pro: Explosiveness after the catch
This class is loaded with guys who can explode after the catch, and Aiyuk is one of the most fun ones to watch. He didn't run a blazing 40-yard dash at the NFL Scouting Combine by clocking in with a 4.5, but he did show his explosiveness in his 10-yard split, vertical and broad jump by cracking the 90th percentile in all three of those categories. This past year, Aiyuk averaged an absurd 10.9 yards after the catch, broke 14 tackles and generated a 133.9 passer rating on 65 catches. Aiyuk is just as much a weapon on screens as Laviska Shenault, as he produced the most explosive plays on screens (9) and averaged nearly 12 yards after the catch.
Biggest Con: Didn't have a diverse route tree
As much of a weapon Aiyuk as is on screens, it's also a part of the biggest weakness within his game. Over 30% of his targets the past two years have been a screen. His next-highest targeted routes were a go (17%), hitch (13.7%), post (8.2%) and slant (8.2%). That's not a real diverse route tree.
Biggest Pro: Unreal athleticism for his size
Let's take a look at Denzel Mims' combine measurements and testing numbers: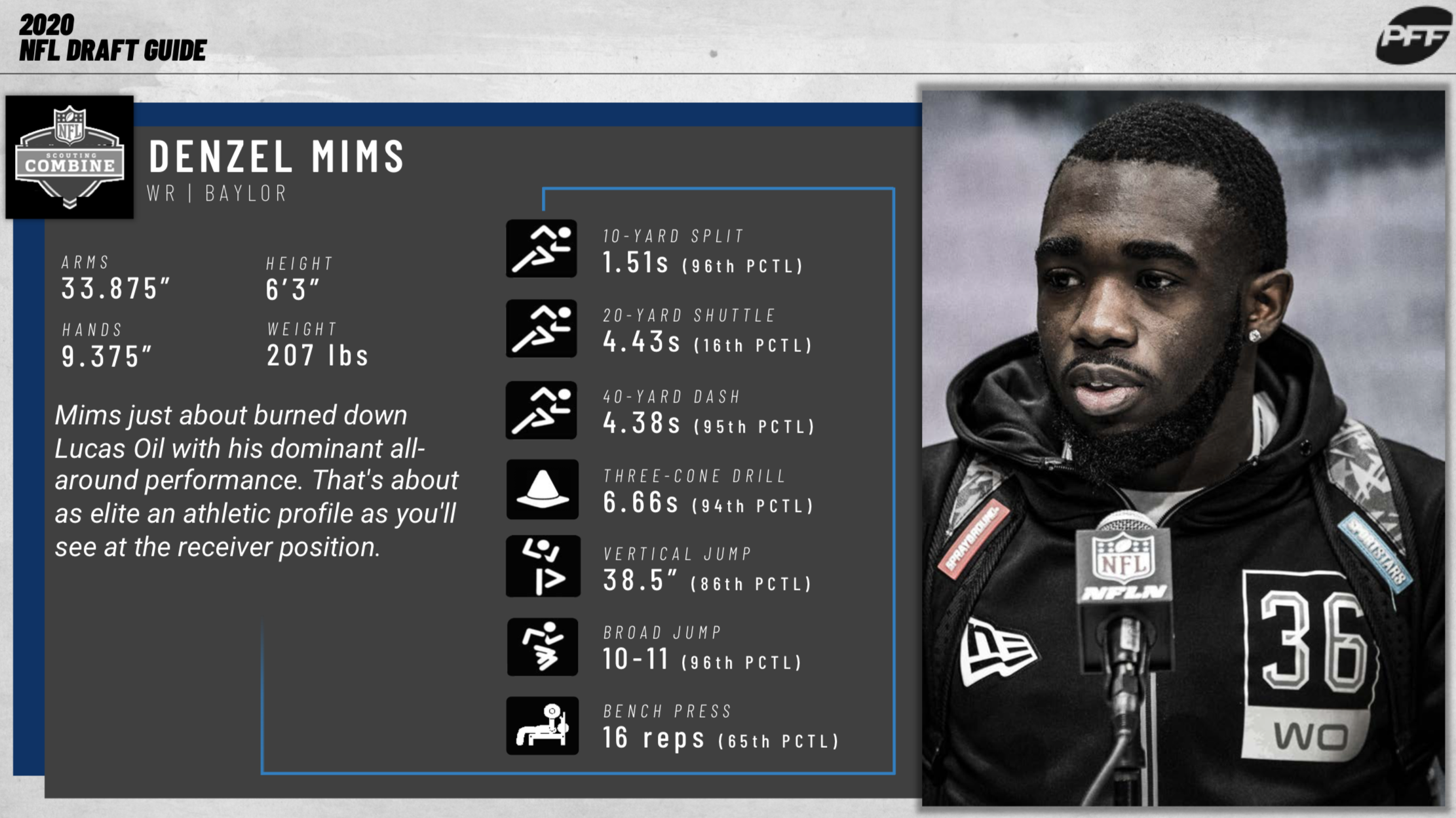 It's almost hard to believe a man that size can post numbers like that. He can maintain that speed through contact with ease, too. Mims has posted the second-highest grade against tight coverage since 2018.
Biggest Con: Struggle to get off the LOS
This was among the concerns we had throughout the 2019 season with Mims. He would give himself up at times and didn't necessarily win at a high level. At the Senior Bowl, though, Mims made this an afterthought —  when we graded the one-on-ones, he won all but one rep all week.
Baylor's Denzel Mims rocketed up @PFF's draft board after a strong week at the Senior Bowl, going from No. 71 to No. 37.

Mims showed off advanced route-running ability in the one-on-one drills. He's an explosive, physical receiver prospect with legit skills. pic.twitter.com/FOjO4NJPkc

— Austin Gayle (@PFF_AustinGayle) January 27, 2020
With that showing and his elite athleticism and size, Mims is an early Day 2 prospect in PFF's eyes entering draft week.
Hamler is clearly one of the top separation getters in this class and an explosive play waiting to happen — his 41 plays of 15-plus yards in the slot since 2018 ranked third in the FBS. Hamler's speed and explosion off the line of scrimmage burnt many defensive backs throughout his time at Penn State. In 2019, specifically, Hamler generated open separation against single coverage at the third-highest rate in college football.
Biggest Con: Concerning rate of drops
When a wide receiver prospect is flirting with a 10% drop rate, that's when you should start to be a little concerned. In Hamler's case, he's well beyond that point. This past season, Hamler dropped 17% of his catchable targets, which ranked 345th of 361 qualifying wide receivers. His ball tracking has been poor throughout his collegiate career, too, and his 5-foot-9, 178-pound frame doesn't help his catch radius any, either. That said, Hamler's ability to separate and make plays in an open field trump his drops and make them something you can deal with.
Biggest Pro: Crafty route-runner who is up there with the best in the class
While he doesn't have a real diverse route tree, Johnson is one of the most refined route-runners in this entire draft. He doesn't have high-end speed, but he doesn't need it to create separation — he would constantly set defensive backs up to get himself open. Dating back to 2018, Johnson has generated a step or more of separation against single coverage 55.1% of the time, a figure that ranks 14th among 154 qualifying wide receivers and is 14 percentage points above the FBS average. His route breaks are absolutely filthy, and defensive backs have had no answer.
Johnson rings in at number 48 on the PFF Big Board and compared to other scouts and experts, that is incredibly high. Heck, most are calling him nothing more than a Day 3 product. One of the biggest reasons why is his lack of straight-line speed. Johnson didn't even workout at the NFL Scouting Combine to give himself more time and instead was going to use his pro day testing, but that, of course, did not end up happening due to the current pandemic. We all knew he wasn't going to run a blazing time, but everyone might be overvaluing Johnson's lack of speed and lowering him on their board a bit too much. Like I said, he doesn't need speed to generate separation. We saw him do that against single coverage constantly with his route running. As a matter of fact, Johnson produced the second-highest grade against single coverage, barely edged out by Biletnikoff Award winner Ja'Marr Chase.