Another product from the uber-talented secondary at Colorado, Isaiah Oliver put his name on NFL scout's notepads after an extremely successful 2016 campaign playing in that vaunted Buffaloes defensive backfield that featured current NFLers Ahkello Witherspoon, Chidobe Awuzie and Tedric Thompson.
Following his strong sophomore season in which he allowed just 97 yards after the catch, Oliver recorded 11 plays on the ball in 2017 including two interceptions and nine pass breakups. He allowed just 24 receptions on 55 total targets, and was tasked with covering multiple team's top receiving option. Against our No. 1 WR Michael Gallup, Oliver allowed just four receptions on 10 targets and broke up two passes. Against Washington's home run threat Dante Pettis, he saw four targets and allowed just one reception. Oliver didn't allow a reception to UCLA's Jordan Lasley and limited USC's receiving corps to just 25 yards after the catch in their meeting.
In total, Oliver never allowed more than 53.1 percent of passes thrown his way to be caught over a single season en route to a career catch rate allowed of just 45.5 on 145 targets.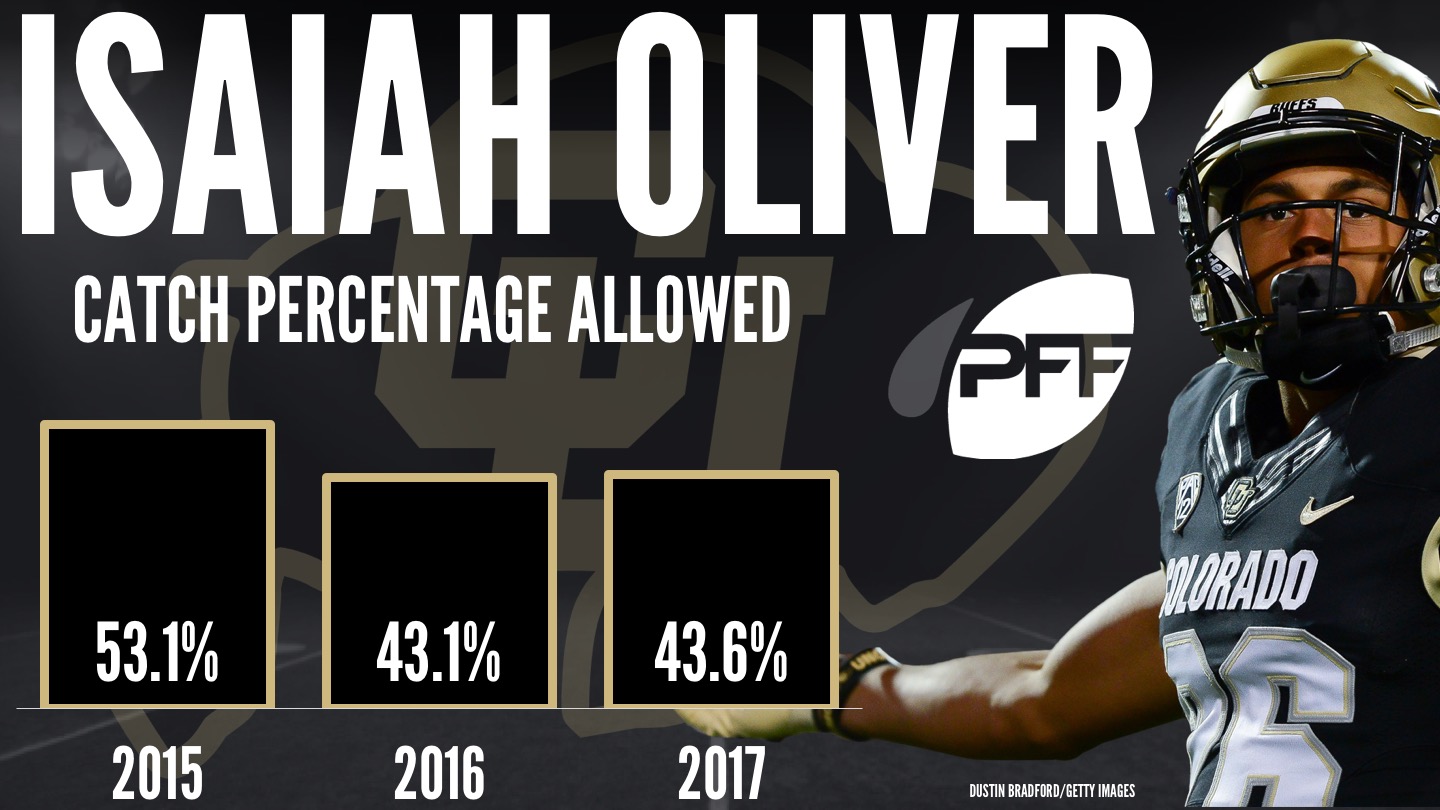 Those numbers and his prowess against top receivers beg the question, where exactly did Oliver have his most success on the field?
Earlier this offseason, we featured where and how our top 10 wide receivers for the 2018 NFL Draft won on their respective route trees. This week, we'll be doing the same, but for our top cornerbacks in the draft. Covering a bevy of routes will be paramount for utilization across the field at the next level for these prospects and something some of these cornerbacks will be used to.

With that, here is where Isaiah Oliver won in his primary coverage in 2017:
Breaking it down on a route-by-route basis, for wide receivers we used five targets as a minimum threshold to showcase their passer rating when targeted per route. For defensive backs, they are often less targeted than the top wide receivers, so we lowered our threshold to a three-target minimum per route, which still effectively showcases a player's prowess on any given route with enough of a sample size to avoid one bad play or one good play skewing the numbers too much in one side's favor.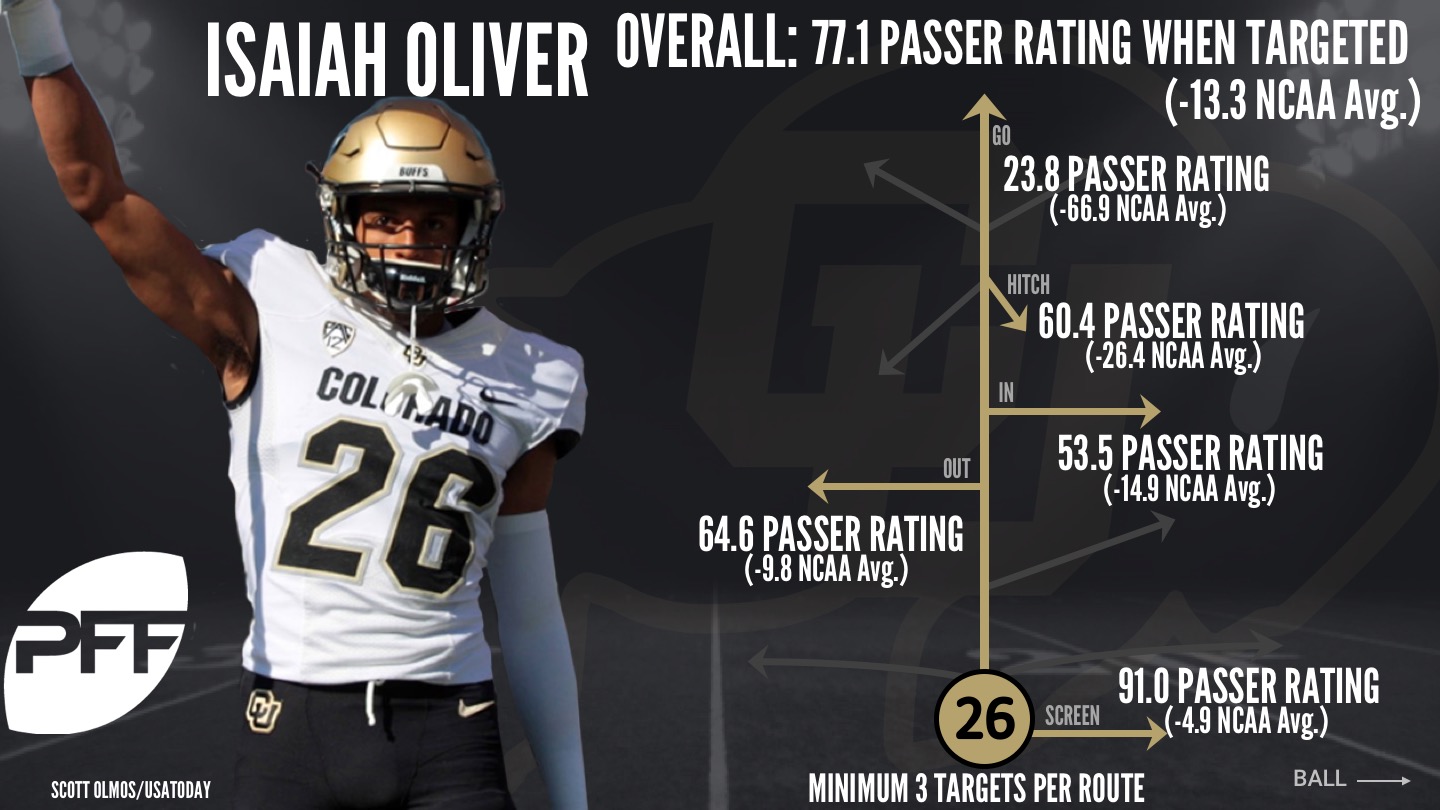 Oliver was targeted widely across the route tree despite just 55 total targets. He saw at least three targets on six routes and held opposing quarterbacks to negative passer ratings on five of those routes, compared to the NCAA average for the quarterback, featured above. Most notably, Oliver limited quarterbacks to just a 23.8 passer rating on 'go' routes, on a whopping 14 targets, five more than the next closest amount of targets on a single route. He allowed just one 'go' route to be caught for a 10-yard touchdown, otherwise his targeted passer rating would be even lower. Both of his season-long interceptions came on 'go' routes as he allowed just 7.1 percent of his targets to be caught, by far his most successful route in coverage.
He was also extremely successful on his other most targeted route, hitch concepts. He was targeted nine times, allowed just four receptions and 21 yards after the catch, limited receivers very well on routes that are designed to create space for a receiver.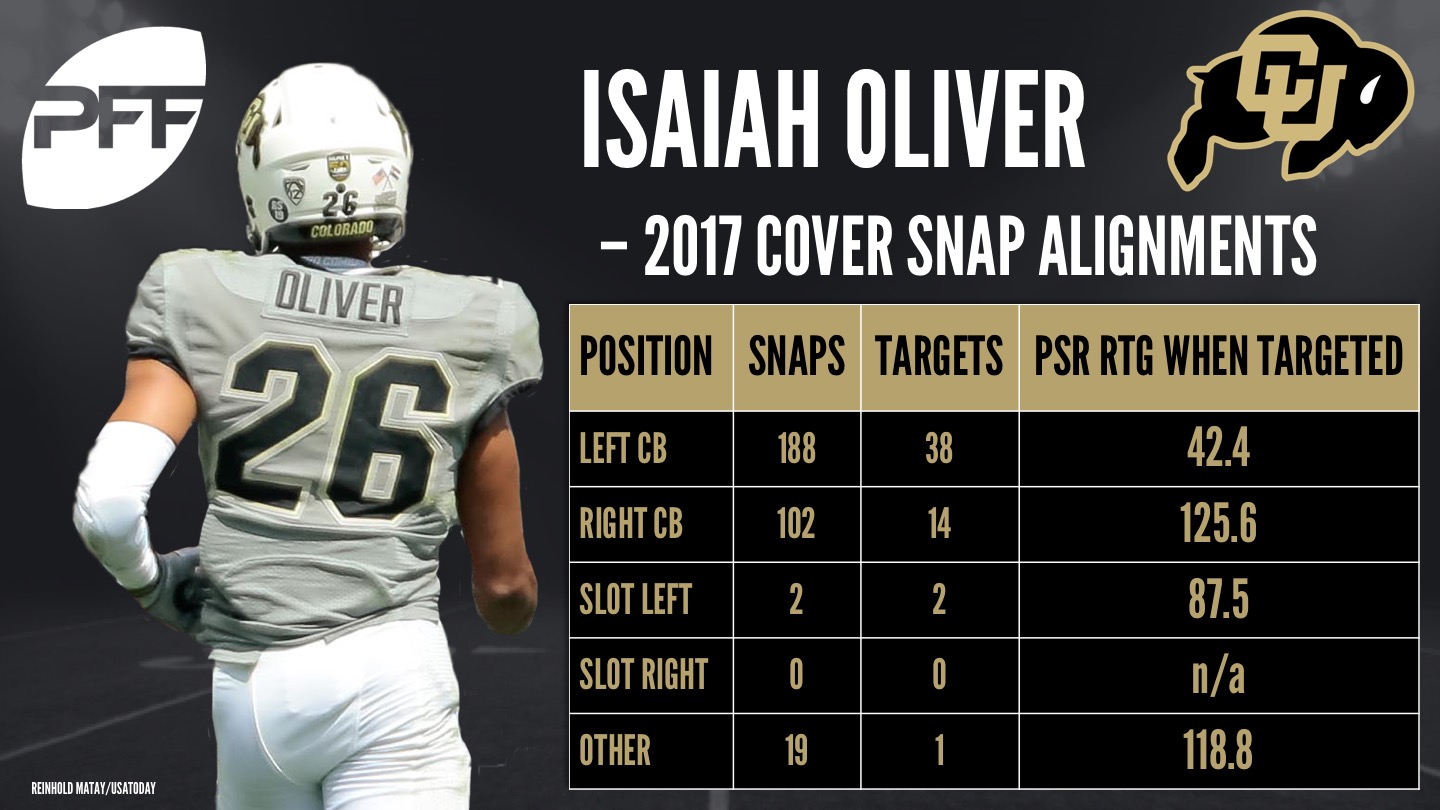 Oliver played outside for the second consecutive season in Boulder in 2017, seeing more success on the left side of the field, on 86 more snaps and 24 more targets. Both of his interceptions came from the left cornerback position  and over his three seasons at Colorado, he logged a total of 743 snaps on the outside (396 from LCB, 347 from RCB).
For his career, Oliver allowed just a passer rating of 73.9 over 145 targets and a career catch rate allowed of 45.5. He brought in three career interceptions and 23 career pass breakups and allowed one or fewer receptions in 17 of his 32 career games. Oliver's ability on the outside from his very first action on the field for the talented Colorado secondary and his ability on routes designed to give receivers an advantage showcase what a talented player in coverage he can be at the next level.
2018 NFL Draft
---
Mock Drafts: 1 (Oct. 31, 2017) | 2 (Jan. 18, 2018) | 3 (March 8, 2018) | 4 (April 3, 2018)
Top 100 Draft Board | Top 10 WRs on the route tree | WR prospect fits | DI prospect fits | Underrated west coast prospects | 5 boom-or-bust prospects
Position ranks: QB | RB | WR | TE | OT | OG/C | EDGE | DI | LB | CB | S
Draft Quarterback Study: Lamar Jackson
Draft Corner Route Trees: Josh Jackson | Minkah Fitzpatrick | Denzel Ward | Donte Jackson | Isaiah Oliver | Carlton Davis 
Predictive Analytics: PFF College grades translation to NFL for pass-rushers | PFF College grades translation to NFL for QBs