Long since a defensive back producing machine, LSU churned out another potential star in Donte Jackson who seemingly put it all together in 2017 to breakout as a top draft option at cornerback.
True freshman Andraez 'Greedy' Williams may have stolen some of the headlines this past season, but Jackson was no slouch in coverage during his breakout year. In total, Jackson made 11 plays on the ball in 2017, one more than he had in his first two seasons combined in Baton Rouge, including one interception and 10 pass breakups. For his career, he accumulated a total of 22 plays on the ball (four interceptions and 18 pass breakups). He was targeted a total of 56 times, allowing 36 receptions and an overall passer rating of 80.1 when targeted.
Jackson fielded career-high grades in every facet, even increasing his overall PFF grade by 12.6 grade points.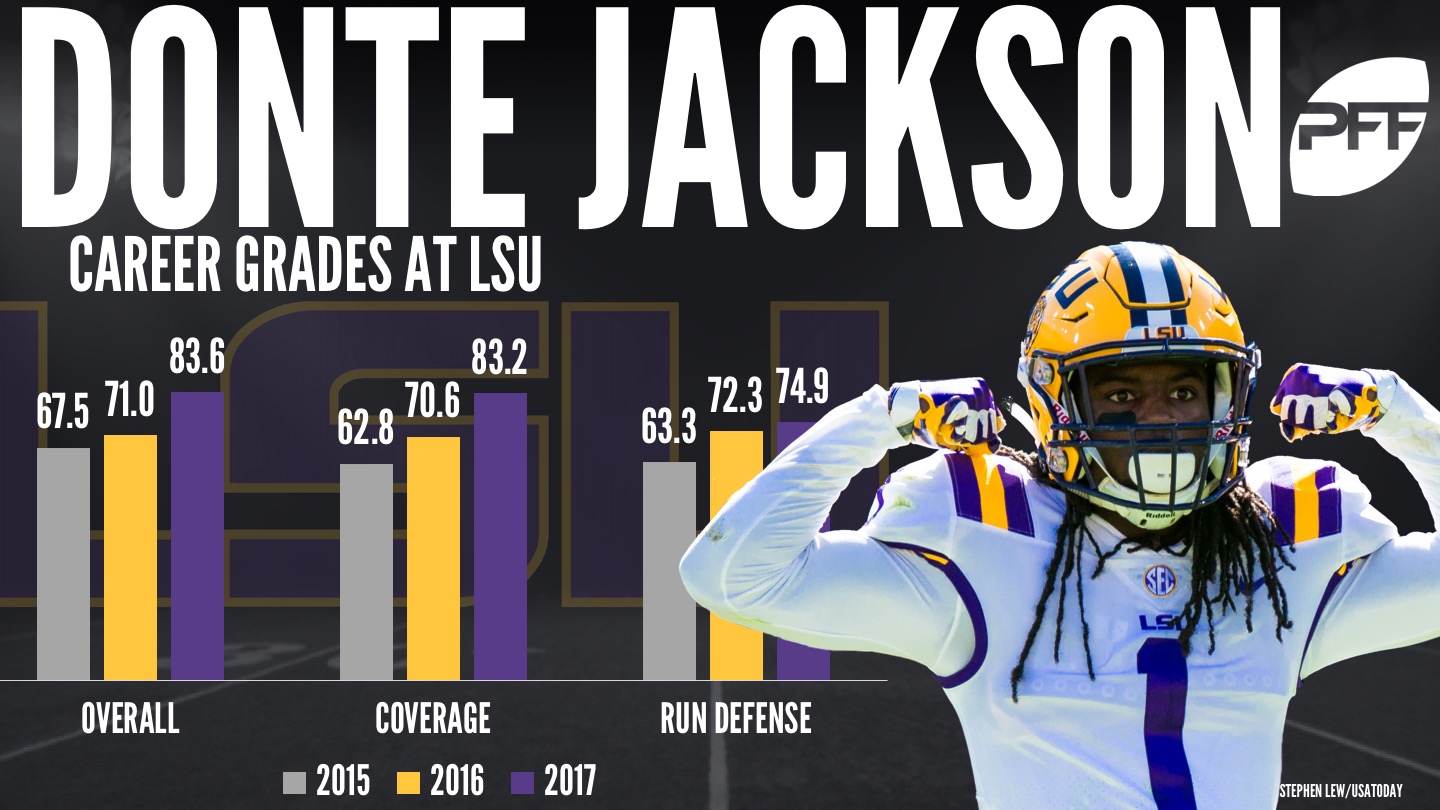 As coverage was his strong suit, where exactly did Jackson see the most success during the 2017 season?
Last week, we featured where and how our top 10 wide receivers for the 2018 NFL Draft won on their respective route trees. This week, we'll be doing the same, but for our top cornerbacks in the draft. Covering a bevy of routes will be paramount for utilization across the field at the next level for these prospects and something some of these cornerbacks will be used to.

With that, here is where Donte Jackson won in his primary coverage in 2017:
Breaking it down on a route-by-route basis, for wide receivers we used five targets as a minimum threshold to showcase their passer rating when targeted per route. For defensive backs, they are often less targeted than the top wide receivers, so we lowered our threshold to a three-target minimum per route, which still effectively showcases a player's prowess on any given route with enough of a sample size to avoid one bad play or one good play skewing the numbers too much in one side's favor.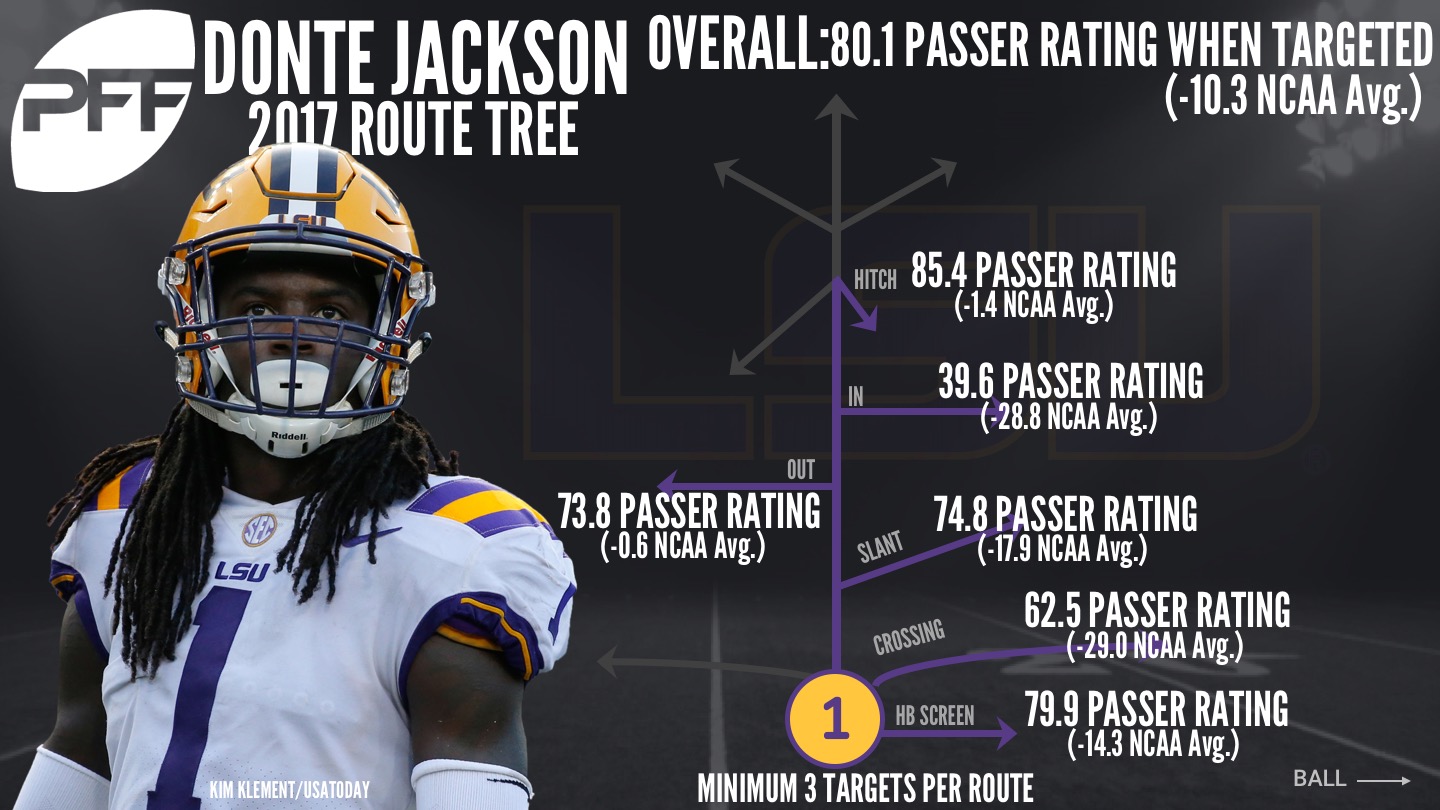 Jackson was clear and away his best on in-breaking routes last year. Opposing quarterbacks fielded passer ratings well below the NCAA average when targeting him on four of the five bucketed route concepts that cut across the middle of the field. On crossing routes in particular, he allowed just three receptions on six targets and limited receivers to just three yards after the catch. He was targeted the second-most on slant routes in 2017, allowing 5-of-9 to be caught for just 57 yards and 19 yards after the catch.
Perhaps the most intriguing across his route tree was Jackson's number of targets against running backs. He was tagged as the primary defender on eight running back targets, allowing seven of those to be caught, but limited running backs to just 41 yards on those receptions.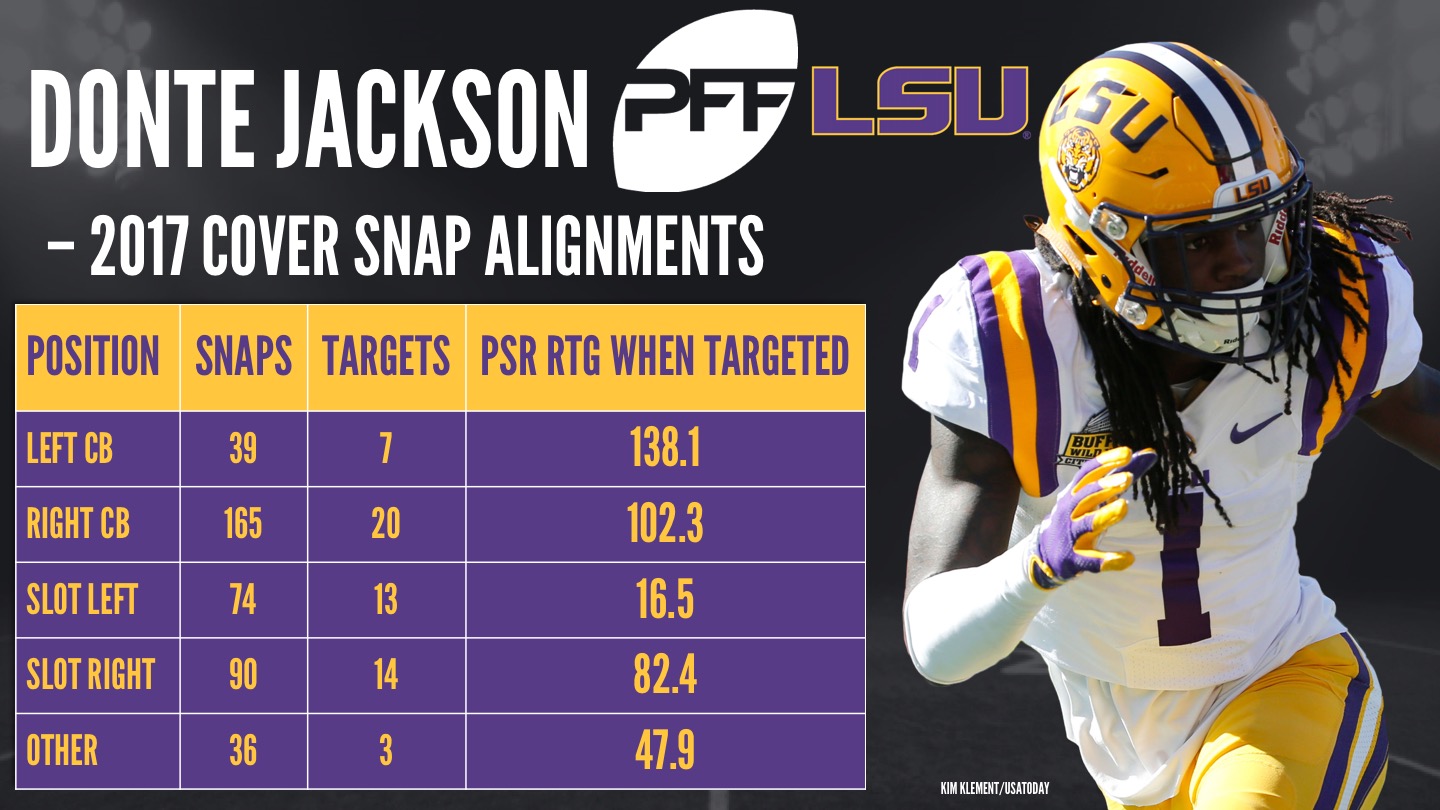 Jackson allowed a total of two touchdowns in coverage in 2017, both coming from an outside cornerback alignment and both coming on 'go' routes, possibly cause for some concern for NFL suitors as to whether he can use his blazing speed (4.32 40-yard dash at the Combine) to contain outside receivers. Have no fear however, as he was more than capable of covering receivers in the slot, which has become increasingly more valuable for NFL defenses to hold at least one solid slot defender. On 164 snaps in slot coverage, Jackson was targeted 27 times, allowed 13 receptions for 155 yards and brought in an interception. Comparatively, Jackson was also targeted 27 times on 204 snaps on the outside, allowed 17 receptions for 223 yards and two touchdowns.
Using PFF data scientist's Eric Eager and George Chahrouri's expected points added (EPA) model, and paraphrasing from their most recent studies, throwing to the slot has become not only a better play but a safer play for quarterbacks in the NFL.
While his outside coverage skills may have lacked a bit in 2017, with the inherent worth in slot defenders in today's NFL, Jackson's true value should not go understated come April and he should hear his name called sooner, rather than later.
2018 NFL Draft
---
Mock Drafts: 1 (Oct. 31, 2017) | 2 (Jan. 18, 2018) | 3 (March 8, 2018) | 4 (April 3, 2018)
Top 100 Draft Board | Top 10 WRs on the route tree | WR prospect fits | DI prospect fits | Underrated west coast prospects | 5 boom-or-bust prospects
Position ranks: QB | RB | WR | TE | OT | OG/C | EDGE | DI | LB | CB | S
Draft Quarterback Study: Lamar Jackson
Draft Corner Route Trees: Josh Jackson | Minkah Fitzpatrick | Denzel Ward | Donte Jackson | Isaiah Oliver | Carlton Davis 
Predictive Analytics: PFF College grades translation to NFL for pass-rushers | PFF College grades translation to NFL for QBs