Bursting onto the scene a season ago, Ohio State CB Denzel Ward capped his short career in Columbus with a second consecutive solid season for the Buckeyes. Ward allowed just 35 receptions in coverage on 100 career targeted passes while intercepting two and recording 19 pass breakups.
Ward skyrocketed up draft boards after his performance in Week 1 against Indiana, in a game casual fans will remember only for a touchdown he gave up. In actuality, Ward was targeted 15 times against the Hoosiers to open the season (26.3 percent of his season targets), limited receivers to just five receptions, allowed just eight yards after the catch and recorded an equal amount of plays on the ball (one interception, four pass breakups) as he allowed receptions. Ward's opening performance of the 2017 season set the precedent for his draft status and held up all season long as his highest-graded game.
His blazing speed and ridiculous athleticism saw Ward allow three or less receptions in all but two games last season and in total, he allowed a passer rating of just 54.0 over his career for Ohio State.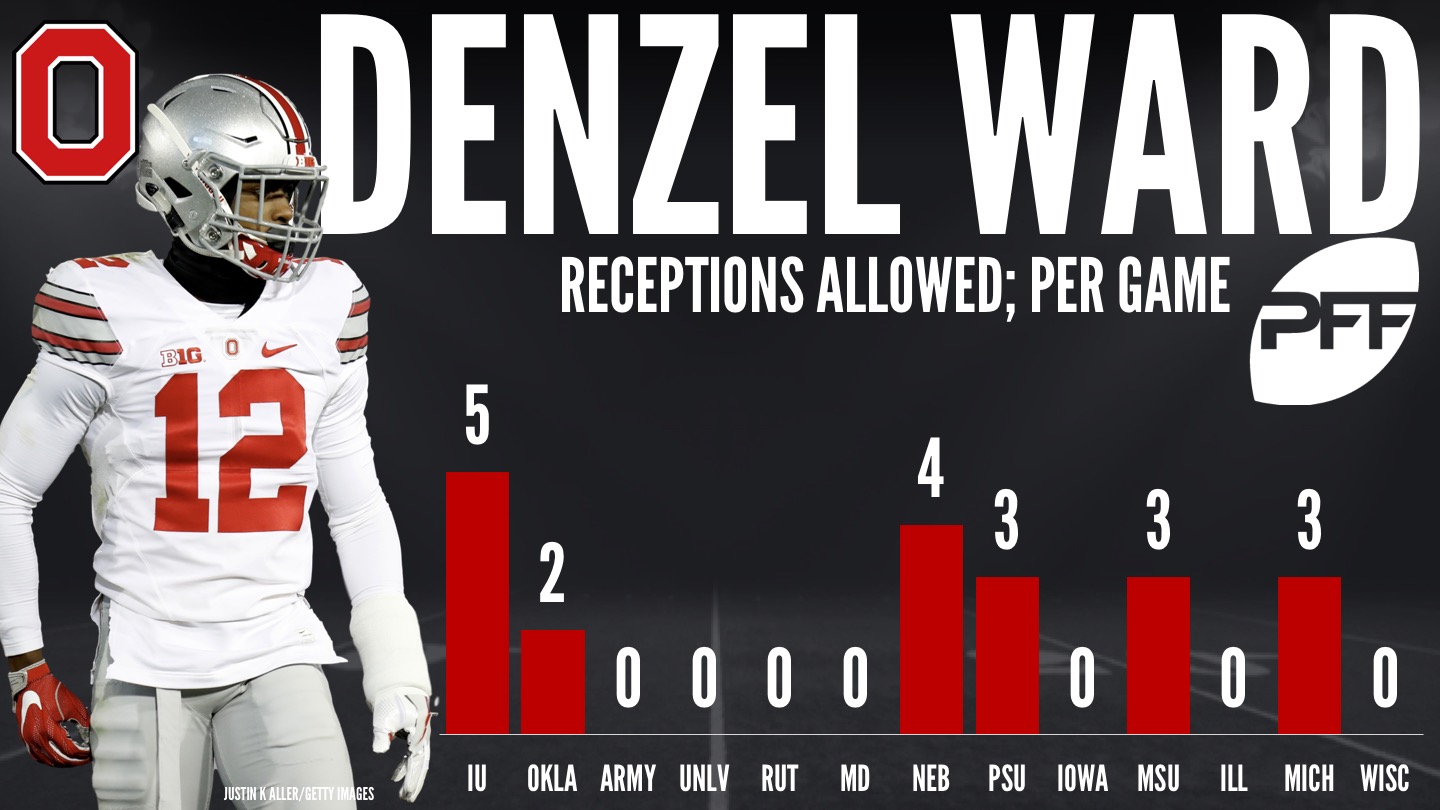 In allowing just 20 receptions across 57 targets in 2017, where exactly did Ward win across the route tree last year?
Last week, we featured where and how our top 10 wide receivers for the 2018 NFL Draft won on their respective route trees. This week, we'll be doing the same, but for our top cornerbacks in the draft. Covering a bevy of routes will be paramount for utilization across the field at the next level for these prospects and something some of these cornerbacks will be used to.

With that, here is where Denzel Ward won in his primary coverage in 2017:
Breaking it down on a route-by-route basis, for wide receivers we used five targets as a minimum threshold to showcase their passer rating when targeted per route. For defensive backs, they are often less targeted than the top wide receivers, so we lowered our threshold to a three-target minimum per route, which still effectively showcases a player's prowess on any given route with enough of a sample size to avoid one bad play or one good play skewing the numbers too much in one side's favor.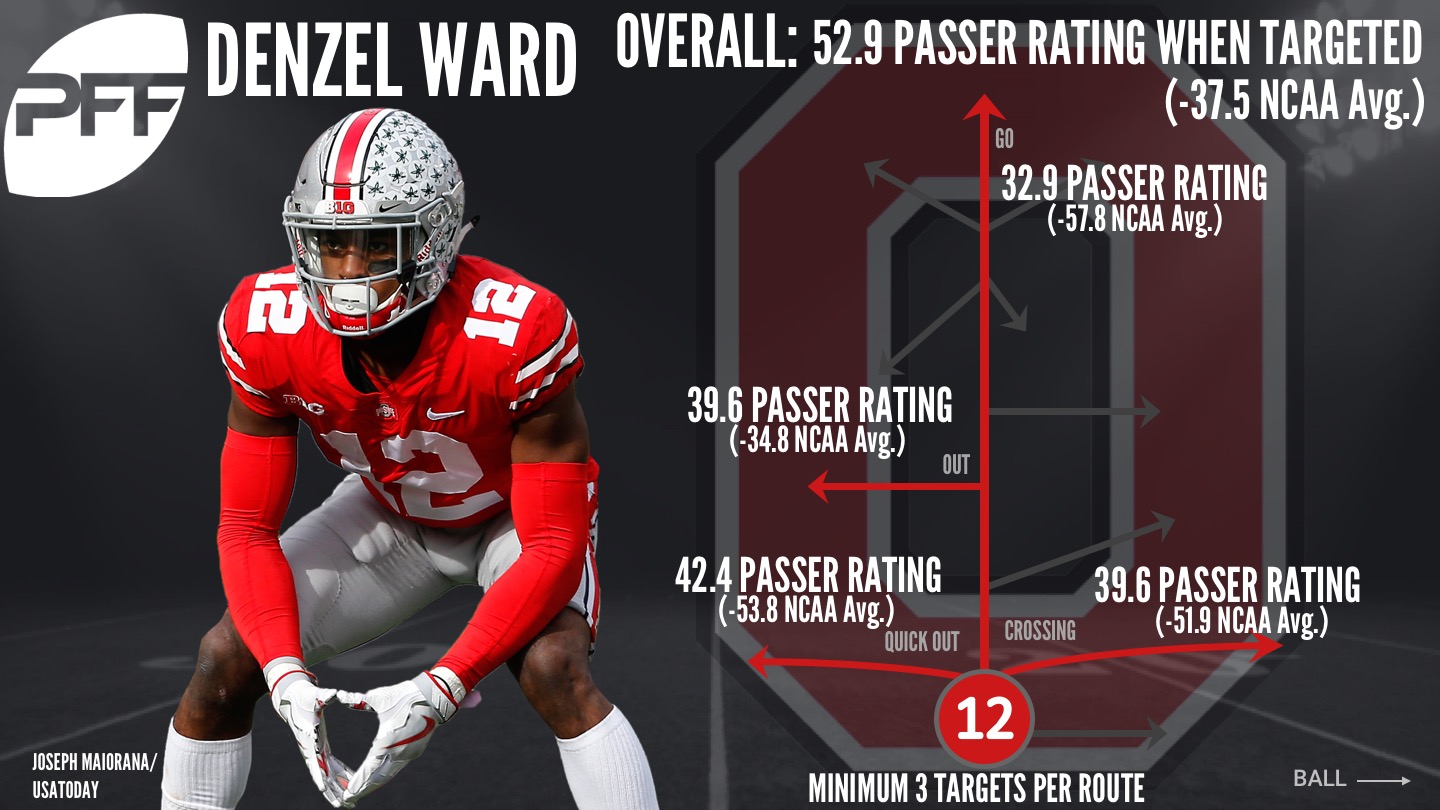 Ward's route tree is not nearly as extensive as others on our list of top draft cornerbacks, but that is no fault of his own. When looking at his overall numbers, one thing sticks out: he was targeted at least once on 11 different routes, and no more than three times on nine of those, clearly showcasing how opposing offenses continued to try different forms of attack to complete passes on him.
Immediately, his coverage ability on most of those routes in which he was targeted three times or more, he won. And he won big.
On 'go' routes alone, Ward saw 43.8 percent of his total targets (25-of-57) but allowed a mere four receptions (16.0 completion percentage). NCAA quarterbacks fielded an average passer rating of 90.7 on fly routes in 2017 but opposing QBs targeting Ward saw just a 32.9, well below the average. That is true of most of Ward's routes that he was targeted past our minimum threshold in 2017. Quarterbacks saw the average passer rating more than cut in half on out routes, crossers and quick outs against Ward which showcases his ability to stay with his receivers, his quick first step and his athletic prowess despite his smaller stature to stay with big wide receivers either breaking outside or across the middle of the field.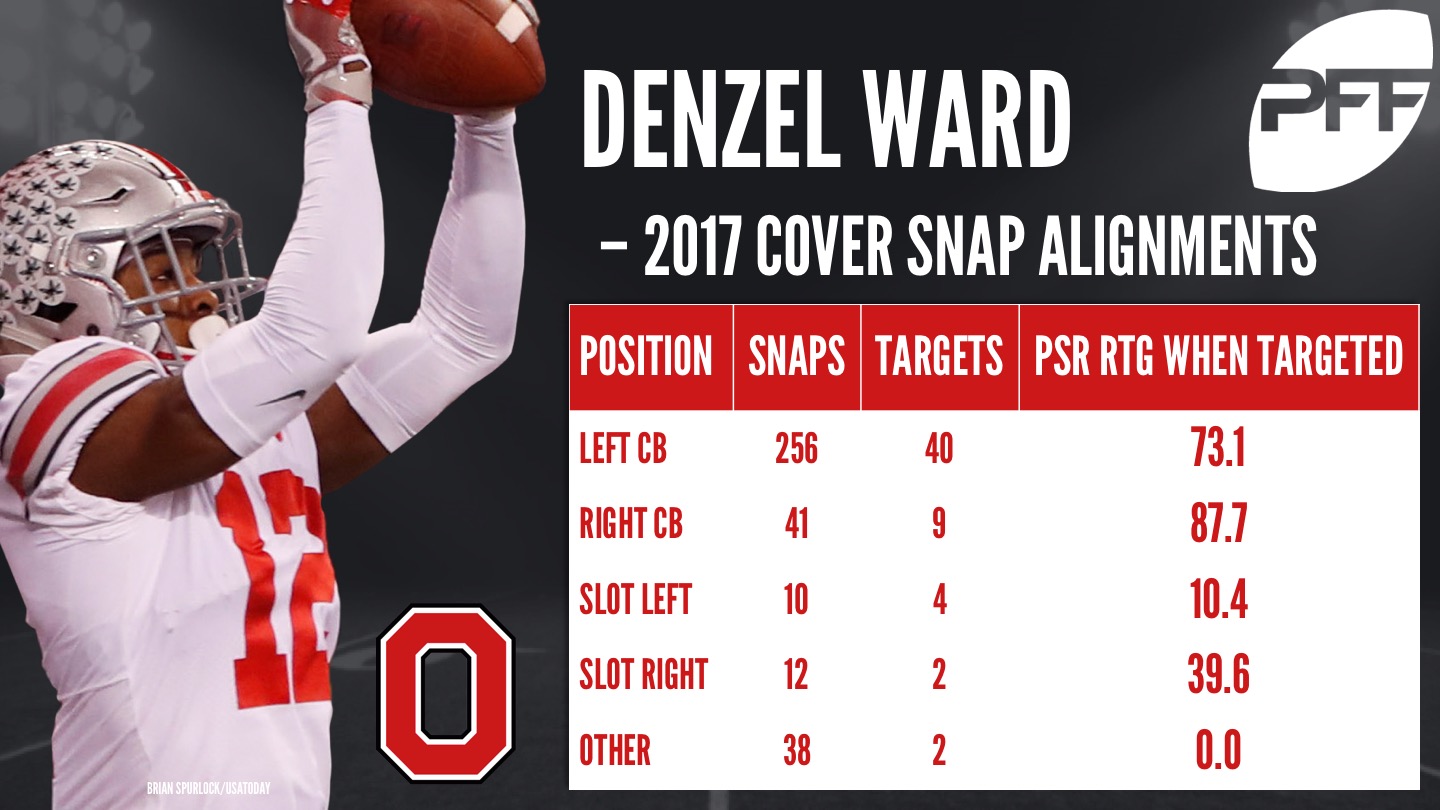 Ward was heavily targeted at left outside cornerback as he spent the majority of his coverage snaps there, however, he showed his coverage ability when he moved across the defense formation. Playing a total of just 22 coverage snaps in the slot, Ward recorded one of his interceptions and allowed just one reception on six targeted passes and a single yard after the catch. This ability in slot coverage proves how dominant he can be as a cover cornerback anywhere on the field in the 'passing is ever-important' league that the NFL has become.
Ward is seen by some as the top cornerback in the 2018 NFL Draft and looking at his route tree and ability across the field, it's not hard to see why. Combine his blazing speed (4.32 40-yard dash time) and crazy athletic ability (39.0-inch vertical leap, 136-inch broad jump), and whatever NFL team selects the former OSU Buckeye is getting a cornerback who should be more than able to track big, tall receivers just as easy as he can cover quick, shifty receivers across the field.
2018 NFL Draft
---
Mock Drafts: 1 (Oct. 31, 2017) | 2 (Jan. 18, 2018) | 3 (March 8, 2018) | 4 (April 3, 2018)
Top 100 Draft Board | Top 10 WRs on the route tree | WR prospect fits | DI prospect fits | Underrated west coast prospects | 5 boom-or-bust prospects
Position ranks: QB | RB | WR | TE | OT | OG/C | EDGE | DI | LB | CB | S
Draft Quarterback Study: Lamar Jackson
Draft Corner Route Trees: Josh Jackson | Minkah Fitzpatrick | Denzel Ward | Donte Jackson | Isaiah Oliver | Carlton Davis 
Predictive Analytics: PFF College grades translation to NFL for pass-rushers | PFF College grades translation to NFL for QBs