Carlton Davis has been a fixture in the Auburn secondary for three straight seasons, locking down one side of the field or another during his tenure for the Tigers. Over his career at Auburn, Davis was targeted a whopping 190 times but allowed only 103 receptions and 472 yards after the catch. He eclipsed the 20-PBU mark this past season, totaling 24 career plays on the ball (four interceptions, 20 pass breakups).
During the 2017 season, Davis allowed over 30 yards after the catch in just two games while limiting receivers to a catch percentage of 50.0 percent or under in 8-of-13 contests. By allowing just 26 receptions on 54 targets last season, he set a new personal best in catch rate allowed into his coverage at 48.1 percent.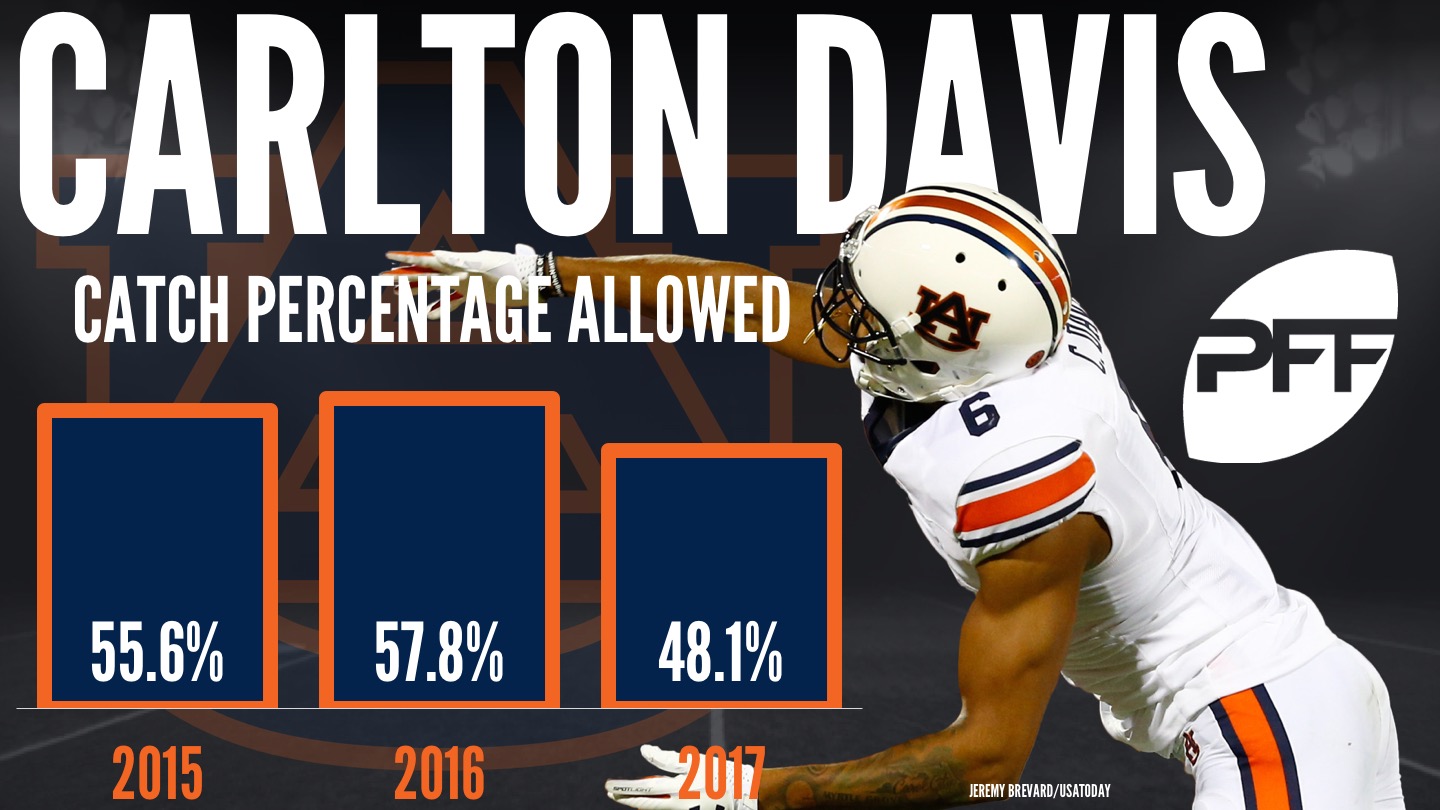 Davis has vast experience in coverage and all over the defensive alignment at Auburn, and done so at a high level, so the question pops up, where did he do most of his damage?
Earlier this offseason, we featured where and how our top 10 wide receivers for the 2018 NFL Draft won on their respective route trees. This week, we'll be doing the same, but for our top cornerbacks in the draft. Covering a bevy of routes will be paramount for utilization across the field at the next level for these prospects and something some of these cornerbacks will be used to.

With that, here is where Carlton Davis won in his primary coverage in 2017:
Breaking it down on a route-by-route basis, for wide receivers we used five targets as a minimum threshold to showcase their passer rating when targeted per route. For defensive backs, they are often less targeted than the top wide receivers, so we lowered our threshold to a three-target minimum per route, which still effectively showcases a player's prowess on any given route with enough of a sample size to avoid one bad play or one good play skewing the numbers too much in one side's favor.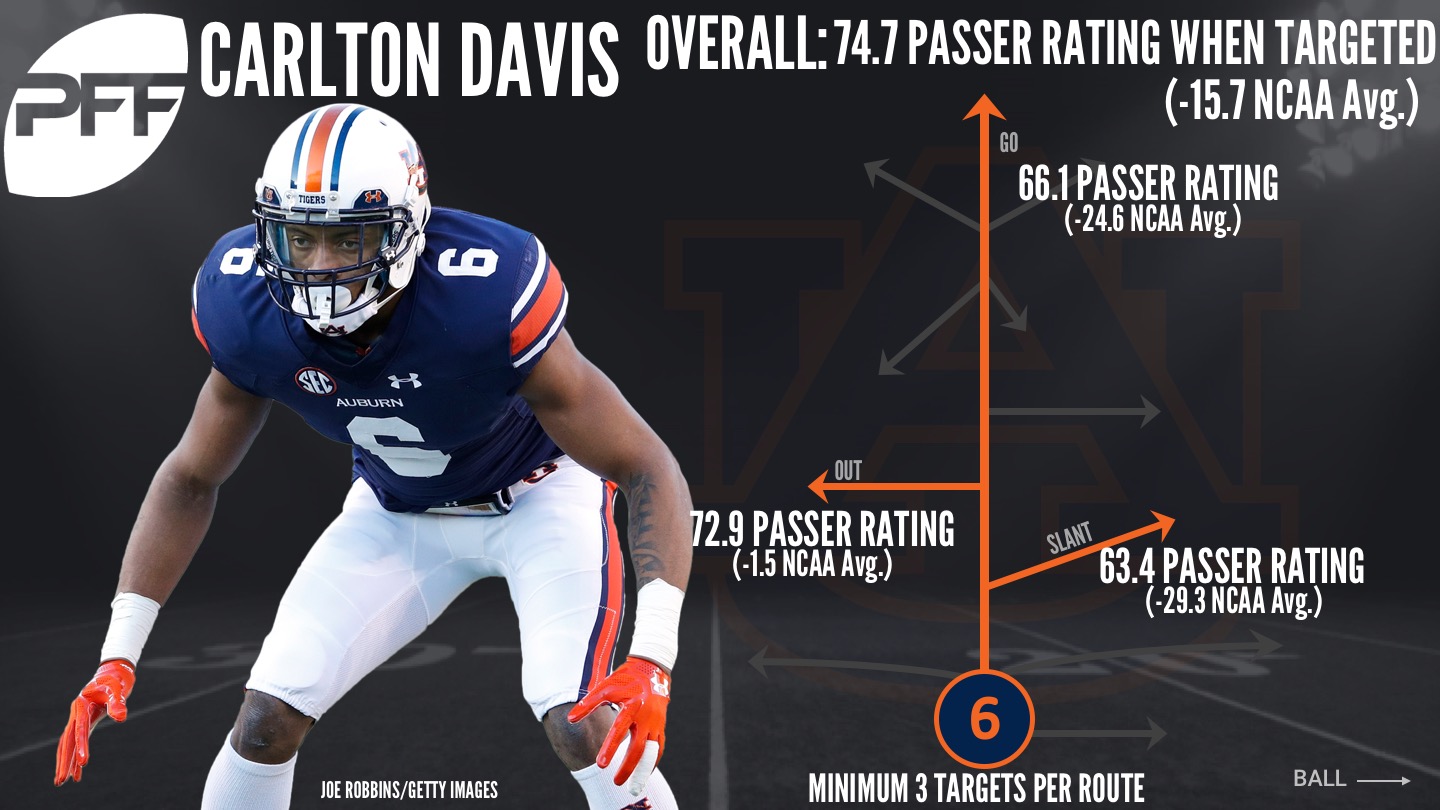 Davis' route tree was an interesting study. He was targeted at least once on 11 different patterns, yet was targeted three or more times (our minimum targets for this study) on only four of those. Three of those four commonly targeted routes, opposing quarterbacks saw a passer rating lower than the NCAA average against Davis. Most notably was his success on quick-developing slants. With the goal of a slant pattern to get the receiver open quickly and moving across the field, Davis did a commendable job at limiting receiver's success after the catch across his 11 targets. He allowed seven of those slant patterns to be caught, but limited receivers to just 1.0 yard after the catch per reception (seven total YAC).
Also notable on his route tree was his success on 'go' routes, his most heavily targeted route by far. Davis was targeted 17 times (31.4 percent of his total targets) on 'go' routes and limited receivers to just five receptions (29.4 completion percentage). He gave up 159 yards on these routes alone, but did not surrender a touchdown and limited quarterbacks to a passer rating of 66.1, or 24.6 points below the NCAA average on the route.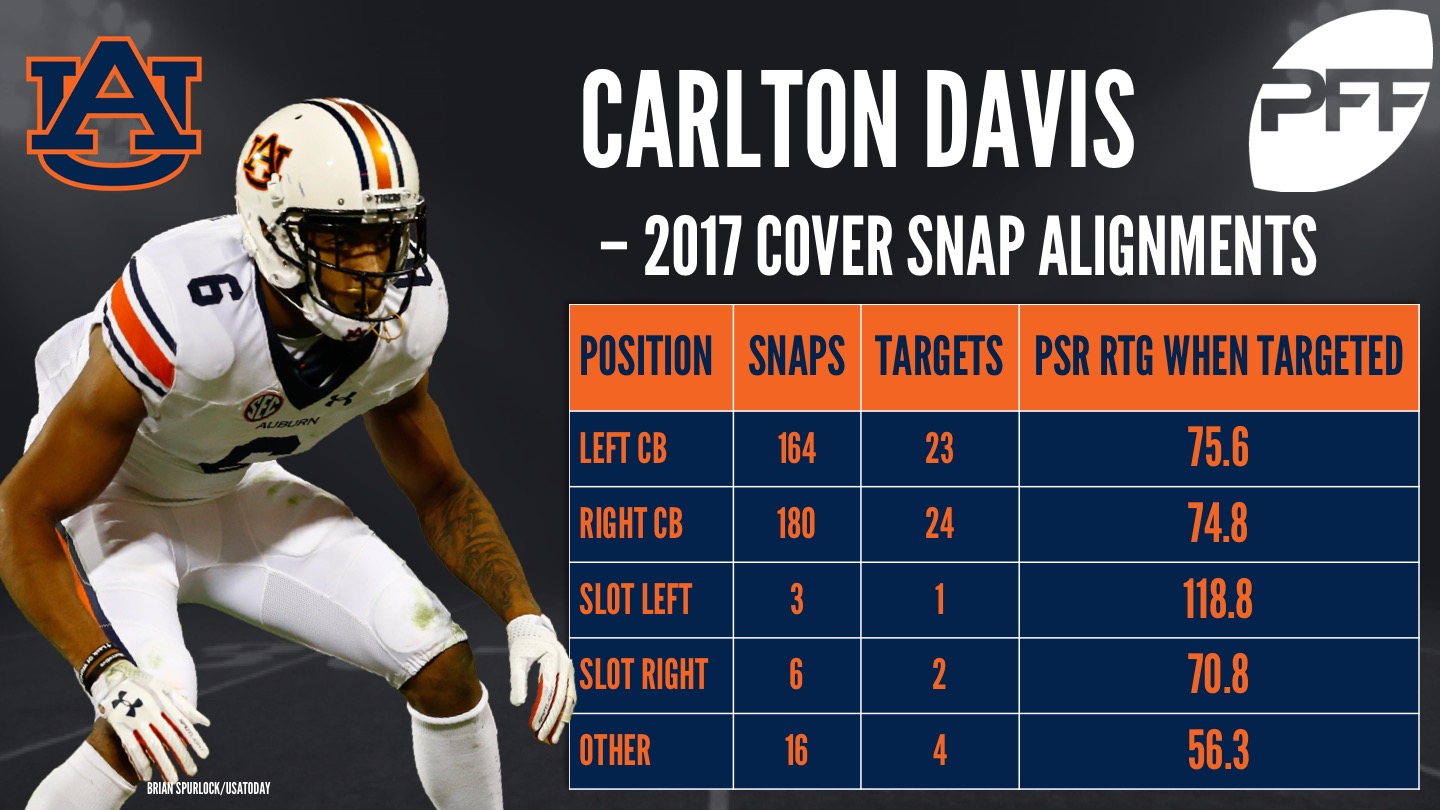 Davis moved around the field almost equally from left outside corner to right outside corner, and had very similar success from each side. He was targeted 23 times on the left and 24 times on the right, allowing 11 receptions per side. He pulled down his interception at right corner and limited receivers to just 0.6 yards per snap in coverage from the left.
Davis can play on either side of the secondary, and play them well. He has the length, versatility and ballhawking skills necessary to limit quarterbacks to a career passer rating of 85.8 when targeted. His 24 career plays on the ball, as well as his vast experience of 2,305 total defensive snaps played on an SEC defense could make him a contributor at the next level from Day 1.
2018 NFL Draft
---
Mock Drafts: 1 (Oct. 31, 2017) | 2 (Jan. 18, 2018) | 3 (March 8, 2018) | 4 (April 3, 2018)
Top 100 Draft Board | Top 10 WRs on the route tree | WR prospect fits | DI prospect fits | Underrated west coast prospects | 5 boom-or-bust prospects
Position ranks: QB | RB | WR | TE | OT | OG/C | EDGE | DI | LB | CB | S
Draft Quarterback Study: Lamar Jackson
Draft Corner Route Trees: Josh Jackson | Minkah Fitzpatrick | Denzel Ward | Donte Jackson | Isaiah Oliver | Carlton Davis 
Predictive Analytics: PFF College grades translation to NFL for pass-rushers | PFF College grades translation to NFL for QBs