As the NFL scouting community descends on Mobile, Alabama for the Reese's Senior Bowl each year, the players who are attending are under constant scrutiny as soon as they reach the airport, through practices, interviews, events and the game itself.
Each player's case is different as some players are only able to do interviews, or are limited to just a practice or two. Thankfully there are a myriad of ways for players to impress NFL talent evaluators and decision-makers.
As a result of a mixed bag of practice data, 1-on-1s, 7-on-7s and the game, the players on this list might have stuck out with effort in practice, in the game, or with both. 
[Editor's Note: The 2018 NFL Draft Guide is coming. For PFF Edge & Elite subscribers, a comprehensive guide featuring player profiles of signature stats, grades and exclusive PFF content will be released on February 26.]
Baker Mayfield, QB, Oklahoma
Game – Overall grade: 60.0 (very limited sample size of 12 snaps)
Practice – Key stat: 89 percent adjusted completion in 1-on-1s
Mayfield did not even need to show up to the Senior Bowl as he has a high enough profile as Heisman Trophy winner. However, Mayfield showed up and was the highest-graded quarterback during practices by a considerable margin. He was consistently accurate during the week and repeatedly demonstrated an ability to throw with anticipation to his wide receivers. While Mayfield had a limited snap count in the game, that was by design as he more than fulfilled his obligation to the Senior Bowl. Plenty of NFL talent evaluators have seen Mayfield practice before, but this week was an opportunity for every NFL scouting department and front office to see him practice in person at once. Mayfield displayed an impressive practice demeanor as he was highly engaged, productive, responded well to coaching and was efficient in his movements. His teammates also responded well to him in practice and he was often their biggest cheerleader in drills and the game. Mayfield helped himself during Senior Bowl week with how he handled himself in practice much more than his game reps.
Top-graded QB during team drills:

Baker Mayfield#SeniorBowl

— Steve Palazzolo (@PFF_Steve) January 25, 2018
Kyle Lauletta, QB, Richmond
Game – Overall grade: 76.6
Practice – Key stat: 91 percent adjusted completion in 1-on-1s, led all QBs
Lauletta kept getting better every time he took the field in Mobile. By the final practices, he had put on an impressive display of red zone accuracy and backed it up in the game which strengthened the value of his overall performance. Lauletta showed during the game that he has the ability to quickly escape the pocket and re-set his feet to make clutch red zone throws. In the game, Lauletta completed both of his deep passes and was also highly effective to the intermediate depth as he completed 4-of-5 passes targeted between 10-19 yards downfield. His accuracy in practices and red zone playmaking ability already has talent evaluators watching more of his film.
Richmond QB Kyle Lauletta is some kind of end zone fade throwing savant. I mean, just look at these. These are all from the same drill: pic.twitter.com/t0pFCcygHq

— Sam Monson (@PFF_Sam) January 29, 2018
Mike White, QB, Western Kentucky
Game – Overall grade: 76.1
Practice – Key stat: 75 percent adjusted completion in 1-on-1s
White's practice performance will go a long way in helping his draft grade with teams as he didn't have the same caliber of statistical season with the new coaching staff and offense in 2017. White received little of the quarterback attention during the week in Mobile but he was one of the star quarterbacks of the game. White looked crisp throwing to the intermediate and deep levels, completed both of his passes under pressure and looked to be in full command of the two-minute offense. White's performance in the game will have NFL teams giving greater credence to his 2016 film than his 2017 film in which he was under the new coaching staff.
Kalen Ballage, RB, Arizona State
Game – Overall grade: 72.4
Practice – Key stat: Won 80 percent of his pass route in 1-on-1s
Ballage's receiving skills were on display during both North practices and he showed that he can be a mismatch weapon in an NFL pass offense. He was one of the better looking running backs on the field and was solid catching passes throughout practice. Maybe most importantly for him, is the fact that his physicality became clearly evident when full contact game action began. He exploded into more than one tackler falling forward for extra yardage and generated 28 yards after contact on his 10 carries. Ballage's speed, power, physicality and receiving ability drew a lot of notice all week and specifically, in practice, he beat both safeties and linebackers in pass routes in practice with relative ease.
Rashaad Penny, RB, San Diego State
Game – Overall grade: 78.4
Practice – Key stat: Won 67 percent of his pass route 1-on-1s
Penny showed his breakaway ability in the game while showing how tough of a player he can be for linebackers to cover in the pass game when he caught and ran for a 73-yard touchdown including 57 yards coming with his speed and ability after the catch. He also displayed speed to the corner on outside runs. Penny took reps fielding punts in practices which combined with his game-breaking kick return ability, shows that he can be an instant special teams factor for his NFL team.
D.J. Chark,  WR, LSU
Game – Overall grade: 85.6
Practice – Key stat: Won 42 percent of his reps against press coverage in 1-on-1s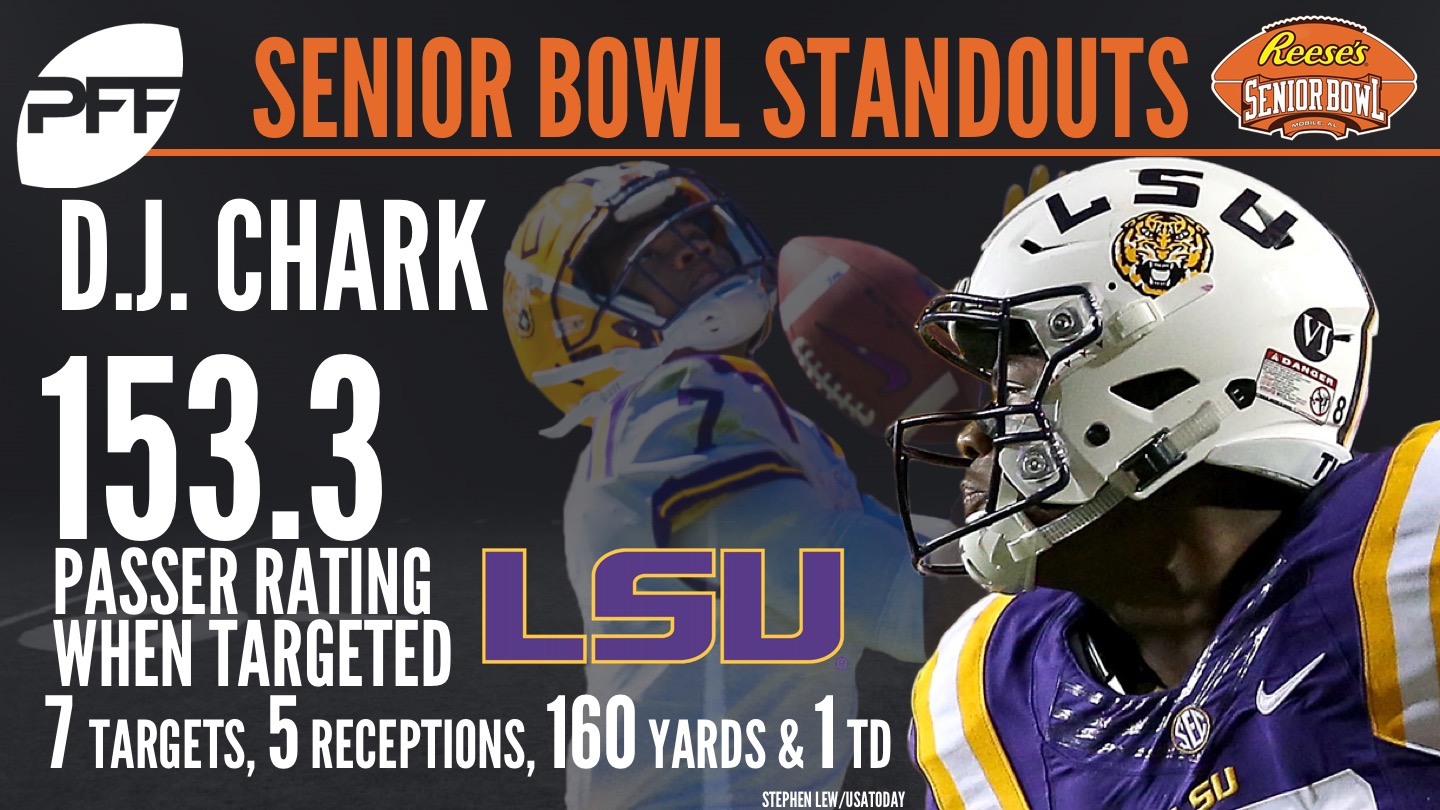 Chark showed out in practices and was a one-man wrecking crew in the game. He had a nice diving catch in two-minute drill and another in the end zone to go along with some other nice plays sprinkled throughout. Chark showed he can make an impact on his NFL team in a myriad of ways by displaying an open-field running ability that could be used on run plays and end arounds as he forced two missed tackles on carries. Clark also displayed his receiving prowess, catching five of his seven targets for 160 yards including 65 yards after the catch. Chark even made a special teams tackle showing he can help a NFL team from Day 1.
Michael Gallup, WR, Colorado State
Game – Overall grade: 77.6
Practice – Key stat: Won 50 percent of his 1-on-1 pass route reps
Gallup showed his physicality and an ability to separate from defensive backs both in practice and in the game. He had a strong week of practice and was able to hook up with Baker Mayfield on some nice intermediate level passes during Day 2. Gallup showed the physicality to come down with contested catches and that he he could take a hit and hold onto the ball. Gallup's combination of physicality and speed were evident all week in Mobile including the game.
Isaiah Wynn, G, Georgia
Game – Overall grade: n/a
Practice – Key stat: Won 80 percent of his pass-rush 1-on-1s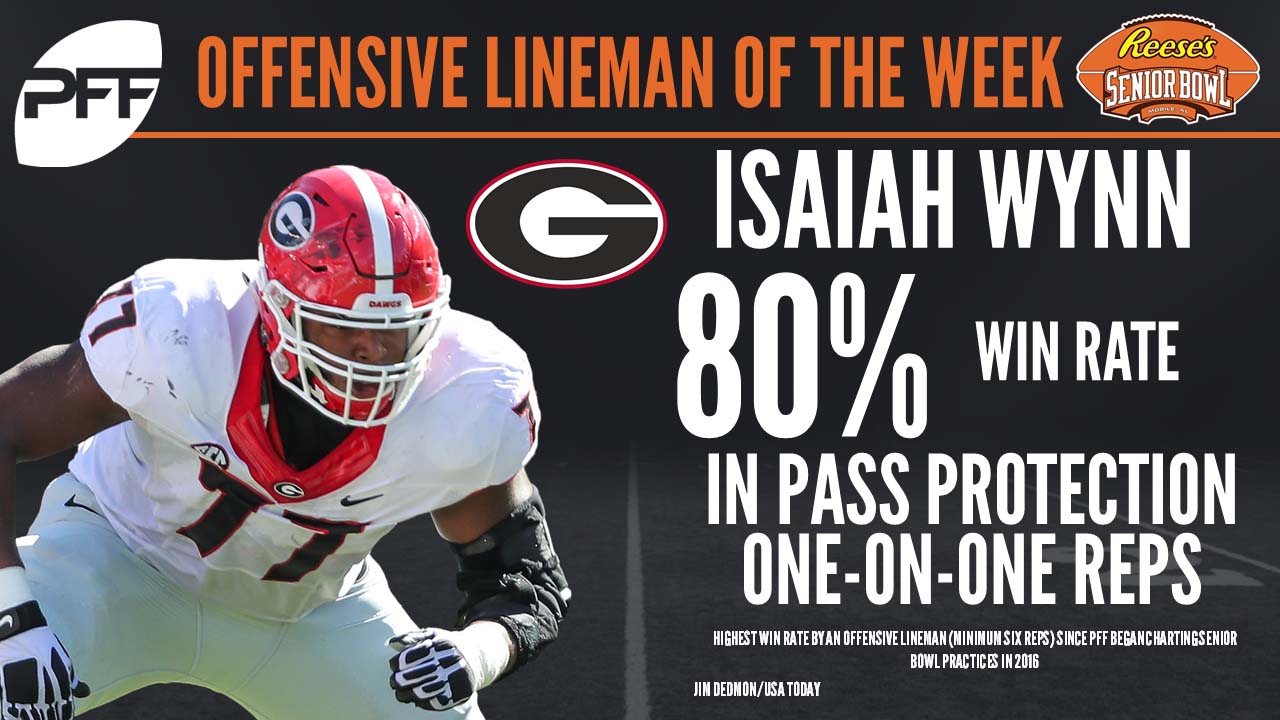 Wynn's name was buzzing on the ground in Mobile due to his practice performances. He was the offensive line star for the South team and was really solid in one-on-one pass rush reps, being selected as the Offensive Lineman of the Week by PFF. He finished with the highest winning percentage in pass protection drills, and was the team's highest-graded run blocker for the week of practice.
Georgia G/T Isaiah Wynn had an outstanding Senior Bowl week.

Here's one of his dominant reps in pass pro pic.twitter.com/u2kpSjTtKN

— Steve Palazzolo (@PFF_Steve) January 30, 2018
Will Hernandez, G, UTEP
Game – Overall grade: 81.4
Practice – Key stat: Won 62 percent of his pass-rush 1-on-1s
Hernandez displayed the same dominant style in Mobile that he has for his career in El Paso and that has made him a favorite of PFF analysts. Despite being beat on his first 1-on-1 snap in pass protection, Hernandez finished the rest of the week strong by taking his man to the ground twice and dominating the game. In total, he won 62 percent of his pass protection snaps in drills, 67 percent of which came at left guard.
Darius Leonard, LB, South Carolina State
Game – Overall grade: 81.9
Practice – Key stat: Two forced incompletions, second-most among LBs
Lenoard repeatedly made plays in coverage on Thursday in practice and broke up several passes in general during the week. He finished the week with the highest coverage grade during all practices. With LB snaps diminishing in the NFL, Leonard's ability to cover backs and tight ends closely will keep him on the field for all three downs in the NFL. In pass coverage drills against backs and tight ends, he forced two incompletions single-handedly, showing his length, speed and coverage ability. Leonard came up with some big goal-line plays by getting in on a stop of Rashaad Penny and denying Southern Mississippi RB Ito Smith a touchdown on a on a flat route by knocking him down short of the goal line. He stood out to our analysts this week and plays like an NFL linebacker, and he rounded out his week with six defensive stops in the game.
Shaquem Griffin, LB, UCF
Game – Overall grade: 46.2
Practice – Key stat: Won all three of his pass-rush 1-on-1 reps
Griffin won practice player of the week, displaying a strong versatility as he was used across several positions. His quickness and athleticism was on display in all phases of defensive play, notably, on one rep, Griffin displayed a quick inside pass-rush move to beat Humboldt State's Alex Cappa for a sack. In red zone drills, Griffin quickly slid inside Indiana TE Ian Thomas's block to blow up a run and he generated more hurries (six) than any other player in team portion of practices.
UCF's Shaquem Griffin is my favorite prospect in this entire draft. Guy has everything going against him here, but has a knack for fighting through and getting pressure anyway

He's got legit pass rush skills, even at that size. pic.twitter.com/c0sDSi597K

— Sam Monson (@PFF_Sam) January 26, 2018
Ogbonnia Okoronkwo, edge, Oklahoma
Game – Overall grade: 89.0
Practice – Key stat: Won 50 percent of his pass-rush 1-on-1 reps
Okoronkwo once again stood out in pass-rush drills and was often too much for running backs or tight ends to block effectively. During the week of practice, Okoronkwo won 50 percent of his 1-on-1 reps, including multiple wins with an inside (five) and an outside (four) move. He finished a strong practice week rushing the passer by replicating his ability to dip around a tackle for a sack in the game. Okoronkwo showed both in practices and in the game that he can be a productive "change of pace" pass-rusher who plays with a lower than normal pad level which makes it difficult for tackles to block him at times.
Marcus Davenport, edge, UTSA
Game – Overall grade: 84.0
Practice – Key stat: Won 38 percent of his pass-rush 1-on-1 reps
Davenport struggled with getting too upright during drills which allowed offensive linemen to get their hands on his chest and control his movements however, that didn't seem the case in the game as he collected a sack on Baker Mayfield as Mayfield moved up in the pocket. He generated another four pressures to go along with that sack on his 25 pass-rushing snaps and was the recipient of a fumble recovery that he took for a touchdown, capitalizing on the blowout victory for his team.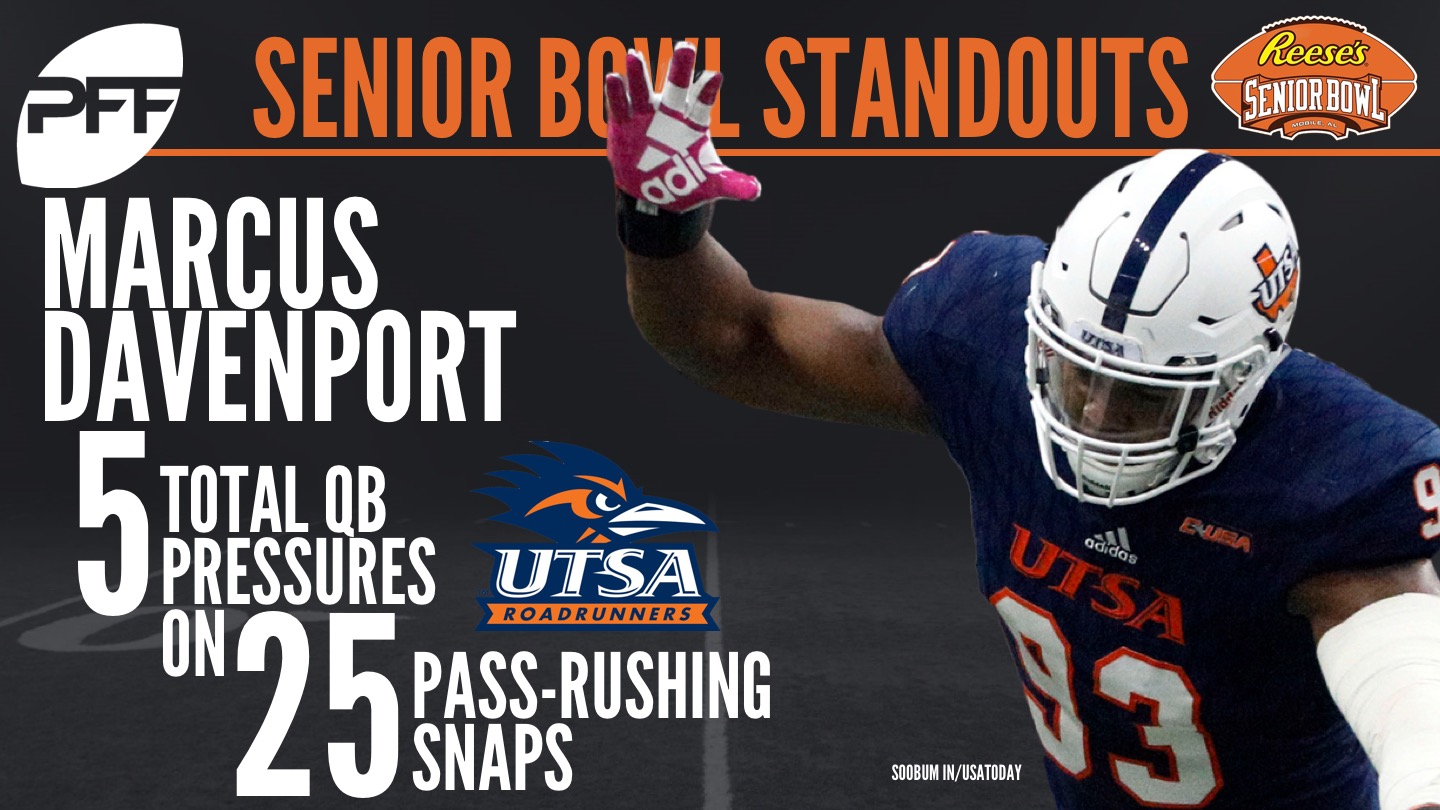 Andrew Brown, DT, Virginia
Game – Overall grade: 78.6
Practice – Key stat: Won 29 percent of his pass-rush 1-on-1 reps
Brown was highly disruptive in South team drills, both against the run and pass with almost immediate penetration. Brown was a force during practices and also disruptive in the game as he batted down a Mayfield pass, blew up a run play and grabbed a pressure that turned in to a Poona Ford cleanup sack. Brown finished the week of practice as the highest-graded run defender among the defensive linemen.
Jeremy Reaves, S, South Alabama
Game – Overall grade: 78.4
Practice – Key stat: Graded positively in coverage and as a run defender
Reaves showed out in his home stadium as he was impressive in coverage during the game. Targeted six times, he allowed just three catches and he also broke up a pass and intercepted another. Reaves had three defensive stops, demonstrating a sound coverage ability and physicality against the run.