From an impartial standpoint, there are many things I hope to see happen on Day 1 of the 2021 NFL Draft, whether it be a prospect sliding to a team that would be a perfect fit or a franchise avoiding passing on a player they've been frequently linked to. 
Here are 10 scenarios I want to see play out during the 2021 NFL Draft for reasons that I highlight below.
More of PFF's 2021 NFL Draft tools here: 
2021 NFL Draft Big Board | 2021 NFL Draft Guide | 2021 NFL Draft Stats Export | NFL Mock Drafts | NFL Mock Draft Simulator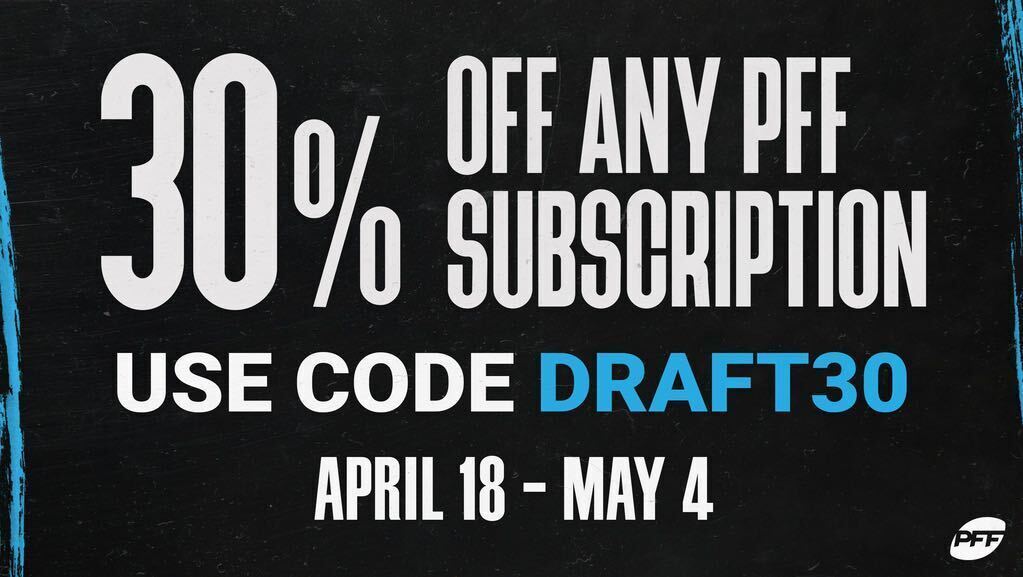 The gap between Zach Wilson and Justin Fields is far smaller than the gap between Fields and Trey Lance and Mac Jones. While Jones' best landing spot is in San Francisco, the best quarterback fit for the franchise is not the Alabama product. Just take a look at what PFF's Seth Galina wrote regarding what the Shanahan offense really is.
Fields would open up San Francisco's offense from both a deep-passing and designed-run perspective. We have seen the average depth of target in Shanahan's offenses decline ever since his run in 2016 with the Atlanta Falcons, largely due to middling arm talent and overall poor quarterback play.
With Fields, that wouldn't be an issue. He can sling it to all levels of the field and is deadly accurate downfield. He has thrown 44% of his passes 20-plus yards downfield accurately over the past two seasons, the highest rate in the FBS by over five percentage points. With all the chatter being about Fields as a passer, we often forget about his running ability. Fields, who clocked a 4.44-second 40-yard dash time at his Pro Day, recorded the second-highest rushing grade by a quarterback in 2020, accumulating 49 runs of 10-plus yards across 217 attempts in his career.
Sure, there may be some concerns about the fact that his time to throw increased against the blitz and he's prone to taking sacks more than average at the next level, but that shouldn't shove him any further down the pecking order. Fields should be the easy choice, and he is bound to thrive with Shanahan in San Francisco.
I elaborated on this scenario in depth last week, but if you missed it, check out this density plot from the piece that highlights offensive tackle versus wide receiver Wins Above Replacement (WAR) generated over the past five years.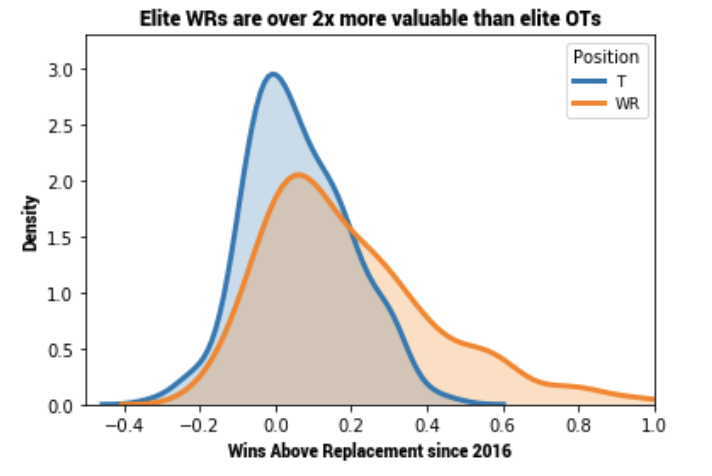 Chase's ceiling is far more valuable than Sewell's. The LSU wide receiver and Oregon tackle each had historic 2019 campaigns, yet Chase was over 2.5 times more valuable than Sewell in regard to Wins Above Average (WAA, college version of WAR) during that season. Plus, there are a plethora of talented offensive linemen with Round 1 grades bound to be available when Cincinnati is on the clock in Round 2 at Pick 38, which should make this decision even easier for the Bengals' brass.
Denver's roster ranks among the NFL's top teams when you remove the quarterback position, in my opinion. Their secondary, which features Bryce Callahan, Kyle Fuller, Ronald Darby, Justin Simmons and Kareem Jackson, just might be the best in the NFL. At the end of the day, though, none of it matters without a reliable quarterback.
Drew Lock has been one of the biggest underperformers at the position since taking over the job down the stretch in 2019. His career passing grade across 18 starts is the third-worst in the NFL, ahead of only Sam Darnold and Kyle Allen. His 4.5% turnover-worthy play rate in those outings is also the third-worst mark, while his 23.8% uncatchable pass rate is the worst.
In 2020, Denver wide receivers DaeSean Hamilton and Jerry Jeudy led the position in percentage of targets resulting in a quarterback-fault incompletion. It's time for a change, and Alabama's Mac Jones should be at the top of their board at No. 9 overall — assuming Justin Fields doesn't go at No. 3, of course. Otherwise, the Broncos need to do whatever it takes to go from No. 9 to No. 4 to secure the Buckeye quarterback.
The Giants' wide receivers and tight ends combined for the fifth-fewest WAR generated among all 32 units last season. Signing Kenny Golladay and Kyle Rudolph is a step in the right direction, but Daniel Jones could still use one more weapon to round out the unit as he enters a pivotal Year 3. If either Smith or Waddle slips to No. 11, New York shouldn't hesitate. And all indications point to one of the two being available there.
The league may have some concerns about Smith's thin frame, but that shouldn't be the case. Very few prospects have entered a draft with as complete a package as Smith has. From his ball skills to his route running to his releases, the reigning Heisman Trophy winner is a polished product. After all, he did shatter the PFF College record for highest single-season PFF grade this past year.
Meanwhile, Waddle is primed to be a perennial deep threat with the help of his sub-4.3-second speed and all-around athleticism. Sure, we would have liked to have seen more reps under his belt, but it's hard to ignore his production. Waddle generated an astounding 3.57 yards per route run in his three years at Alabama, a mark higher than both Smith and Ja'Marr Chase in their respective careers.
A personnel pack featuring Smith or Waddle with Golladay, Sterling Shepard and Rudolph would give Jones plenty to work with.
5. No running back goes in Round 1 (talking to you, Pittsburgh)
The difference in average WAR generated between running backs taken within the first three rounds of the NFL draft and those who went undrafted over the past 15 years is marginal. If you aren't new to PFF, this isn't new news. A running back shouldn't be considered until late Round 3, at the very best, and even then they have to be one of the better receivers at the position.
Do I expect no running backs to be taken in the first 32 picks? Unfortunately, no. DraftKings Sportsbook currently has the over for 0.5 running backs taken in Round 1 set at -305, and the Steelers look poised to be that team. The NFL has started to recognize that investing early isn't the way to address the position, but it isn't a leaguewide view yet.
This is a contrarian view, I know. I'm one of the few here at PFF and across the NFL landscape who thinks Jones should go ahead of Lance. It's really about what you value at the quarterback position.
The North Dakota State product is a toolsy prospect with a high ceiling; he has a cannon, is bound to add value in the run game and rarely made a bad decision in his lone season as a starter. While Jones takes fantastic care of the ball, his arm strength isn't anything special, and he's definitely not adding anything in the run game. Jones is, however, supremely accurate, and Lance is far from it.
Lance is set to be the most inaccurate quarterback prospect selected in Round 1 since we began our college ball-charting process in 2017. Just 44.1% of his passes thrown beyond the line of scrimmage in his 2019 season (and one showcase game in the fall of 2020) were deemed accurate. That is 4.4 percentage points lower than the next-worst first-round quarterback in the past four classes (Lamar Jackson) and 21.2 percentage points lower than Jones in 2020.
It's also important to note that Lance had to throw into a tight or closing window at a lower rate than Jones. Taking him with the assumption that he can be as dangerous as Jackson on the ground or have a Josh Allen-like turnaround from an accuracy standpoint is a bold strategy.
I can see why Lance is the consensus better prospect over Jones, but his inaccuracy, a lack of anticipatory throws and how little he was asked to win as a passer at North Dakota State give me too much cause for concern.
Farley was the consensus CB1 and a top-10 prospect for most analysts just about a month ago. Then reports came out about him undergoing back surgery to remove a herniated disk in his spine, which caused him not to partake in Virginia Tech's Pro Day — an added injury to an already concerning list.
Throw in the fact that Farley decided to opt out in 2020 due to COVID-19 concerns, and many are starting to view other cornerbacks, such as Patrick Surtain II, Jaycee Horn and Greg Newsome II as better options in Round 1. In my eyes, Surtain over Farley is fully understandable, but him falling into the 20s is a bit too far. He shouldn't be on the board any later than No. 16 overall to Arizona.
Farley has the size and length the NFL is looking for, standing at 6-foot-2 and weighing in at 207pounds. He pairs that with superb athleticism. He was training in Florida prior to the late-March back operation, clocking a sub-4.3-second 40-yard dash time there. That verifies everything he has shown on tape. Farley was one of the best shutdown corners of the 2019 season; he recorded a 90.5 coverage grade and averaged 1.5 catches allowed and 1.5 plays made on the ball per game against Power Five receivers. All three marks ranked in the top five among Power Five cornerbacks.
This is a dream scenario for the Cardinals. Their top three outside corners are Malcolm Butler, Robert Alford and Kevin Peterson. Butler still has plenty in the tank and will hold up fine, but the latter two have given no indication that they would be anything other than a detriment in a starting role. Alford hasn't played a down since 2018, when he posted a 53.1 coverage grade, and Peterson, a 2016 UDFA, has just 282 career coverage snaps to his name (and 374 yards allowed in that span, too).
If Arizona landed Farley at No. 16, it'd be one of the best picks of Round 1.
The Green Bay Packers have a Super Bowl window to attack with reigning NFL MVP Aaron Rodgers, and he desperately needs receiving help. Wide receiver Davante Adams was the highest-graded player at the position in 2020, but Rodgers didn't have another wide receiver to crack the top 50. That made it the fourth year in a row in which he didn't have at least two wide receivers earn a top-50 receiving grade.
Rondale Moore and the Packers would be a perfect marriage. There are concerns about projecting Moore to the NFL due to his size, injury limiting him to only seven games over the past two years and Purdue's offense scheming up a lot of his touches and not asking him to win at the intermediate level. The first two points shouldn't be that big of a concern, in my eyes, and he did flash the ability to win downfield when given the opportunity, but that wouldn't matter much in a Green Bay offense filled with screens and RPOs.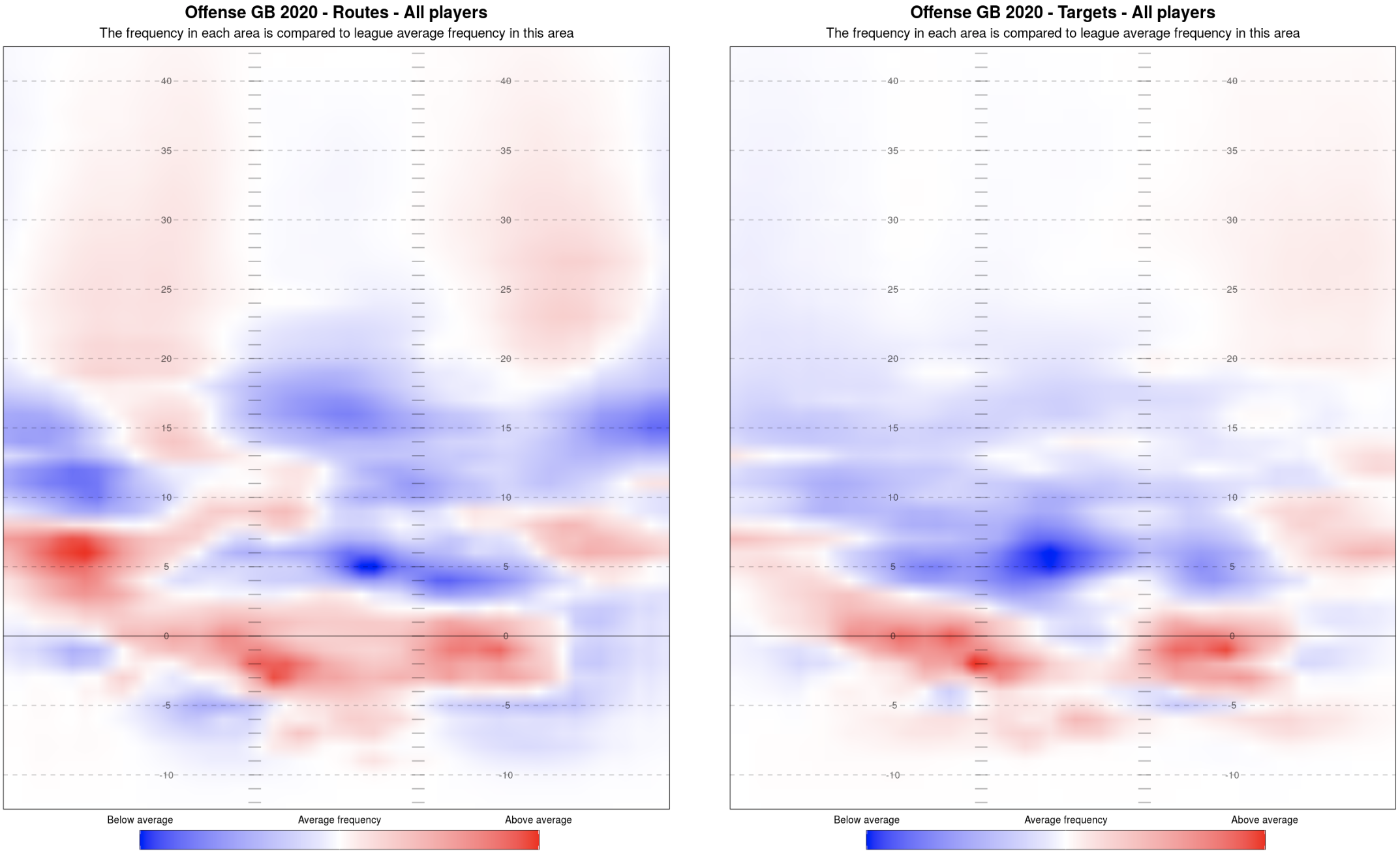 Moore embodies a freak athlete. At his Pro Day, he registered an astounding 42.5-inch vertical, a 4.29-second 40-yard and 6.68-second three-cone. He reportedly did 24 bench press reps at 225 pounds and squatted over 600 pounds. That strength and explosiveness showed routinely after the catch at Purdue. He broke an astonishing 37 tackles back in 2018 alone as a true freshman, which still stands as the PFF record for most broken tackles after the catch by a Power Five receiver in a single campaign.
Moore is bound to be one of the most dynamic receivers after the catch in the NFL. He would be a valuable asset to the offense Matt LaFleur has built in Green Bay.
9. Christian Barmore is the first defensive lineman off the board, and there isn't another taken until the last 10 picks of Round 1
"This is the worst defensive tackle draft I've ever seen." — An anonymous top decision-maker to NFL Network's Ian Rapoport
That anonymous decision-maker isn't wrong. Only two interior defensive lineman prospects have a first- or second-round grade on the 2021 PFF Big Board. There were six such players in 2019 and eight in 2018. On the other hand, the edge defender class is one of the most boom-or-bust positional groups in recent memory; the top of the board is littered with physically gifted, yet unproven prospects. Lumping this entire group together, though, there is one clear-cut top prospect: Alabama interior defensive lineman Christian Barmore.
He is being viewed by many as another high-risk, high-reward player due to his slow start in 2020, which could have been influenced by a preseason injury. We've also heard many speak out against Barmore, including legendary defensive lineman Warren Sapp, who worked with him at one point and made it apparent he shouldn't be a first-round pick. We, however, respectfully disagree.
Barmore rushed the passer just under 500 times over the past two seasons, notching a 92.2 pass-rush grade and a 19.7% win rate. Both figures led all Power Five interior defensive linemen by wide margins. He has the prototypical NFL frame for the position, at 6-foot-4 and 310 pounds with 34 ⅝-inch arms, and has special flexibility for a man of his stature. Say what you will about Barmore's early-season consistency, but he's the defensive lineman I have the most confidence in when projecting to the NFL.
It's no secret that the Chargers featured the NFL's worst offensive line last season. Not only did the group finish as the lowest-graded unit of the 2020 season, but it was the second-lowest-graded group of the past decade. Los Angeles did make major strides in free agency by signing Corey Linsley, the highest-graded center of the 2020 season, and Matt Feiler, who can play at either guard or tackle at a quality level. Still, there's work to be done. Looking at the Chargers' No. 13 overall pick, the best-case scenario is that Rashawn Slater is still on the board once the clock starts.
Slater doesn't have prototypical tackle size, but he does have the athleticism, technical prowess and college production to give us confidence he can hold up at the NFL level. He recorded a 90.0 PFF grade and allowed only five pressures in 11 games in 2019 before opting out of 2020.
The secondary is also an area of weakness for Los Angeles. With former Rams defensive coordinator Brandon Staley coming in as head coach, the team needs athletic and instinctive corners to play in his somewhat unique defense. Look no further than Asante Samuel Jr., who is sliding down some boards due to size concerns. This is the kind of defense Samuel would thrive in. He makes up for his 5-foot-10, 180-pound frame and just over 30-inch arms with read-and-react ability and quicks. Despite being undersized, he still ranked second in the Power Five since 2018 in total forced incompletions (30).
If the Chargers were to land both Slater and Samuel, they'd be in the running for "best offseason of 2021."