The 2018 NFL Scouting Combine is in the books, so here is a look at 10 players who helped themselves with strong performances in front of the league's coaches, executives and scouts.
The 2018 NFL Draft Guide is here! For PFF Edge & Elite subscribers, a comprehensive guide featuring player profiles of signature stats, grades and exclusive PFF content including position by position rankings. Find out more information here and join PFF now!
Shaquem Griffin, LB, UCF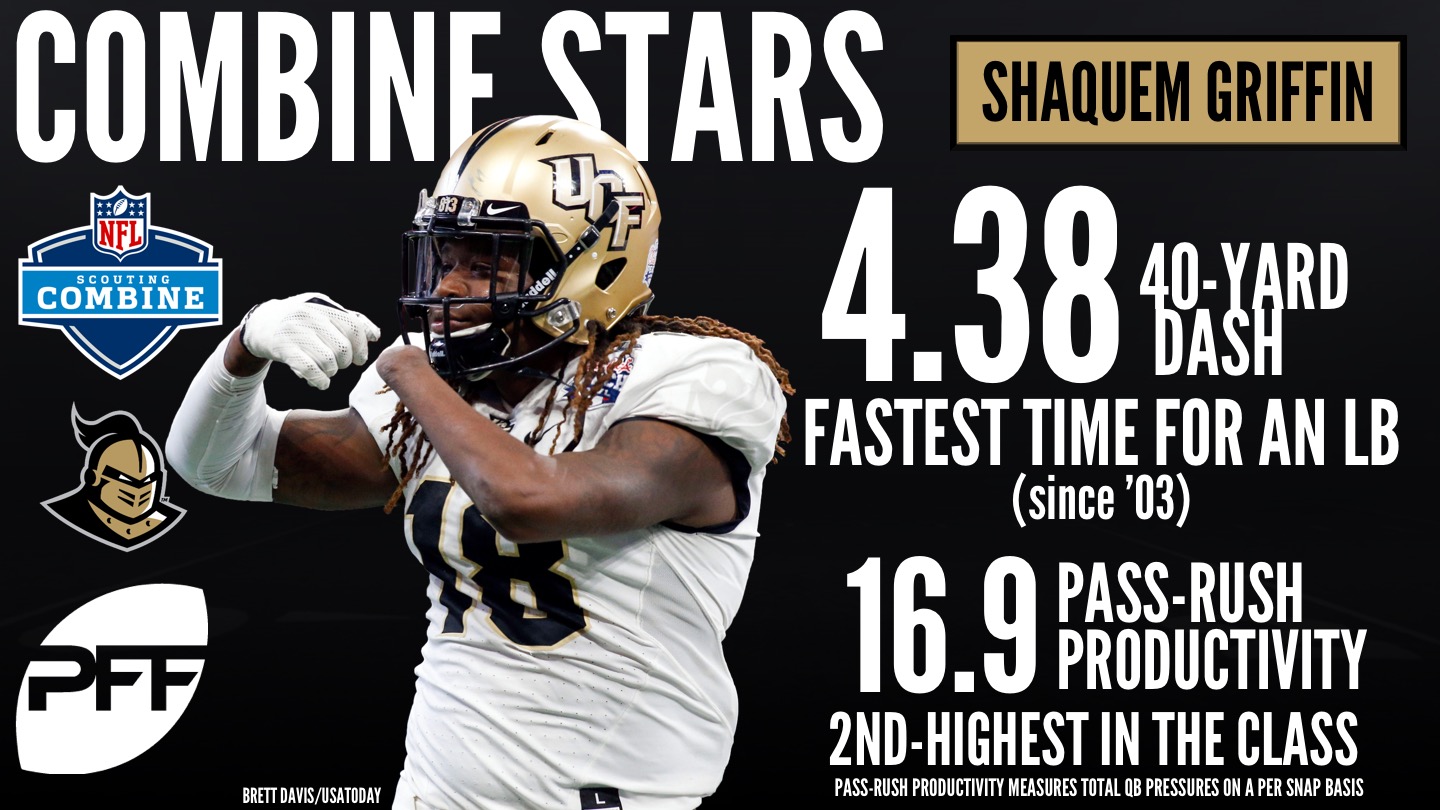 Griffin was clearly the star of the combine, both for the sheer heart in his performance and for his elite testing numbers. Griffin's amazing 20 bench press reps of 225 pounds while using a prosthetic hand made him a top worldwide trend on twitter and had the football world buzzing. Griffin then ran a 4.38 40-yard dash, the fastest time by a linebacker since 2003. He also weighed in heavier than expected at 227 pounds. Griffin showed he's bigger, stronger, and faster than most people expected, and our Sam Monson looked at Griffin's 2017 play and determined before the combine that he was more than a feel-good story — he's also an excellent player. Griffin's positional fit will likely vary by team, but he's shown he can edge rush effectively and his athletic profile fits that of a run-and-chase weak-side linebacker or a strong safety that plays in the box. Griffin can also make instant special teams contributions to his new team.
Josh Allen, QB, Wyoming
Allen was clearly the height/weight/speed specimen of the 2018 combine quarterback group. Allen measured in at nearly 6-foot-5 and weighed 237 pounds with large 10 1/8-inch hands. Allen also led the quarterback groups with a 33.5-inch vertical and a 9-foot-11 broad jump. His 6.90 three-cone was the second-fastest of the group. Furthermore, Allen put on arguably the best passing display of the quarterbacks on the field. Quarterback passing performances during the combine drills are usually a mixed bag, as they are throwing to new wide receivers, but Allen was able to show off his phenomenal arm strength a time or two and seemed to be a bit more accurate than he looks in games. Allen is our No. 6 ranked quarterback in the class and looked his best when throwing deep in Indianapolis. Allen's combine performance will likely have even more NFL coaches convinced they can turn him into a consistent NFL starter.
Derwin James, S, Florida State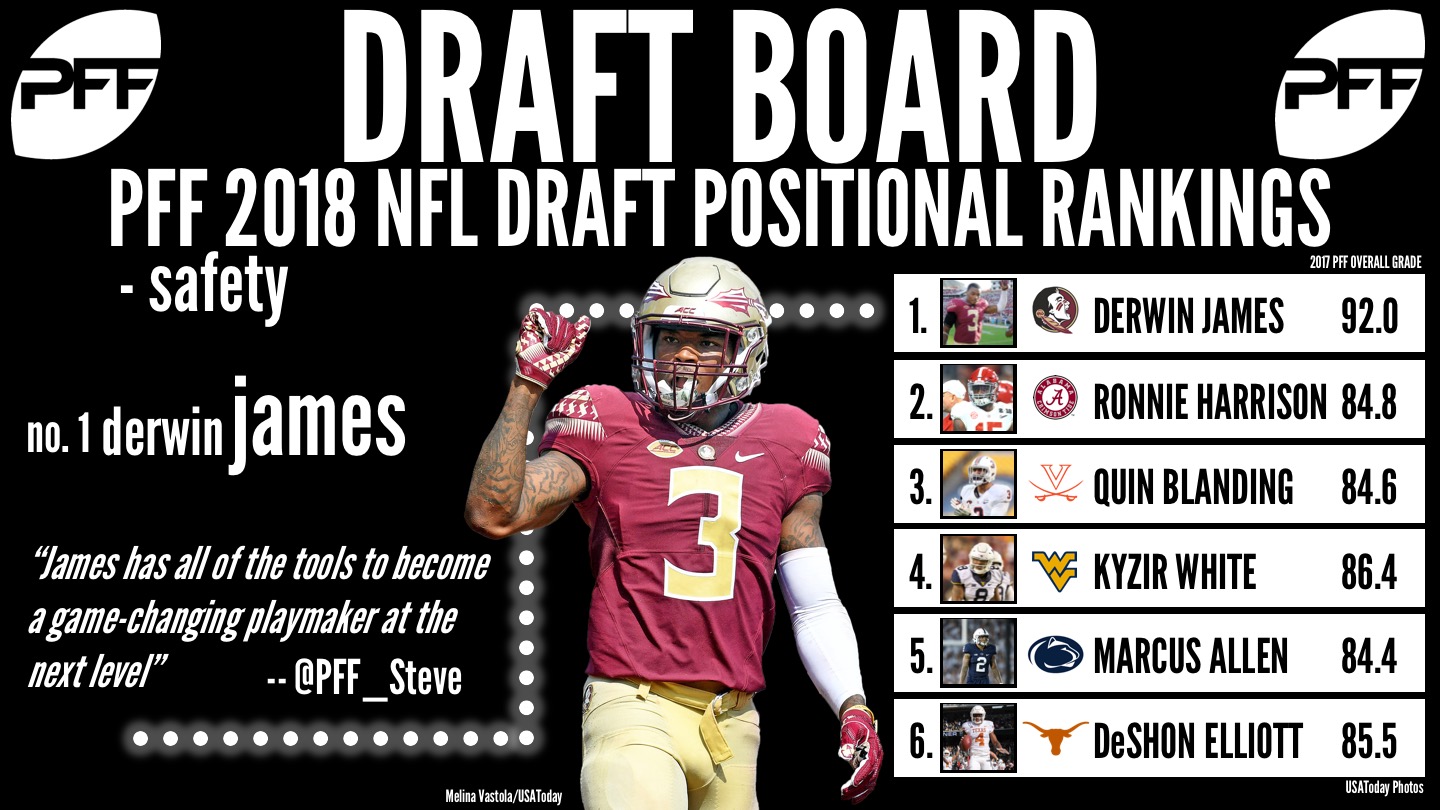 James is such a rare prospect that he can play edge rusher, linebacker or safety and do a stand-up job. Our Steve Palazzolo recently examined James' play and determined he's exactly what the NFL needs on defense. James is our top-ranked safety and he measured in at 6-foot-1 and 215 pounds with 33-inch arms. He showed elite lower body explosion with a 40-inch vertical and 11-foot broad jump. James also showcased his speed and strength when he ran a 4.47-second 40-yard dash and had 21 bench press reps of 225 pounds. The blue-chip athleticism that James displayed at the combine increased his value tremendously.
Mike Gesicki, TE, Penn State
Gesicki has shown over his career to be an athletic move tight end with the ability to become a mismatch weapon in the NFL, but his combine performance exceeded expectations. Gesicki — our No. 7-ranked tight end — ran a 4.54 40-yard dash, showing his ability to be a weapon down the seam. Gesicki's 6.76 three-cone led all tight ends in Indianapolis and shows his fluid change of direction ability. Gesicki also posted an elite 41.5-inch vertical leap to go along with his 10-foot-9 broad jump. That leaping ability is one of the reasons why Gesicki caught 75 percent of his contested targets (9-for-12) in 2017, which ranked No. 1 among all tight ends. Gesicki's measurements at the combine indicate a rather large catch radius, as he has 34-inch arms to go along with massive 10 1/4-inch hands.
Leighton Vander Esch, LB, Boise State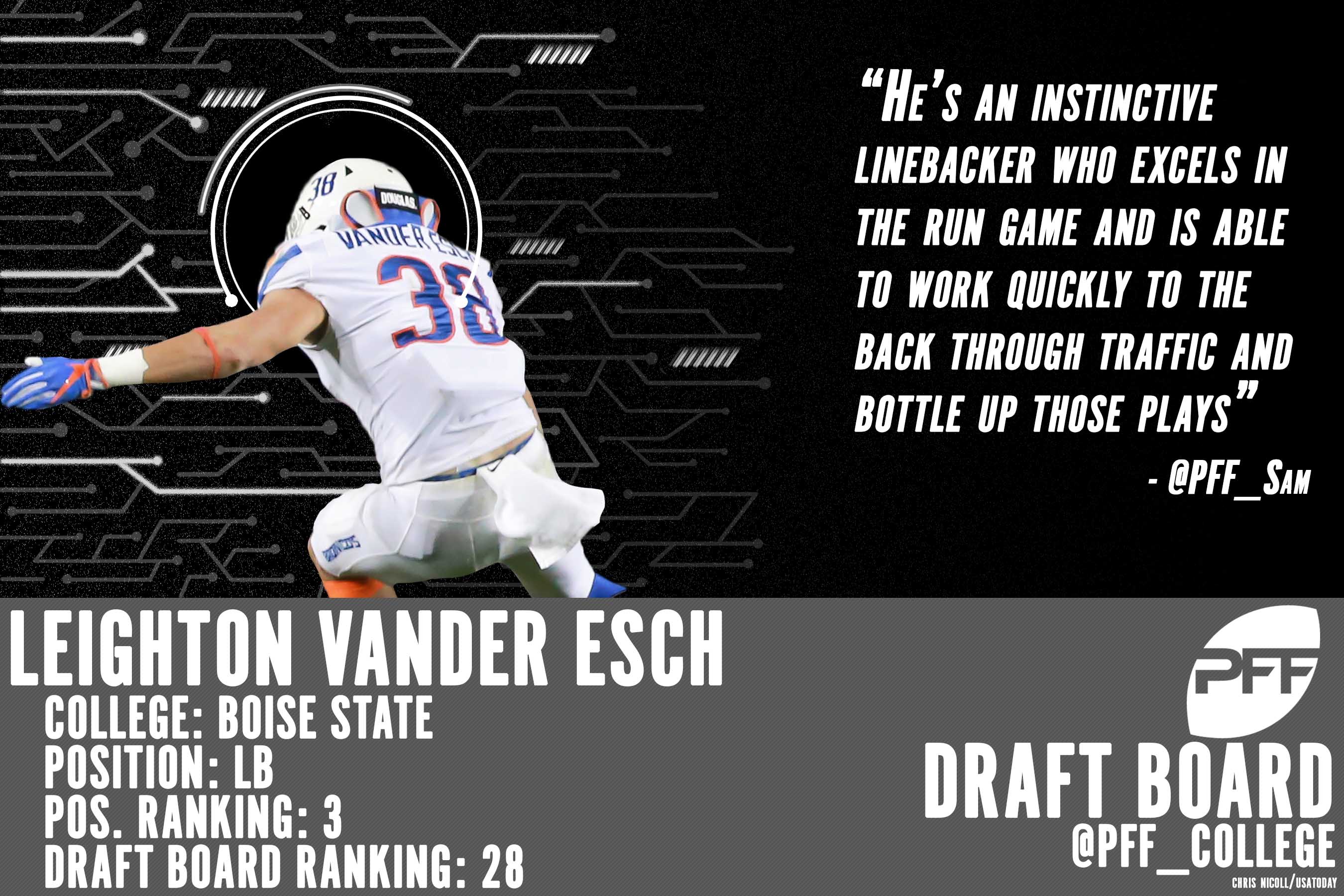 Vander Esch left Boise State early and with only one season as a starter. However, he was extremely productive in that one season, especially as a run defender, and his 57 run stops and run-stop percentage of 15.9 in 2017 both ranked No. 1 among all FBS inside linebackers. Vander Esch came into the combine as our No. 3 ranked linebacker and as a player we compared to former Minnesota Vikings' linebacker Chad Greenway. Vander Esch measured in at 6-foot-4, 256 pounds and had 33 7/8-inch arms, so not only was Vander Esch bigger than Greenway was at the combine, he then put on one of the most impressive all-around performances at the combine. Vander Esch ran an impressive 4.65 40-yard dash, then had a ridiculously fast 6.88 three-cone, and then had a 39.5-inch vertical jump and a 10-foot-4 broad jump. All of his measurables confirmed what the tape showed; Vander Esch is a rangy linebacker capable of changing direction quickly and capable of quickly closing on his targets. Vander Esch likely entrenched himself in the first round with his performance.
D.J. Chark, WR, LSU
Arguably no prospect has done more to improve their draft position since the end of the season than Chark. He had a very strong week in Mobile, both in practices, where he won 42 percent of his reps against press coverage in 1-on-1s, and the Senior Bowl game, where he had a five-catch, 165-yard performance. Chark then followed that up with a strong performance at the combine, where had a 4.34 40-yard dash, the fastest among all the wide receivers at the combine. Chark's timed speed matched up with the speed he showed both on film and at the senior bowl. He then produced an elite 40-inch vertical and a 10-foot-9 broad jump. Chark's strong showing since the end of the season should see him moving up draft boards.
Marcus Davenport, Edge, UTSA
Davenport has been a PFF favorite for the last three seasons and is our No. 4-ranked edge defender in the draft class. Davenport's length has always been his greatest asset on film and he measured in at nearly 6-foot-6 and 264 pounds with 33 5/8-inch arms, indicating ideal length to play on the edge in the NFL. Davenport put on a show once he hit the field for the workout in Indianapolis, as he ran a 40-yard dash in only 4.58 seconds and had 10-foot-4 broad jump. Davenport also looked outstanding in the field drills, showing a burst off the edge and fluid movement ability that his combine numbers attest to. Davenport has helped himself considerably this draft season, as he was one of the stars of Senior Bowl week and backed that up with his impressive combine performance.
Harold Landry, Edge, Boston College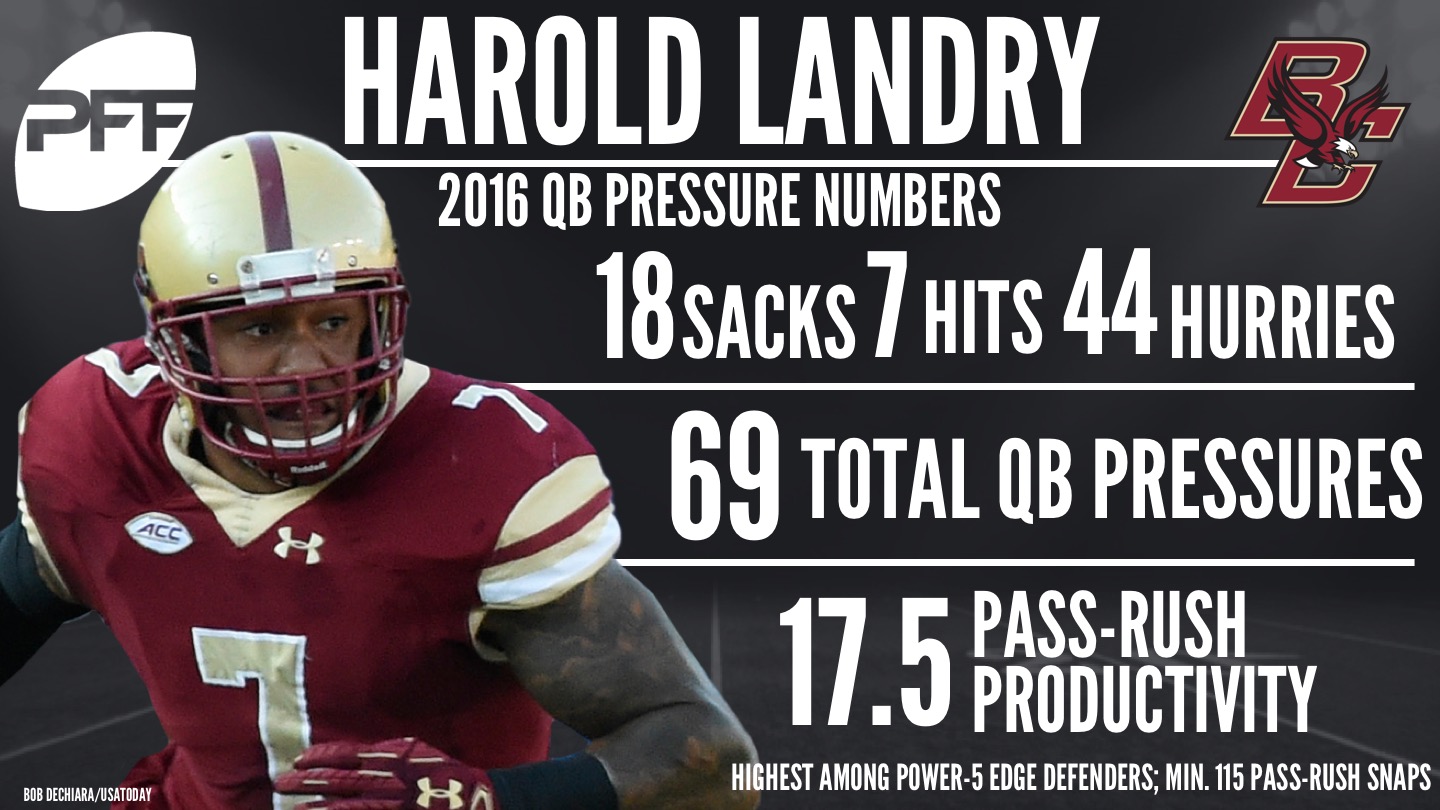 Landry's performance on the field turf of Lucas Oil stadium turned the clock back to the outright dominant 2016 version of Harold Landry. The Boston College product — our No. 1-ranked edge defender — measured in at 6-foot-2 and 252 pounds. He dealt with injury issues in 2017, but when healthy his bend around the outside is so dangerous that offensive tackles want to get out of their stance quickly to wall him off on the outside. Unfortunately for many offensive tackles, Landry is even more deadly if given an inside rush lane in addition to the outside rush lane. The athleticism he shows on film showed up at the combine, with Landry's 4.65 40-yard dash (with an astounding 1.59 10-yard split) and his explosive 36-inch vertical jump. Landry's ridiculous three-cone time of 6.88 was a focus of Mike Renner's examination of Landry's combine. He has shown on film that he is an accomplished pass-rusher who can get to the quarterback in myriad ways and that was backed up by his combine performance.
Kolton Miller, T, UCLA
Miller is an early entry to the draft after a strong redshirt junior campaign which saw him surrender only two sacks, eight hits, and six hurries of the quarterback on his 579 pass-blocking snaps. Miller is our No. 7-ranked offensive tackle and displayed his athletic ability at the combine. Miller measured in at over 6-foot-8 with very long 34-inch arms, elite length for the tackle position. He ran a 4.95 40-yard dash, including a speedy 1.67 10-yard split, which is a better indication of linemen speed. Miller also added an impressive 10-foot-1 broad jump. During positional drills, Miller moved his big frame very well and was able to cover ground quickly with his long strides in the vertical set pass-protection drills and he also looked fluid moving laterally in the mirror drill. Miller's combination of rare length and athletic prowess no doubt impressed offensive line coaches around the NFL.
Troy Apke, S, Penn State
Apke wasn't one of the bigger names at safety coming into the combine but he graded positively on the year both in coverage and as a run defender. During the season, Apke was at his best in slot coverage and he was only targeted once for every 8.8 coverage snaps in the slot, tied for 19th among all draft-eligible defensive backs. Apke stole the show on the final day of the combine when he ran a 4.34 40-yard dash to lead the safety group. He also had an explosive 41-inch vertical leap and a 10-foot-11 broad jump. Apke also showed off the change of direction ability that helps him cover in the slot with his 6.56 three-cone. Apke is having a strong draft season, as he was one of the standouts of the NFLPA Bowl, where he had an interception and two run stops. Perhaps no player in Indianapolis will have talent evaluators going back to the film more than Apke in order to see if his testing numbers are apparent in his play on the field.