With all the hoopla surrounding the NFL Scouting Combine in Indianapolis this past weekend, you'll surely see dozens of lists purporting 'winners' and 'losers.' When it comes to edge defenders though, one guy's performance was head and shoulders above anyone else's.
Harold Landry's 6.88-second 3-cone at 252-pounds puts him in rarified air for top prospects. Below is every single 250-plus pound defensive lineman drafted in the first round that had a sub-6.9-second 3-cone:
DeMarcus Ware
J.J. Watt
David Pollack
Melvin Ingram
Joey Bosa
T.J. Watt
That is some impressive company. With the exception of Pollack, whose career was cut short due to injury, and T.J. Watt, whose only played one year in the league, every single other player on the list has been All-Pro caliber at some point in their career.
Landry's performance was made all the more important by the fact that he had so many question marks about his play in 2017. If you go back to August and look at just about any preseason draft rankings, you'll see Landry's name projected in the top-10 in almost every single one. The Boston College edge defender flat-out dominated as a junior in 2016, racking up 18 sacks, seven hits and 44 hurries. That was 16 more total pressures than No. 1 overall pick Myles Garett.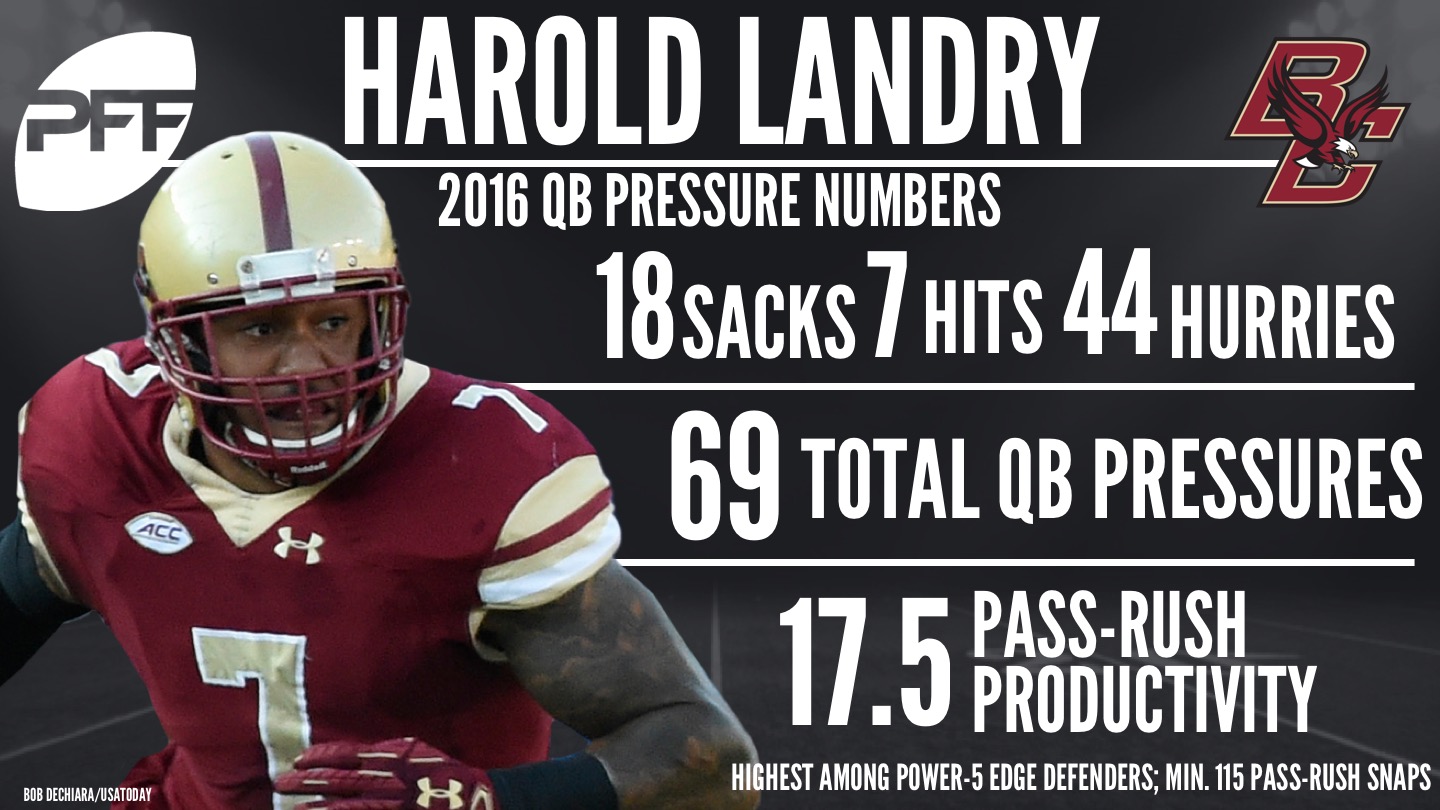 Landry would kick off the 2017 season with back-to-back five-pressure performances against Northern Illinois and Wake Forest. But by the time they faced off against Notre Dame in Week 3, something was noticeably wrong with Landry. He only played 38 of a possible 78 snaps in that game, and while no formal injury was reported, he wasn't close to the same guy down the stretch. Over the last six games before injury ended his season, Landry notched all of 19 pressures. Many of those reps where Landry took a hard-outside move that resulted in sacks in 2016, were now ending with him getting pushed past the quarterback. Was his bend an issue or was the ankle that ultimately took him out for the year the problem?
With his special performance over the weekend, the answer looks resoundingly like the latter.
That's a good thing for Landry and his draft stock. The reason being, his bending the edge is such an enormous part of Landry's game. Of his 69 pressures as a junior, 41 came to the outside of offensive linemen, three came via bull rush, 11 via inside move and 14 were either unblocked or of the clean up variety. That's an extremely high percentage coming off the edge and to win like that in the NFL, you better be able to dip underneath offensive tackles. Landry's go-to move is the dip and rip as he has enough explosiveness out of his stance to force tackles to get more depth than they are comfortable with. He's yet to pair it with a deadly inside counter but shows more than enough creativity with his hands that it's only a matter of time. His ability to win to the outside is so rare, that it's more than enough to push him to the top of a fairly non-descript edge class.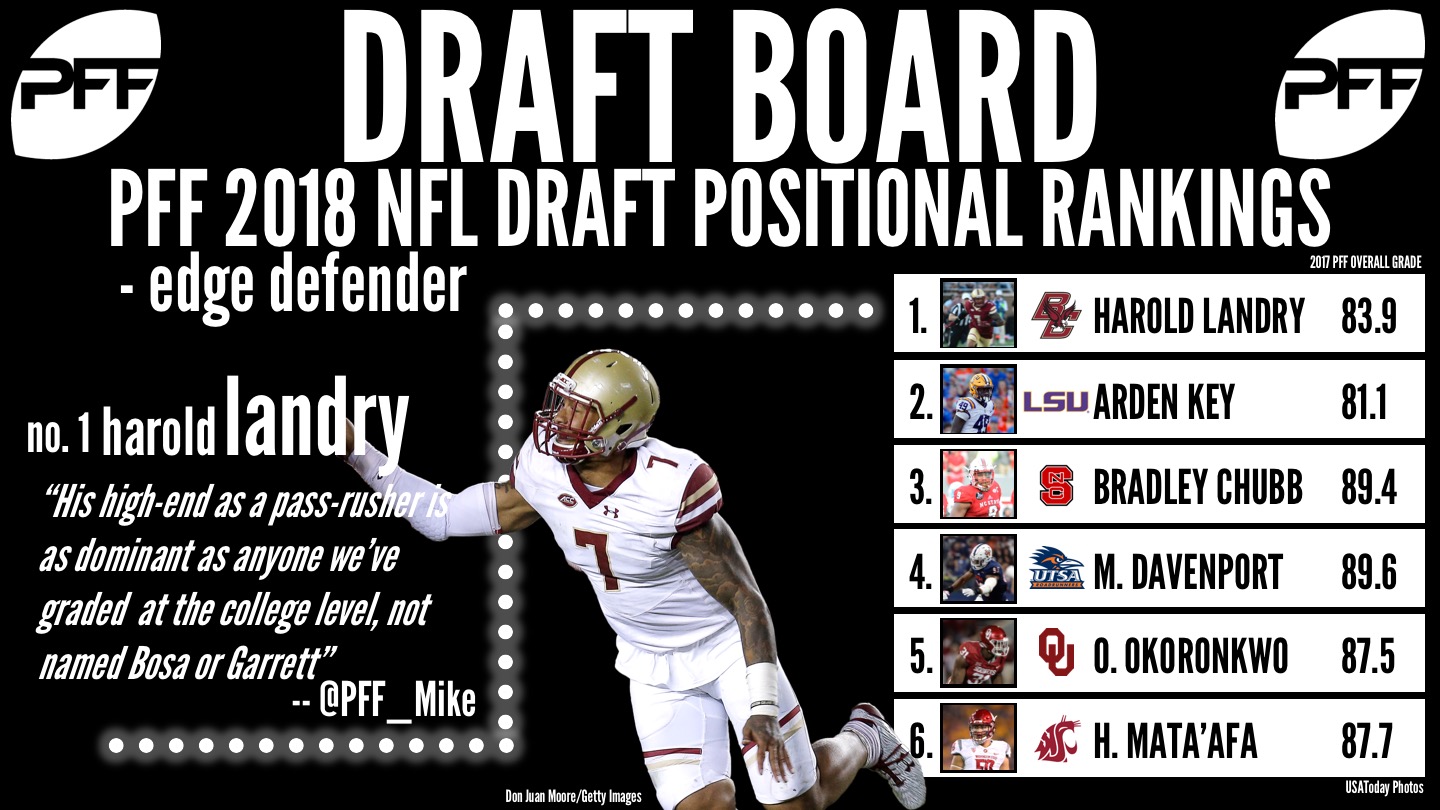 One of the biggest knocks you'll see on Landry's game is his run defense. When you go back through his career however, it's not that he's incapable of playing the run, rather that he's more interested in rushing the passer. And I can't say I blame him. Back in 2015, Landry led all edge defenders in the NCAA with a 13.0 run-stop percentage. He's a rare 250-plus pound athlete who knows how to win with his hands as both a run defender and pass-rusher. What more could you want?
Landry is the single most complete edge defender in this class and is simply coming off an injury-plagued year. His high-end play is special, as is the company he keeps athletically. If his 2017 tape pushes him down and out of the top-10 on draft night, someone is going to get a steal.