NFL draft season is upon us, which means player evaluations are in full swing. A common theme in player evaluation is to compare a prospect with a previous NFL player with similarities. However, with more than a decade of PFF's data at hand, we can go a little deeper with our player comparisons.
Boise State linebacker Leighton Vander Esch is an early declaration for the draft after truly only one season as a starter. Vander Esch's size, playing style and versatility are reminiscent of former Iowa linebacker, long-time Minnesota Viking Chad Greenway. While Greenway was the 17th pick of the 2006 NFL draft coming out of Iowa with a much larger body of work, Vander Esch is likely to get drafted a bit below that spot, as he is most likely to get drafted in the latter part of the first round or in the second round.
[Editor's Note: The 2018 NFL Draft Guide is coming. For PFF Edge & Elite subscribers, a comprehensive guide featuring player profiles of signature stats, grades and exclusive PFF content will be released on February 26.]
Both are in the same weight class
Both players are built in a similar fashion, as Greenway checked in at the combine at just over 6-foot-2 and 242 pounds while Vander Esch is listed at 6-foot-3, 240 pounds and his official measurements are still to come at the combine. Both players possess similar athletic profiles as well coming out of college: Greenway ran a 4.76-second 40-yard dash at the combine and posted a 33 1/2" vertical jump. Rumors abound that Vander Esch is not only going to test similarly to Greenway but that he might even run a slightly faster 40-yard dash and might have a higher vertical leap than Greenway.
Positional versatility
Greenway was a very versatile defender in Minnesota and over his career he logged significant snaps at weak-side linebacker, middle linebacker and strong-side linebacker. Greenway played mostly on the outside early in his career, but he had several seasons in the NFL where he played a significant number of snaps at MLB (167 in 2012, 218 in 2013, 173 in 2014). Vander Esch played the majority of his snaps at inside linebacker at Boise State, but his size and athleticism indicate he should be able to play outside in the NFL as well. He has the size and length to play a traditional strong-side outside linebacker role or a middle linebacker role and enough range in space to be used as a weak-side linebacker as well.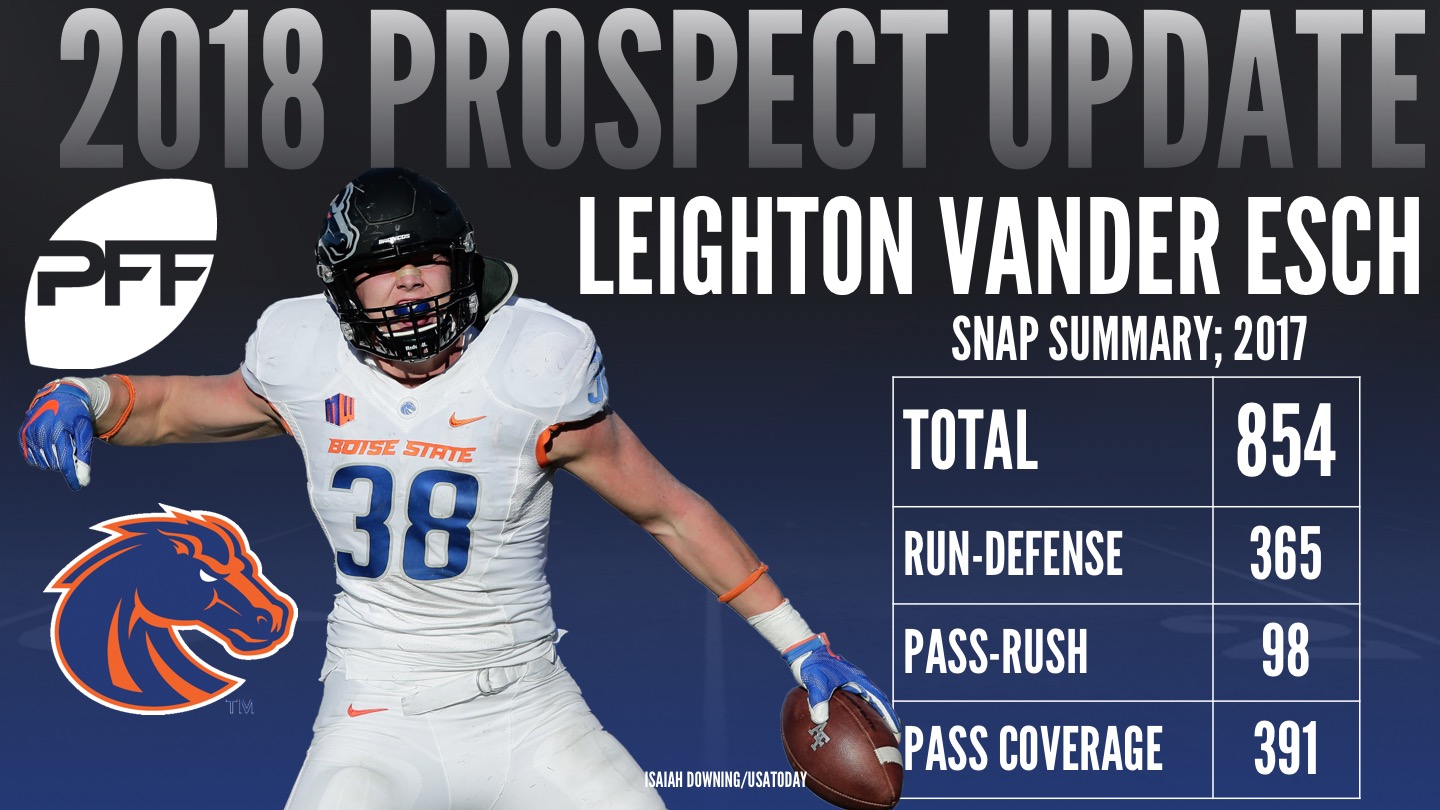 As a run-defender
Both Greenway and Vander Esch are at their best against the run. Greenway's best NFL season came in 2008 when he was PFF's third-highest rated 4-3 OLB. That season he had 29 run stops and a run stop percentage of 8.5 which ranked sixth at the position. Greenway also graded positively as a run-defender in four of his first five seasons. Vander Esch finds the ball well against the run and has the ability to sift through all the moving bodies to bring down the ball carrier. He can also use his long stride to quickly cover ground on outside runs or in pursuit on the back-side of run plays. Vander Esch had 57 run stops and a run-stop percentage of 15.9 in 2017, both marks ranked No. 1 among all FBS inside linebackers.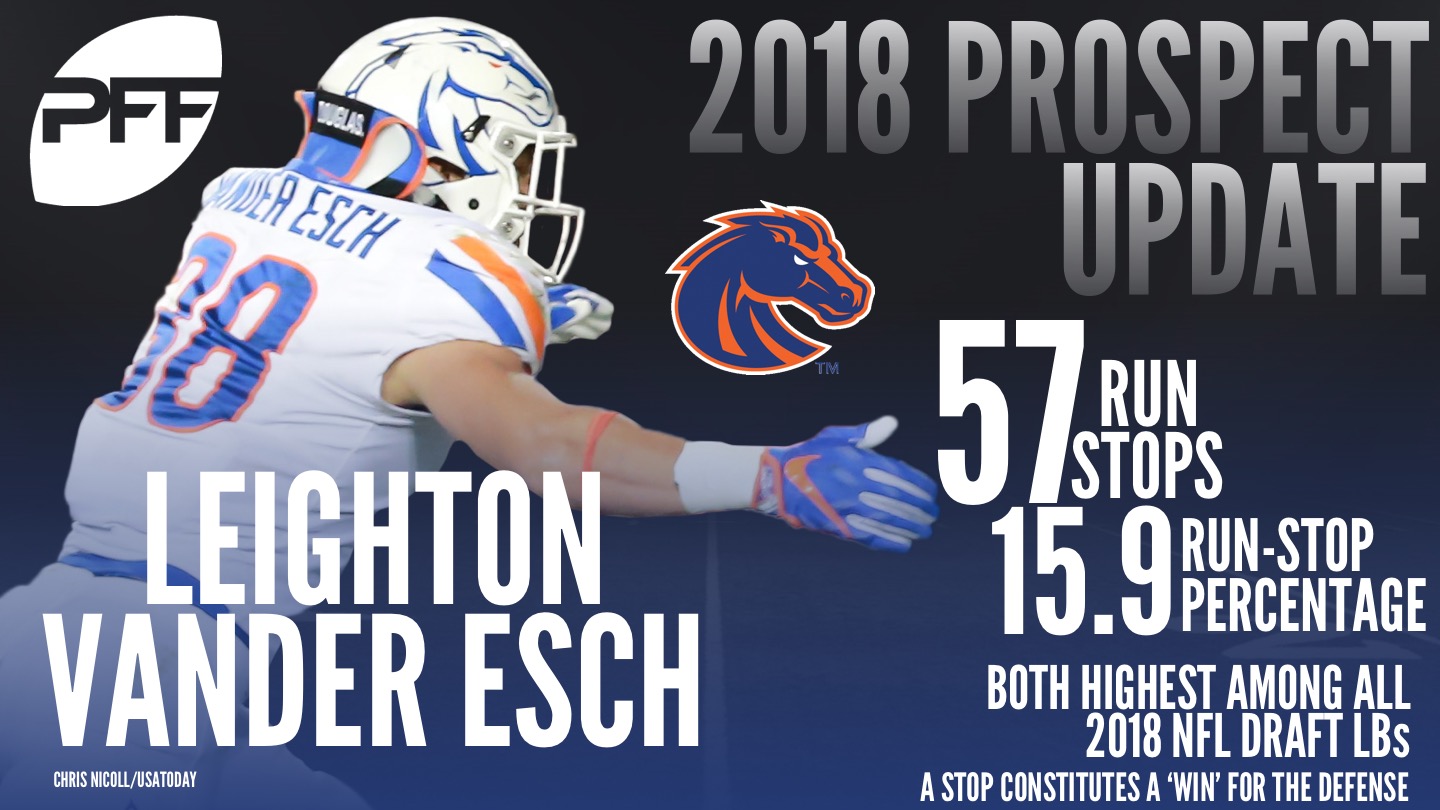 As a pass-rusher
During his peak 2008 season, Greenway had four sacks, five QB hits, seven hurries and his pass-rushing productivity rating of 13.3 ranked No. 5 among 4-3 OLBs. Vander Esch is also a productive pass-rusher when asked. He can use his athleticism to quickly jump around blockers or he can use his length and playing strength to bull-rush a blocker and he's very difficult matchup for running backs to handle in pass protection. Vander Esch generated four sacks, two QB hits, 12 hurries and one batted pass on his 98 pass-rush snaps in 2017.
In coverage
Vander Esch appears to be a better player in coverage than Greenway, but time will tell in the NFL. Vander Esch did grade positively in coverage in his lone year as a starter and his greatest asset in coverage is his length. He can shrink passing windows and bat down passes to wide receivers he's not even covering. Vander Esch can turn and use his long strides to reach intermediate zones in a hurry. He can also use his leaping ability and long arms to make it more difficult for quarterbacks to make layered throws over second-level defenders. In 2017, Vander Esch allowed 35 receptions on 40 targets, for 331 yards, including 221 yards after the catch, one touchdown, three interceptions and two passes broken up while opposing quarterbacks had a 78.2 passer rating when throwing into his coverage.
In summation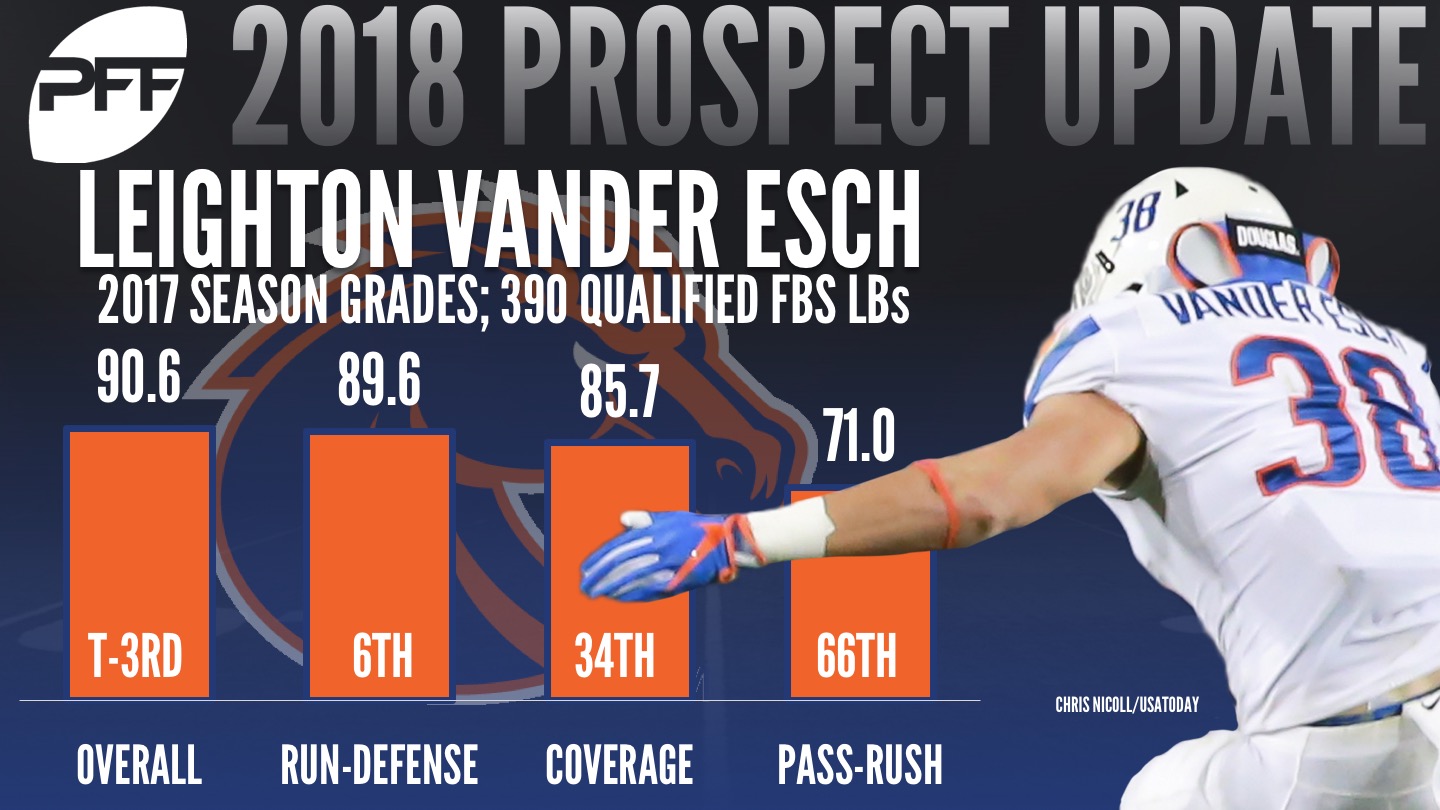 With similar builds and athleticism, range to the sideline, run-defense prowess and ability to play any linebacker spot the Chad Greenway-to-Leighton Vander Esch comparison has merit. Vander Esch is a three-tool linebacker who graded positively in 2017 as a run-defender, pass-rusher and in coverage. He had three special teams tackles as well, proving that his range and athleticism could make him a valuable special teams player as a rookie.
Vander Esch has played more of an inside role in college but isn't limited to that role and could easily be used as an outside linebacker by his NFL defensive coordinator. In total, it wouldn't be a stretch for Vander Esch to have similar production to Greenway early in his career.