Week 1 delivered a wild first full slate of college football action. Overall, Greenline had a positive week and our written plays went 6-2 highlighted with a parlay win. It took a bit of run good with Stanford covering late and Texas jamming in a garbage touchdown with a minute to go, but sometimes the gambling gods smile favorably upon you. We also had locks in Cincinnati, Utah and Kentucky rolling to covered victories. Let's take a closer look at the action heading into week two and highlight some of the best bets according to Greenline.
[Editor's Note: All ELITE subscribers have access to NFL and NCAA Greenline, an online dashboard with projections for spread, over/under and moneyline for every NFL and FBS game ever week. Subscribe today to gain access!]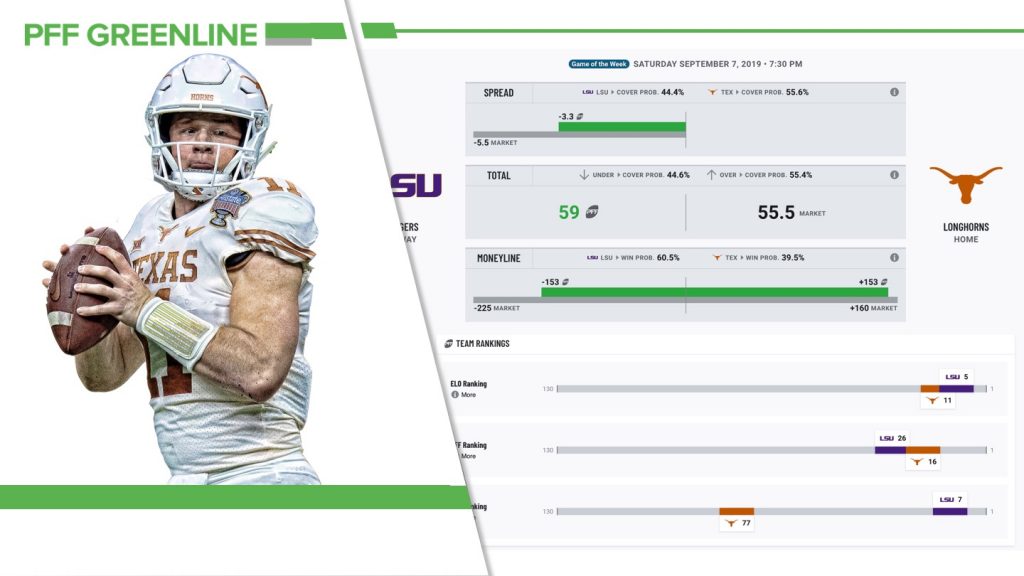 PFF's Game of the Week
Why Texas covers:
The PFF Game of the Week features fifth-ranked LSU on the road in Texas to take on the 11th-ranked Longhorns. After a preseason opening listed Texas as 2.5 point dogs, this line has rocketed up to +6.5 where it sits currently. It seems that money would fly in on Texas if this line somehow moved to +7. Still, at +6.5, Greenline gives Texas a 56% cover probability as home dogs. Based on offensive rankings, Texas has the clear advantage even after an impressive first-week performance by LSU. Texas has the 16th-best offensive ranking in the country with LSU barely outside the top 25. Anytime we come across a home dog between two relatively even teams where the biggest discrepancy is the favorites defensive ranking, we are going to side with the better offense and the points. This line feels like it has reacted too much to a dominant week one performance by LSU. At 6.5 points, I am buying Sam Ehlinger and if we haven't found the bottom of this line yet, I would buy more at +7 as well. 
What could go wrong:
This line movement could be an overreaction to an impressive Week 1 performance by LSU. It could also be the market readjusting to a revamped LSU offense after the hiring of Joe Brady – a situation which our model wouldn't fully take into account this early in the season. Joe Burrow did flash at points in 2018 with four passing game grades at or above 90.0. When looking at opponent-adjusted passing grades from 2018, LSU actually had the 16th-best grade in the FBS with Texas down at 24th. Burrow has done most of his best work against lousy defenses with the brunt of SEC play grading at or below 60.0. The Texas defense definitely isn't SEC quality which could allow Burrow plenty of opportunities to continue building on his hot start to 2019. 
Why the over hits:
With the spread sliding a full four points, this total has also risen a full four points since the open. Unlike the spread, we are fully buying into this line movement with Greenline giving the over 56 a 54.3% cover probability. With nine explosive pass plays in Week 1, this is no longer your father's ground and pound LSU Tigers offense. Mix in the Longhorns' Big-12 offense (and defense), and we have the makings of an old Texas shootout. If the home team Longhorns get down by a couple touchdowns, they will work at a frantic pace to catch up. The flipside is if Texas gets up early, their defense has little chance of slowing the LSU Tigers offense for long. After already stating that our model likes Texas to cover, the Longhorn cover and over parlay play is an option for the second week in a row.  
What could go wrong:
After moving a full four points, this could be the wrong time to buy into the total. LSU could forget they are playing a Big-12 opponent and resolve to run the football 50-plus times. Ed Orgeron would also need to crunch the numbers and determine that it is too risky to try for touchdowns and attempt field goals anytime they get within the 30-yard line. If all of this occurs and Texas is unable to move the football across midfield against the Tigers' defense, this could turn into an ugly SEC type 13-3 football game, but our model doesn't agree with this prognosis.