Every year, talented true freshmen make their names known on the national stage with strong performances in their debut seasons at the collegiate level. While these strong impressions are usually made from those players who dominate the box scores on Saturday nights, we at Pro Football Focus are in a great position to highlight all the true freshman players who have performed at a high level no matter their position during their first year on campus.
This list is brought to you by Eckrich, the Official Smoked Sausage of the College Football Playoff.
With our grading of every player on every play of every game at the FBS level, here are the top-graded true freshmen through eight weeks of football: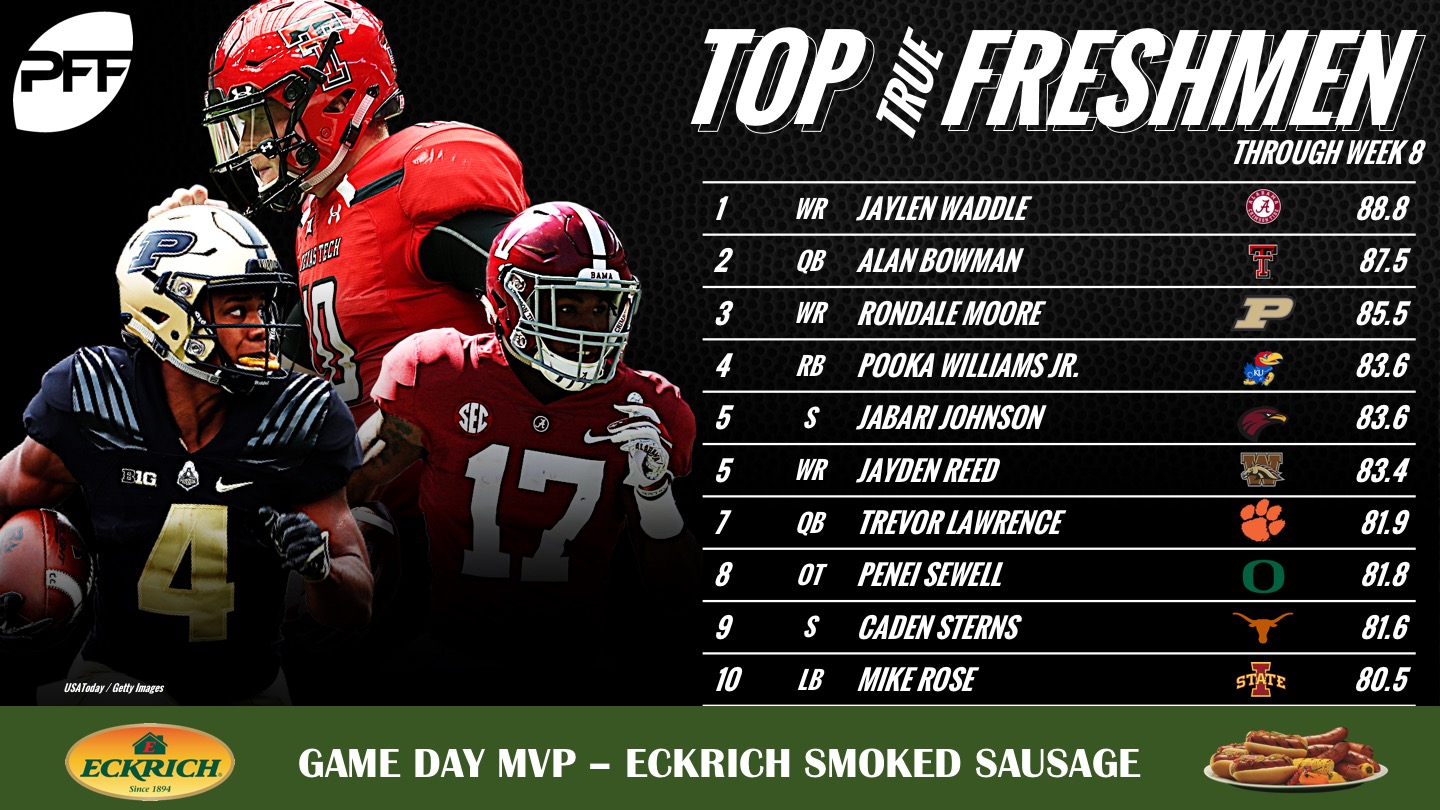 1. Jaylen Waddle, WR, Alabama
2018 season grade: 88.8
Waddle has taken the SEC and the country by storm with Tua Tagovailoa at the helm of the Crimson Tide offense. Currently, he is averaging 4.97 yards per route run, a figure that is ridiculously high compared to what we've seen at the college and professional level on average. For instance, in the NFL over the past two seasons, the only person to top 3.00 yards per route run is Julio Jones. Over the past four college seasons, the only receiver to reach the 5.00 yards per route run mark was Air Force's Jalen Robinette, who barely reached the qualifying snaps in route threshold.
Waddle is well on his way to record-breaking performances this season if he continues to keep this up.
2. Alan Bowman, QB, Texas Tech
2018 season grade: 87.5
In the quick passing game at Texas Tech, Bowman has shined. He's only taken four sacks on his 256 dropbacks this season as he's been well protected and kept clean from pressure on 75.8% of his total dropbacks. When kept clean, Bowman has completed 141-of-191 pass attempts for 1,625 yards and 11 touchdowns for a 110.1 passer rating. However, even when he's pressured, the true freshman has shown a distinct ability to find the open man and keep the ball out of harm's way.
On 62 pressured dropbacks this season, Bowman has completed 32-of-56 passes for 461 yards and a three-touchdown to no-interception line. His 101.9 passer rating when under duress is 10th in the country.
3. Rondale Moore, WR, Purdue
2018 season grade: 85.5
While we highlighted Moore a month earlier, his breakout performance against the Buckeyes last Saturday night was something to behold. He forced seven missed tackles after receptions and put forth an impressive enough display to land him on the National Team of the Week and the Big Ten Team of the Week in his coming out party. On the season, Moore is now 10th in total receiving yards at 728 and second in missed tackles forced after the catch with 20.
4. Pooka Williams Jr., RB, Kansas
2018 season grade: 83.6
Williams has been on this list since it's inception this season and there is no reason to believe he'll relinquish a top 10 spot by season's end anytime soon. He is currently the nation's seventh-highest graded running back and has racked up 628 total rushing yards with 373 of those coming after contact. He has 16 runs of at least 10 yards and his 7.2 yards per attempt rank 10th among running backs with at least 50 carries.
5. Jabari Johnson, S, UL-Monroe
2018 season grade: 83.6
Johnson may be the most relatively unknown on this list, but that is something far more related to who he's playing for and not for his play on the field. Johnson has impressed in all facets, recording two QB pressures on just four blitzes, allowing a 34.7 passer rating on throws into his coverage and bringing down four defensive stops in the process.
6. Jayden Reed, WR, Western Michigan
2018 season grade: 83.4
Currently the 16th-highest graded receiver across the country, Reed has hauled in 38 receptions for 551 yards including 229 of which came after the catch. He has forced 11 missed tackles and 27 of his receptions have gone for a first down (21) or a touchdown (6).
7. Trevor Lawrence, QB, Clemson
2018 season grade: 81.9
Speaking of dealing well with pressure, like the aforementioned Bowman, Lawrence has done an incredible job of buying time and keeping the ball away from opponents when under duress. On 34 pressured dropback attempts in his young career, Lawrence is 12-of-23 for 186 yards and three touchdowns against no interceptions. His 118.8 passer rating under pressure is fourth among all the nation's signal-callers.
8. Penei Sewell, OT, Oregon
2018 season grade: 81.8
Sewell is not only ninth on this list here, but he is also ninth among the nation's qualified tackles with his overall grade of 81.8. Despite an injury that may keep him out another five weeks, the Utah native has impressed in his brief tenure with the Ducks. In pass protection, Sewell has allowed just five total QB pressures on 179 pass-blocking snaps while his 75.6 run-blocking grade is 19th in the country.
9. Caden Sterns, S, Texas
2018 season grade: 81.6
Sterns makes it on here despite a bye week for Texas last week, on the heels of his impressive work in coverage this season. Targeted 17 times as the primary coverage defender, Sterns has allowed just six receptions for 62 yards and has recorded four interceptions and an additional two pass breakups himself. All told, his 7.2 passer rating allowed is the third-lowest mark among all FBS safeties with at least 10 targets.
10. Mike Rose, LB, Iowa State
2018 season grade: 80.5
Rose has impressed with his pass-rushing skills in his first season with the Cyclones. On just 47 snaps in which he rushed the passer, he's brought down a sack and six additional QB hurries. He's also 20 defensive stops on his 25 solo tackles and allowed just two yards after the catch to receivers in his primary coverage.
Others in consideration, but lack enough snaps to qualify:
Jamien Sherwood, S, Auburn
Justyn Ross, WR, Clemson
Xavier Thomas, Edge, Clemson
Brock Purdy, QB, Iowa State