The Heisman race took a hit or became that much clearer after Week 7, depending on who you were cheering on. Will Grier stumbled against Iowa State as the previously unbeaten Mountaineers couldn't muster much against the Cyclones. Tua Tagovailoa tweaked his knee but that apparently shouldn't hurt his availability going forward, and that clearly doesn't affect him here.
This Heisman Watch is brought to you by Eckrich, the Official Smoked Sausage of the College Football Playoff.
Without further ado, the third PFF rankings for the 2018 Heisman Memorial Trophy.
1. Tua Tagovailoa, QB, Alabama
Week 5 ranking – 1st (no change)
The nation's Midseason All-American at quarterback, Tagovailoa was hobbled by a knee injury against Missouri but that didn't stop him from completing 12 passes for 265 yards including a perfectly thrown ball (sure, from an incredibly clean pocket, but isn't that what he's supposed to do?) to Jerry Jeudy on a deep pass. As he enters the meat of the Alabama schedule including games against LSU, Mississippi State and Auburn, Tagovailoa's efforts can cement his place atop this leaderboard with performances like what we've become accustomed to seeing from him.
Every week there's a Tua Tagovailoa dropping a dime highlight to be made. pic.twitter.com/qfuRSP9r6F

— Cam Mellor (@PFF_Cam) October 14, 2018
2. Kyler Murray, QB, Oklahoma
Week 5 ranking – 3rd (+1)
Murray didn't have a game this week but moves to second on this list with Grier's debacle against ISU. Murray has put forth game grades of 85.0 or higher in every game except for the UCLA game and sports a ridiculous average of 13.1 yards per attempt. He's thrown for 21 touchdowns against 3 interceptions and has recorded another 57 first downs through the air or with his legs. If he can shake the Texas loss (which he did all he could in the game's final quarter), he and the next man down have the best shot at Tagovailoa.
3. Dwayne Haskins, QB, Ohio State
Week 5 ranking – 8th (+5)
Haskins just flat out gets it done whether it moves the PFF grade needle or not. He took the national lead from Cole McDonald with his 28th touchdown pass against Minnesota in the waning moments to seal the victory against the Gophers. Haskins struggles in the face of pressure so he'll have to hope his offensive line can stand up to some of the more formidable pass-rushes coming up on the Ohio State schedule, most notably their regular season finale against Michigan if he wants a chance at No. 1 here.
4. Justin Herbert, QB, Oregon
Week 5 ranking – 4th (no change)
Herbert didn't have his best game against Washington but still led the Ducks to an overtime thriller against the Huskies. Herbert has put forth three game grades over 90.0 and graded over 85.0 (the level we deem 'elite' for a college player) in all but two games this year. For him to take the next step in our Heisman rankings, he'll have to avoid these struggles he's had against Washington and San Jose State, especially when they face off against Washington State, where points will be at a premium and against Utah, whose defense is one of the nation's best.
5. Darrell Henderson, RB, Memphis
Week 5 ranking – 10th (+5)
Grabbing headlines with his performance against UCF (albeit in a loss), Henderson was named to our Midseason All-American Team and now has recorded a national-leading 1,133 rushing yards. He has 33 runs of 10 or more yards, five more than the next closest back and has forced 31 missed tackles. Maybe most impressive about his workload this season, Henderson has gained 738 yards after contact. Only six running backs have more total rushing yards than he has gained after contact. Those are the kind of numbers someone from the Group of 5 will need to crack the Heisman ballot.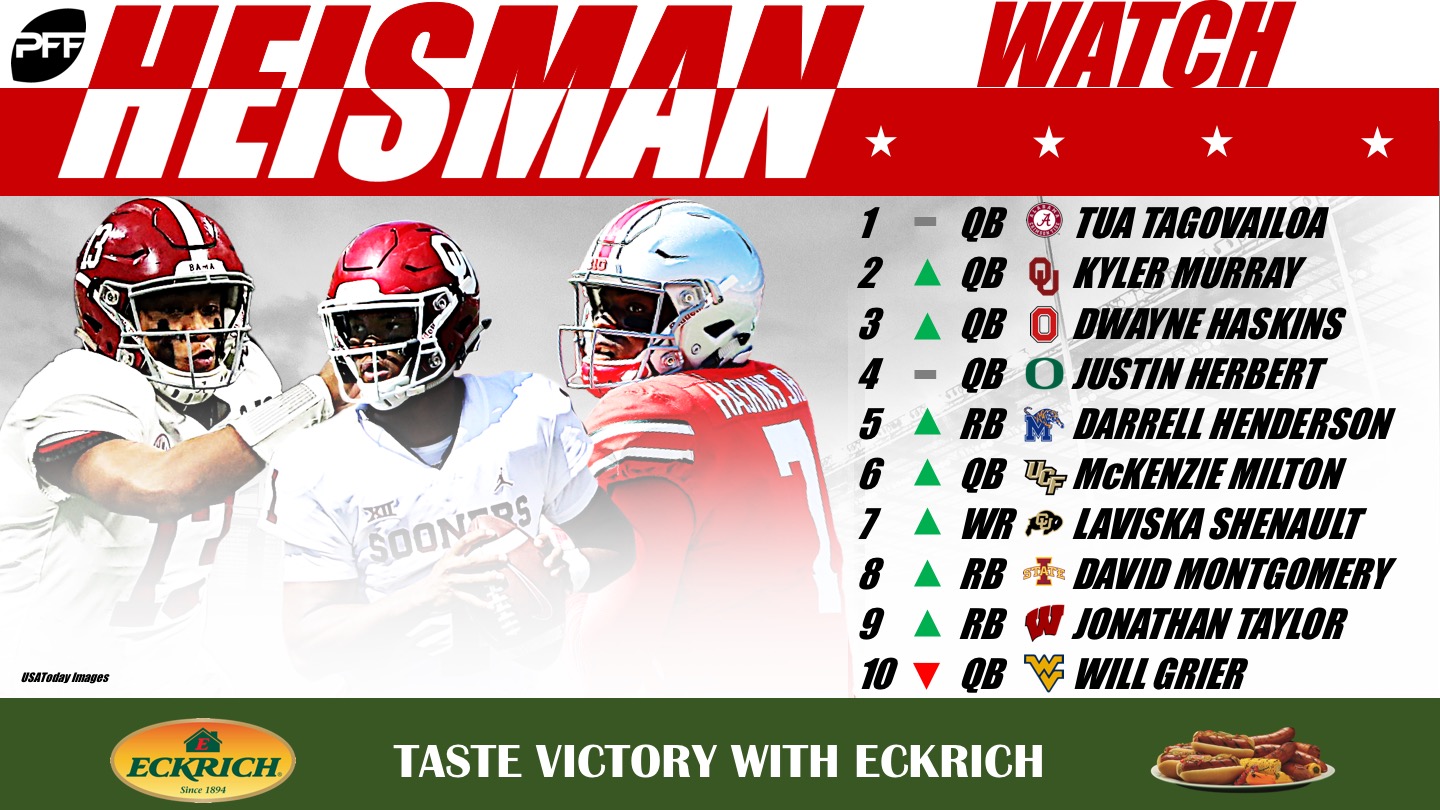 6. McKenzie Milton, QB, UCF
Week 5 ranking – 7th (+1)
Milton is a longshot at this point but still has the tools capable of ripping off consecutive games in our elite category and putting points on the board at will. He'll have to hope both are true over their remaining conference games as he has the lowest touchdown-to-interception ratio of quarterbacks on this list and includes a 3-INT game against South Carolina State. Still, however, against Memphis, he averaged 10.2 yards per pass, showing just how capable he is of generating big plays.
7. Laviska Shenault Jr., WR, Colorado
Week 5 ranking – 9th (+2)
Colorado couldn't get that ever-so-important victory over USC this past weekend but that shouldn't take away what Shenault has done this season. Even after being limited to just (yes, just) 9 receptions for 72 yards, Shenault's place atop the leaderboard of several PFF signature statistics remains intact at the receiver position. On the season, Shenault ranks first in yards after the catch (535), missed tackles forced (21), overall grade (91.2) and receiving grade (92.3). Those don't even take into account his prowess with the ball in his hands as a rusher or as a wildcat quarterback where he has recorded 14 carries for 79 yards and scored five touchdowns. Get the ball to the best player on the field and watch the awards stack up. Colorado will just need to win some more games to make the latter a reality.
8. David Montgomery, RB, Iowa State
Week 5 ranking – not ranked (-)
Montgomery had a game canceled and missed a game due to injury, yet delivered arguably one of the most impressive games from a running back this season in Iowa State's victory over West Virginia. Despite just five games of action when it could have been seven, Montgomery has rattled off 523 yards on 110 carries, including 379 after contact. He is second in the nation with 39 missed tackles forced. The Cyclones have lost two games by just 10 points and another by just 3 and are starting to come together with Brock Purdy at quarterback and Montgomery back at full health. A couple of more performances like Montgomery's over WVU and this team could be looking at playing spoiler to Texas in late November.
9. Jonathan Taylor, RB, Wisconsin
Week 5 ranking – 16th (+7)
Say what you will about the Wisconsin Badgers as a team, one thing is for sure: Jonathan Taylor is as good as they get at the running back position in college football. He is now second in total rushing yards and has recorded 571 of his 942 yards after contact. Behind some solid offensive line play, he has still forced 27 missed tackles on his own and averages 6.6 yards per carry. A longshot at the position with two very deserving candidates ahead of him or just behind him, Taylor is more than capable of taking over games with his offensive line and grinding out yards in true Wisconsin fashion.
10. Will Grier, QB, West Virginia
Week 5 ranking – 2nd (-8)
Grier stumbled against Iowa State. Alright, well, maybe he actually fell. Flat on his face. He finished with a 50.7 overall grade, completing just 11-of-16 passes for 100 yards, after throwing for at least 332 in every game prior. He now has two consecutive game grades lower than 61.0 overall since our last update and has taken a major tumble in our rankings. Regardless, Grier may be one of the nation's best deep passers but he'll have to fare much better under pressure (56.5 passer rating) if he wants to climb back into this conversation.
OTHERS IN CONSIDERATION
Jerry Jeudy, WR, Alabama
Ed Oliver, DI, Houston
AJ Dillon, RB, Boston College
Benny Snell, RB, Kentucky
Travis Etienne, RB, Clemson
Ryan Finley, QB, NC State