With a comedy of red-zone errors and flat-out bad defense, Stanford (-5) was unable to get us home last week against Utah at home in our college Pick of the Week. Despite a collection of unders that missed laughably last week, we have been 48-42-3 the last two weeks after our initial slow start to the season. Our picks are getting closing line value about 66% time so far this year, which has been an encouraging sign.
This week, we're going a bit obscure, backing a UTSA team on a three-game winning streak at home against Louisiana Tech. While this number looked better at 13.5 earlier in the week, at 11.5 it's still a good value. As we do each week, our Pick of the Week will get the point/counterpoint analysis, and the rest of our picks printed below. 
A reminder that you can follow us on Twitter at @BrownBenjamin22 and @PFF_Eric and listen to the PFF Forecast with Eric & George Chahrouri here.  
Louisiana Tech at UTSA (+11.5)
Prediction: Louisiana Tech 27-20 (UTSA covers)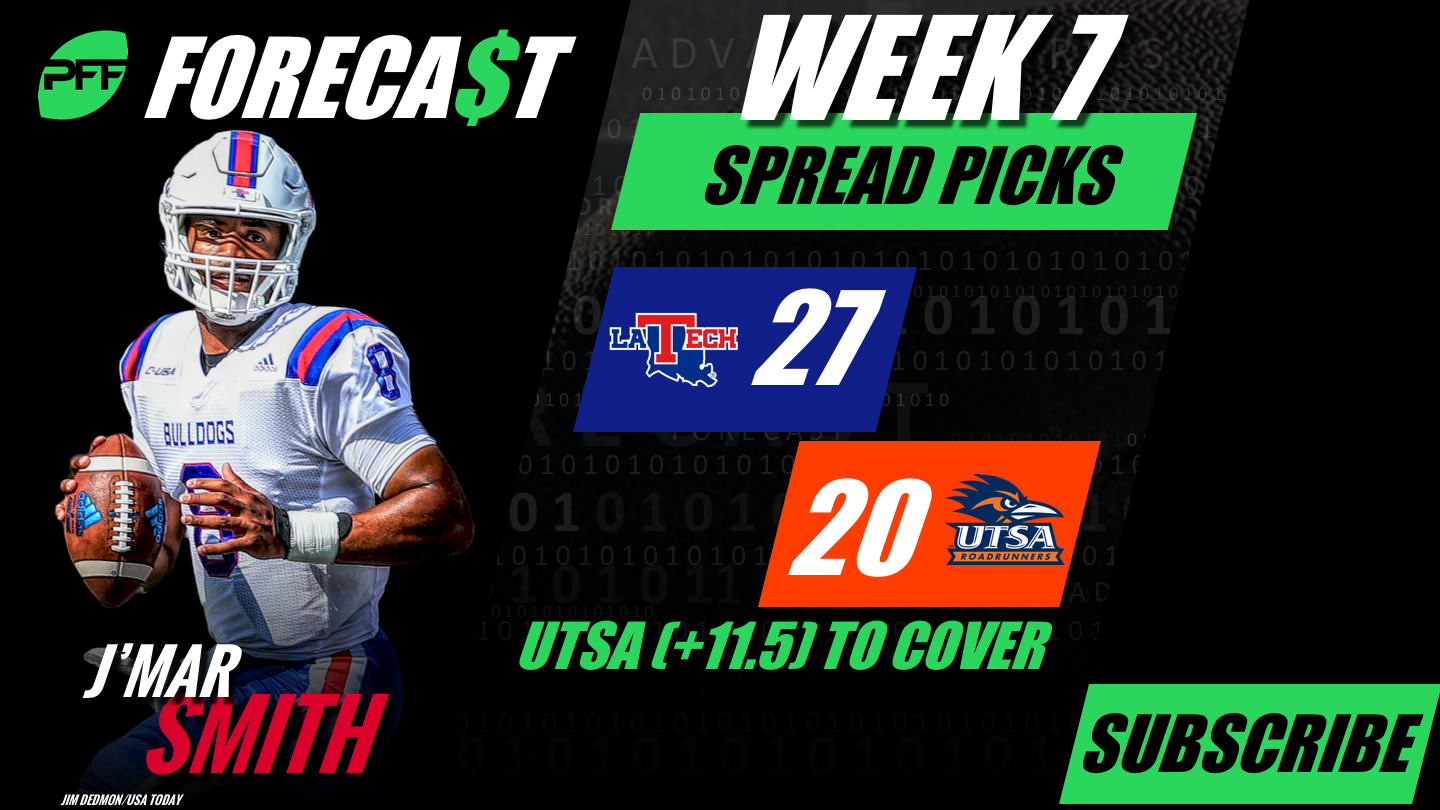 Point (Eric Eager): Louisiana Tech's quarterback J'Mar Smith is just 12th in Conference USA in PFF grade per snap. He has more turnover-worthy plays than big-time throws, and roughly the same number of positively-graded throws than negatively-graded ones. He's generating under 6.5 yards per pass attempt when clean this season, not necessarily the type of quarterback play that I'm going to back as a double-digit favorite.
On the other side of the ball, Cordale Grundy is fifth in the conference in PFF grade generated on dropbacks, in many reasons because he can escape and average 8.3 yards per scramble. All but one of their offensive linemen in grading well in our system, and aside from Jaylon Ferguson, LA Tech has no players with more than a sack and/or more than one QB hit. This offensive battle, due in large part to some bad luck on the part of UTSA so far this season, is far closer than people think.
One sneaky additional piece of data:  LA Tech's kicker, Bailey Hale, has just one made kick above 40 yards so far this year, while UTSA's Jared Sackett has nine such kicks. Points matter, and while it would have been nice to print +13.5, there is still value at +11.5.
Counterpoint (Ben Brown): Smith is a dual-threat quarterback who has graded poorly on rush attempts in 2018. Rushing success from the quarterback position is unstable on a game-to-game basis and Smith has still forced four missed tackles while generating 4.8 yards after contact per carry so the upside exists for him to break a long run at any point. While Smith only averages 6.5 yards per pass attempt from a clean pocket, UTSA has struggled defensively when not registering pressure, allowing a passer rating of 120.2. It is true Smith rarely looks downfield on these attempts but he has targeted receivers in space who can pick up yards after the catch with over 50% of his yards coming this way when clean.
Although Grundy has graded well from a PFF perspective, he has been incredibly inaccurate with one of the lowest adjusted completion percentages in the FBS. Grundy also has one of the lowest percentages of pass attempts 20-plus yards downfield. The big-play potential simply doesn't exist with him especially on deep passes as he has a passer rating of 47.5 on such attempts. If UTSA falls behind early it could turn into a mistake-ridden game on the offensive side of the ball leading to a crushing defeat at home for the Road Runners.
All other picks:
USF (-7) at Tulsa and OVER 61.5
Nebraska at Northwestern (-3.5) UNDER 59.5
Texas State (+17.5) versus Georgia Southern
Wisconsin (+7.5) at Michigan and OVER 47
UTSA (+11.5) versus Louisiana Tech and OVER 45
Ohio (+4) at Northern Illinois
Toledo (pick 'em) at Eastern Michigan
Hawaii (+11.5) at BYU and UNDER 56.5
Colorado at USC OVER 57
Miami (-6) at Virginia
Colorado State (pick 'em) versus New Mexico
Louisiana-Monroe (+6) at Coastal Carolina
Akron (+11) at Buffalo
South Carolina (+2) versus Texas A&M
Louisville (+13.5) at Boston College
East Carolina (+16) versus Houston
Wyoming (+18) at Fresno State
Bowling Green (+15) versus Western Michigan and UNDER 72
Florida at Vanderbilt OVER 50.5
Army at San Jose State OVER 52.5
Arizona (+13.5) at Utah and OVER 51.5
West Virginia (-6) at Iowa State and OVER 55
New Mexico State at Louisiana UNDER 68.5
Purdue at Illinois UNDER 62
Charlotte (+7.5) versus Western Kentucky and OVER 44
San Diego State (-10.5) versus Air Force and OVER 44
Missouri at Alabama UNDER 74
Texas (-14) versus Baylor and OVER 60.5
Nevada (+17.5) versus Boise State and UNDER 62
Cal (-7) versus UCLA and OVER 52.5
Miami (OH) (-10.5) versus Kent State
Temple at Navy OVER 49.5