After Oregon broke our hearts a week ago, Washington State (+2) renewed our faith in the process, with an outright home win in a game where they technically gained exactly zero rushing yards. Our new format of printing all of our picks also paid dividends, as we went 28-19-1 (59.6%) last weekend, with none of the regrets associated with leaving a good pick behind a la the first four weeks. Of our 68 picks so far this year, the line has moved in our direction or stayed the same 48 times (70.6%).
Our College Pick of the Week has been 3-2 (60%) so far this season, and this week we're going to go against the Utah Utes again and pick a Pac-12 game for the third consecutive week. As we do each week, our pick of the week will get the point/counterpoint analysis, and the rest of our picks printed below.
Follow us on Twitter at @BrownBenjamin22 and @PFF_Eric and listen to the PFF Forecast here.  
Utah at Stanford (-5)
Prediction: Stanford 30-23 (Stanford covers)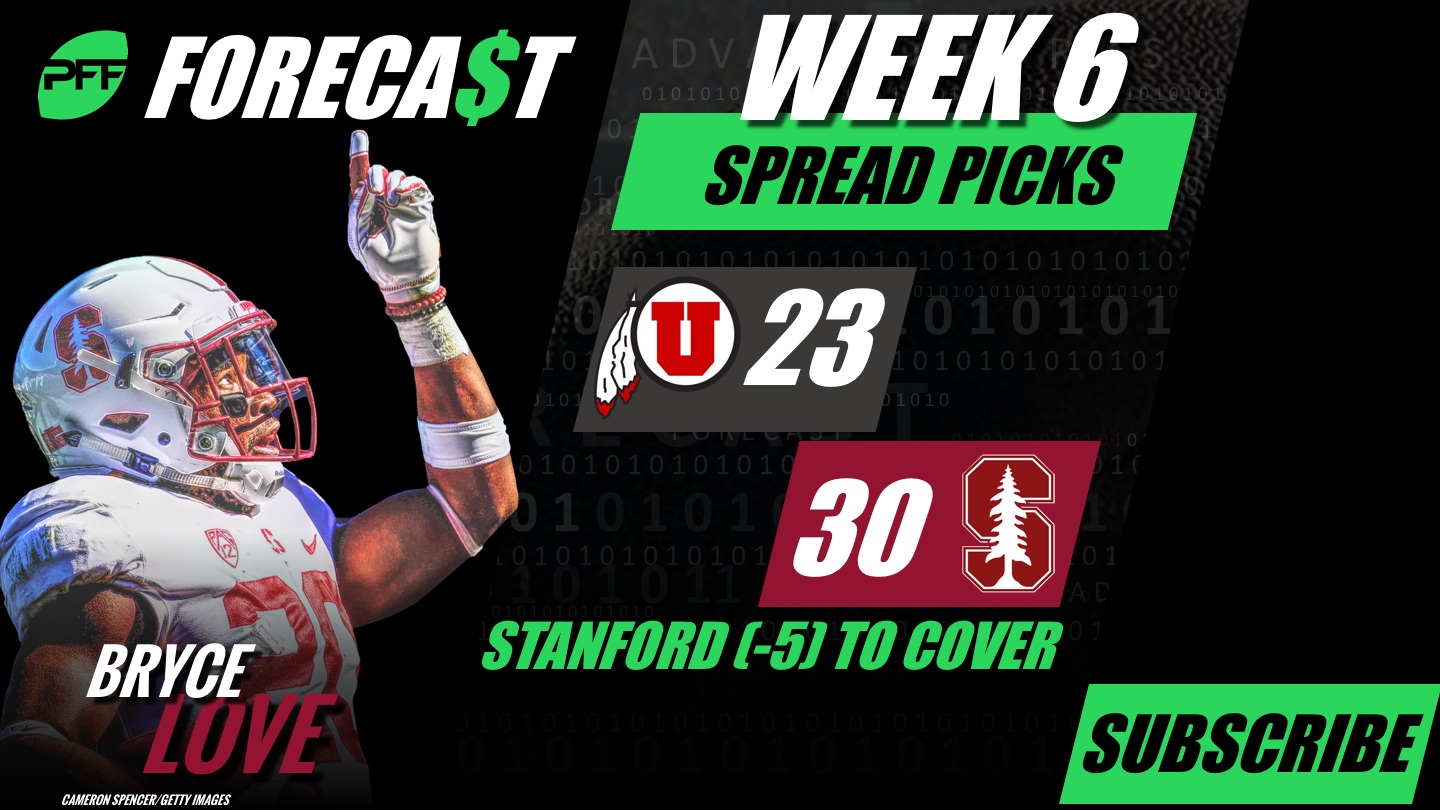 Point (Ben Brown): For the second straight week, we are picking a team to cover against the Utes. It is not that we are high on Stanford, we are just lower than the consensus on Utah. They simply perform well at things we do not value highly i.e. run defense and do not do well at things we value highly i.e. quarterback play and passing offense. Tyler Huntley has been incredibly underwhelming with more turnover-worthy throws than big-time throws. He has an EPA generated per dropback of -0.18. K.J. Costello, on the other hand, has quietly been one of the best quarterbacks in the Pac-12. He has twice as many positively-graded throws to negatively-graded throws and has generated an EPA per dropback of 0.25. At home with less than a one-score spread, we are all for taking the superior quarterback in a game they can easily run away with.
Counterpoint (Eric Eager): As we talked about last week, the Utes have one of the best defenses in the conference, allowing only a 35.8% success rate on early-down passes.  Additionally, Stanford (despite the mounting evidence that they should not) runs the ball a lot on early downs. Their 25.9% success rate doing so is the worst in the conference, and it's not that close, while Utah allows fewer than 31% of such runs to generate success. While we both have a ton of faith that Costello (0.25 EPA generated per passing play) will best Huntley (-0.18) if this game comes down to one about the passers (which it normally does) this one-sidedness is a thing to monitor as you watch the game.
All other picks:
Stanford (-5.0) versus Utah and OVER 46.5
Northwestern (+11.5) at Michigan State
NC State (-4.0) versus Boston College
UCLA (+21.0) versus Washington and OVER 50.5
Clemson at Wake Forest UNDER 62.0
Pittsburgh (+5.0) versus Syracuse
Wisconsin (-20) versus Nebraska
Maryland at Michigan UNDER 52.5
Indiana at Ohio State UNDER 62.5
Alabama at Arkansas UNDER 60.5
Iowa at Minnesota OVER 42.0
USF (-13.5) at UMass and UNDER 70.5
UTSA (+2) at Rice
South Alabama (+14) at Georgia Southern
San Diego State (+14.5) at Boise State and OVER 51.0
Tulsa (+18) at Houston
Kansas State (+4.5) at Baylor and OVER 55.0
Louisville (+3.5) versus Georgia Tech
Western Michigan (-3.5) versus Eastern Michigan
Oregon State (+16.0) versus Washington State
Arizona (+2.5) versus Cal and OVER 55.0
UL-Monroe at Ole Miss UNDER 75.5
ODU at Florida Atlantic UNDER 68.0
Georgia State at Troy UNDER 57.0
Ohio at Kent State UNDER 69.5
Colorado State at San Jose State UNDER 64.0
Nevada (+11.0) versus Fresno State
Tulane at Cincinnati OVER 52.5
East Carolina at Temple OVER 55.0
UConn at Memphis UNDER 77
Bowling Green at Toledo UNDER 73.5
Navy at Air Force OVER 49.5
Iowa State at Oklahoma State OVER 52.0
Oklahoma at Texas OVER 60.0
Arizona State at Colorado OVER 61.5
North Texas at UTEP OVER 54.5
Miami (OH) at Akron OVER 46.5
Wyoming at Hawaii OVER 54.5
UAB at LA Tech OVER 57.0