We're four weeks into what is shaping up to be a fun race to see who will be the highest-graded player at the quarterback position across the nation. With a few new players cracking this list, we look at the highest-graded quarterbacks through three weeks of college football:

1. Joe Burrow, LSU
Burrow has 1,520 yards through the air this season and already has thrown more touchdowns than he did all of last season with 17 passing touchdowns in 2019. His last three outings have seen him finish with an elite overall grade as his game against Vanderbilt seemingly matched his outing against Texas and he's primed to run the SEC gauntlet if he plays the way he has through four games. His 11 big-time throws are the fourth-most in the country and his adjusted completion percentage of 86.2% is the best among quarterbacks with 100 pass attempts.
2. Skyler Thompson, Kansas State
Thompson wasn't in action this past weekend after defeating Mississippi State in Week 3. We look back to what we wrote last week:
Thompson has only dropped back to pass 60 times, needing just 36 completions to reach seven big-time throws while limiting himself to just one turnover-worthy pass. He only averaged 9.2 yards per pass but has an elite-level adjusted completion percentage and has added a solid rushing attack when tasked with it. Thompson will have to keep his big-time throws coming at a high rate if he wants to hold off the guys below him who have a ton more attempts than he but as of right now, through three weeks, Thompson is the second highest-graded quarterback in the country.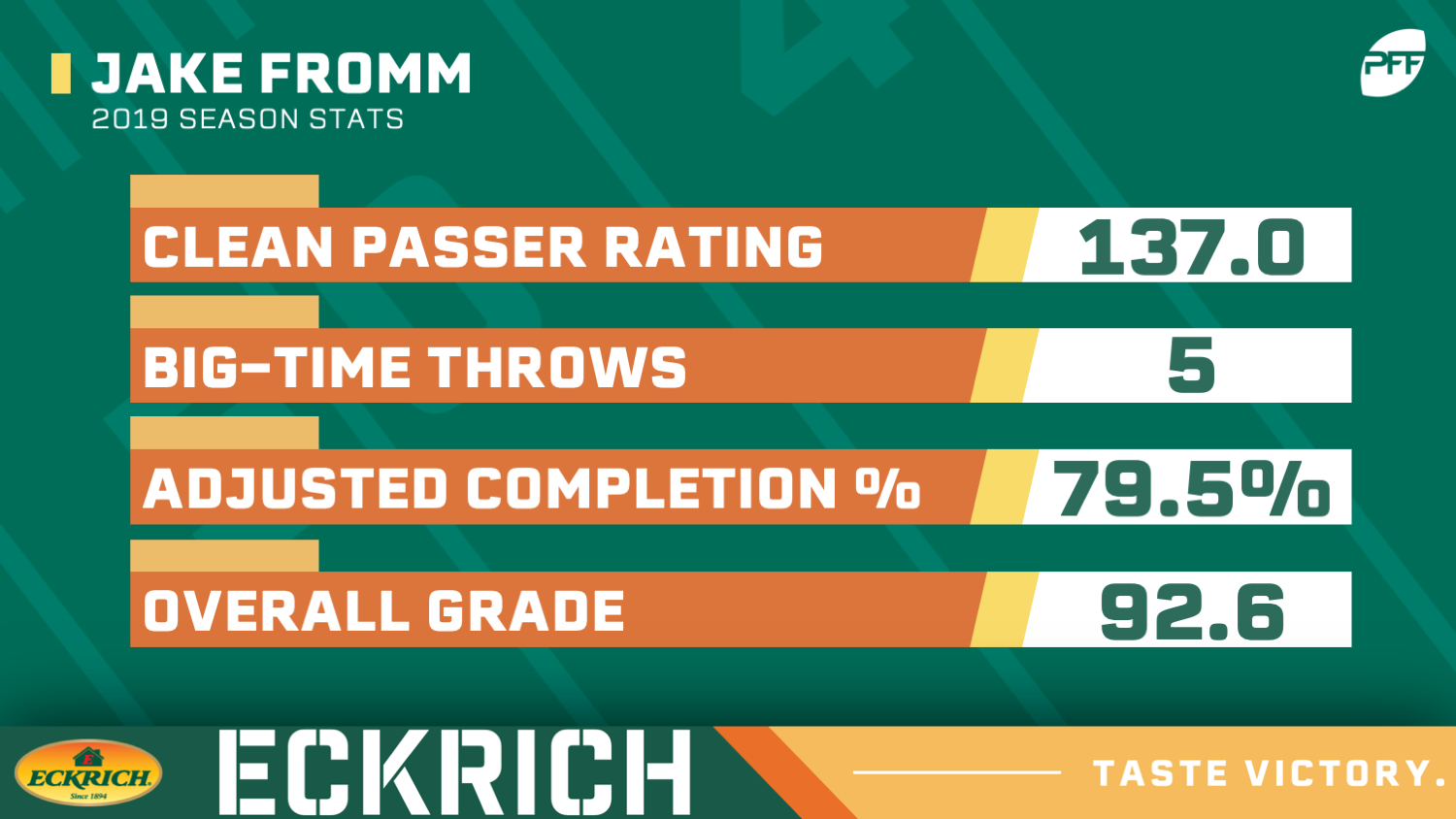 3. Jake Fromm, Georgia
Finally needing a big-time moment from their quarterback, Fromm delivered against Notre Dame. He now has three game grades above 85.0 and been elite when tasked with throwing the football. He's averaging a depth of target of 9.6 yards past the line of scrimmage so far while attempting just 82 passes. He's found his receivers in open spots but also put perfectly-placed balls more often than not allowing his receivers to make some big-time catches in the process. He's rolling at the right time as the Bulldogs are heading into SEC play.
4. Tyler Johnston III, UAB
Needing just 71 pass attempts to achieve 10 big-time throws, Johnston III is a big play waiting to happen. If you haven't watched UAB football this season, you've missed out as Johnston is averaging 10.6 yards per attempt and targeting passes 15.7 yards downfield per pass. He's leading the country, currently, with seven touchdowns on deep passes (20+ yards) and has been extremely efficient throwing passes over the middle of the field this year.
5. Justin Fields, Ohio State
Fields has added a dynamic passing attack to the Ohio State offense that they haven't seen in a decent amount of time, averaging 12.4 yards downfield per target. He's made highlight-reel play after highlight-reel play and is among the nation's leaders in several of PFF's critical factors such as passing grade from a clean pocket, where he's tied with the aforementioned Joe Burrow.
6. Jalen Hurts, Oklahoma
Hurts was off last week as the Sooners have their conference opener against Texas Tech in Week 4. We look back at what we said last week:
Speaking of threats with the ball in his hands on the ground, Hurts not only leads quarterbacks in total rushing yards but he also leads them in designed rushing yards with 257 on 25 carries. Of his 37 carries, 19 of them have converted either a first down or a touchdown and he's completing over 80% of his passes through three games. He's firmly in the discussion as the nation's top dual-threat quarterback as he holds that advantage over Fields so far.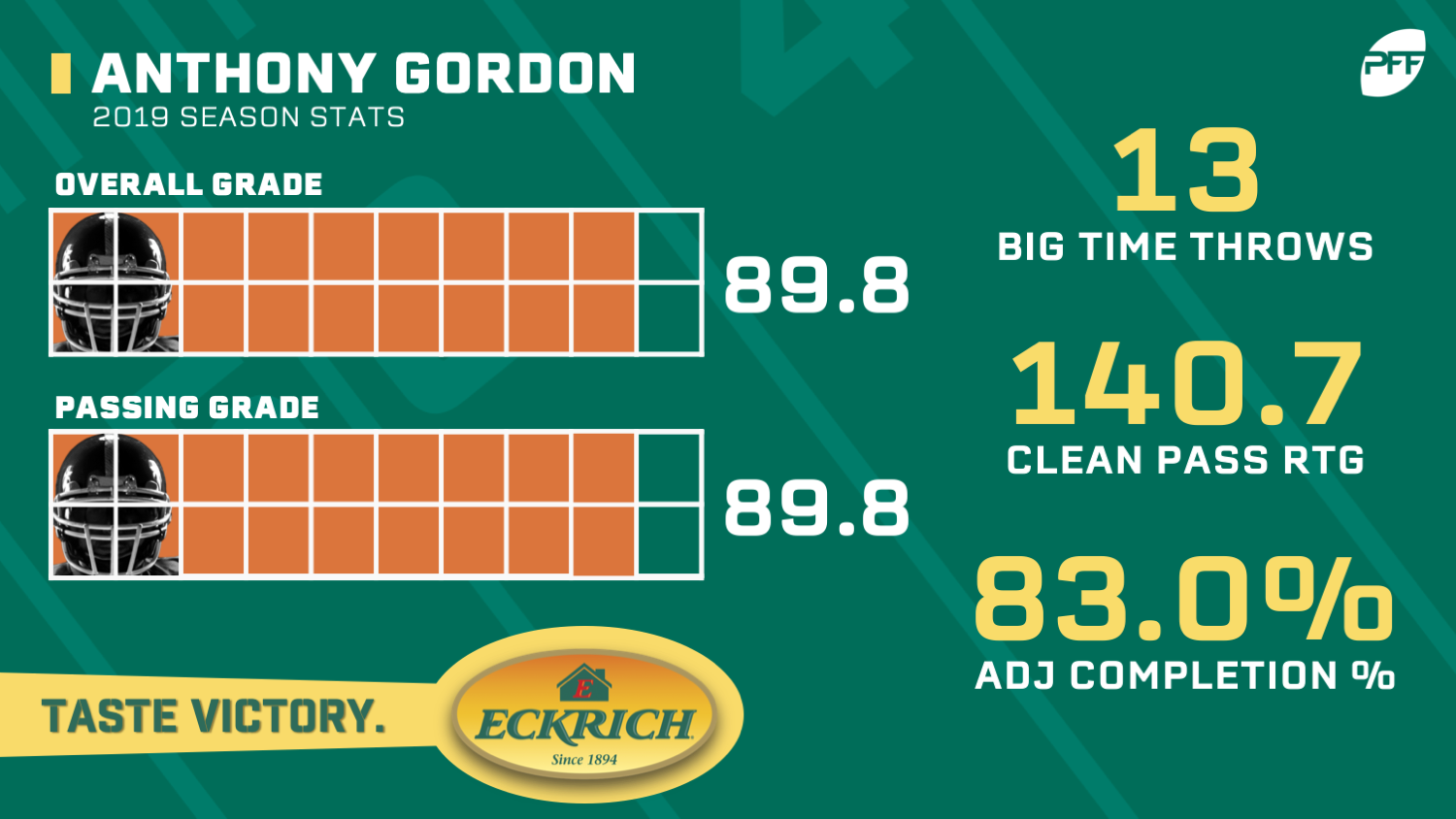 7. Anthony Gordon, Washington State
After throwing nine touchdowns against UCLA, it's no doubt that we were going to see Gordon rise in the rankings after finishing with a 90.7 overall grade in the loss to the Bruins.  He's tied for the national lead in big-time throws, unleashing 13 of them to date while he's thrown a catchable pass on 83.0% of his attempts so far this year, ranking third among quarterbacks with at least 100 attempts.
8. Tua Tagovailoa, Alabama
Tua has not needed to do a whole lot so far this year, seeing 66.8% of his passing yards come after the catch. No fault to him, however, he's finding his open receivers in stride and allowing them to do the damage downfield as he truly has the nation's best receiving corps with Jerry Jeudy, Henry Ruggs, DeVonta Smith and Jaylen Waddle. He is playing a bit more conservatively through four weeks than what we became accustomed to last season but Tagovailoa's deep ball is perhaps one of the best in the nation and he's uncorked four big-time throws on downfield passes compared to zero turnover-worthy plays.
9. Brock Purdy, Iowa State
Stringing together elite performances will be key for Purdy as he bounced back from a rough outing (weather delay in mind against Iowa) in Week 4 against UL-Monroe, ending the weekend as our #GameDayMVP and landing on our National Team of the Week. Purdy accounted for six total touchdowns in the game against the Warhawks, throwing for three scores and running for three more. He's an elite athlete and if he can continue to hit his stride as he did against UL-Monroe, Big 12 defenses will certainly struggle to stop him.
10. Jamie Newman, Wake Forest
The nation's highest-graded passer on throws at least 10 yards downfield, Newman has been dominant running the Wake Forest offense. The fast-paced Demon Deacons attack is a thing of beauty when run to perfection, which is what Newman has done through four weeks. He's throwing catchable passes at an incredibly high rate and has thrown three more touchdowns on seven fewer attempts than he did all of last season. He's added a rushing element to the Wake Forest attack as well, gaining 130 yards on designed carries while scoring three touchdowns on the ground this year. If he keeps this up, the nation will be looking at a mid-November contest between Wake Forest and Clemson that could pit top-10 teams together to basically crown an eventual ACC Champion,