As we continue on with our weekly series looking at the highest-graded interior and edge defenders, you'll notice some mainstays, but also a few newcomers whose continual high-level performance has put them in the top five.

INTERIOR DEFENSIVE LINEMEN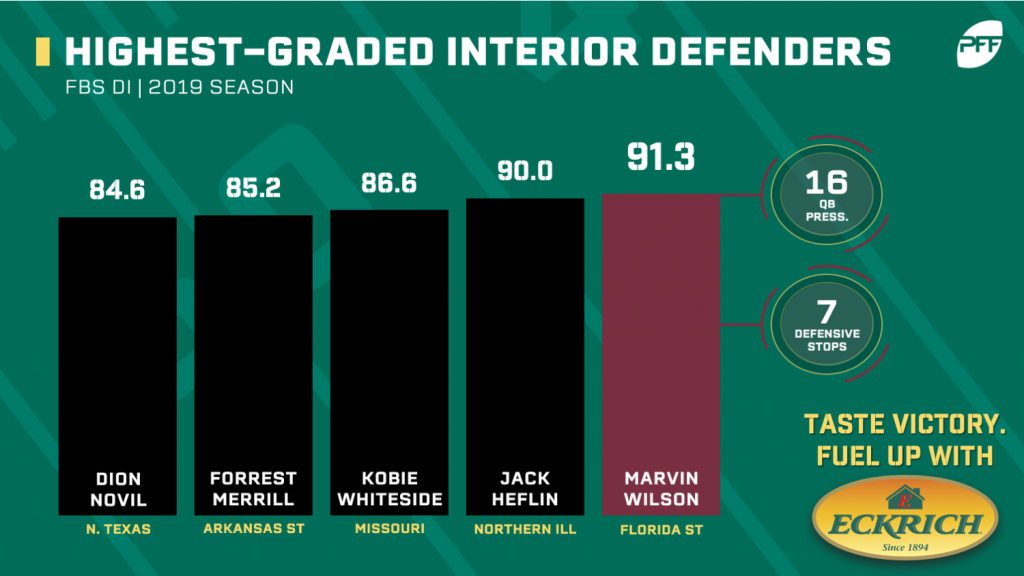 Marvin Wilson – Florida State – 91.3 grade
Not new to this list, but new to the top spot this week is Florida State's Marvin Wilson. He lived in the backfield to the tune of seven quarterback hurries this past weekend in FSU's loss at Virginia. Even though he has one sack, Wilson leads all interior defensive linemen with 16 total quarterback pressures and a 93.3 pass-rush grade to go along with seven stops. That total puts him right at halfway to his 2018 total (34 pressures), when he finished as the ninth-highest grade interior defensive lineman.
Jack Heflin – Northern Illinois – 90.0 grade
Heflin continues to stand out as the leader of the Huskies' defensive line. He did some damage to Nebraska this past weekend, as well, collecting two pressures, two stops and also forced a fumble. His run-defense grade (91.6) is No. 3 nationally among interior defensive linemen. If not for some missed tackles, he could very well be the highest-graded player at his position in the country.
Kobie Whiteside – Missouri – 86.6 grade
After only 451 snaps in his first two seasons at Missouri, Whiteside is taking advantage of his new role in 2019 and making his initial appearance in our weekly top-five. His 86.5 pass-rush grade is fifth nationally, as he's got seven total pressures through three games in addition to two stops.
Forrest Merrill – Arkansas State – 85.2 grade
It wasn't a fun week for Merrill against Georgia. Double-teamed frequently throughout the game, the Bulldogs forced Merrill into the lowest grade of the last two seasons (64.1). However, the difficult game did not force Merrill out of our top-five list for this week, as he still leads the nation in stops among interior defensive linemen with 13.  
Dion Novil – North Texas – 84.6 grade
Another newcomer is the 6-foot-4, 315-pound Mean Green junior. Novil is coming off quite the disruptive game against Cal, as he finished with two pressures, including a sack and six stops. His 10 stops are tied for seventh nationally among interior defensive linemen.
EDGE DEFENDERS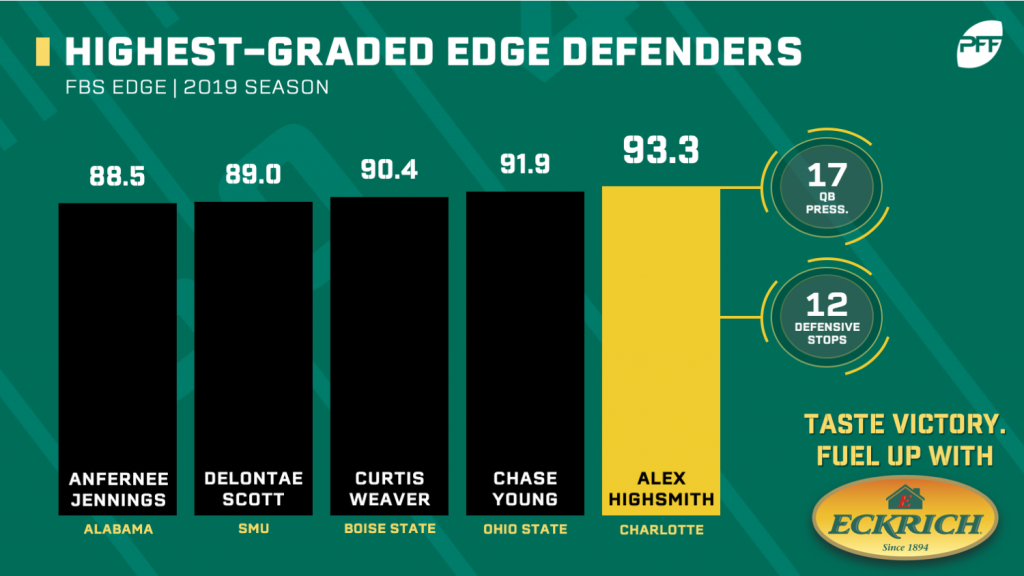 Alex Highsmith – Charlotte – 93.3 grade
Back in the top spot after his third consecutive game with at least five total pressures and three stops (he had five pressures and five stops this past week) is Highsmith. His 17 total pressures are the fifth-most among edge defenders, and his six sacks are tied for the most in the nation – all on only 68 pass-rush snaps. This is the week to watch Highsmith compete, as our lead draft analyst Mike Renner will undoubtedly have his eyes on Highsmith and how he performs against the No. 1 Clemson Tigers.
Chase Young – Ohio State – 91.9 grade
Young was his usual dominant self against Indiana. For the game, he finished with seven total pressures, including two sacks, and three stops. His 92.3 pass-rush grade is second only to Highsmith so far this year.
Curtis Weaver – Boise State – 90.4 grade
The first newcomer to the list, the redshirt junior Weaver has picked up where he left off a season ago. In 2018, he finished with a 91.3 overall grade, 55 total pressures and 30 stops. This year, his 21 total QB pressures and six sacks are both tied for the most in the nation. In addition, he also has 10 stops. If not for seven missed tackles, he could very well be at the top of this list.
Delontae Scott – SMU – 89.0 grade
For the second week in a row, Scott finds himself in the top five. Through three games now, Scott was 16 total pressures, nine stops and has yet to miss a tackle. We'll see if Scott is able to hold onto his top five spot against a much tougher opponent this week as SMU travels to TCU.
Anfernee Jennings – Alabama – 88.5 grade
The senior has been up and down from a PFF grading perspective in his career, but he did finish 2018 with 36 total pressures, including seven sacks, and 28 stops. His 2019 has been consistent up to this point, as Jennings has had at least three total pressures and two stops in each game this season. This past Saturday against South Carolina saw his snap count and production increase.  Jennings finished the game with five total pressures, including a sack, three stops and a forced fumble.