The 2019 season begins this weekend and with that, the full set of 2018 data officially becomes history. We look ahead towards the top-graded players returning in each conference, keeping things going with the Conference USA.

PFF grades every player on every play of every game and has done so since the 2014 season. The play-by-play grading creates a subset of advanced statistics that help depict the college game at a level deeper than ever. The grades below are from 2018 and not a projection towards this coming season.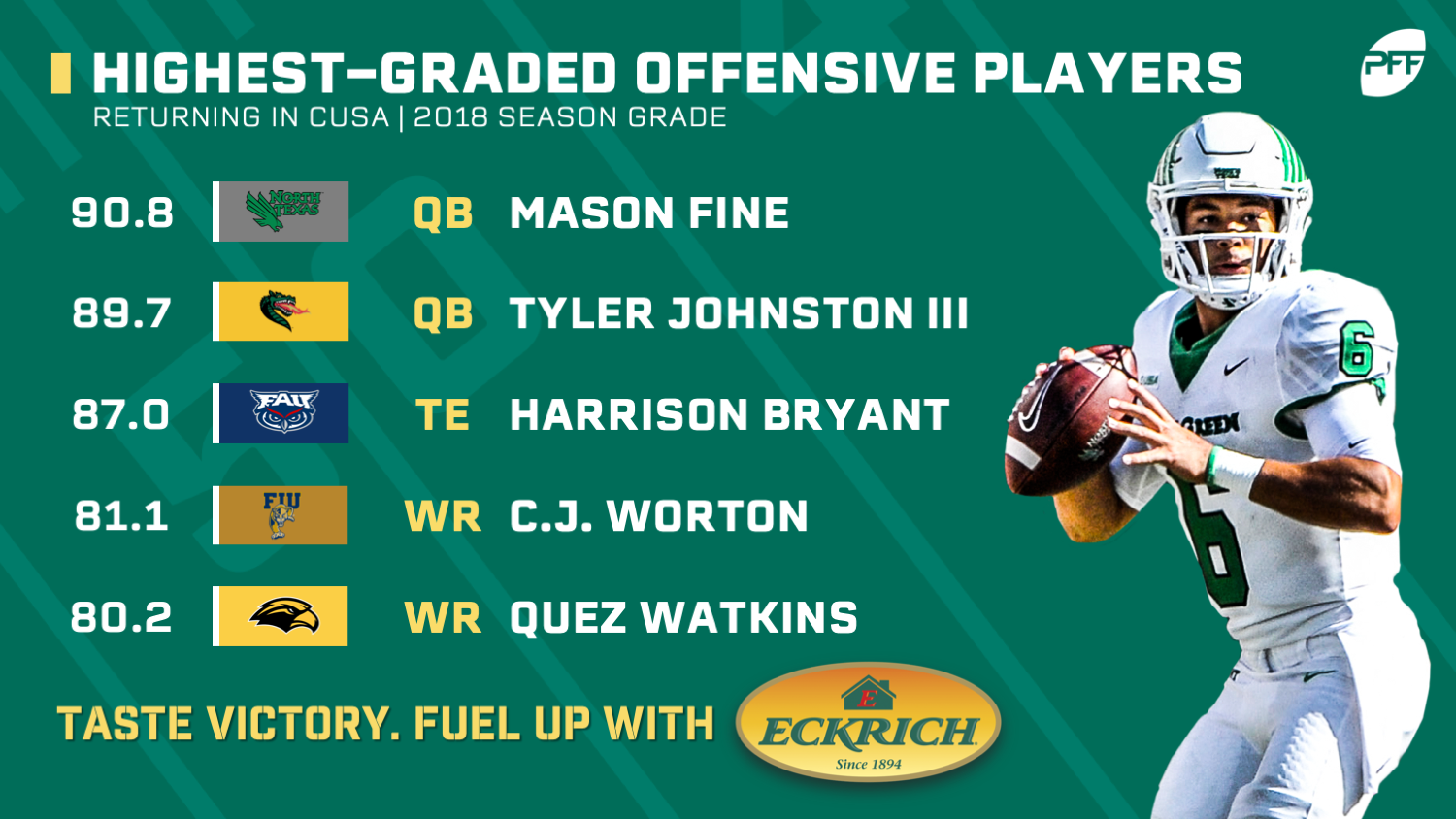 Offense
Quarterback
Mason Fine, North Texas – 90.8
Tyler Johnston III, UAB – 89.7
James Morgan, FIU – 72.2
Fine is as good as they get as a college quarterback and returns as the nation's leader in adjusted completion percentage as well as top returning marks in several other PFF categories. The darkhorse for C-USA QB of the Year is Johnston, who dominated in limited snaps and was sharp throwing to all levels of the field.
Running Back
Jaqwis Dancy, Louisiana Tech – 80.1
Loren Easly, North Texas – 75.2*
DeAndre Torrey, North Texas – 75.2
Chaton Mobley, Middle Tennessee – 74.4
Benny LeMay, Charlotte – 73.7
Dancy has the highest grade among returning backs as he averaged 3.88 yards after contact and forced 23 missed tackles on just 125 carries. Torrey and Easly are a potent threat with Torrey leading the way in the conference with 52 missed tackles forced on the ground last year. Easly ran the ball 74 times and had 262 of his 386 yards come after contact.
Wide Receiver
C.J. Worton, FIU – 81.1
Quez Watkins, Southern Miss – 80.2
Bryce Singleton, FIU – 79.9
Adrian Hardy, Louisiana Tech – 77.3
Rico Bussey Jr., North Texas – 76.8
Worton averaged 16.9 yards per reception last year with 29 of his 37 receptions converting a first down or touchdown. Bussey is set to break out more so than he already has this season with Fine throwing his way while Hardy turned 127 targets into 1,145 yards and 54 conversions himself.
Tight End
Harrison Bryant, FAU – 87.0
Jordan Myers, Rice – 73.5
Kyle Fourtenbary, Western Kentucky – 66.1
Bryant is the nation's highest-graded tight end returning as he hauled in 44 receptions for 659 yards, 441 of which came after the catch. He had 28 conversions of a first down or touchdown compared to just one drop as well.
Offensive Tackle
Cameron Clark, Charlotte – 79.9
Miles Pate, Western Kentucky – 79.1
Brandon Walton, FAU – 71.7
Tarik Adams, Marshall – 70.4
D'Antne Demery, FIU – 70.3
Clark returns as the conference's highest-graded overall and in pass protection as he looked dominant a year ago. Pate, the only returning tackle close in overall grade, also looked comfortable in both the run and passing game as they represent the top tackle tandem in the Conference USA.
Offensive Guard
Manase Mosa, North Texas – 73.7
Elex Woodworth, North Texas – 71.0
Alex Mollette, Marshall – 68.6
Tyler Witt, Western Kentucky – 68.0
Cain Madden, Marshall – 66.7
The duo at North Texas represents one of the stronger 1-2 punches at guard in the nation as Mosa and Woodworth each are great all-around interior blockers. Mosa and Woodworth each have top-three run-blocking grades and are in the top-10 in pass-blocking grades in the conference.
Center
Seth Joest, Western Kentucky – 73.5
Grey Best, Southern Miss – 72.1
Sosaia Mose, North Texas – 71.8
Best logged all of 108 snaps last season but was stout in pass protection in doing so. Joest and Mose each played nearly 900 snaps and were considerably stronger in pass protection than run blocking.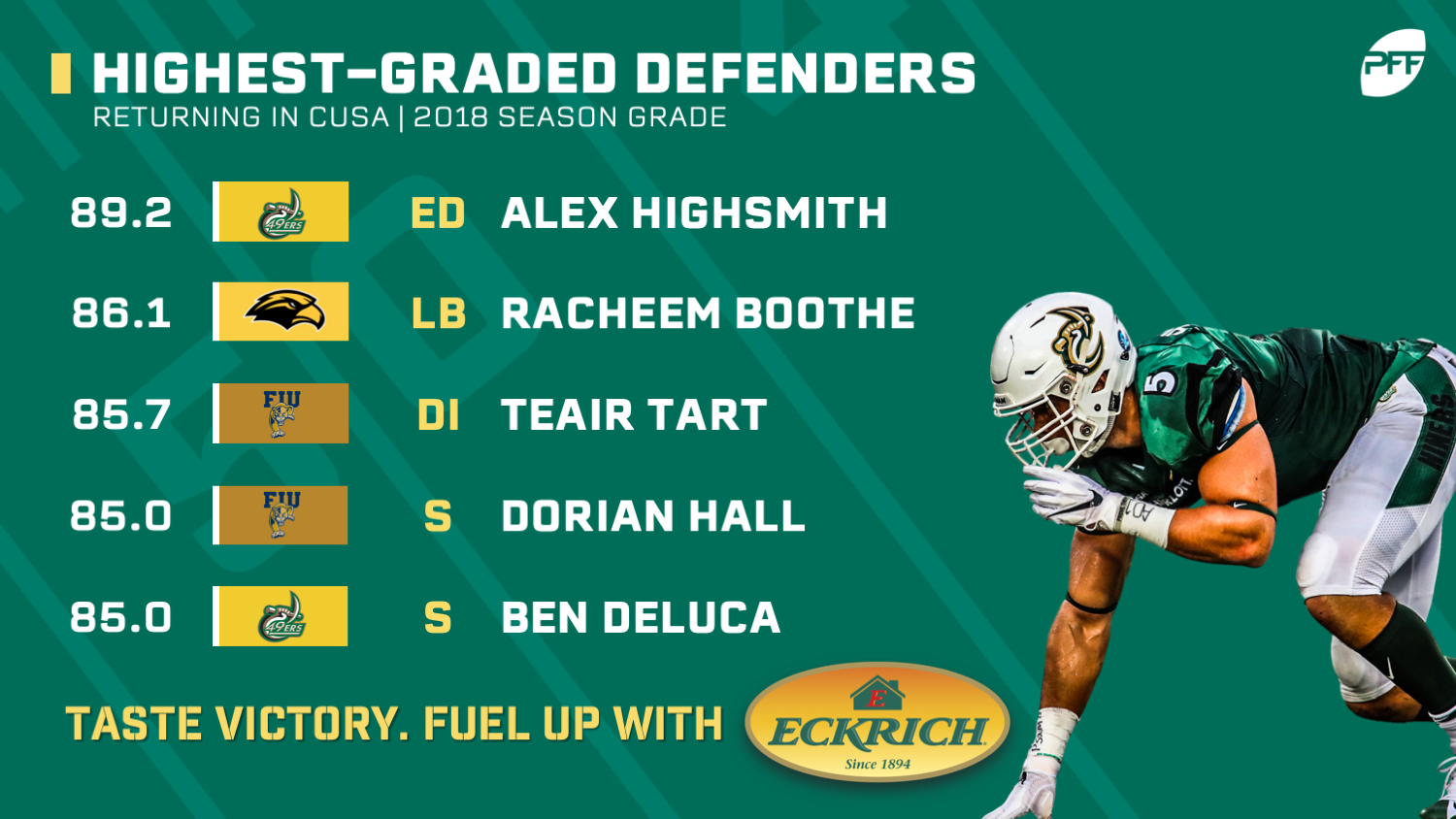 Defense
Edge Defender
Alex Highsmith, Charlotte – 89.2
Fermin Silva, FIU – 79.9*
Lorenzo Dantzler, UTSA – 79.9
Jacques Turner, Southern Miss – 79.5
Deangelo Malone, Western Kentucky – 76.9
The conference's leader in QB pressures just missed this list as LaDarius Hamilton had 47 pressures a year ago. Highsmith was right on his heels with 43 while also possessing the conference's top run-defense grade. Silva played just three games but was dominant on the pass-rush, recording 14 pressures on just 88 snaps.
Interior Defender
Teair Tart, FIU – 85.7
Dion Novil, North Texas – 79.6
Channing Hames, Marshall – 79.4
King Newton, UTSA – 77.7
Myles Adams, Rice – 75.5
Tart is a stout run defender with plus-grades on the pass-rush while Hames himself returns as the conference's leader in pressures and plus-grades in the run game. Adams is in line for big numbers with Zach Abercrumbia's transfer to SMU as Adams had 21 total QB pressures at a year ago.
Linebacker
Racheem Booth, Southern Miss – 86.1
Jeff Gemmell, Charlotte – 81.1
Eli Brown, Western Kentucky – 78.8
Rashad Smith, FAU – 78.6
Kristopher Moll, UAB – 77.0
Booth and Gemmell both demonstrated strong pass-rushing skills when tasked with blitzing and are third and second, respectively, among returning linebackers in the conference. Brown played the fewest snaps of the linebackers listed above but is set to see extended action with Ben Holt's transfer to Purdue.
Cornerback
Brontae Harris, UAB – 89.8*
Amik Robertson, Louisiana Tech – 84.7
Rishard Dames, FIU – 81.6
Stantley Thomas-Oliver III, FIU – 80.7
Ta'Corian Darden, Western Kentucky – 75.9
Harris will miss the season with an unfortunate injury as he not only was the highest-graded returning player in his conference but among the highest-graded cornerbacks in the country. Robertson now assumes that role as he allowed just 54.9% of his targets to be caught and made four interceptions and 11 pass breakups last season.
Safety
Dorian Hall, FIU – 85.0
Ben DeLuca, Charlotte – 85.0
Rishard Dames, FIU – 84.3
Ky'El Hemby, Southern Miss – 82.3
Khairi Muhammad, North Texas – 76.2
Dames appears on both the cornerback and safety list as he logged enough snaps to qualify for both. While lined up at safety, he allowed just 15 receptions for 149 yards and made three interceptions for a stout coverage grade, the highest in the conference.