College football made its triumphant return to the weekend slate with a bevy of games stretching from Thursday and into Monday night. With the majority of the games handled, we at PFF and our team of over 500 analysts have dissected and graded every player on every snap of every game to bring you the most detailed and valid set of picks you can find anywhere.
The Week 1 Eckrich Team of the Week powered by PFF saw some impressive performances and, of course, the strength of opponent also factored into the overall selections as did the PFF player grades.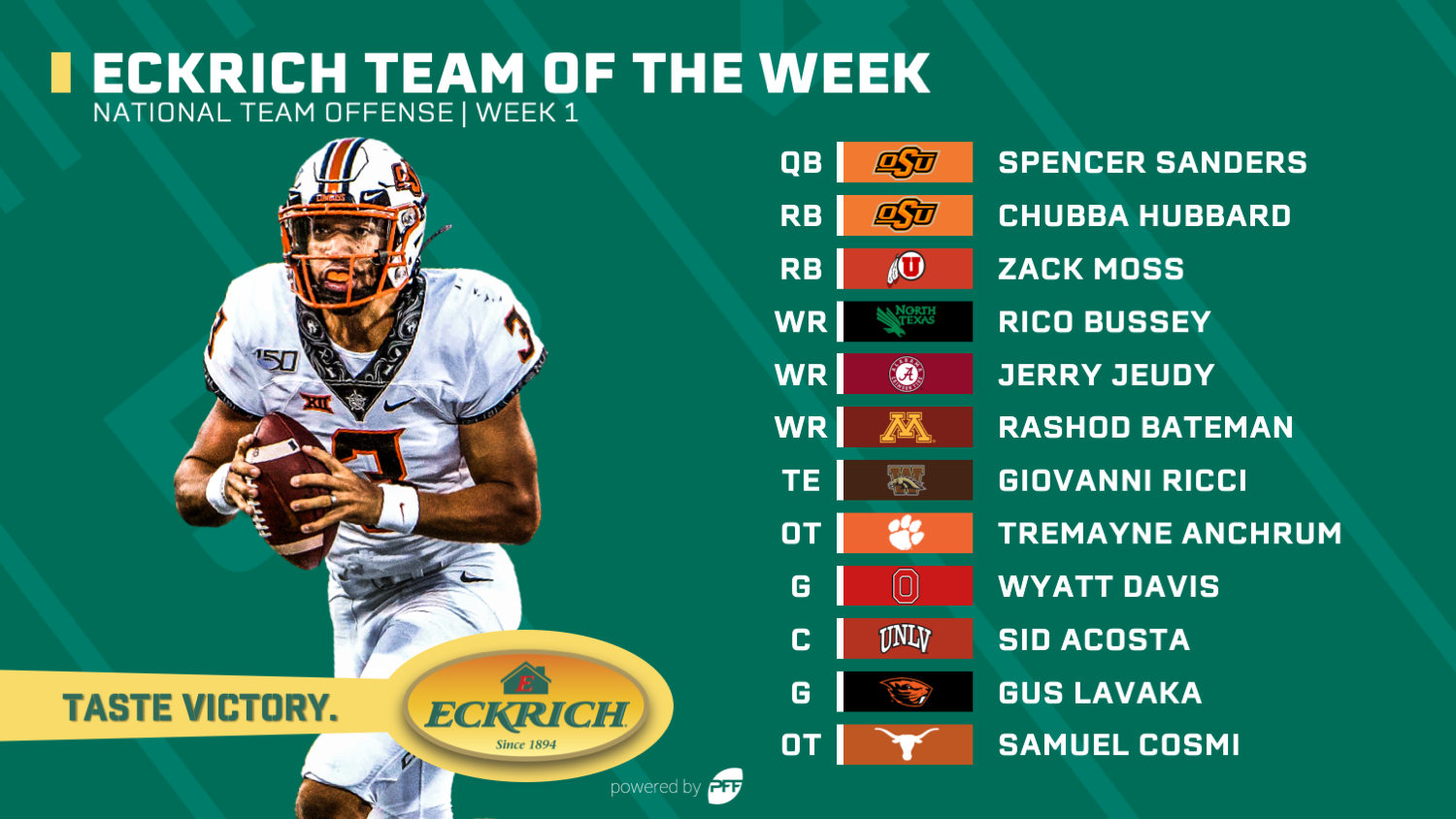 Quarterback
Spencer Sanders, Oklahoma State
In what will go down as more than just a memorable debut, the Cowboys have found their quarterback of the future in Sanders. He torched the Oregon State defense both with his arm and legs on Friday. On 11 designed carries, he racked up 79 yards and had 70 of his total rushing yards come after contact with five missed tackles forced. Through the air, he uncorked three big-time throws without making a turnover-worthy play as he seems to have firmly grasped Mike Gundy's offense with ease.
Running Back
Chuba Hubbard, Oklahoma State
Speaking of grasping things, Hubbard has placed his name in Heisman contention as he grasped national attention with an utterly dominant game against the Beavers. On 26 carries, he tallied 221 yards, 119 after contact and seven runs of 10 or more yards.
Running Back
Zack Moss, Utah
As impressive as some of the performances were this weekend, Moss' 15 missed tackles forced on the ground were four more than the next closest as he gained 121 of his 187 yards after contact. Of his 29 carries, 11 of them went for a first down and another scored a touchdown. He's back, he's healthy and he's scary for any opponent to scheme against on defense.
Wide Receiver
Rico Bussey Jr., North Texas
Targeted six times, Bussey made everyone aware of why he was on the Biletnikoff Award watch list this offseason with a four-catch, 156-yard performance. He forced four missed tackles after the catch, averaging 12.0 YAC per reception. The Mason Fine to Rico Bussey connection is must-see TV all season.
Wide Receiver
Jerry Jeudy, Alabama
The reigning Biletnikoff Award winner kicked off his 2019 season with a bang against Duke, finishing with a highlight-reel spin-o-rama play that showcased what makes him such a highly thought of draft prospect. In all, Jeudy was targeted 13 times, hauled in 10 passes and racked up 85 of his 137 yards after the catch.
Wide Receiver
Rashod Bateman, Minnesota
Bateman had arguably the 'Catch of the Year' with his one-handed grab against South Dakota State as he's proven to be a more-than-formidable counterpart for Tyler Johnson in the Minnesota offense. He finished with 132 yards on five receptions as all of his catches either moved the chains or scored a touchdown.
Tight End
Giovanni Ricci, Western Michigan
On a total of six targeted passes, Ricci hauled in five catches for two touchdowns and three more first downs. His 97 yards through the air led the tight end position this weekend and he saw a perfect passer rating of 158.3 when targeted by Jon Wassink.
Offensive Tackle
Tremayne Anchrum, Clemson
The Tigers ran all over the Georgia Tech Yellow Jackets on Thursday night and Anchrum was a big reason why. Travis Etienne's 14-yard touchdown run in the second quarter saw the speedster rush into the end zone untouched, thanks to Anchrum.
Offensive Guard
Wyatt Davis, Ohio State
Davis fired on all cylinders in the Buckeyes' season-opening victory over FAU, most notably with his run blocking. On the highlight-reel play of the day for transfer QB Justin Fields, Davis' reach block secured the hole for Fields to scamper 51 yards for a score.
Center
Sid Acosta, UNLV
Acosta kept a clean sheet in pass protection for the Rebels, allowing no pressure on 24 pass-blocking snaps. He was also leaps and bounds above the rest of the nation's centers with a ridiculous run-blocking grade that was nearly 10 points higher than the next player in line.
Offensive Guard
Gus Lavaka, Oregon State
Lavaka was dominant in the run game despite the result for the Beavers against Oklahoma State. His run-blocking grade eight points clear of the next-closest guard and he allowed only two pressures in pass protection.
Offensive Tackle
Samuel Cosmi, Texas
Cosmi brought his A-game to the season opener for the Longhorns, blasting Louisiana Tech in the run game and keeping a perfect sheet in pass protection. On 47 pass-blocking snaps, Cosmi didn't allow a single pressure and was so impressive that his movement allowed Sam Ehlinger more than enough room to move and throw in the pocket with ease.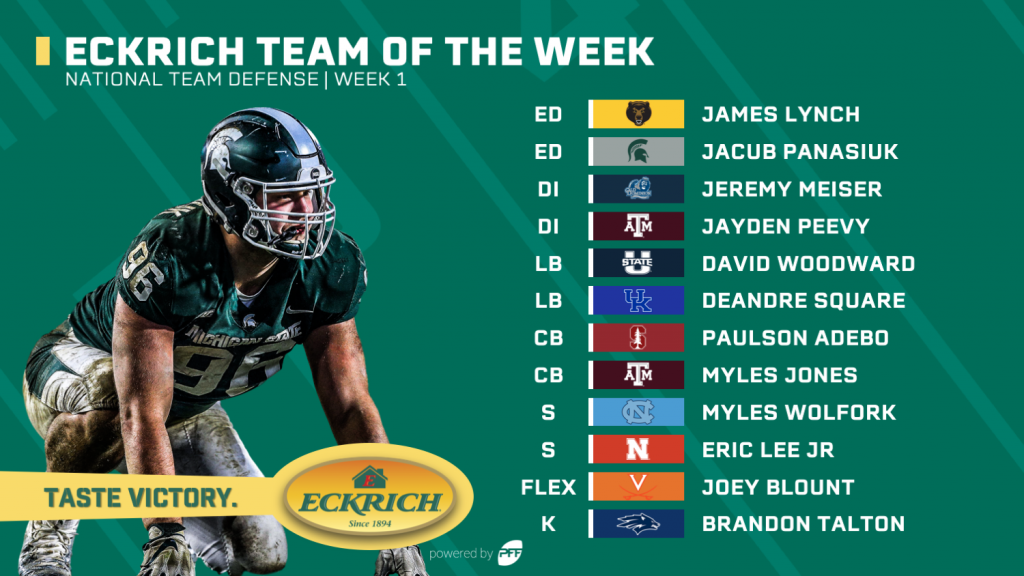 Edge Defender
James Lynch, Baylor
On just 17 pass-rushes for the Bears, Lynch racked up an incredible nine pressures including a sack and an additional hit on the quarterback. Rounding out his solid performance was another hit for a defensive stop in the run game as he proved to be a three-down threat along the edge for Baylor in Week 1.
Edge Defender
Jacob Panasiuk, Michigan State
With his six pressures against Tulsa, Panasiuk has already reached half of his pressure total from last season as a perfect complement to Kenny Willekes on the outside. Panasiuk's performance in run defense also went a long way in the Spartans holding Tulsa to -76 rushing yards for the game.
Defensive Interior
Jeremy Meiser, Old Dominion
The Monarchs needed a strong performance on defense to avoid an upset as Meiser was a key component of that defensive stand. He racked up seven total QB pressures on 30 pass-rushes and recorded three defensive stops in the run game against Norfolk State.
Defensive Interior
Jayden Peevy, Texas A&M
With Justin Madubuike occupying one side of the defensive interior for the Aggies, it was Peevy who dominated against Texas State. Rotated in because of his pass-rushing prowess, 31 of Peevy's 36 snaps came against the pass and he recorded five total pressures including a sack and another hit on the quarterback.
Linebacker
David Woodward, Utah State
The ACCNetwork mentioned it during their broadcast but Woodward is a PFF All-American for good reason, showcasing his skillset on national television against Wake Forest in Week 1. Sure, they didn't get the win against the Demon Deacons but Woodward was hardly the cause. On 107 snaps, he recorded 20 total tackles, 10 defensive stops and allowed just 16 yards on his 43 snaps in coverage.
Linebacker
DeAndre Square, Kentucky
Flying around like a missile for the Wildcats, Square recorded multiple QB pressures, eight defensive stops and didn't allow the single target thrown his way to be caught on 29 snaps in coverage.
Cornerback
Paulson Adebo, Stanford
Showcasing what made him a PFF All-American also, Adebo was targeted five times against Northwestern, allowing just one reception while intercepting a pass and breaking up two more attempts. His 0.0 passer rating when targeted in this game is a mere microcosm as to how effective he is in coverage.
Cornerback
Myles Jones, Texas A&M
Jones intercepted the same amount of passes as he allowed completions, making two beautiful plays on the ball against Texas State. In total, he was targeted five times and allowed just 20 yards in his coverage against the Bobcats.
Safety
Myles Wolfolk, North Carolina
Wolfolk had one of the weekend's better plays with one of his interceptions in coverage as he ripped off two picks on the afternoon against South Carolina. He didn't miss a single tackle and allowed just four yards after the catch in his primary coverage for an all-around strong performance.
Safety
Eric Lee Jr., Nebraska
Seeing three passes come his way as the primary coverage defender, Lee made two interceptions just like his counterpart on this list. He allowed an 11.1 passer rating on those throws and stuck his nose in on run defense with an additional defensive stop for the Cornhuskers.
Flex
Joey Blount, Virginia
Blount played like a dominant, movable chess piece for the Cavaliers in their victory over Pittsburgh, recording two sacks, six defensive stops and an interception in coverage. In all, his prowess on the backend went a long way for the Cavs season-opening victory.