Penei Sewell
Shane Lemieux
Jake Hanson
Dallas Warmack
Calvin Throckmorton
These five names should be keeping Pac-12 defensive coordinators awake this offseason. These five names should allow Justin Herbert to rest peacefully through August. These five names certainly make Mario Cristobal's job easy.
These five names return to man the Oregon Ducks offensive front along the line and represent five more-than-capable candidates for All-American status either preseason, midseason or postseason.
This story is brought to you by Eckrich, the Official Smoked Sausage of the College Football Playoff.
Kicking things off with left tackle Penei Sewell, who as a true freshman last season, was utterly dominant. Sewell went down with an injury in Week 7 but prior to that, looked all the parts of a lock for first-team All-American, again, as a true freshman. His reps in pass protection were only equaled by his efforts in the run game and though he did look like a shell of his former self in playing against Michigan State in the bowl game, he should return to his 84.0 overall graded self with a full offseason of rehab and rest.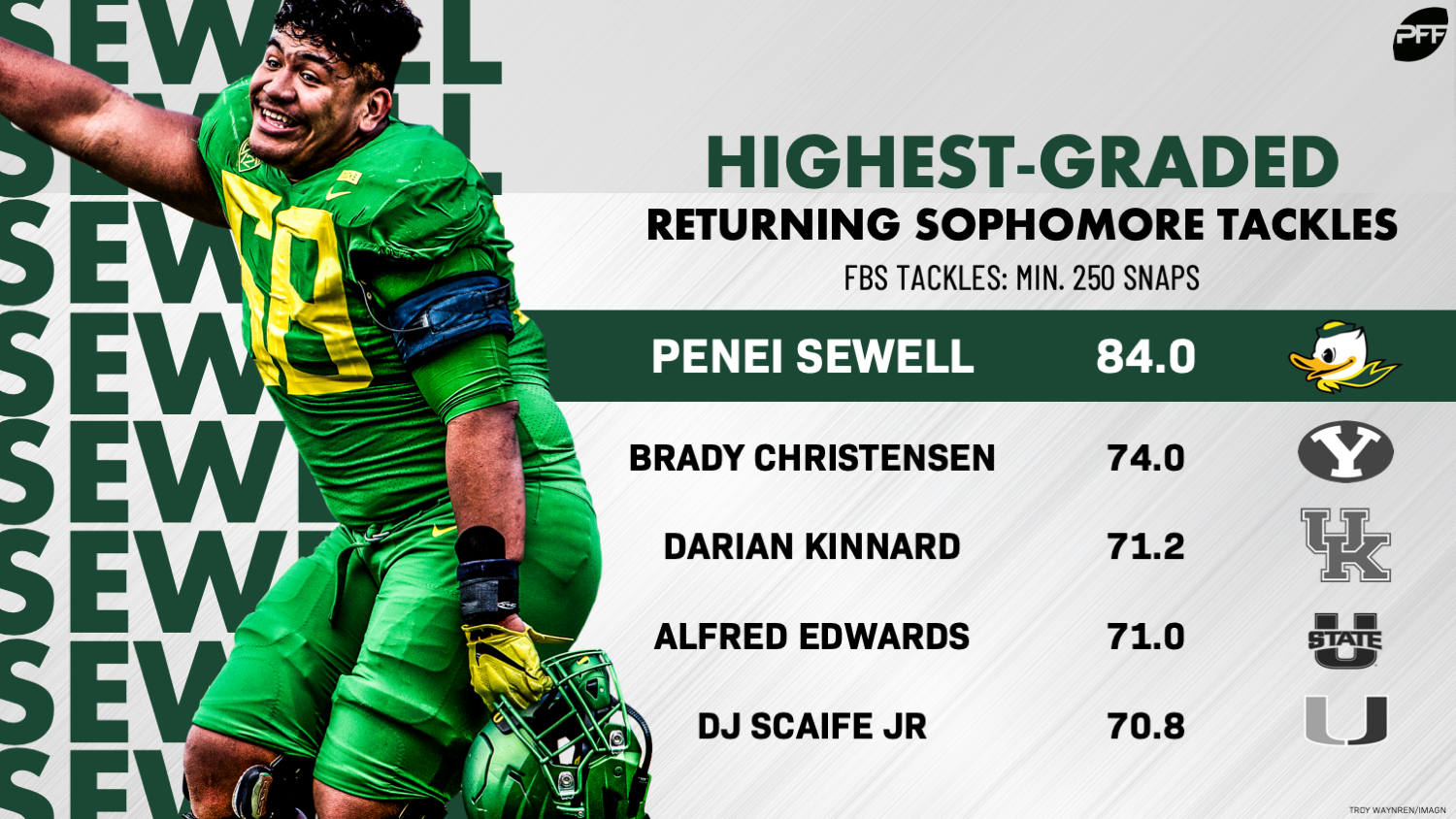 Despite the injury, Sewell still finished as the nation's highest-graded true freshman tackle, by a long shot. His 84.0 overall grade was a clear 10.0 points higher than the next closest tackle in Brady Christensen from BYU and a full 12.8 points ahead of the next closest Power-5 tackle. On 215 pass-blocking snaps from left tackle, he allowed just eight total pressures, only one sack and kept Herbert's blindside protected more often than not.
Shifting inside to potentially the nation's best returning guard, Shane Lemieux enters 2019 having logged a whopping 2,601 career snaps and improving his overall PFF grade each and every year as a Duck. His 2018 efforts marked a career-high in run-blocking and overall grade while his pass-blocking grade didn't reach that of 2017, he still ranked in the top 50 among all returning tackles at the FBS level. All of that said, he allowed just 11 total QB pressures and only two combined sacks and QB hits a season ago as he heads into fall camp as the nation's highest-graded returning guard.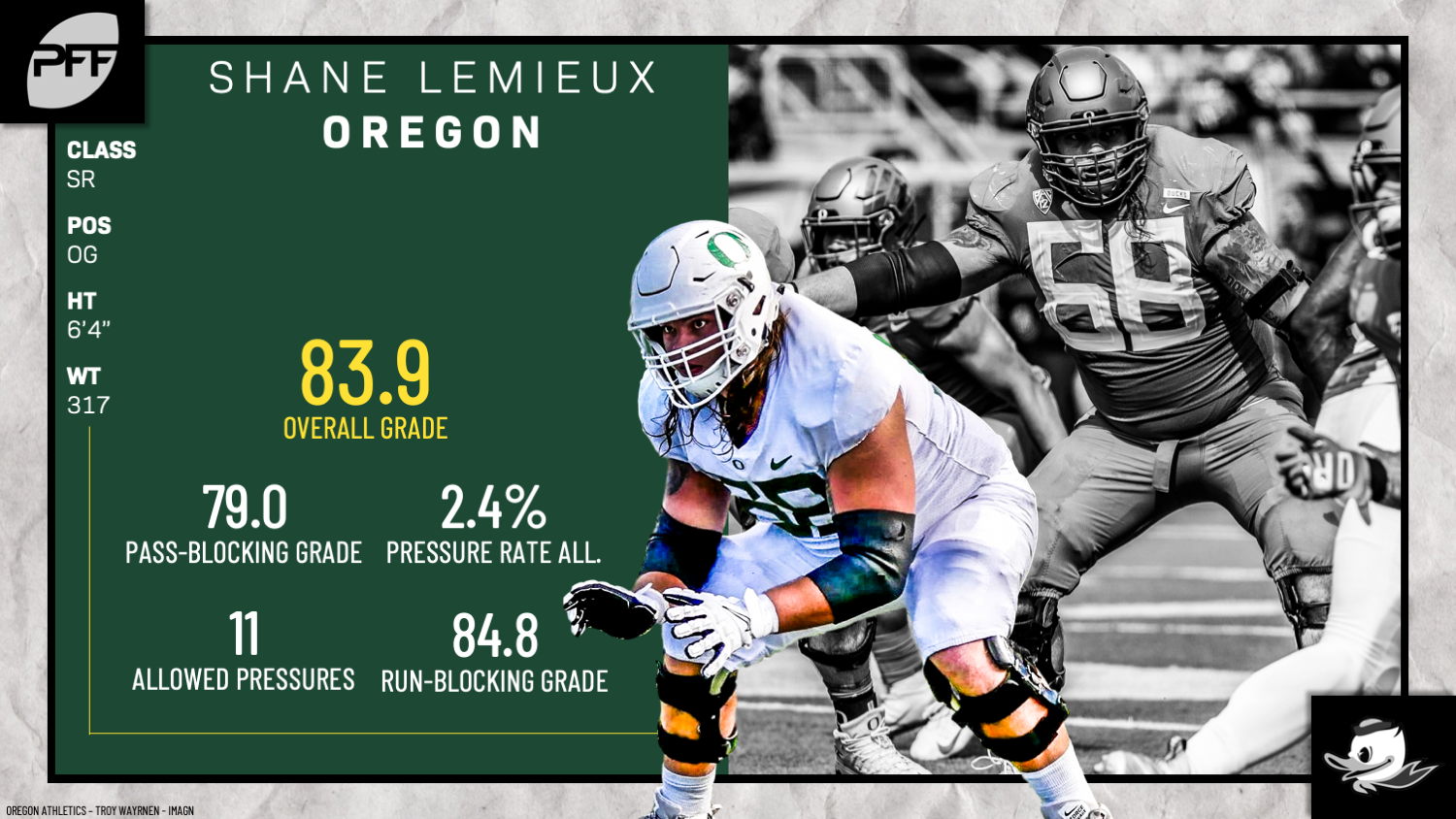 Playing next to Lemieux for the fourth consecutive year, Jake Hanson mans the center position and enters his final season in Eugene with 2,739 career snaps to his résumé. His career-high in pass protection grade came a season ago and it ranks as the 10th-highest pass-blocking grade among returning centers. He allowed 12 total pressures but has not allowed a single sack during his entire career at Oregon.
The lowest-graded returning starter along the Ducks' offensive line slots in at right guard, but by no means is that a slight towards Dallas Warmack, the former Alabama transfer. In his first season with the Ducks in 2018, Warmack finished with a 67.8 overall grade after starting the year slowly. In fact, his final three contests of the year saw him finish with game grades of 72.3 or higher, each of them finishing as his highest-graded performances of the year. In fact, Warmack's 79.6 overall grade over the final three games of the season was the highest among all returning FBS guards entering 2019.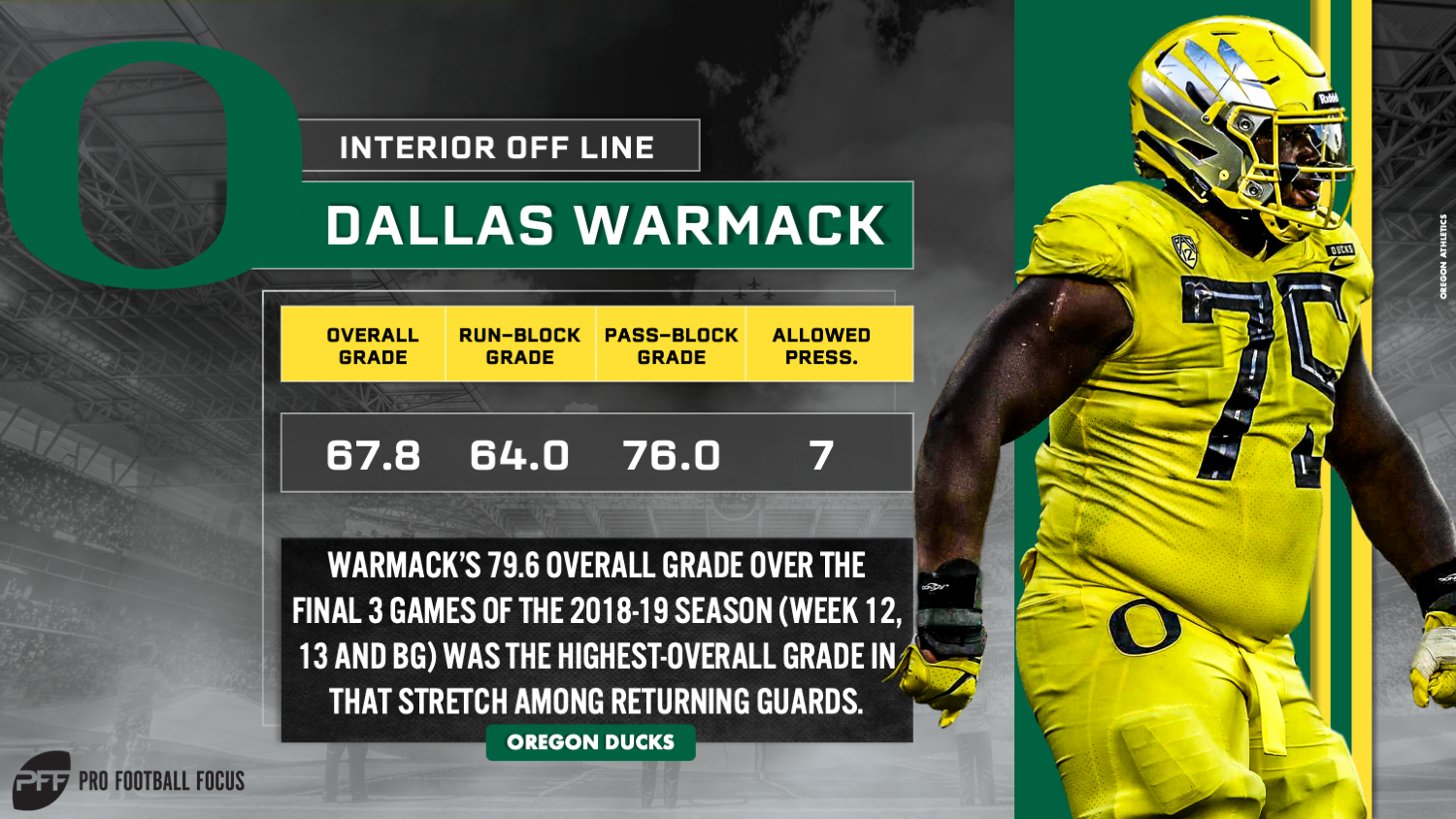 Rounding off the formidable front five of the Oregon Ducks offensive line is the man who needs no introduction to Oregon faithful, and a man who belongs in the conversation for top tackle in the country: Calvin Throckmorton. The Ducks' Swiss army knife from a season ago, Throckmorton logged over 855 snaps for the third straight season but did so playing four different positions, including 111 at right guard, 395 at right tackle, 38 at center and another 371 at left tackle.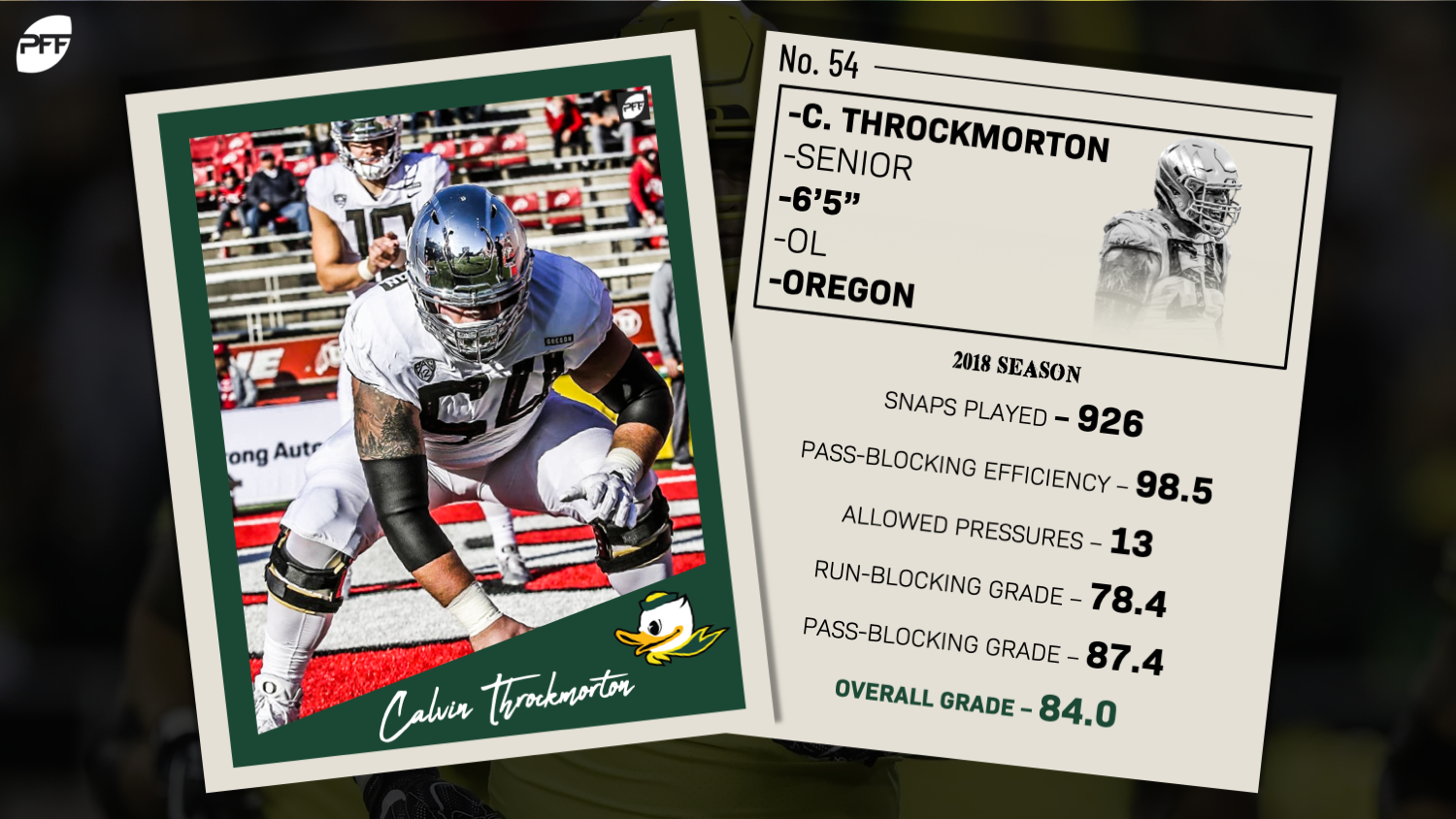 Throckmorton was routinely spotted blowing defenders off the line of scrimmage in the running game just as much as he was seen limiting rushers to just 13 total pressures on 487 pass-blocking snaps. His 87.4 pass-blocking grade returns as the third-highest in the country and his 84.0 overall grade mirrors his bookend tackle in Sewell as fourth-highest among the same group.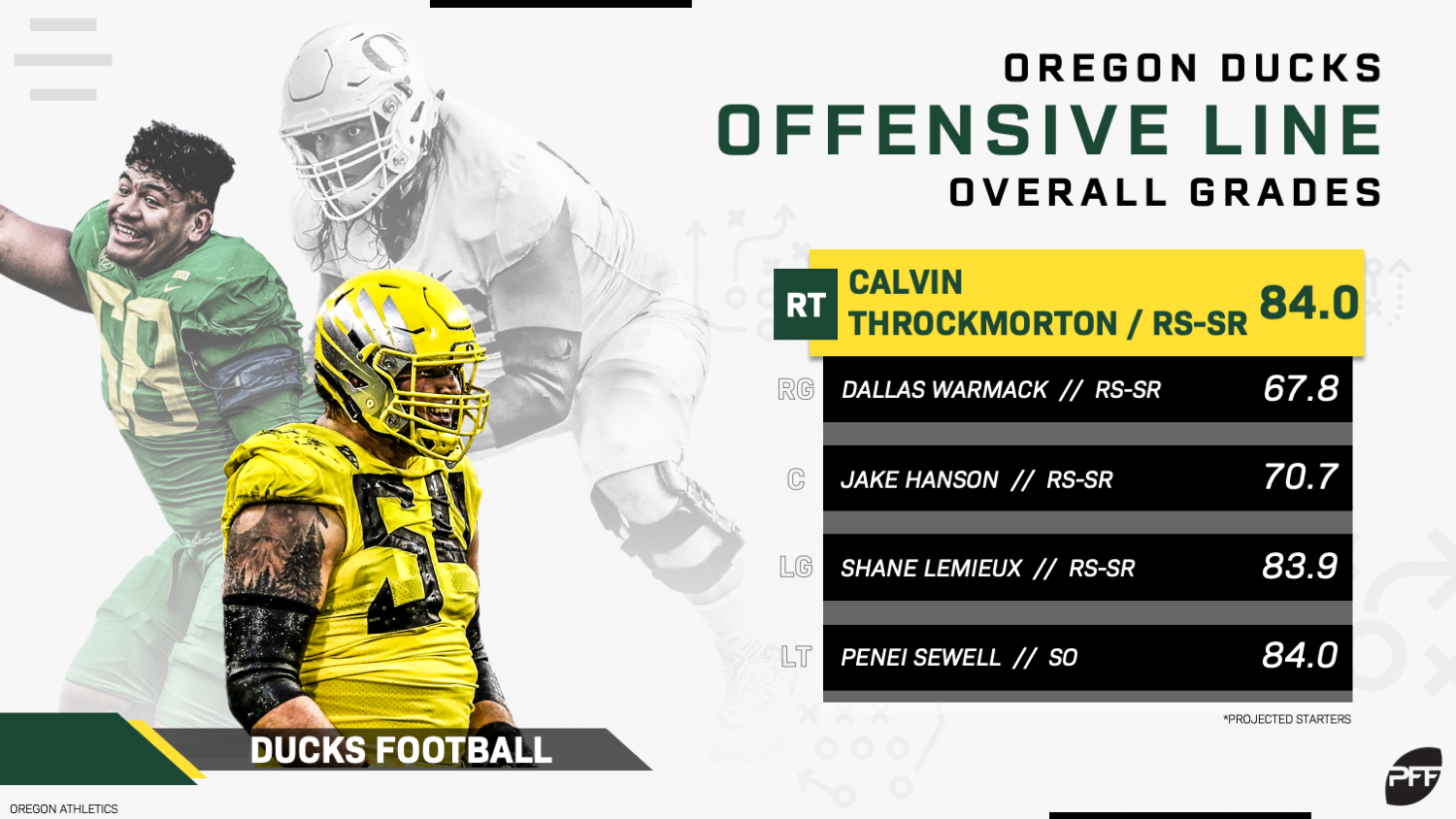 Collectively, the Oregon offensive line returns a ridiculous 9,254 snaps among just the five aforementioned individuals and that includes three of them with at least 2,600 career snaps. That amount of experience (and at a high level to boot) should only pave the way for bigger things and higher ceilings for the Ducks as an offense and in particular, their quarterback who should have legitimate Heisman Trophy aspirations this fall.
Aside from his ridiculous talent, the five offensive linemen in front of Herbert should also be one of the biggest reasons why he has the potential to collect some hardware this year. Those same five offensive linemen should also be able to collect some awards themselves, and that's what should make this team so fun to watch in 2019.