Week 11 of the college football season is upon us. A weekend headlined by what could be called the 'Game of this Century' between LSU and Alabama. Outside of the obvious fact that this game likely decides the SEC, this game likely eliminates one player from the Heisman race and affirms another as potentially the first pick in the 2020 NFL Draft as it headlines easily one of the most anticipated regular-season weekends in college football history.

We dive into the PFF databases to pick out the matchups that will decide the Week 11's marquee matchup:
LSU @ Alabama
This game should live up to the hype as the teams enter with identical unbeaten records of 8-0 and in the driver's seat, controlling their own destiny for the SEC title game and a College Football Playoff berth. This game pits interesting matchups of strength vs strength all over the field.
Alabama's sticky coverage vs LSU's talented receivers
Recently, we ranked the entire country's receiving corps from 1-130. Coming in at No. 2 was the LSU Tigers, mainly on the backs of their talented trio at the top, Terrace Marshall Jr., Ja'Marr Chase and Justin Jefferson. Alabama, on the other side of the field, currently holds the nation's highest-graded players lined up in the secondary, as a unit.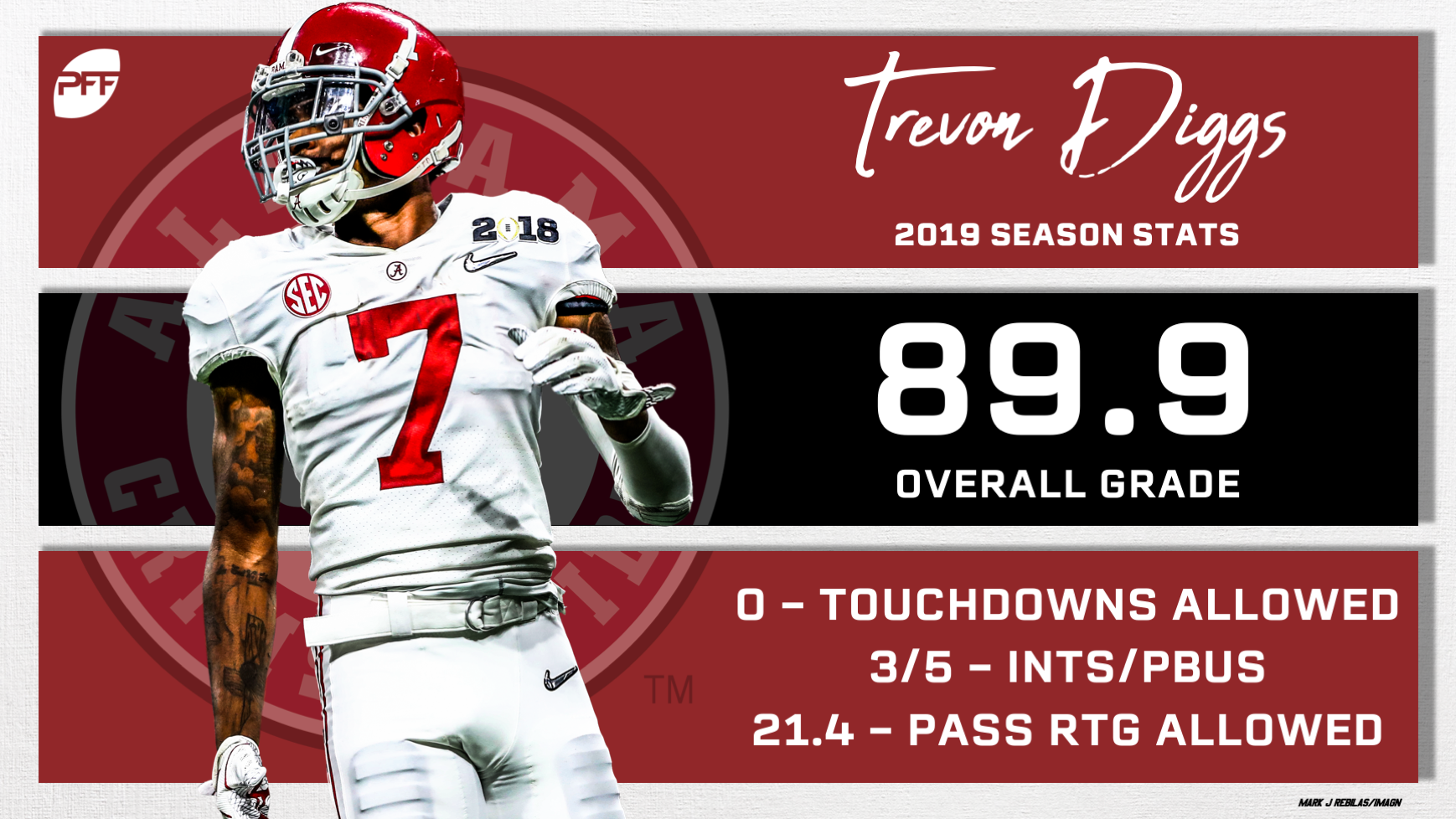 When lined up in any of the bucketed positions that include being in the slot, out wide or at safety, the Crimson Tide are the highest-graded coverage unit in the country. They've forced a completion percentage of just 54.2%, have allowed just 91 catches for 1,009 yards and on an average depth of target of 11.0, are allowing just 0.1 yards after the catch per target, the second-best mark across the nation. Led by Trevon Diggs, 'Bama actually possesses two of the country's highest-graded cornerbacks as Diggs ranks No. 3 and Patrick Surtain III ranks No. 4. This will certainly be the toughest duo, and overall secondary, that Heisman favorite Joe Burrow will have faced in 2019. While the Alabama secondary may have the advantage in overall grades from a slew of players, they'll certainly be tested when it comes to the Tigers on the other side of them in this matchup.
Jefferson, on our Heisman list as well as both quarterbacks in this game, is tied for the national lead in contested catch percentage, hauling in all seven of such contested catch opportunities this season. He's also third in the country with 23 explosive plays of at least 15 yards in the air. Combined with Chase and Marshall, the trio has combined to secure 89 receiving conversions (first downs + touchdowns).
LSU's talented secondary vs Alabama's tremendous receiver quartet
When the shoe is on the other foot, strength vs strength also applies as the Alabama Crimson Tide receiving corps is very clearly the best in the country. The LSU secondary is no slouch either and is headlined by a star duo of their own. True freshman CB Derek Stingley Jr. is the second highest-graded cornerback in the nation and CB Kristian Fulton ranks eighth. Stingley has made four interceptions and 10 pass breakups while allowing just 40.8% of the targets thrown his way. Fulton has allowed more yards than he did a season ago but has proven how tough he is in coverage with an interception and seven more pass breakups and has also allowed just 45.2% of the passes thrown his way to be completed.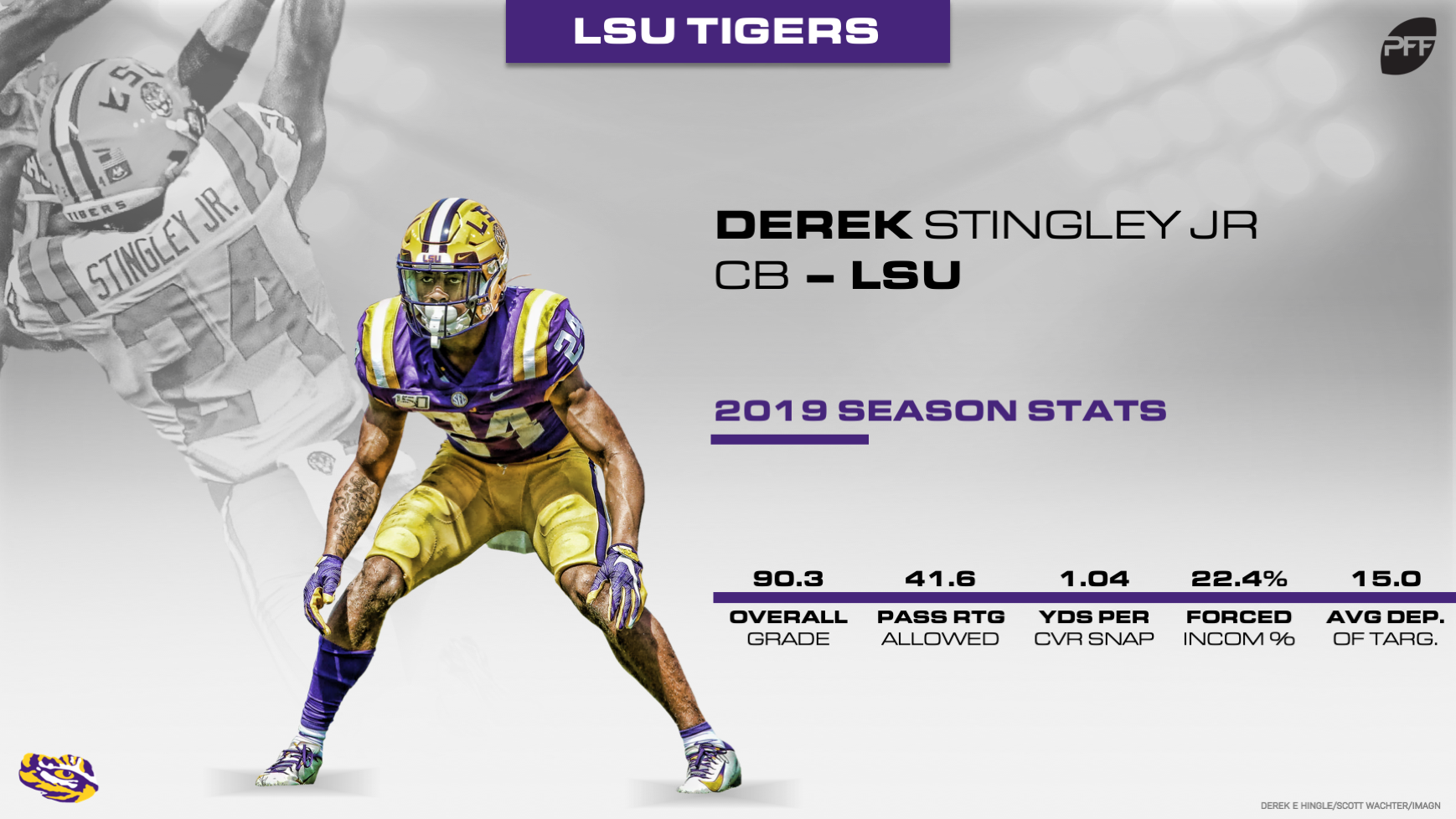 The talented Alabama receiving corps ranks first in several facet grades across the country and the trio of DeVonta Smith (3rd), Jerry Jeudy (17th) and Henry Ruggs III (28th) all rank within the top 30 among all FBS receivers in terms of yards after the catch while Jaylen Waddle also ranks in the top 60 and no other team fields three in the top 100.
Inside this matchup is an interesting battle between the 'Bama receivers and their success on in-breaking routes against the LSU secondary's relative lack thereof success. The Tigers have allowed six touchdowns and 376 yards on in-breaking routes from just their secondary players alone. Stingley is putting forth positive grades but has allowed six receiving conversions on in-breaking concepts while Fulton has allowed two scores and five other first-down receptions on in-breaking routes. Bama WR DeVonta Smith ranks first in the country with 256 yards after the catch on those same in-breaking routes as well, racking up 452 yards on just 16 receptions. Ruggs is seventh in the country in that regard as well and they've combined for eight receiving touchdowns.
Keeping them from success after the catch overall is crucial for LSU but especially on those in-breaking route concepts.
Tank for Tua or Bomb for Burrow
Currently our QB1 and QB2 for the 2020 NFL Draft, both Tua Tagovailoa and Joe Burrow are likely to hear their names called early (if not first and second) next April when their NFL dreams are realized. While Tagovailoa has been on the radar for seemingly his entire college career, Burrow has exploded onto the scene in 2019 after putting forth arguably one of the biggest draft moves in recent history. They've combined for 57 touchdowns and just six interceptions this year and they're each fielding similar rankings among all the PFF advanced statistics:
Adjusted Completion Percentage:
Burrow: 83.9% (2nd)
Tagovailoa: 79.6% (5th)
Deep Passing Passer Rating:
Burrow: 134.2 (4th)
Tagovailoa: 127.1 (10th)
Under Pressure Passer Rating:
Burrow: 151.6 (1st)
Tagovailoa: 100.8 (13th)
Kept Clean Passer Rating:
Tagovailoa: 154.4 (1st)
Burrow: 138.5 (5th)
Non-Play-Action Passer Rating:
Tagovailoa: 137.6 (1st)
Burrow: 136.0 (2nd)
Play-Action Passer Rating:
Tagovailoa: 153.0 (1st)
Burrow: 148.7 (3rd)
Quick Pass (<2.5 seconds) Passer Rating:
Tagovailoa: 151.6 (2nd)
Burrow: 132.5 (5th)
Long Pass (>2.6 seconds) Passer Rating:
Burrow: 143.0 (1st)
Tagovailoa: 134.3 (4th)
Doesn't matter which way you slice it, these two quarterbacks are certainly the top in the country and the stage is set for perhaps the best quarterback battle in the regular season in some time.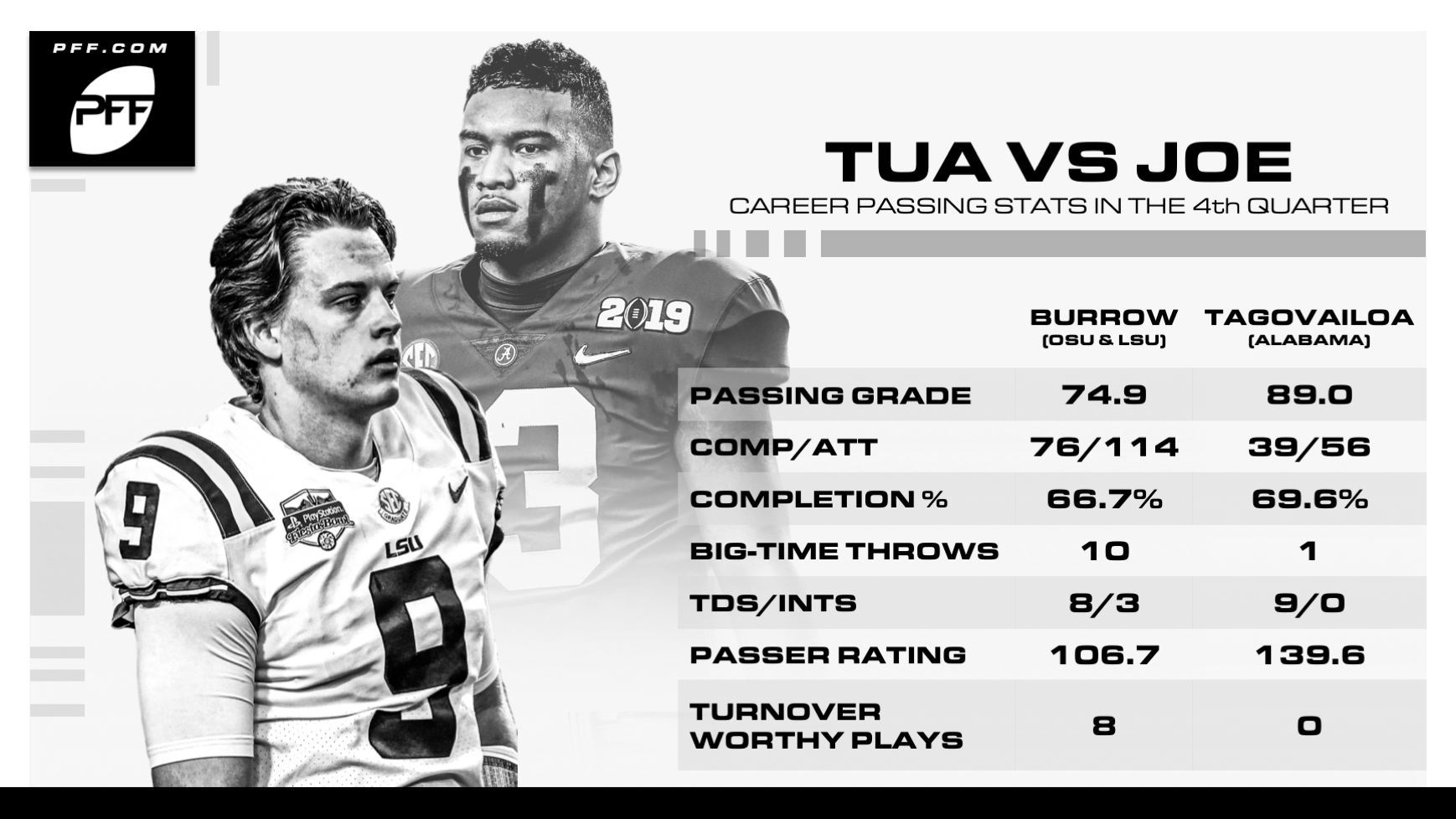 Who wants it more
Both Alabama and LSU haven't been tested too many times in 2019 if Alabama has been tested at all. In fact, Tagovailoa has attempted just 12 passes in the fourth quarter this season, compared to Burrow's 26 attempts. They've both fared very well but that adversity has certainly leaned towards the battle-tested Burrow this season.
Burrow has three big-time throws and four touchdowns in the fourth quarter as well as a stout 80.8% completion percentage. With the game on the line or a crucial play necessary in the fourth quarter, Burrow has proven in games such as Week 2 @ Texas and Weeks 7 and 9 against Florida & Auburn, respectively, that he can be relied upon when it's needed. That isn't to say Tagovailoa can't, but more to the point that he hasn't needed to yet in 2019 as the Tigers ultimately are the Crimson Tide's biggest challenge to date, and likely all season.
In actuality, Tagovailoa has never thrown a fourth-quarter interception in his career and sports higher marks in completion percentage (69.6%), adjusted completion percentage (77.4%) and passer rating (139.6) than Burrow does for his career. Burrow may be battle-tested this season but Tagovailoa has certainly been there before.
Edge pressure vs edge setters
The Alabama offensive line is one of the most dominant in the country yet again and their tackle duo of Jedrick Wills Jr. and Alex Leatherwood has certainly exceeded expectations in 2019. Leatherwood has the second-highest pass-blocking grade among SEC tackles, having given up just five pressures on 268 snaps in pass protection while Wills has allowed 10 on 278.
They'll go up against K'Lavon Chaisson (and now, not Michael Divinity) in this matchup as Chaisson hasn't quite reached the production numbers that one would expect from such a talented player but despite dealing with injuries he's still getting pressure on over 10.0% of his pass-rushes this year. In fact, he's winning over 12.5% of his pass-rushing snaps when matched up one-on-one with an offensive lineman as he's been able to constantly win when he's on the field.
Much like all the other aforementioned position battles, this is likely to see both Alabama tackles head to the NFL as high draft picks as well as Chaisson who can also drop back into coverage be highly-coveted in the NFL world as well. When they meet one-on-one, the eyes of the NFL will be upon them.
The game's X-Factor
Each side of the ball for each team will have a true X-factor, as a player who must be schemed for, must be taken into account and must be watched at all times. Those players who should likely have a large impact on the game are as follows:
Alabama offense: WR Jaylen Waddle
Alabama defense: S Xavier McKinney
Waddle averages 8.8 yards after the catch for his career and has churned out a first down or a touchdown on 43 of his 66 career receptions. McKinney is the highest-graded of all the safeties in this matchup and he's been a ballhawk in run defense and in coverage. He's made multiple plays on the ball in 2019 and has elite grades in tackling and against the run as well as allowing a long reception of just 27.
LSU offense: TE Thaddeus Moss
LSU defense: S Grant Delpit
If the big three at LSU are to be covered by talented guys in the backend, Moss may be counted upon heavily over the middle of the field where he's thrived in 2019. On passes targeted in between the numbers, he's hauled in 18 of 20 passes for 178 yards and a score. Delpit is a true X-factor because he can literally do it all. While he has some boom-or-bust in his game with the amount of missed tackles (13 so far), he is a true every-down safety that can rush the passer, defend the run and stop the pass with relative ease.
As good as all these battles are on paper, it's not a question to assume one of if not all of these matchups will have an impact in determining the outcome of the game. It's just a matter of which one will have the biggest impact.