The cornerback position is inherently challenging to evaluate, particularly when analyzing basic data points such as receptions, touchdowns or interceptions. We at PFF go beyond the box score and capture valuable information for every player on every play to more accurately measure true performance.
Though he does not have the gaudy interception total typical of renowned defensive backs, USC's Iman Marshall has blossomed into one the nation's top cover cornerbacks this season. PFF's advanced metrics offer unique insight into Marshall's coverage prowess on a per-play basis.
This feature is brought to you by Eckrich, the Official Smoked Sausage and Deli Meat of the USC Trojans.
Lockdown
Targeting pass-catchers in Marshall's coverage this season has become a futile endeavor. In 330 coverage snaps (21st most among FBS cornerbacks), Marshall is allowing a measly 0.44 yards per snap, the second-fewest among all cornerbacks in the nation. Quarterbacks hardly even look his way, targeting Marshall every 12.2 snaps in coverage, also the second-lowest rate in the nation.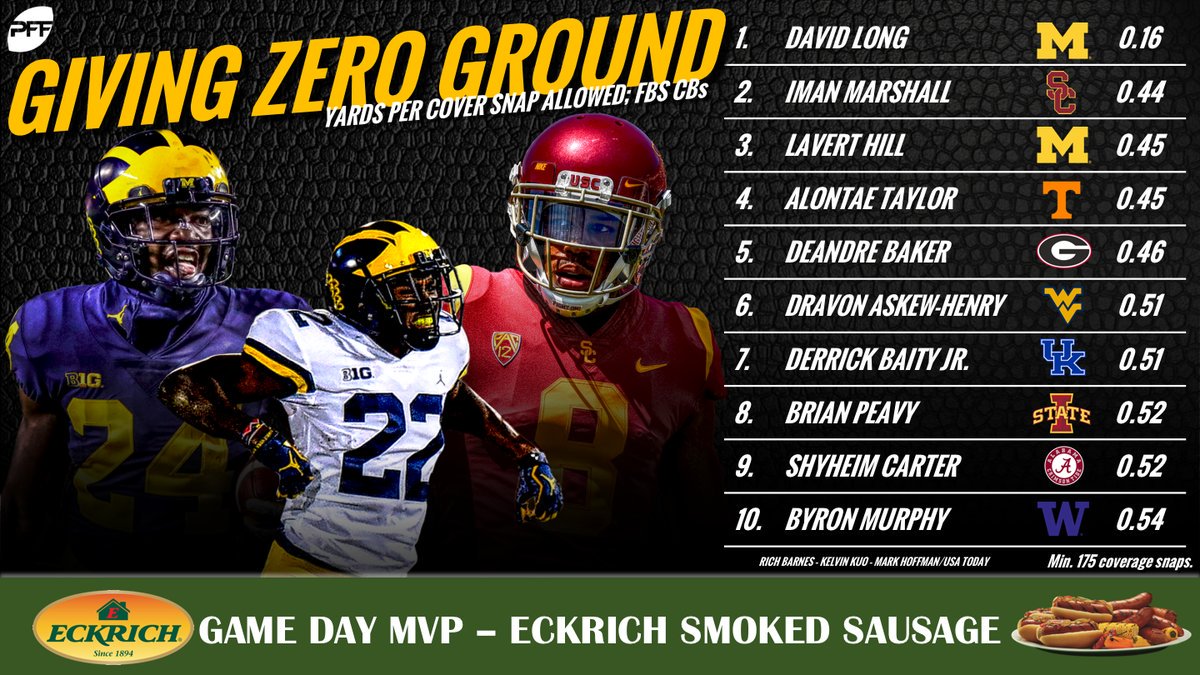 When quarterbacks do decide to target Marshall, they only manage to complete a pass every 22.0 cover snaps (sixth lowest). He has forced an incompletion by way of a pass breakup or coverage play on an astounding 22.2% of his targets.
Marshall is an iron man on defense and rarely leaves the field. He leads the USC defense with 620 defensive snaps, a massive 89% snap rate and with an elite 90.7 run-defense grade (fourth among FBS cornerbacks), he's also not too shabby in run defense.
No pressure, no problem
Quarterback performance when throwing from a clean pocket often skyrockets, but not when targeting Marshall. When the opposing quarterback is kept clean from pressure, Marshall allows. just 0.62 yards per cover snap (fifth in the nation), a nominal increase on his usual sticky coverage.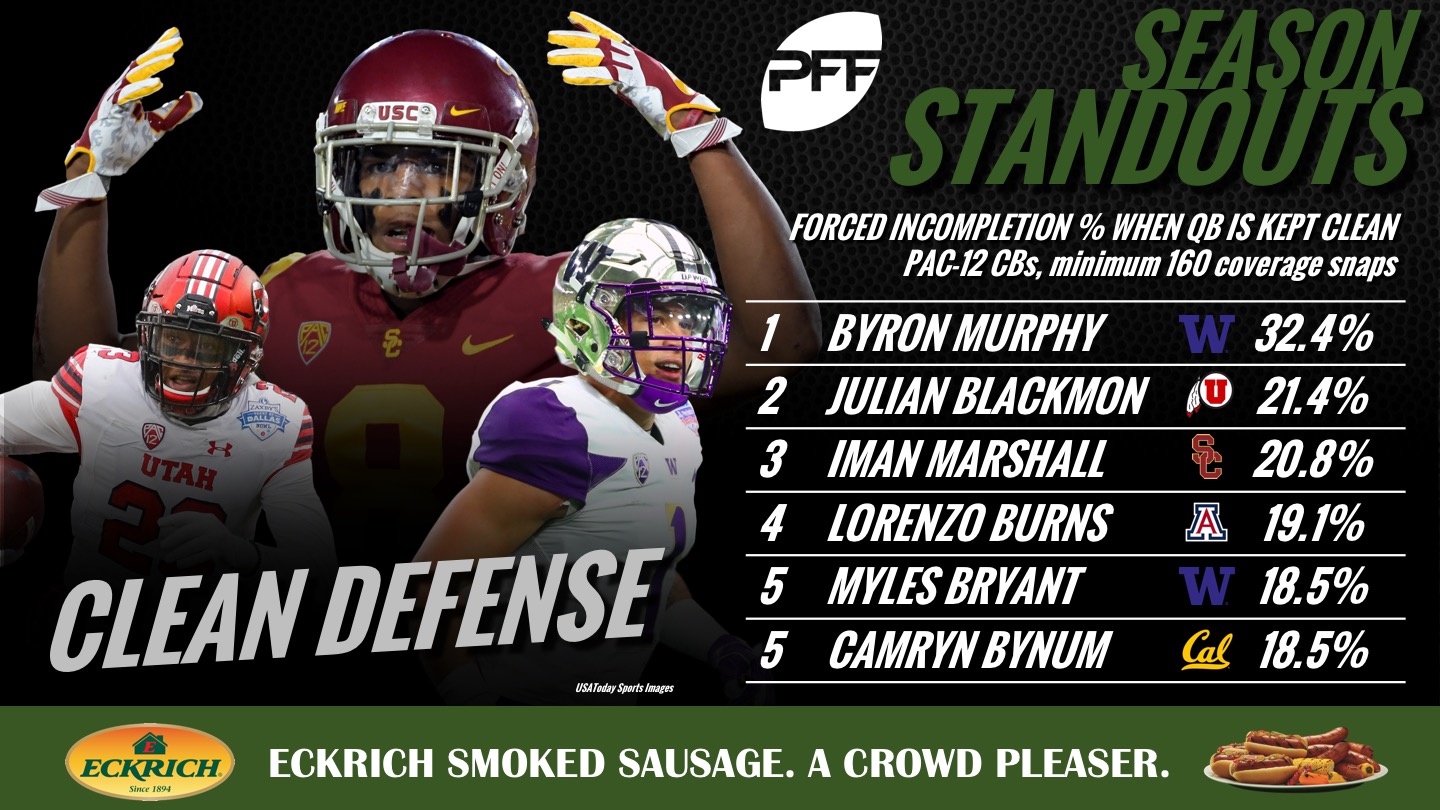 When the opposing quarterback is under pressure, Marshall has been targeted just three times in 101 cover snaps, allowing one completion for four yards.
Marshall through the years
As a five-star recruit out of Long Beach, California, Marshall arrived at USC with monumental hype. He forced his way into the starting lineup as a true freshman in 2015 and showed well, recording a 69.7 overall PFF grade (21st among FBS freshman cornerbacks, second in Pac-12).
Marshall steadily continued his ascension over the next two seasons, recording overall grades of 76.4 and 71.0 as a sophomore and junior, respectively. As a senior in 2018, Marshall has raised the bar with a career-best 77.8 overall grade.
The number of passes thrown Marshall's way is a microcosm of his growth. In a narrow range of 393-434 cover snaps each of the last three seasons, Marshall has been targeted 50, 63 and 53 times. However, in 348 total cover snaps this season, his target number has fallen off a cliff to 27. Quarterbacks are recognizing Marshall's superb play and actively avoiding receivers in his coverage.
This season, Marshall has essentially eliminated his half of the field.