The afterglow from last Saturday's emphatic victory over Colorado became bittersweet for USC when they learned senior defensive leader Porter Gustin would miss the remainder of the season with a fractured ankle. Gustin currently leads the Pac-12 with 26 total pressures and his injury is a colossal loss for a USC pass-rush currently ranked 10th in the conference. No other defender has been more important to their team's pass-rush than Gustin, as he has accounted for an astounding 26% of USC's total pressures, the highest pressure share of any team in the Pac-12.
This feature on USC is brought to you by Eckrich, the Official Smoked Sausage and Deli Meat of the USC Trojans.
Gustin through the years 
Gustin's tenure at USC concludes with a sinking feeling of what could have been. He entered the program in 2015 as a four-star recruit out of the state of Utah and made an immediate impact as a true freshman, racking up 25 total pressures (most among Pac-12 freshmen). He built upon this success in his sophomore season, playing a career-high 827 defensive snaps while piling up 44 total pressures (third in the Pac-12).
Expectations were sky-high heading into Gustin's junior year, but an early toe injury limited him to just four games and 190 defensive snaps in 2017. Yet, when he was on the field, Gustin terrorized opposing quarterbacks to the tune of a 7.9 pass-rushing productivity, sixth in the conference and one spot better than former teammate and current Los Angeles Charger Uchenna Nwosu.
Though the 2018 season did not materialize the way he anticipated, Gustin once again demonstrated that he is a disruptive pass-rushing force when on the field. He had at least two pressures in every game this season and is the only edge defender in the Pac-12 to have three separate weeks of five or more pressures.
Put simply, Gustin is an exceptional pass-rusher and his presence will be sorely missed going forward.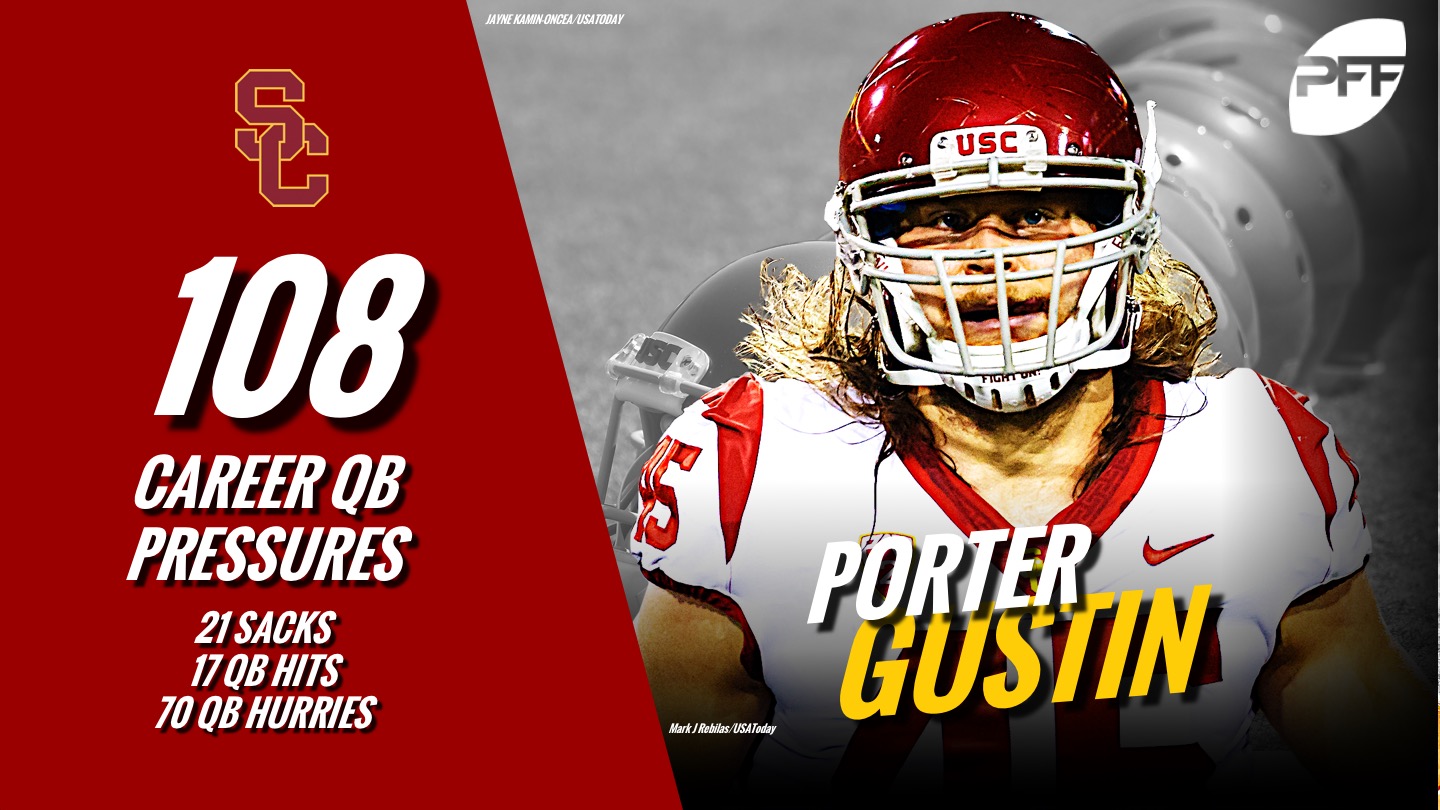 Who will step up for the Trojans in Gustin's absence?
Edge defenders to step up
The spotlight will be shining brightly on Christian Rector as the Trojans need him to elevate his play. Though Rector has been solid thus far (72.8 overall PFF grade, sixth among Pac-12 edge defenders) with 18 total pressures (fifth), he has room to improve on a per-pass-rush basis. Rector has 168 pass-rushes but just a 5.4 pass-rushing productivity (20th). Unlike Gustin (who lines up exclusively as a stand-up outside linebacker), Rector puts his hand in the dirt as a defensive lineman on 97% of snaps. Maybe defensive coordinator Clancy Pendergast will stand Rector up on a few more pass-rushing snaps to get him going.
Jordan Iosefa is another potential player to step up as he surpassed the 50-snap threshold in each of the last two games and recorded his first two pressures against Colorado. Prior to Week 5, Iosefa had yet to play more than 37 snaps in a single game this season. In 2017, he recorded three total pressures in three separate games (including the 2017 Cotton Bowl vs. Ohio State), demonstrating that all-important pass-rushing skill set. He will likely continue to see elevated snaps moving forward and hope to replicate last year's production.
Freshmen Hunter Echols and Kanai Mauga are two others, as Echols played the best game of his brief career against Colorado, rushing the passer on 21 snaps and garnering four total pressures (third in Pac-12). All 45 of Echols' pass-rushing snaps this season have come from the stand-up outside linebacker position and he is a likely candidate to pick up some of the slack. Mauga has shown flashes in run defense, stifling backs to the tune of a 16.1% run-stop percentage (tops among all conference edge defenders who have played at least 30 run snaps). However, Mauga has yet to demonstrate a potent pass-rush, recording just one total pressure in 24 pass-rush snaps.
Junior Connor Murphy, the younger brother of Trent Murphy (formerly of Stanford and currently Washington Redskins), has barely played in his two-plus seasons at USC, but certainly has the pedigree. He has just a single pressure to his name in a career 51 pass-rush snaps.
Looking to the interior for pressure
Interior pressure is never as flashy as edge pressure, though it is arguably more disruptive. To that end, interior defensive linemen Brandon Pili (67.4 pass-rushing grade) and Jay Tufele (66.9 pass-rushing grade) currently possess the highest pass-rushing grades on the USC defense. Tufele has 12 total pressures (fifth) and has really come on of late, grading as the Pac-12's fourth-best interior defender (78.3 overall grade) over the last four weeks.
The loss of Porter Gustin undoubtedly hurts, but the USC defense is teeming with talent. Expect a multitude of skilled pass-rushers to coalesce their abilities and create a formidable pass-rush rotation.
And who knows, perhaps one of the aforementioned defenders emerges into the next USC superstar.