With three weeks of data at our hands, the Heisman race is taking shape although we're many, many weeks from officially crowning the most outstanding player in college football. Often given to the country's best offensive player on the nation's top offense, we at PFF grade every player on every play and have a wealth of data to accurately depict those players who influence the game more than any other, regardless of offense or defense.
After two weeks of football, we put out our list of early favorites to be in the Heisman race all season long and while some of those carry over into our first Heisman rankings, some new faces are making their first appearance after enough of a sample size to crack a top-10 list.
There's a lot of football to be played, yet these players have shown their penance to maintain top-level play through three weeks of the season and if they keep it up, will certainly be in the conversation all year.
This Heisman Watch is brought to you by Eckrich, the Official Smoked Sausage of the College Football Playoff.
Without further ado, the first PFF rankings for the 2018 Heisman Memorial Trophy.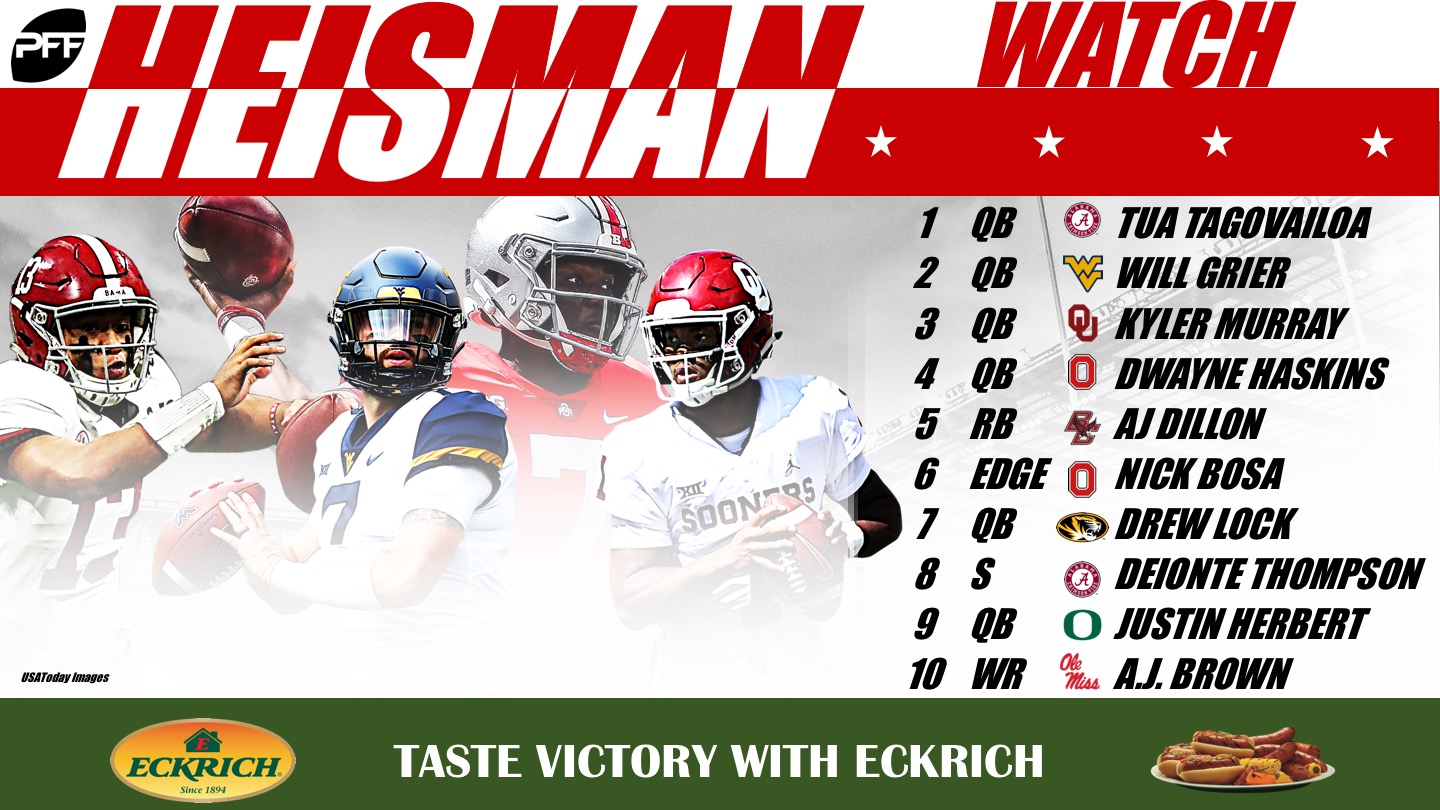 1. Tua Tagovailoa, QB, Alabama
Look, he didn't make the first list of early favorites because it was just that, a list of early favorites. Tagovailoa was just a pipe dream of a Heisman hopeful before the season started as no one knew if he was going to even start this season. Tagovailoa had answered some of the questions with his first two performances but exploded into the Heisman race with his dismantling of the Ole Miss defense in their 62-7 rout. He only needed 15 pass attempts to put up 191 yards and two touchdowns and Week 3's fourth-highest graded quarterback performance at 91.2.
An Alabama team with this kind of aerial attack is scary.

And extremely fun to watch. pic.twitter.com/nml74fJtPP

— Cam Mellor (@PFF_Cam) September 15, 2018
He made some beautiful passes including a dart of a throw downfield to Jerry Jeudy but he also left some proverbial meat on the bone with a few decisions as well. Most notably, he missed a wide open Irv Smith on a deep corner route after he maneuvered the pocket nicely but tossed the ball five yards long of his intended target. Still, his performance against Ole Miss did not go unnoticed for all the good he did as Tagovailoa and Alabama look primed to make a clean sweep of the SEC, the Heisman and possibly even the National Championship at this rate.
2. Will Grier, QB, West Virginia
Grier and the Mountaineers had a de facto bye week this past weekend after Hurricane Florence canceled their contest with NC State. As much of a factor as that game could have been to his legitimate Heisman candidacy, Grier has already done enough this season to warrant his place at No. 2. Through two games, Grier is our highest-graded quarterback, both in terms of overall grade (94.0) and passing grade (94.4) as he's completed 46-of-60 for 761 yards and a 9:1 touchdown-to-interception ratio.
He'll need to avoid any sort of slump against what are generally considered weak defenses entering Big 12 play to keep his place along the top, however, as he had his hopes dashed a season ago prior to his finger injury when he put forth a lackluster 4-interception game against Oklahoma State in the rain in late October last year. All signs point to healthy returns and healthy optimism for Grier this season though.
3. Kyler Murray, QB, Oklahoma
If football is Murray's second-best sport, the Oakland Athletics have a future star player playing on borrowed time for the Sooners this season. Murray has all the zip and arm strength you'd assume would come with a baseball talent such as he is but he also brings with him an excellent feel inside and outside of the pocket. When kept clean from pressure, Murray has thrown for 764 yards, eight touchdowns and completed 44-of-60 pass attempts.
This is becoming a weekly occurrence – Kyler Murray to Marquise Brown… for 6… pic.twitter.com/aAeyIXVRAi

— Cam Mellor (@PFF_Cam) September 15, 2018
He's been no slouch on 'needle-moving' throws either, launching six big-time throws (our highest-graded passes) compared to just one turnover-worthy pass and sports an average depth of target of 12.0 yards downfield.
4. Dwayne Haskins, QB, Ohio State
Similar to Tagovailoa, Haskins was much of an unknown with title 'full-time starter' attached to his name. Even after two weeks of action, there were still questions about Haskins after going up against soft defenses in both Oregon State and Rutgers. Granted, he looked every bit of a Heisman candidate in those first two games but it was his performance against TCU at a 'neutral' site game in Texas that really vaults him into the conversation.
Haskins would not be denied against the Horned Frogs, even against TCU's defensive scheme that tried to confuse him with multiple looks and several blitzing defenders from all over the defense. Against the blitz, Haskins completed 9-of-17 passes for 150 yards and two touchdowns for a 122.2 passer rating. He littered the middle of the field with strong throws and had no trouble finding success downfield, completing eight passes for 158 yards and a touchdown on passes targeted at least 10 yards past the line of scrimmage.
5. AJ Dillon, RB, Boston College
No Power-5 running back has broken or avoided more tackles than Dillon to this point as the Boston College running back has totaled 19 missed tackles forced on just 59 carries. Maybe a more accurate depiction of his true skillset, Dillon has also gained 247 yards after contact this year and accumulated 17 first downs and another four touchdowns, proving his willingness to fight for extra yards and his penchant for staying up after contact.
AJ Dillon (@ajdillon7) everyone. This is the kind of run you see on Heisman Trophy montages. pic.twitter.com/r1kexKOuCI

— Cam Mellor (@PFF_Cam) September 8, 2018
He already has the Heisman highlight-reel moment for his carry against Holy Cross but that play is no anomaly. Watch any Boston College game this season, and you'll see similar runs throughout.
6. Nick Bosa, Edge, Ohio State
There's not much more you can say about our No. 1 player for the 2019 NFL Draft, our No. 1 player entering the 2018 season or our highest-ranked defensive player on the Heisman Watchlist. Bosa wins at will, earning a 30.9 percent pass-rush winning percentage, higher than any other FSB edge defender. Unfortunately for Bosa, his teammate in Haskins will largely get credit if the Buckeyes keep winning and an abdominal injury will keep him out of this week's contest where he likely could have added to his sack totals, something he'll need to do to stay on the national watch list. We, however, grade every play from every game and can truly pull out generational talents, and Bosa is that generational talent.
7. Drew Lock, QB, Missouri
Lock hails from the Missouri offense where he's found plenty of success with short, underneath passes as well as man-coverage heaves down the sidelines. His arm strength is undeniable as is his ability to 'wow' the crowd, evidenced by his eight big-time throws this season. He'll have to cut out the turnover-worthy passes (three in 2018), especially as SEC conference play heats up, but if he can do that and continue to put up the video-game-like numbers he's been able to so far, Lock could supplant his positional counterparts on this list.
8. Deionte Thompson, S, Alabama
The way the Heisman Trophy is handed out nowadays, it's going to take a mammoth effort for a defensive player to win the coveted award. Thompson is well on his way to that mammoth effort,  recording all the plays you'd want from a defensive winner of the Heisman. Currently our highest-graded safety at 94.0, Thompson has a sack as a blitzer, has forced a fumble, made three stops for an offensive failure in run defense and on 108 snaps in coverage has been targeted nine times as the primary defender. He's made a play on the ball more times than he's allowed a reception as he has two interceptions and three pass breakups to his name, compared to just four receptions allowed. He keeps this kind of effort up against a few more SEC opponents and those outside of PFF and Tuscaloosa will start to understand his belonging here.
9. Justin Herbert, QB, Oregon
Hampered by a slow start against San Jose State last week, Herbert had an off day on Saturday night. Still, he connected on four deep passes to receivers for 106 yards and two touchdowns as he holds one of the nation's highest deep passing grades. We at PFF credit Herbert for the throws he's made as opposed to the result of the pass and his five passes dropped by receivers on deep balls are two more than any other quarterback this season. With a little more help from his supporting cast, Herbert rockets up this list due mainly to his ability to manage the game and his ability to hit the deep shot.
10. A.J. Brown, WR, Ole Miss
I think everyone in the Oxford community will want to forget about the Alabama game this past weekend but the truth is for Brown, he goes as his quarterback allows him to go. He was stuck in neutral for most of the game against the Crimson Tide as he rolled to a 4-reception, 34-yard performance as Jordan Ta'amu (and the entire Ole Miss offense) was stymied. Still, that game shouldn't go down as an accurate depiction of the star receiver's true ability on a pass pattern or with the ball in his hands.
Prior to the Alabama game, Brown hauled in 13 receptions for 251 yards and three touchdowns, averaging 19.3 yards per reception. Basically, every time Brown caught the ball in the first two games, it went down as an explosive play (plays of 15 yards or more). If he can catch that same explosive fire that he had in the first two contests and put this Alabama game in the rear-view mirror, Brown keeps his place on this list.
Others in consideration
Benny Snell, RB, Kentucky
McKenzie Milton, QB, UCF
Darrell Henderson, RB, Memphis
Laviska Shenault, WR, Colorado
JJ Arcega-Whiteside, WR, Stanford