Tyson Campbell, a true freshman and former five-star recruit, started opposite of future first-round pick DeAndre Baker at outside cornerback for much of last season, but he was benched sporadically in favor of redshirt freshman Eric Stokes Jr. due to inconsistencies in his performance.
Stokes, a former track star and just a three-star recruit coming out of Georgia's Eastside High School in 2017, took full advantage of the infrequent opportunities and should build on his 2018 successes as a full-time starter this upcoming season.
This story is brought to you by Eckrich, the Official Smoked Sausage of the College Football Playoff.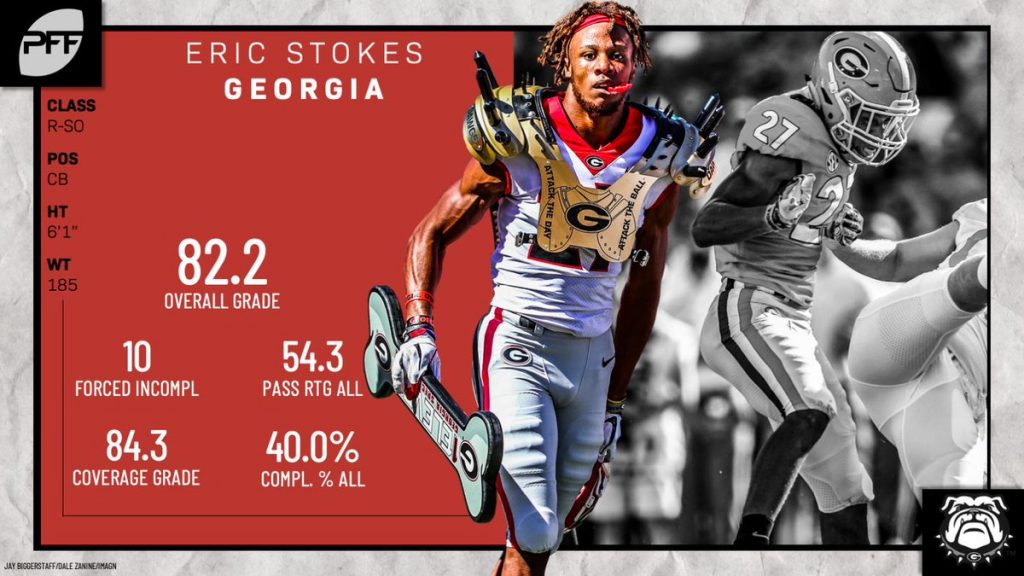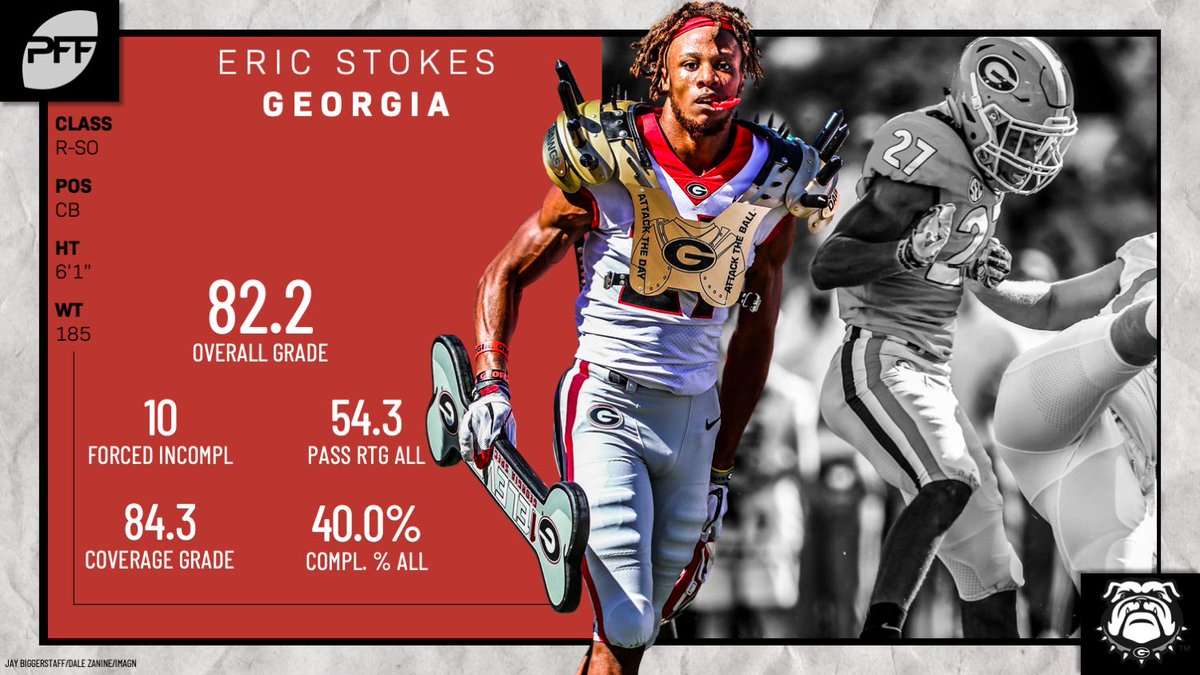 At 6-foot-1, 185 pounds, Stokes possesses great size with legit track speed. At Eastside, Stokes won multiple track championships as a sprinter and clocked an impressive 10.39s 100M and a 21.46s 200M as a senior in 2017.
But it isn't just his speed that warrants praise. Georgia coach Kirby Smart commended Stokes for his brains, not his pace, toward the end of last season.
"He's just smart," Smart said in November, per 247Sports. "He's really bright. He understands leverage, he understands coverages. You tell him something once and he goes out to practice and does it. A lot of the guys needs reps and reps; Stokes gets it in the meetings. He's very bright. He's very diligent."
Stokes allowed receptions on just 10-of-25 targets for 113 yards, zero touchdowns and six first downs across his 211 coverage snaps in 2018. Among the 197 Power-5 cornerbacks with 200-plus coverage snaps played a year ago, Stokes ranked 17th in coverage grade (84.3), tied for fifth in completion percentage allowed (40%), first in forced incompletion percentage (40%) and sixth in yards allowed per coverage snap (0.54). Stokes' 46.7% forced incompletion rate on targets of 10-plus air yards also led all qualifying Power-5 cornerbacks in 2018.
Against Texas' Collin Johnson, easily Stokes' toughest matchup of the 2018 season, the UGA standout allowed just three receptions on five targets for 40 yards and one first down. No other receiver totaled more than 28 receiving yards against Stokes in a single game.
Georgia's Eric Stokes Jr. led the nation in forced incompletion percentage (40%) a year ago and allowed just 10 receptions for 113 yards in the process.

ESJ (@_jamane_) is a breakout candidate in 2019, imo. pic.twitter.com/5TxQjdzf63

— Austin Gayle (@PFF_AustinGayle) July 1, 2019
In Georgia's final two games of the season against Alabama and Texas, Stokes allowed just three receptions to Johnson for 40 yards from seven total targets and 77 total coverage snaps in the two games combined. He rose to the occasion on what were two of the biggest stages of his collegiate career, picking up three forced incompletions while covering a combination of Johnson, Henry Ruggs III and DeVonta Smith.
While the sample size is small, Stokes specifically thrived in man coverage concepts (2-Man, Cover-1 and Cover-0) when UGA dialed them up this past season. He allowed just one reception from seven targets for three yards and picked up four forced incompletions across 65 coverage snaps in man coverage looks a year ago, earning an impressive 83.8 coverage grade in the process.
Sample size is still a legitimate concern across the board for Stokes. Prioritizing track and field, he didn't commit to football full time until just recently, has played just 211 total coverage snaps in his collegiate career and played 20 or more total defensive snaps in just seven games. He needs to show he can dominate across a larger sample size to truly emerge as an elite talent at the college level, but he's given us no reason to doubt him early on.