Last week was a good week, as we got Ohio State (+4.5) and Boise State (-2.5) thanks to a last-second touchdown to seal a win and (more importantly…) a cover. We're now 7-7 on our Picks of the Week after our first two-pick week ended 2-0 (and 8-6 on all of our picks against the spread). The cupboard is a bit bare for championship weekend, and given that we have not done well on totals (0-4 last week), we're only going to give our spread picks for this week.  
As we do each week, our pick(s) of the week will get the point/counterpoint analysis, and the rest of our picks printed below. A reminder that you can follow us on twitter at @BrownBenjamin22 and @PFF_Eric and listen to the PFF Forecast with Eric Eager and George Chahrouri here.
Utah versus Washington (-5)
Pick: Washington 28 – 21 (Washington covers)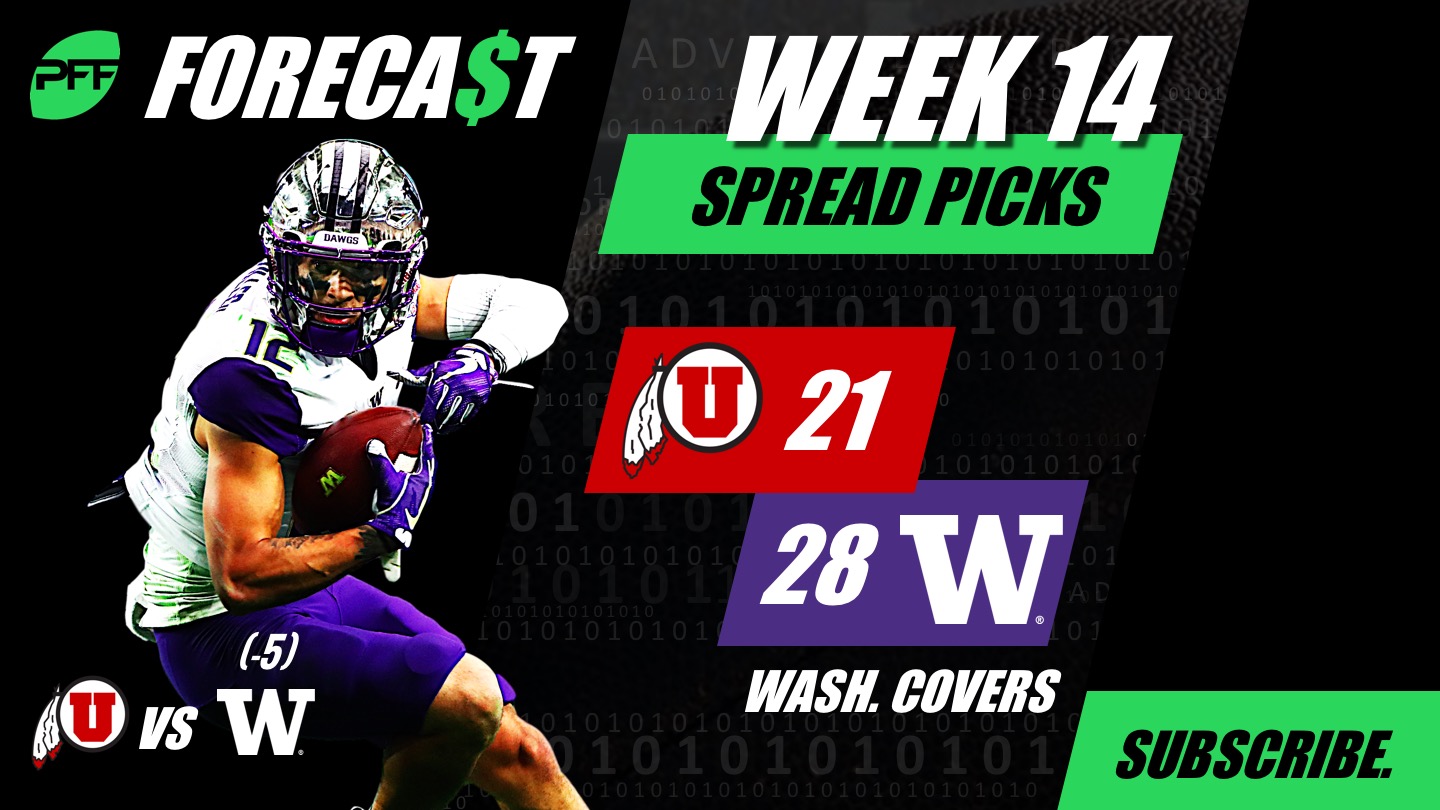 Point (Ben Brown): It is a little nerve-racking laying 5 points in a neutral site game with two defenses playing as well as Utah and Washington have. Both defenses rank first and second in the Pac-12 in early down pass defense, respectively, with Utah allowing a successful pass on 39% of early-down attempts while the Huskies have allowed success 42% of the time. This game will come down to the productivity of the offenses and though the Huskies haven't exactly performed at an elite rate they still have the personnel in place to be efficient on Saturday. The Utes, on the other hand, are missing both Tyler Huntley and Zack Moss, the only two key players who have stood out offensively for Utah. If the Huskies can get Aaron Fuller involved early they should be able to do enough offensively to not have this turn into a 12-10 debacle.
Counterpoint (Eric Eager): Backing Washington has been a grind this year, with their record well below 0.500 when installed as a favorite. Jake Browning has been a Cluster 2 quarterback so far, with just enough erratic plays to leave him out of the conversation for being an elite signal-caller at the college level. This is a low total, in many ways due to Washington's stout defense, but also because Utah has been very good there as well. Utah is first in the Pac 12 in early-down passing (-0.2 EPA per play) and rushing (-0.22 EPA per play). Five is a big number to cover in such circumstances, and although I think Utah's issues at quarterback are reason enough to back Washington, the number worries me a bit.
Fresno State at Boise State (-2.5)
Pick: Boise State 28-24 (Boise State covers)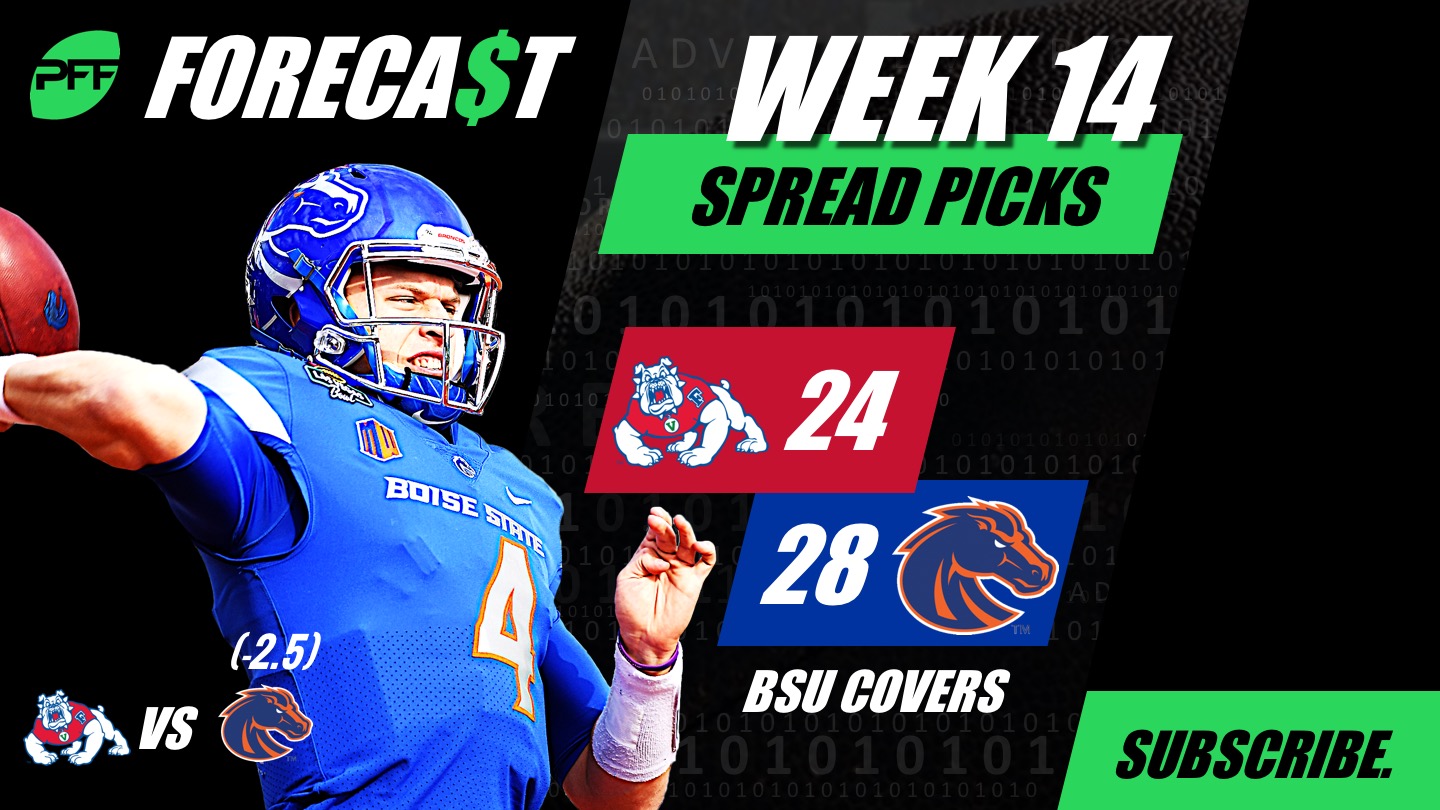 Point (EE): Boise State has been good to us in recent weeks, and in large part due to Cluster 1 quarterback Brett Rypien, who has guided the BSU offense to over a 50% success rate on early-down passes over the course of the season. While Fresno State has been terrific, leading the Mountain West in early-down passing efficiency both offensively and defensively, they have faced the country's 93rd-most difficult schedule in terms of PFF ELO (Boise 71st) and Marcus McMaryion, while playing well, has been a cluster below Rypien as a result. Boise's defense (allowing -0.13 EPA on early-down passes and -0.12 EPA on early-down runs) at home should be able to do enough for their offense and Rypien's conference-best percentage of positively-graded throws (30.9%) to give them a chance to win the conference title Saturday night.
Counterpoint (BB): As good as Rypien has been, McMaryion has matched him in almost every category, posting a higher EPA per dropback with a lower percentage of attempts being a turnover-worthy throw. McMaryion has received a much higher share of production from his pass-catchers with 57% of his total passing yards coming after the catch. KeeSean Johnson is quite simply one of the best wide receivers in the FBS and the Broncos defense has no answer for him. At any point, this duo is capable of breaking a game wide open. The Broncos have been adequate in pass coverage but still, allow a successful play on 45% of early-down attempts. With Fresno State having the better defense, this game should never be out of reach. Pair that with a capable quarterback and an NFL-ready wide receiver and this game should come down to the last possession with the Bulldogs having all the pieces in place to pull off a late-game upset and secure the Mountain West crown.
All spread picks (Lines as of Thursday morning)
Washington (-5) versus Utah
Middle Tennessee (-1.5) versus UAB
UCF (-3.5) versus Memphis
Boise State (-2.5) versus Fresno State
Northwestern (+14) versus Ohio State
Pittsburgh (+28) versus Clemson
Georgia (+14) versus Alabama