It was a good week for our  PFF ELO rating system, as Michigan (sixth going into the week) lost outright to Ohio State, putting some perceived distance between them and the top five teams vying for playoff contention that was already apparent to our model. Five (real) contenders remain for the four spots in the College Football Playoff, leaving us with an interesting week ahead.
Like all ELO systems (including our version for the NFL), PFF ELO is an iterative system that updates each team's rating after each game based on two things: how well they played against their opponent and how well they were expected to play against their opponent. The PFF ELO rating system measures the former using our unique offensive, defensive and special teams grades, while the latter is determined by the PFF ELO ratings leading up to the game and where the game is played.
For example, a heavy favorite playing at home is expected to outplay the visitor, so a victory would result in only a small rise in their PFF ELO rating and a similarly-small decrease in the defeated team's. However, if an upset were to happen, the visiting team would see their PFF ELO rating rise substantially, and the home team's see a similarly-sized drop.
Sometimes in football, the best team does not win, and PFF ELO accounts for these oddities by using our grades. Hence there will be teams rated higher or lower in this system than their win-loss record would suggest.  Since PFF began charting college football in 2014, the difference in PFF ELO values alone has been able to explain over three-fourths of the variance in the closing Vegas line. Check back to profootballfocus.com for weekly college spread picks using this model and check out PFF Greenline for our NFL version of the product.
The PFF ELO College Power Rankings are brought to you by Eckrich, the Official Smoked Sausage of the College Football Playoff.
1.

The Crimson Tide is all but guaranteed a spot in the College Football Playoff, even with a trip up against a strong Georgia team. After adjusting to market data, we give Georgia roughly a 25-30% chance to take down Tua Tagovailoa and company in the SEC Championship Game, a narrative that would indeed make a possible rematch come playoff time all the more intriguing.  
2.
We have Clemson with over a 95% chance to take care of Pittsburgh on Saturday and hence secure both the ACC title and a spot in the College Football Playoff. They are the second team to eclipse 1800.0 as a rating this year, distancing themselves a bit from both Notre Dame and Georgia/Oklahoma.
3.
Notre Dame likely clinched their first-ever spot in the College Football Playoff with a win at USC last Saturday. Allowing less than 40% of both early-down passes and runs to be successful will certainly help them come playoff time, but their relative lack of efficiency offensively (just +0.11 EPA on early-down passing plays and -0.01 on early-down runs) might leave them grasping should they get in a shootout with the likes of Alabama, Clemson, Georgia/Oklahoma/Ohio State.
4.

We give Georgia roughly a 25-30% chance to win against Alabama in the SEC Championship Game, and if you add up the possibilities of Texas and/or (maybe or?) Ohio State losing as well, that gives them roughly a 50% chance to team with the Crimson Tide in representing the SEC in the College Football Playoff.  
5.
We give Oklahoma roughly a 70% chance to earn the Big 12 title and a possible shot at the College Football Playoff should Georgia falter and the committee properly judge a one-loss Ohio State outfit. Kyler Murray has been one of, if not the most impressive quarterback in college football so far this year. His inclusion in the playoff would be highly entertaining, especially if this is (as has been reported) his last act as a football player.
6. 

UCF lost Heisman hopeful McKenzie Milton to a gruesome knee injury in their win against rival South Florida. The Knights simply are not the same team with Darriel Mack Jr. at quarterback. Expect a heavy dose of Greg McCrae in the AAC Championship Game. He averaged 4.31 yards after contact on Friday and forced five missed tackles but they are now on the outside looking in at the playoff picture with the committee taking into account the loss of Milton.
7.

Penn State capped off conference play with a dominating performance at home against Maryland. Once again the Nittany Lions relied on their rushing attack which has generated an EPA per attempt of 0.15 in 2018. Quietly, they have one of the best defenses in the country with a successful pass allowed on only 36% of early-down attempts. This is second in the Big Ten to the vaunted Michigan coverage unit.
8.
The Buckeyes scored their signature win, routing Michigan at home on their way to 62 points against one of the best defenses in the country. Ohio State averaged a ridiculous 9.6 yards after the catch per attempt and had only 6% of pass attempts contested on Saturday. They played a nearly flawless game but still find themselves on the outside looking in at the top four. A win against Northwestern in the Big Ten title game will still leave them short of the playoff race.
9.

The Broncos secured their place in the Mountain West title game with a win at home against Utah State. They will face off against a Fresno State team that has one of the best defenses in the country, allowing a successful pass on 40% of early-down attempts and successful rush 36% of early-down attempts. If the Broncos want to win and secure a New Year's Six bowl game, Brett Rypien will need to continue to perform at the level he has shown all year as 6.2% of his attempts have been big-time worthy with 52% of early-down pass attempts being successful from an EPA standpoint. Our model gives the Broncos a 61% chance of beating Fresno State on Saturday and winning the Mountain West crown.
10.

After being lower than most consensus models on Michigan, our reservations were justified as the Wolverines couldn't do anything to slow down the Buckeye passing attack. After successfully limiting yards after the catch all season, the Wolverines were exposed on crossing routes, giving up 95 yards after the catch on five completions. Shea Patterson has been exceptional for the Wolverines but with a PACR of only 0.89, he simply isn't getting the help downfield from his pass-catchers that a quarterback like Dwayne Haskins is receiving. Good offense will continue to beat good defense and the Wolverines passing attack is nowhere near as prolific as the Buckeyes, especially this past Saturday.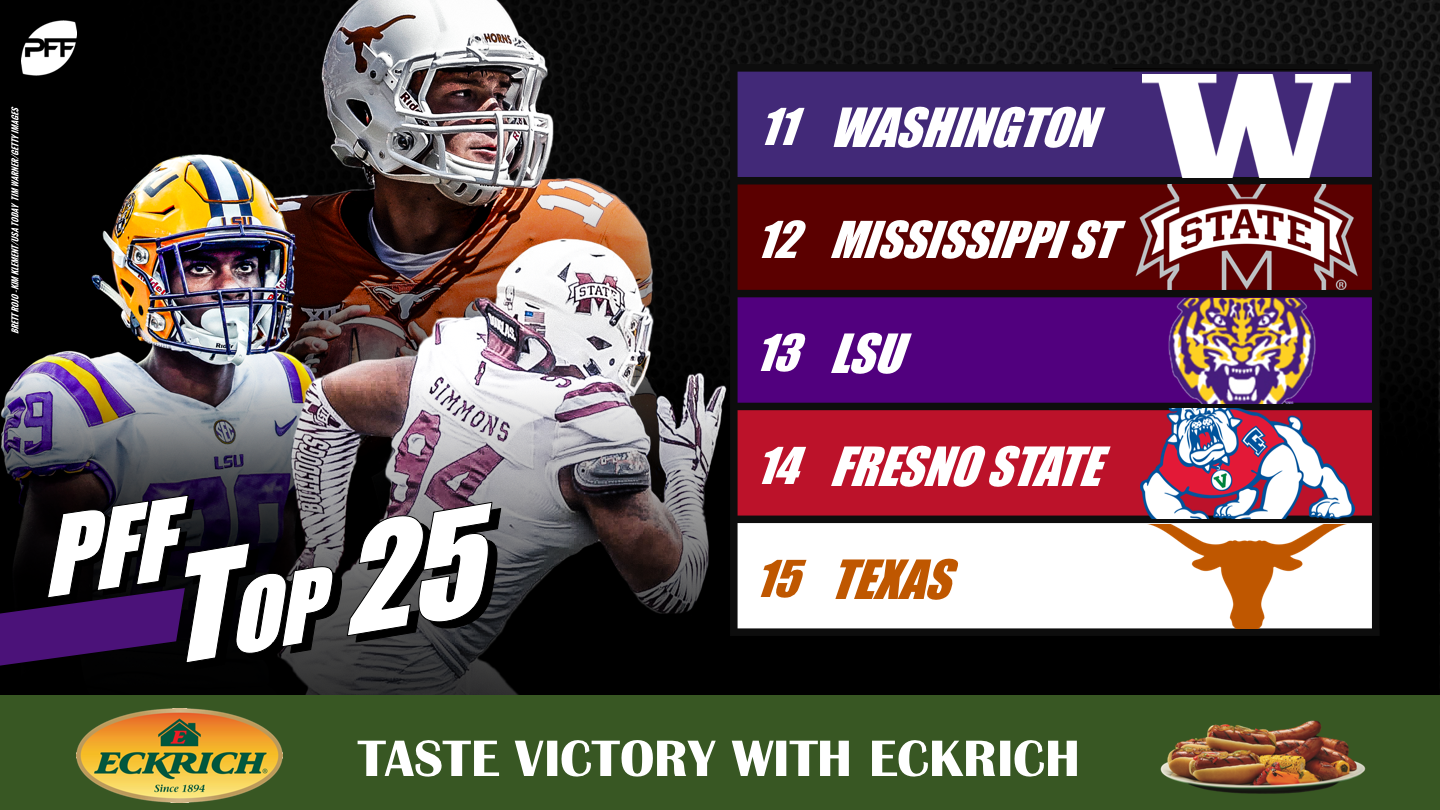 11. Washington (+3)
12. Mississippi State (+4)
13. LSU (-1)
14. Fresno State (+3)
15. Texas(-)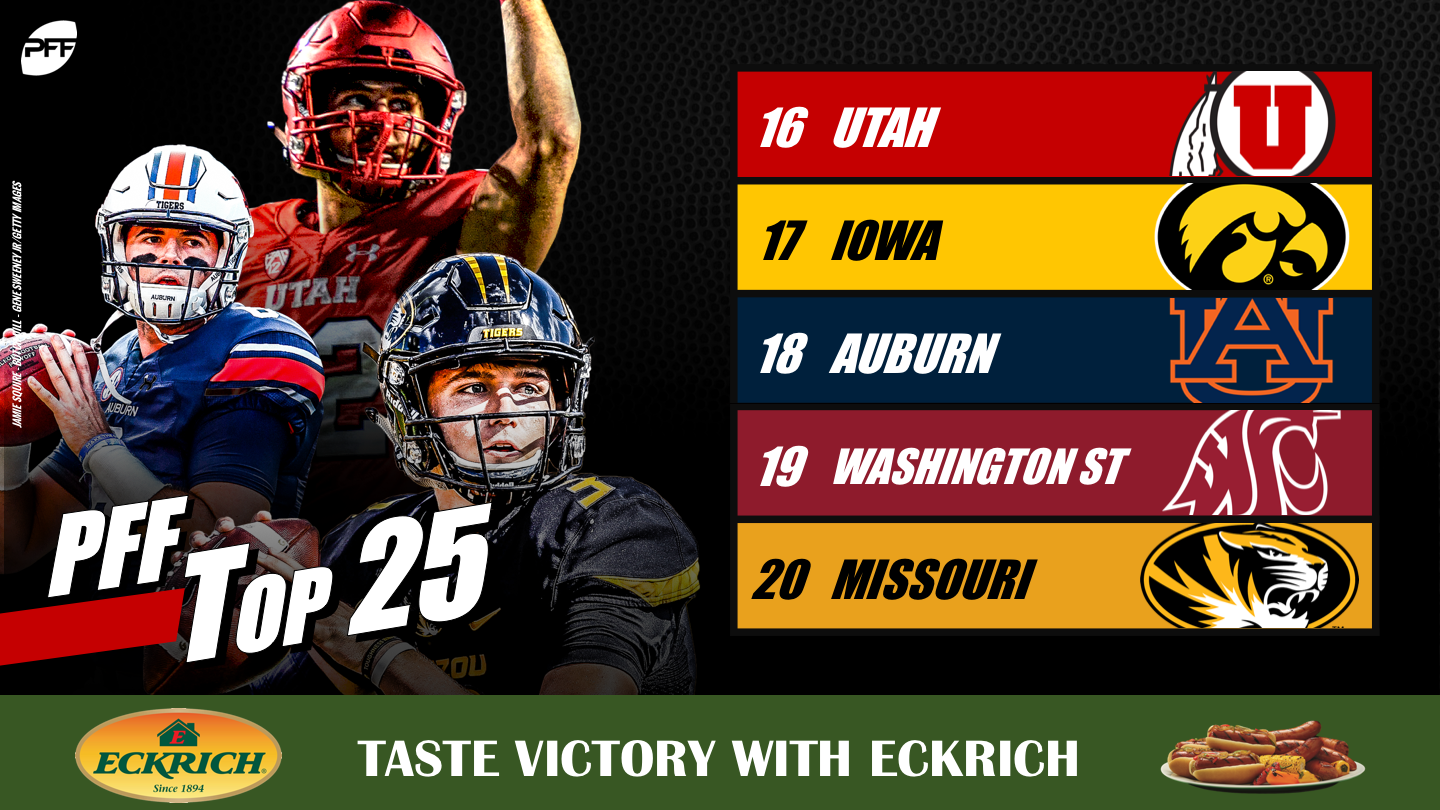 16. Utah (+2)
17. Iowa (+7)
18. Auburn (-5)
19. Washington State (-8)
20. Missouri (-)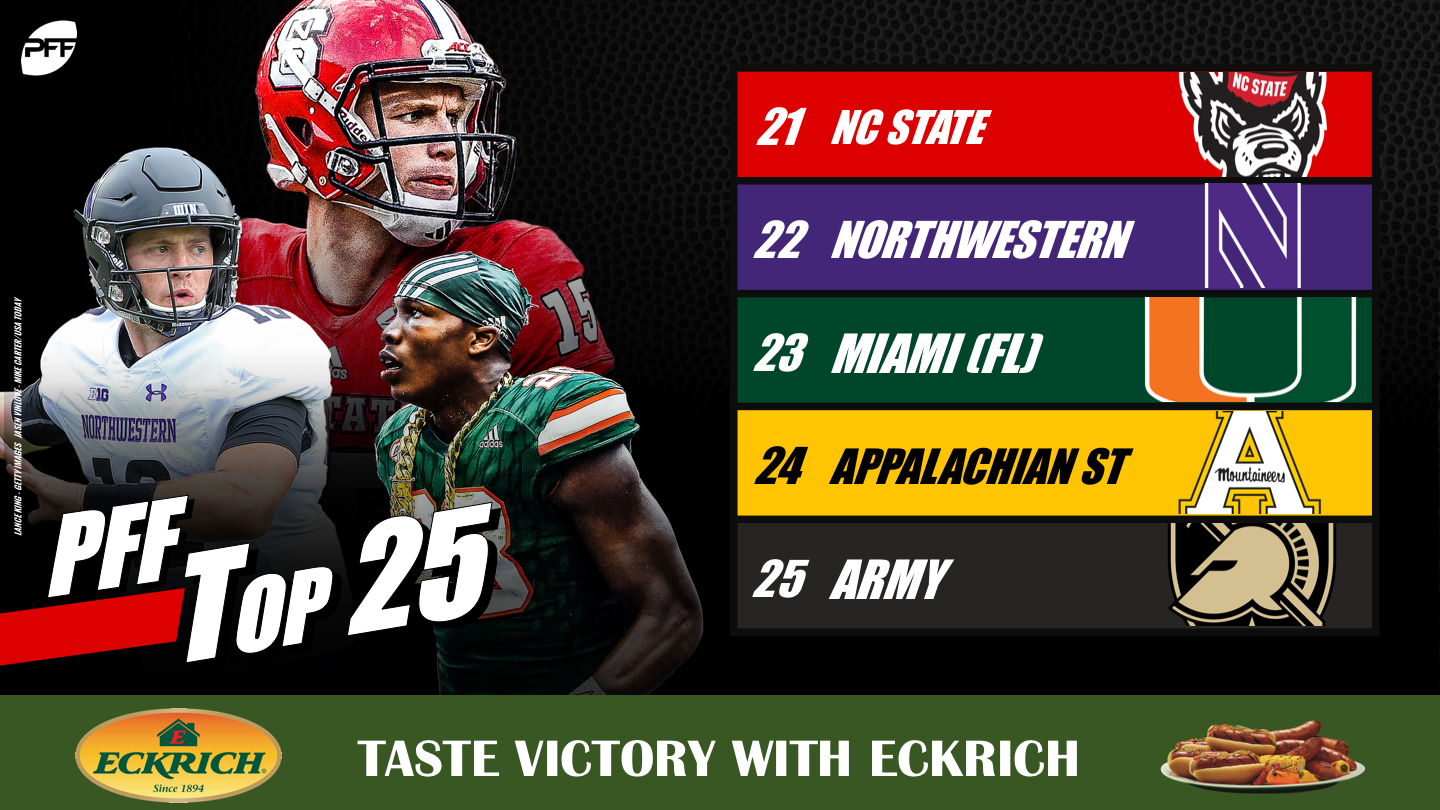 21. NC State (-2)
23. Northwestern (-)
23. Miami (Fla.) (+17)
24. Appalachian State (-2)
25. Army (-4)