We continue to be an arm's length away from a good record on our College Pick of the Week, with Cincinnati at UCF over 59.5 foiled by three missed field goals and a dropped touchdown pass on fourth down. While the loss dropped us to 5-7 on our Pick of the Week, we were 9-5 on our other 14 picks last week, including 8-3 against the spread, despite failing to get closing line value (or negative closing line value) on many of those picks. A weird season continues.
This week we're going to go with two picks, backing two home teams in Ohio State and Boise State in big spots. As we do each week, our Pick of the Week will get the point/counterpoint analysis, and the rest of our picks printed below. A reminder that you can follow us on twitter at @BrownBenjamin22 and @PFF_Eric and listen to the PFF Forecast with Eric Eager and George Chahrouri here.
Michigan at Ohio State (+4.5)
Prediction: Ohio State 28-27 (Ohio State covers)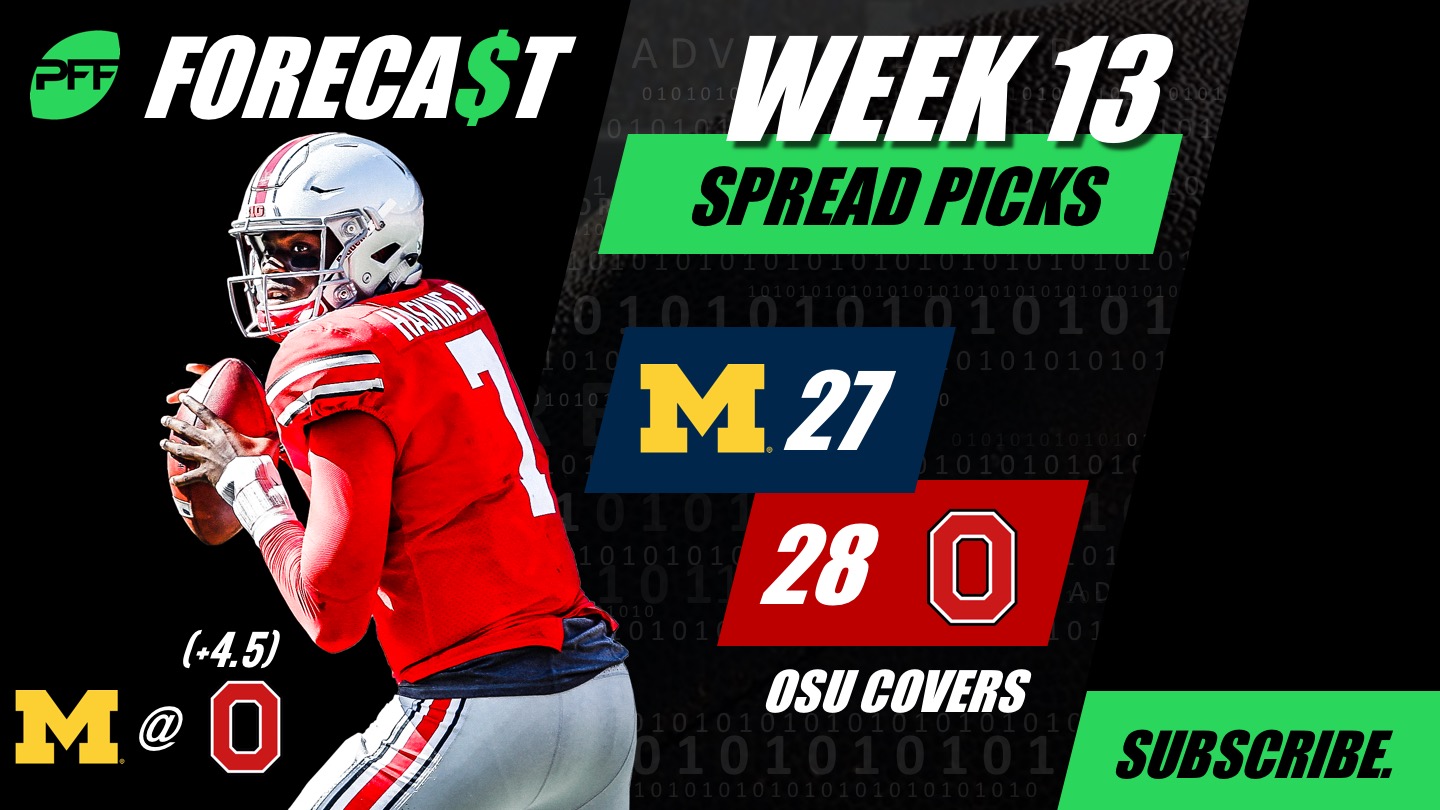 Point (Eric Eager): While Michigan has been terrific defensively, allowing -0.35 EPA on early-down passing plays (best in the Big Ten), Ohio State represents a rare passing offense that can match wits, leading the Big Ten in early-down passing efficiency. Dwayne Haskins has not graded as well as Shea Patterson, but his PACR is almost a quarter of a yard higher than the Michigan quarterback's, meaning that his weapons have been a lot more effective in terms of turning his opportunities into big plays. Ohio State has been decent defensively stopping the run, allowing -0.12 EPA on early downs there, meaning that they simply have to shore up their passing defense against a plotting Michigan passing offense to close the gap here, and we think they can.
Counterpoint (Ben Brown): Although it is possible that this game simply comes down to the play of Ohio State's pass defense, games typically are decided by the strengths of those involved. In that line of thought, this game could come down to the performance of the Buckeyes pass-catchers needing to generate yards after the catch against Michigan's stout secondary. Dwayne Haskins has the 13th-lowest rate of contested throws per attempt in the FBS while benefiting from an average of 4.5 yards after the catch. Michigan's pass defense contests attempts at the 10th-best rate in the country while allowing a mere 2.3 yards after catch per attempt, fifth in the nation. If the Wolverines can disrupt the quick passing attack of the Buckeyes early, it could cause Haskins to press and force turnover-worthy throws, something he has done on 2.2% of dropbacks. Since offense > defense, I would side with Eric and believe Haskins and his group of pass-catchers creates enough separation to cover 4.5 at home.     
Utah State at Boise State (-2.5)
Prediction: Boise State 37-30 (Boise state covers)
Point (BB): The Broncos check in as the 10th-best team in the country in our current rankings while Utah State is outside the top 25. Our model has a considerable disagreement with others on both teams in this matchup. The simple reason we are so high on Boise State is the play of Brett Rypien. He has graded well on NFL type throws with 31.1% of his total attempts receiving a positive grade and 6.7% of attempts being considered big-time. Though he has an average depth of target of 10.4, his contested throw percentage is the third-lowest rate in the country. This demonstrates his tremendous ability to get through his reads while finding a pass-catcher downfield and putting the ball in a position where only he can catch it. Defensively if the Broncos can continue to apply pressure at one of the best rates in the country they should have no trouble slowing Jordan Love enough times for Rypien to cover at home.
Counterpoint (EE): Utah State has feasted off of an easy schedule, but they've taken care of business at every point, making this an "absence of evidence or evidence of absence?" question as these two fight for a spot in the Mountain West title game. While Rypien has indeed been the best player at the quarterback position in the conference, Love is next – generating a 0.30 EPA on his dropbacks and a positively-graded throw rate over 25%. Their defense is second in the conference in defensive efficiency on early-down passes and efficiency on early-down runs. While I think we both like Boise here in this spot, Utah State is no cupcake. This should be a good one if you dare to stay up late and watch.
Other Spread Picks (Lines as of Wednesday):
Ohio State (+4.5) versus Michigan
Boise State (-2.5) versus Utah State
Penn State (-13.5) versus Maryland
Florida State (+6) versus Florida
Ole Miss (+11) versus Mississippi State
Bowling Green (+14.5) versus Buffalo
Virginia Tech (+4) versus Virginia
TCU (+5) versus Oklahoma State
Tulane (-7) versus Navy
Oklahoma (-2.5) at West Virginia
Syracuse (+7) at Boston College (if Eric Dungey plays)
SMU (-2.5) at Tulsa
LSU (+3) at Texas A&M
Iowa (-7) at Nebraska
Over/Under Picks:
SMU at Tulsa OVER 57.5
Baylor at Texas Tech OVER 65
UCF at USF OVER 68.5
Houston at Memphis UNDER 75.5