For the second time in three weeks, our Pick of the Week (Texas (-1.5)) survived a furious comeback to get us to the window. We're 5-6 (45.5%) on these picks so far this year, after a rough mid-season stretch. The picks below have struggled in recent weeks, but are getting closing line value on over 60% of picks overall and about 61% of picks against the spread. 
This week's set of picks is a bit light, but we're going to go with the over in Orlando. As we do each week, our Pick of the Week will get the point/counterpoint analysis, and the rest of our picks printed below. A reminder that you can follow us on twitter at @BrownBenjamin22 and @PFF_Eric and listen to the PFF Forecast with Eric Eager and George Chahrouri here.  
Cincinnati at UCF (over/under 59.5)
Prediction: UCF 35, Cincinnati 27 (OVER hits)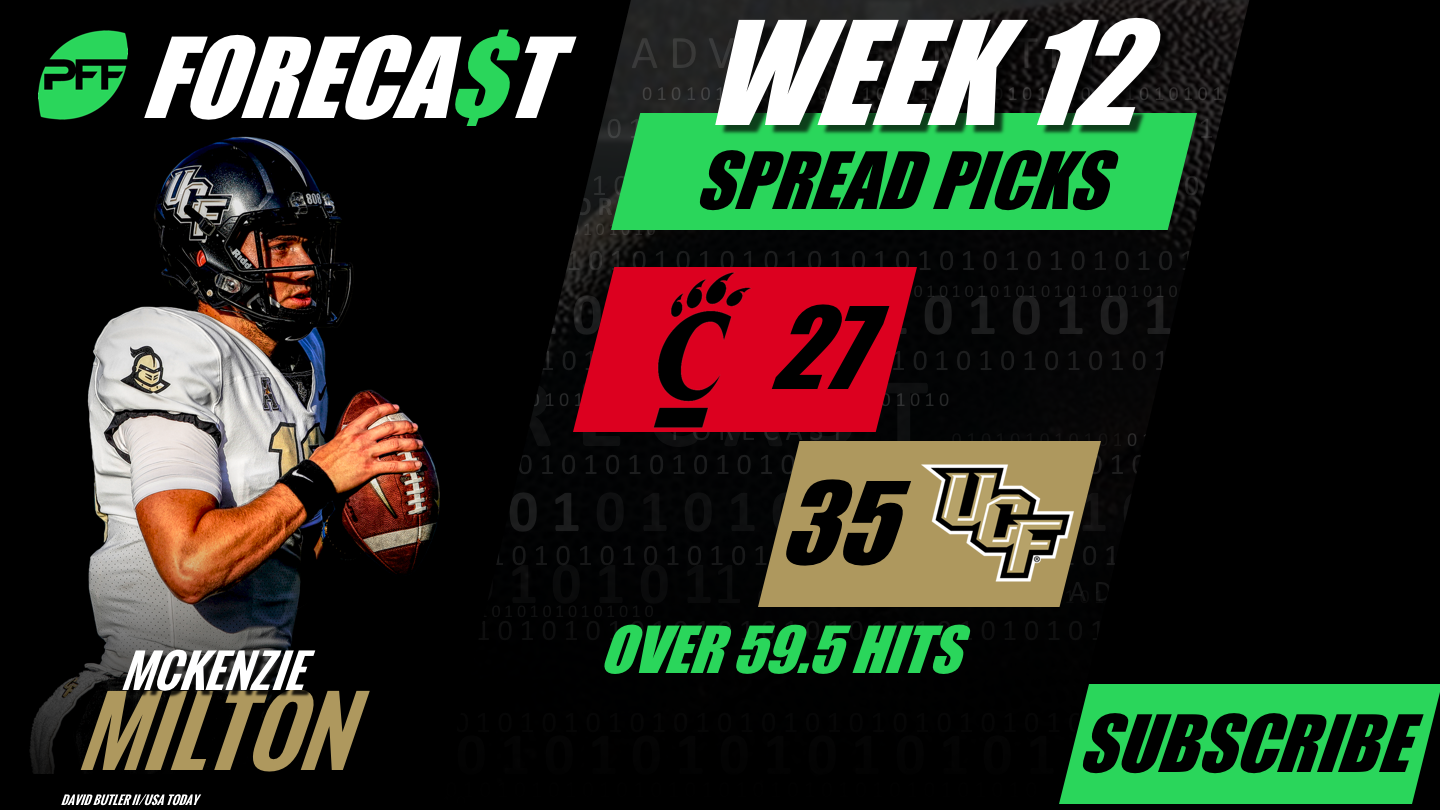 Point (Ben Brown): With UCF operating one of the most efficient passing attacks in the FBS, we have seen only one of their games with a total this short in 2018. That was their matchup against Temple at home which turned into a 52-40 shootout where UCF almost covered the over on their own. This week appears to be shaping up in a similar fashion. Cincinnati is coming in with some of the best defensive metrics in the AAC but appear to be somewhat overstated as they haven't played any of the top three offensive teams in the conference yet. This is the last real test for UCF and is a statement opportunity before their fate is decided by things outside of their control. As such, the expectation is that they start fast, looking to move the ball and highlight why they should be considered one of the best teams in the country, by operating one of the best offenses in the country. If they pick up a couple scores quickly, the Bearcats will be forced to get more aggressive offensively leading us to a shootout and a quick cover of the over in Orlando Saturday night.  
Counterpoint (Eric Eager): Most of the focus here (as it should be) will be with the 7-point favorite, UCF, and their ability to put up 35 or more points in all but one game this year (in which they put up 31). The Bearcats, however, have played some of their more highly-contested games (i.e. versus Temple and UCLA) in the 40s, with a defense that is second in the AAC in early-down success rate allowed against the pass (39.65%) and first against the run (33.19%). UCF has had their share of difficulties defensively, but are in the middle of the pack in the AAC in those success metrics as well, meaning that if UCF's offense isn't completely on their game in this one, forcing Cincinnati to be aggressive as a result, the two-plus touchdowns needed per quarter to go over this number might be a difficult pace to hold as the Knights look to extend their national-best win streak.  
Spreads (Lines as of Wednesday Evening):
Kansas State (+6) versus Texas Tech
SMU (+9) versus Memphis
Texas (-3) versus Iowa State
Colorado (+7) versus Utah
UCF (-7) versus Cincinnati
Virginia Tech (+5.5) versus Miami (FL)
Northwestern (+1) at Minnesota
Florida International (-6) at Charlotte
Ohio State (-14.5) at Maryland
USF (+14) at Temple
Michigan State (+2.5) at Nebraska
San Diego State (+13) at Fresno State
Stanford (-2) at Cal
Over/Unders:
Cincinnati at UCF OVER 59.5
San Diego State at Fresno State OVER 42.5
Iowa State at Texas OVER 46.5
Boise State at New Mexico UNDER 63