Who's the best quarterback when facing a blitz? How about throwing a slant route? Who's the toughest running back to tackle in college football? On defense, who's the best run-stuffer and interior pass-rusher (hint: It's the same person, he's very large and he plays for Alabama).
Pro Football Focus has crunched all the numbers and has come up with college football's best at just about everything. You'll see a lot of familiar names in here, but also some surprising ones.
[Editor's Note: This article was first published as part of Pro Football Focus' partnership with ESPN+.]
Best overall grade – offense
Kyler Murray, Oklahoma – 96.3
Murray's road to the Heisman Trophy is one revenge game against Texas away, as he's our clear-cut highest-graded offensive player, regardless of position (next closest is UMass WR Andy Isabella at 93.1). No quarterback has finished a whole season with a grade above 96.0, and the closest quarterback to do so just happened to play quarterback at Oklahoma and won the Heisman Trophy last year, as Baker Mayfield finished the 2017 campaign at 95.2 overall.
Best QB in the pocket
Kyler Murray, Oklahoma
It really doesn't matter where Murray throws the ball from, nor does it matter how, but Murray's in-the-pocket ability has been dominant. On straight drop-back attempts this year, Murray has completed passes at will, sporting a 72.5 percent completion percentage. He's not afraid to launch the ball downfield either, as his in-pocket attempts are targeted past the first-down markers 57.8 percent of the time, tops in the nation. Murray's ability to throw from the pocket, keep his offense on the field and put up points in bunches has been key to Oklahoma's 11-1 record this season as their defense has been suspect, at best.
Best QB out of the pocket
Kellen Mond, Texas A&M
No, his performance in the seven-OT thriller against LSU is not buoying him (too much), Mond has been terrific outside of the structure all season long. On throws from outside the pocket, Mond has littered the field with touch and accuracy, throwing five big-time throws (PFF's highest-graded downfield throws based on ball placement, accuracy and zip, among other factors). Mond's 4:0 TD:INT ratio from outside the pocket is tied for the most touchdowns against no interceptions with Ohio State QB Dwayne Haskins, but Mond sports a much higher average depth of target compared with Haskins at 12.5 to 9.2.
Best tight-window passer
Mason Fine, North Texas
Fine can sling the ball to all levels of the field with accuracy, and taking every throw into consideration, he currently holds the nation's highest accuracy percentage on tight-window throws at 52.6 percent. Developed a few offseasons ago, PFF's ball-charting showcases just how accurate quarterbacks are, and on these tight-window throws, Fine's 36.8 percentage of "perfect" throws is also No. 1 in the country. He's become the country's best at squeezing the ball into tight windows, away from coverage, where only his receivers can find it – and it's time the rest of the nation took notice.
Best red-zone QB
N'Kosi Perry, Miami (Fl.)
There have been 92 FBS quarterbacks to attempt at least 25 passes inside the red zone and Perry tops them all in grade inside the opponent's 20-yard line. While he's been subjected to three dropped passes in the red zone (something that is a common occurrence this year for the Hurricanes), he's thrown for an adjusted completion percentage of 61.5 percent and 11 of his 13 completions have been for a touchdown. He's not been afraid to push the envelope with his throws, showing off his arm strength into tight red-zone windows yet he's taken care of the ball admirably and not made a single turnover-worthy play in the red zone this year.
Best QB when blitzed
Will Grier, West Virginia
Grier has read and diagnosed blitzes this year better than any other quarterback. When the defense sends extra rushers, he's completed 85 of 124 passes for 1,303 yards and a remarkable 22 touchdowns against no interceptions. His 14 big-time throws against the blitz lead the country, as do his touchdowns — as he's been able to find soft spots and holes in coverages despite extra blitzing defenders coming at him.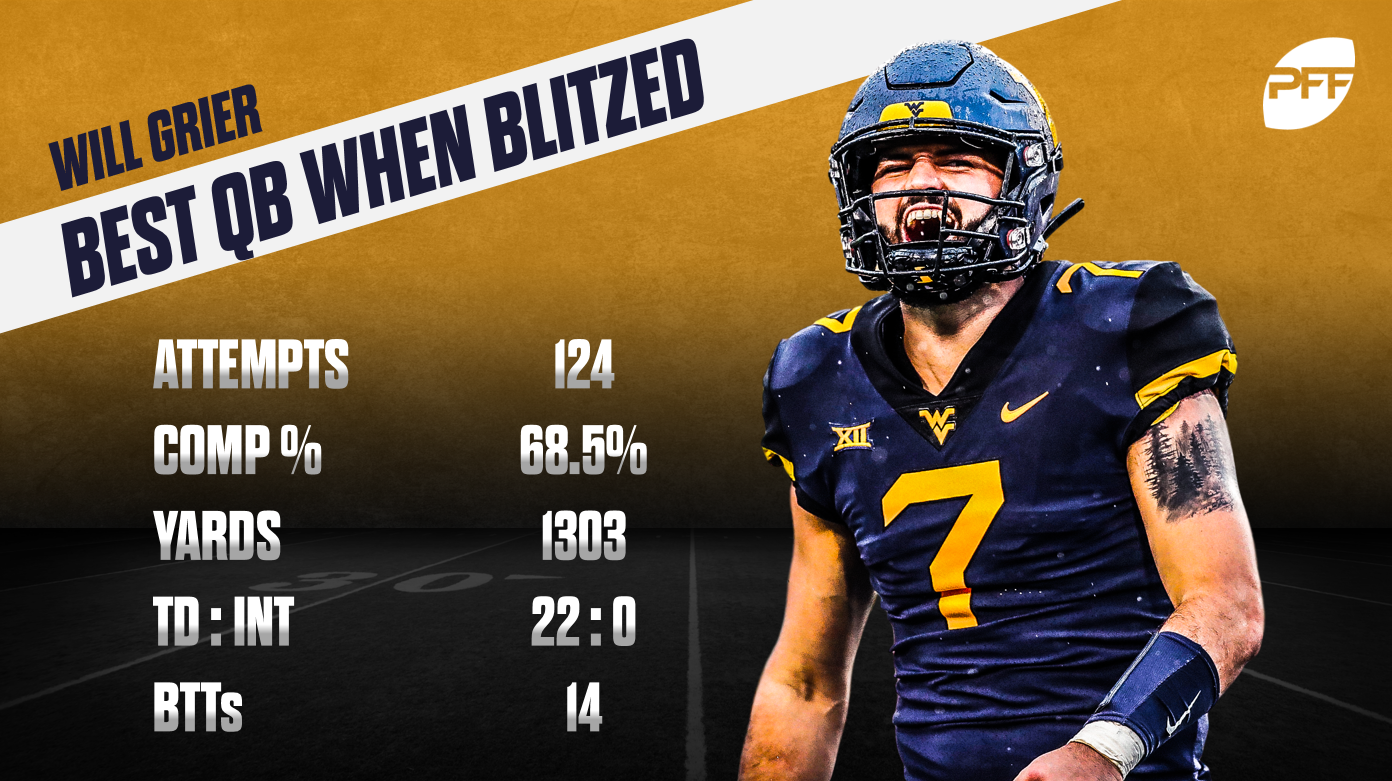 Best QB by route
Out route
Manny Wilkins, Arizona State
By far his best route this season, Wilkins was both highly accurate and anticipatory on out routes this season, leading his receivers away from coverage and connecting on 26 of 35 attempts despite four drops. He averages 9.6 yards per attempt (fourth) and has an adjusted completion percentage of 85.7 percent (sixth). In total, he is one of only 10 quarterbacks to have multiple big-time throws on out routes this season.
Slant route
Taylor Cornelius, Oklahoma State
Cornelius had no trouble connecting with his receivers over the middle of the field. In fact, his 84.0 completion percentage is tops in the nation among qualified quarterbacks as he completed 21 of 25 slants for 274 yards and three touchdowns while not making a single turnover-worthy pass. These weren't just quick and easy slant routes either, averaging a depth of target of 8.1 yards past the line of scrimmage and 11.0 yards per attempt.
In route
Jordan Ta'amu, Ole Miss
Ta'amu finished fourth in the country in total yards generated from in routes at 290, doing so on just 14 completions. His 17.1 yards per attempt on in routes was leaps and bounds above the next closest quarterback who attempted at least 10 such passes and his average depth of target of 10.7 shows that these weren't just dink-and-dunk passes. In fact, 52.8 percent of his yards on in routes came through the air as he found his open receivers down the field with ease on in-route concepts.
Hitch route
J'Mar Smith, Louisiana Tech
While there was some boom or bust to Smith's hitch route throws this season, no quarterback threw more than one big-time throw on the concept while Smith threw two. In total, his 666 yards on hitch routes was good enough for fourth in the country and is a number that should have been much higher. Smith had 10 of his catchable hitch route passes dropped by his receivers, by far the most in the country, a figure so high that it jumps his adjusted completion percentage up to 82.3 percent.
Comeback route
Mason Fine, North Texas
Not the most widely used route on the tree as Fine leads the nation with 17 attempts, to which he's done so with great success, completing 11 of those attempts for 161 yards despite two drops. He's one of only eight quarterbacks to toss a big-time throw on the route as it's been a key component of the Mean Green's ability to move the chains with Fine targeting the route past the first-down sticks on 82.3 percent of his attempts.
Post route
Kyler Murray, Oklahoma
Despite entering the season as the starter with one lone start under his belt, Murray has not been limited when it comes to playcalling and throws downfield. He has averaged a massive 34.3 depth of target on post routes this season as he's connected on 9 of 16 posts for 331 yards and six touchdowns. His six big-time throws on post routes are the third-most as he also didn't unleash a turnover-worthy pass on such routes. Two of his incompletions were dropped, and factoring in his 36.7 yards per completion on post routes, it would give him 404 passing yards, a number that would be good enough for third in the country.
Corner route
Steven Montez, Colorado
Montez led the nation's 66 quarterbacks to attempt at least seven corner routes this season in grade, finishing 5-of-7 for 138 yards and two touchdowns. Of those attempts, three of them were classified as big-time throws, and of his two incompletions, one was dropped, giving him the third-highest adjusted completion percentage of 85.7 percent.
Go route
Will Grier, West Virginia
No college quarterback throws a better go route than Grier, a trend that has continued from a season ago. He leads the nation with 1,207 yards and 24 big-time throws on go routes, doing so without throwing a turnover-worthy pass. In total, he's completed 35 of 68 go routes for 17 touchdowns, averaging a hefty 24.2 yards downfield per target, routinely leading his receivers so well that they've gained 32.8 percent of his passing yards after the catch.
Crossing route
Drew Lock, Missouri
Lock may have the best pure arm out of the 2019 NFL draft-eligible quarterbacks, and he's shown remarkable touch on crossing patterns in 2018. He's completed 23 of 31 passes despite seeing four of his catchable attempts dropped by his receivers. They've gone for 312 yards and two scores as his adjusted completion percentage (essentially taking out the drops) of 87.1 percent is the fourth-highest among quarterbacks who have thrown at least 20 crossers this year.
Best at avoiding mistakes
Trevor Lawrence, Clemson
Every quarterback is going to make mistakes, especially true freshmen quarterbacks making their debuts for one of the top teams in the country, that's just the way it goes. What Lawrence has done in his first collegiate season has gone so much farther than just beating out Kelly Bryant for the starting quarterback position. He has limited mistakes better than any quarterback in the country, currently holding a 20-to-3 advantage in terms of big-time throws to turnover-worthy throws. No other FBS quarterback with 20 big-time throws has thrown less than five turnover-worthy passes as Lawrence has even been subjected to some bad interception luck with one of his interceptions not being credited as a turnover-worthy play.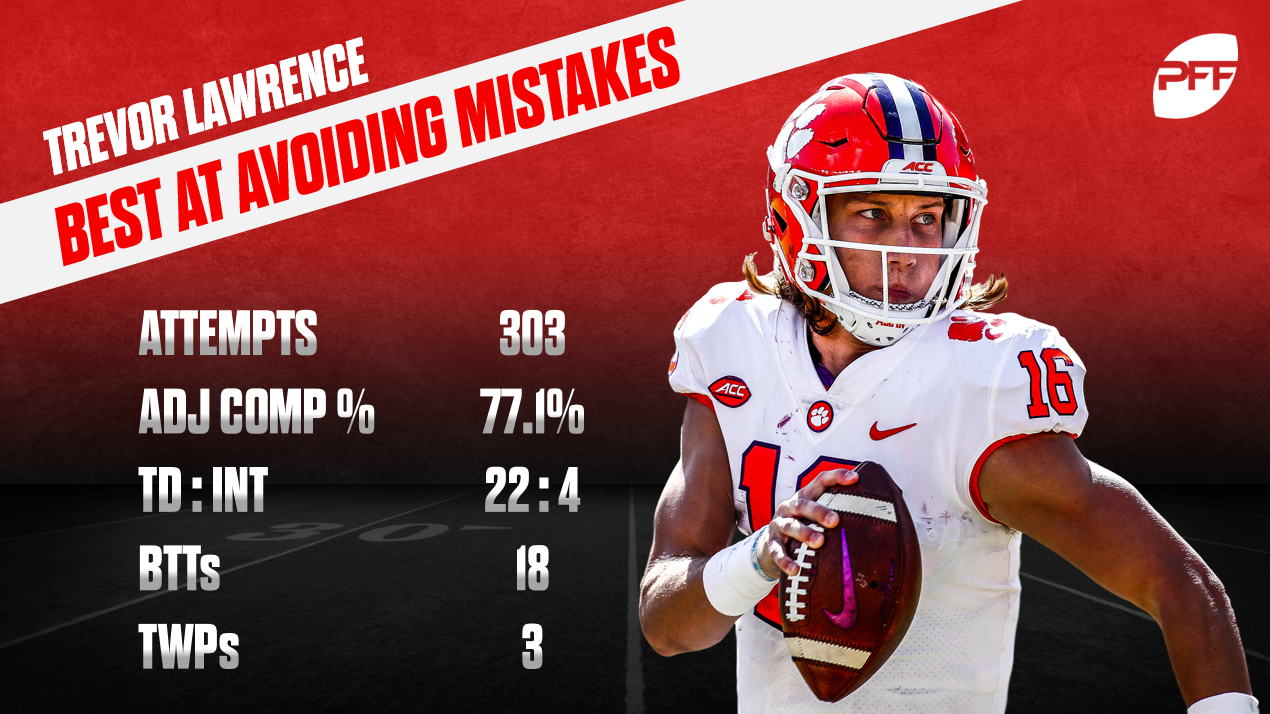 Best downfield thrower
Mason Fine, North Texas
Tight-window throws are one thing, displaying arm strength and accuracy at the same time are another, and that's just what Fine does. He is the nation's highest-graded quarterback on passes targeted at least 20 yards downfield and on such throws has completed 25 passes with an average depth of target of 31.3 yards downfield. While he may only have seven touchdowns on such throws, his throw-for-throw arsenal is among the best in the country as he's currently third with 25 big-time throws on targets 20-plus yards past the line of scrimmage.
Best red-zone WR
JJ Arcega-Whiteside, Stanford
This one was a no-brainer as the Stanford receiver might as well be nicknamed "Mr. Contested Catch." On red-zone targets alone, Arcega-Whiteside hauled in 13 receptions and nine touchdowns, six of which were contested. He uses his big frame extremely well to box out smaller defensive backs and knows how to high-point the football better than most, especially in the end zone.
Best slot WR
Rondale Moore, Purdue
In a true freshman season for the ages with one of the more memorable single-game performances of 2018 against Ohio State, Moore's route running and ability after the catch were incredibly impressive. Lining up almost exclusively from the slot, Moore is second among all FBS receivers with 1,102 receiving yards while he finds himself first with 93 receptions, 756 yards after the catch and 34 missed tackles forced.
Best deep-ball WR
Andy Isabella, UMass
The following statistics are not made up: 14 catches for 705 yards and nine touchdowns. Isabella's not just your run-of-the-mill slot receiver who dinks and dunks through zone coverage. He's a true threat down the field and leads the nation's receivers with a ridiculous 50.4 yards per reception on passes targeted at least 20 yards downfield. His ability to get open down the field is almost second to none and the skill he possesses to separate from defenders has led to 16.4 yards after the catch per reception.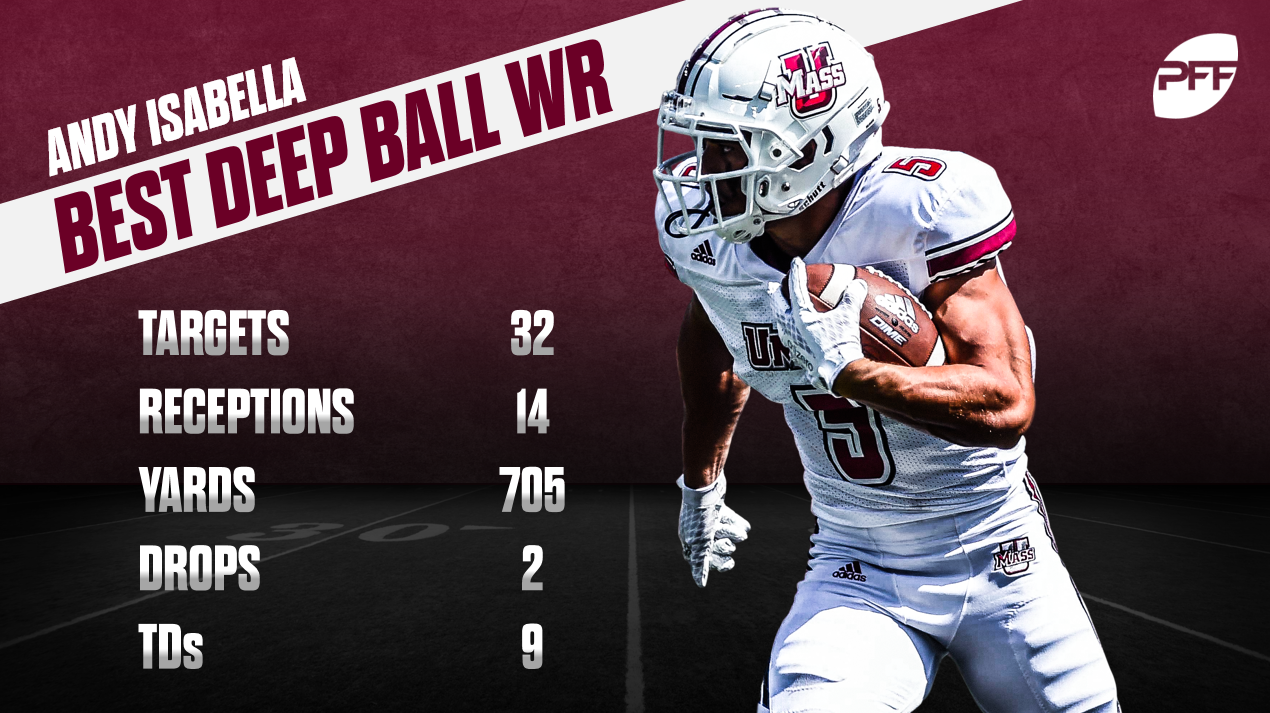 Best WR by route
Screen pass
Parris Campbell, Ohio State
The Ohio State passing attack has been a formidable one as Buckeyes receivers have been able to gain yards after the catch the likes of which we may have never seen before. Campbell is the true case study for this as Ohio State quarterbacks have gained 265 yards on screen passes to the shifty wideout but Campbell himself has gained 298 yards after the catch. He's hauled in all 19 screen passes thrown his way and scored a touchdown to go along with eight other first downs. He's forced four missed tackles and averages 13.9 yards per attempt and 15.7 yards after the catch per screen pass.
Out route
Tyler Johnson, Minnesota
Johnson may not have done the most damage on out routes at just 179 yards on 11 catches, but it was more about a lack of opportunity than ability. He ran 22 out routes this season for the Gophers, averaging a whopping 8.14 yards per out route run, by far the best in the nation as the next closest pass-catcher was Texas A&M TE Jace Sternberger at 5.60. Johnson averaged 6.2 yards after the catch per reception, proving his ability with the ball in his hands is as dangerous as anyone.
Slant route
Jerry Jeudy, Alabama
Sporting a ridiculous stat line, Jeudy may not have the most receptions on slants this season at nine, but he does lead the nation's receivers with 109 yards after contact on slant routes and is tied for sixth with three touchdowns. What sets him apart from the rest of the FBS receivers is his ability after the catch. On those nine receptions, he averages 18.9 yards after the catch and sees a yards per route run average of 9.38 — both of which are first in the nation among receivers with at least eight slant route receptions. He is also one of just five receivers to see at least nine catchable slant targets without dropping a single one, proving he is not scared to haul in passes across the middle of the field.
In route
N'Keal Harry, Arizona State
Harry leads the nation's receivers with 189 yards on in routes, doing so on just nine receptions. Eight of those nine catches resulted in either a first down (7) or a touchdown (1) while he racked up four contested catches on in routes, showing an innate ability to take what the defense gave him but also fight to the catch point and utilize his strong hands to come down with the ball.
Hitch route
Laviska Shenault, Colorado
Six weeks into the season, Shenault was a Heisman candidate and the Buffaloes were 5-0 and ranked in the top 25. While his Heisman candidacy seemingly ended after the USC game and Colorado lost seven straight games to end the season, Shenault was still dominant on the receiving end of passes, especially hitch routes. He turned 16 targets into 15 receptions for 261 yards, 139 of which came after the catch, scoring one touchdown and gaining nine more first downs. Overall, 108 receivers were targeted at least 16 times on hitch routes and Shenault's 17.4 yards per catch were 2.0 yards higher than any other receiver.
Post route
Hakeem Butler, Iowa State
The Brock Purdy-to-Hakeem Butler show has been a pretty remarkable journey to watch unfold. On post routes alone, Butler has hauled in six receptions for a whopping 305 yards to lead the nation. He's done most of that damage on his own as he's racked up 160 yards after the catch and hauled in three touchdowns. His seven missed tackles forced after the catch on posts also leads the nation as he averages 26.7 YAC/reception to lead qualified receivers.
Corner route
Irv Smith Jr., Alabama
Smith's relationship with Tua Tagovailoa on corner routes has been apparent as Smith leads the nation's pass-catchers with three touchdowns on corners. In total, he's hauled in five catches for 113 yards as all five receptions have gone for a touchdown or first down and he sees a 145.8 passer rating on such throws.
Go route
Antonio Gandy-Golden, Liberty
Don't know many players from Liberty's roster this season? That's okay, that's what we're here for. Gandy-Golden leads the nation's receivers in receptions (23), yards (535) combined first downs and touchdowns (23), contested catches (15) and explosive plays (19) on go routes this season.
Crossing route
Andy Isabella, UMass
The Biletnikoff Award finalist caught all three of his crossing route targets against the vaunted Georgia secondary for 34 yards and two first downs. For the season, he led the nation with 18 receptions, 280 yards and 12 combined first-down and touchdown receptions on crossing patterns.
Toughest RB to tackle
David Montgomery, Iowa State
While FAU's Devin Singletary may have the edge this season in total missed tackles forced on his carries, Montgomery — the PFF record holder for missed tackles forced in a season — has been up to his usual tricks, and may even be having a better season this year than he did when he broke the record last year. On the season, Montgomery has forced 74 missed tackles on just 197 carries, forcing them at a rate of 0.38 missed tackles per carry (first in FBS). Last season, when he broke 85 tackles on his attempts, his forced missed tackle rate of 0.33 was the best in the nation. If he didn't miss a game, have another canceled and were to have as many carries as Singletary while breaking tackles at his current rate, he'd be up to 100 and looking to break his own single-season PFF record. It's something he still might even be able to do with Drake on the schedule in Week 14 and a bowl game on the horizon.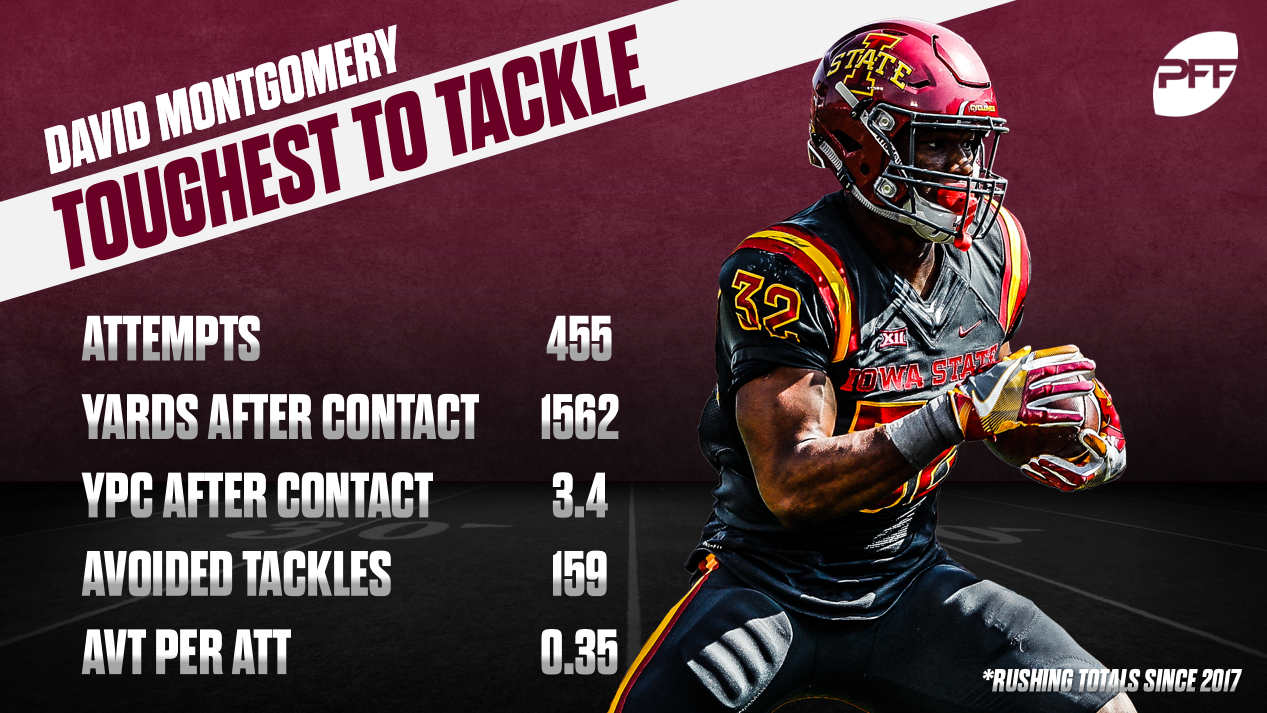 Best pass-catching RB
James Williams, Washington State
Williams doesn't get this nomination based upon workload, he gets it based upon performance. No running back comes close to his amount of production as he's run 355 snaps in route and hauled in 76 receptions for 561 yards including a staggering 707 yards after the catch. He's broken 29 tackles after the catch and combined for 30 first downs and touchdowns on his receptions. All of the aforementioned numbers lead the nation's pass-catchers and are numbers some receivers would only dream of.
Best red-zone RB
Alexander Mattison, Boise State
Mattison has been a tough guy to bring down this season, especially inside the opponent's 20-yard line. On 53 red-zone carries, Mattison has scored 15 touchdowns and forced 15 missed tackles in the process. He averages 3.1 yards per attempt in a spot of the field where it's arguably easier for defenses to load the box and stop the run proving his worth in the scoring area.
Best run-blocking TE
Grant Calcaterra, Oklahoma
Calcaterra has spent 150 snaps as a run blocker for Oklahoma this season, doing so in emphatic fashion. He's by far the highest-graded tight end when it comes to run blocking, currently sporting a run-block grade 1.5 grade points higher than the next closest qualified tight end.
Best pass-blocking offensive lineman
Andre Dillard, Washington State
Protecting the quarterback in the Washington State offense is always going to be a tough ask to keep your quarterback clean from pressure, but that's basically what Dillard has done this year. On a whopping 668 pass-blocking snaps this year, Dillard has allowed only 15 pressures and just one sack. He's allowed a pressure on just 2.3 percent of his snaps in pass protection and his pass-blocking efficiency of 98.8 is the highest among any offensive linemen, regardless of position.
Best run-blocking offensive lineman
Terronne Prescod, NC State
What makes Prescod so good is his overall ability both in pass protection and run blocking. Basically, he's the only full-time starting offensive lineman to have both pass-blocking and run-blocking grades of 85.1 or higher, as his 88.9 run-blocking grade is 4.5 grade points higher than the next closest lineman.
Least penalized offensive lineman
Cody Conway / Koda Martin, Syracuse
Much like our least penalized offensive linemen duo from the NFL side of things, the Syracuse duo at tackle share honors here. On the field together for 963 snaps this season, Conway and Martin are each yet to be penalized.
DEFENSE
Best overall grade – defense
Quinnen Williams, Alabama – 95.3
What Williams has been able to accomplish this season from the interior of the Alabama defense is astounding. On a defense full of playmakers, Williams has quietly transformed from a small-snap-count guy to the nation's most dominant defensive player. His 95.5 overall grade is nearly 3.0 grade points higher than the next closest defensive player and still much higher than that of Nick Bosa before injury sidelined him for the year.
Surest tackler
David Woodward, Utah State
No defender with at least 80 total tackle attempts this season has fewer missed tackles than Utah State's Woodward. On 109 total tackle attempts this year, he's missed just three tackles, good enough for the national-best 2.8 percent missed tackle percentage. It doesn't matter whether it's run defense or in coverage, Woodward's sound tackling ability is, without question, the nation's best in 2018.
Best edge pass-rusher
Josh Allen, Kentucky
Allen's dominant 2018 season is highlighted by the fact that he's the most dominant edge-rushing defensive lineman in the country. His pass-rushing productivity (PFF's metric that measures pressures on a per-snap basis with weighting toward sacks) of 29.8 is the highest mark in the country. He's gotten home with 14 sacks, nine additional QB hits and 28 more hurries. He's also beaten the offensive lineman 11 more times but was unable to register a pressure because the pass was either thrown too quickly or the quarterback left the pocket under his own volition.
Best interior pass-rusher
Quinnen Williams, Alabama
Chalk up another honor for Williams here as this one's not even close. On 244 pass-rushing snaps, he's recorded 38 total pressures, winning 19.3 percent of his pass-rushes to lead the nation's interior defensive linemen. Williams has recorded eight sacks, 14 QB hits and 16 additional hurries and his straight pressure-per-pass-rush-snap of 15.6 percent is also the best in the country.
Best interior run defender
Quinnen Williams, Alabama
By now, you get it: Williams is good. On 228 snaps against the run, he's made 48 total tackles and missed just two while making 16 tackles for either no gain or a loss — the most of any interior defensive linemen.
Best swim move
Quinnen Williams, Alabama
Williams has a rare quick twitch for a nose tackle. In the blink of an eye, he can go from engaged with an offensive lineman to slipping by with his swim move that is the best in the country this season.
Best bull rush
Zach Allen, Boston College
Not too many college tackles are used to seeing 6-foot-5, 285-pound edge defenders and that's just what Allen is. He prefers to play through his opposition instead of around. And he has no trouble getting home to the quarterback that way.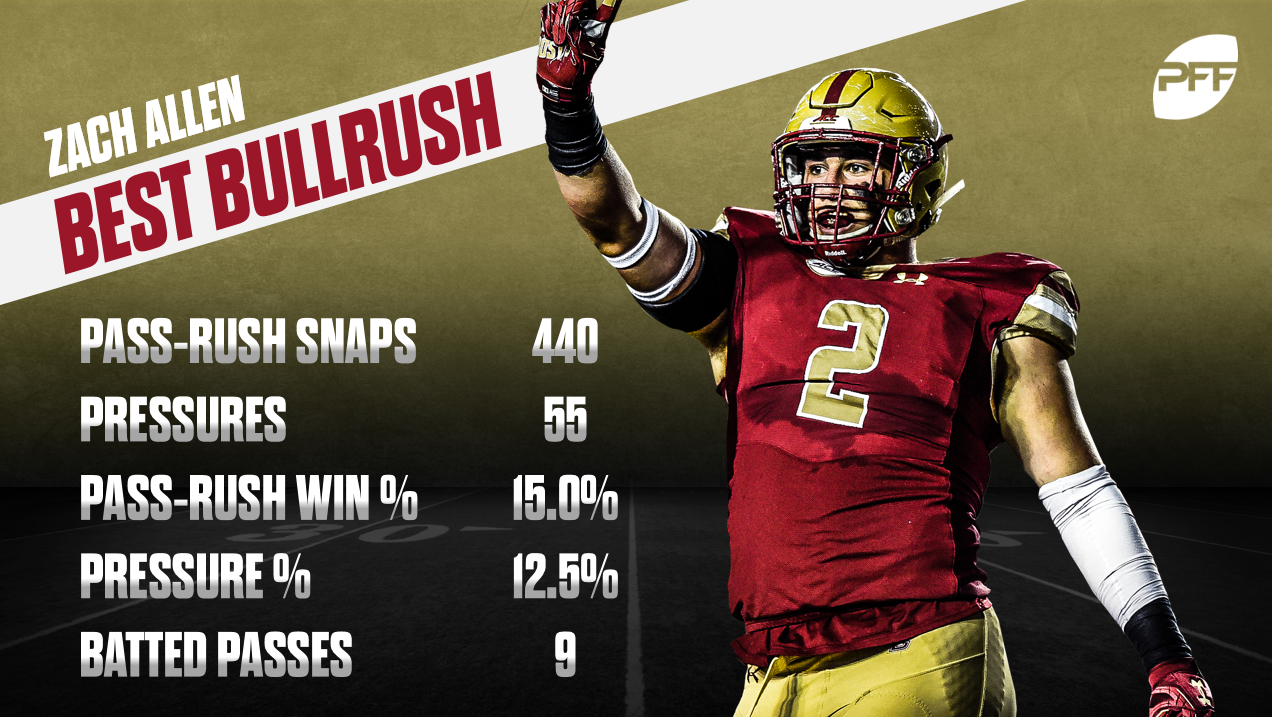 Best off-ball linebacker
David Woodward, Utah State
His tackling skills already stated, Woodward flies around the field with reckless abandon, taking down ball carriers and pass-catchers alike. Against the run, in particular, he's made 88 total tackles compared with just one missed tackle, and brought down running backs for a defensive stop 38 times.
Best ball-hawking defensive back
Deandre Baker, Georgia
PFF's top-graded cornerback for basically the entire season, Baker has been targeted 38 times in 2018, giving up just 18 receptions without a touchdown allowed. He has forced nearly as many incompletions as he has allowed receptions, currently with 13 FINC to his name. His 34.2 percent forced incompletion rate is the best among all defensive backs this season as he has two interceptions to his name as well.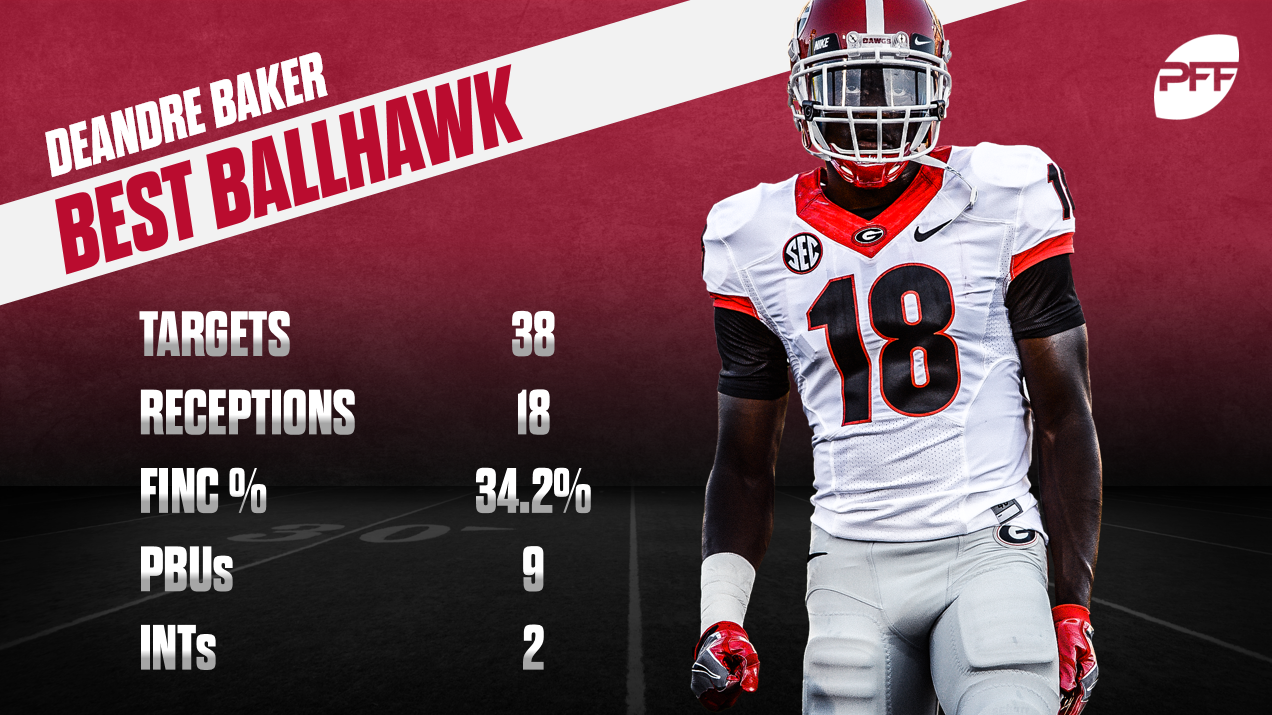 Best defensive back by route
Screen pass
Bryce Hall, Virginia
Defending against screens is by definition difficult as the offense is literally trying to screen the defensive back away from the receiver. Hall has been the primary coverage defender on three screen routes this year as he's actually forced one incompletion and limited the other two screens to just five yards.
Out route
Jalen Thompson, South Alabama
Showing great instincts for the football, Thompson was targeted 11 times on out routes and came away with three interceptions this season. He forced another incompletion on the route and limited quarterbacks to just a 47.7 passer rating on such throws. To put that into perspective, a quarterback gets a 39.6 passer rating by just spiking the ball in the dirt every play.
Slant route
Thomas Graham Jr., Oregon
Out of 201 cornerbacks who have seen at least four targets on slant routes, Graham is the highest graded of the bunch as he's limited seven targeted slant routes to just two receptions for 14 yards. He leads the group with four forced incompletions as well, separated only by the fact that of all seven of his targets have been deemed catchable and he's forced an incompletion on 57.1 percent of them and intercepted another. His 0.0 passer rating when targeted on slants, of course, leads the nation.
In route
Niko Small, TCU
Small clearly had the benefit of practicing against the talented receiving corps on his own offense, and his coverage skills showed. On three targeted in routes this season, Small allowed just one reception while he forced two incompletions on the other targets and saw just a 46.5 passer rating when targeted on in routes.
Hitch route
Deandre Baker, Georgia
Baker's stat line across the board is ridiculous, but as you break it down route by route, it becomes even more apparent of the effect he had on games. On 11 targeted passes on hitch routes, the Thorpe Award finalist allowed just two receptions for a mere 11 yards while he intercepted two passes and forced seven more incompletions. His 63.6 percent forced incompletion rate on hitch routes were over 20.0 percentage points higher than the next closest defender who saw at least 10 targets on hitch concepts.
Post route
Isaiah Wharton, Rutgers
Not a lot went right for the Scarlet Knights this season, but the play of captain and 48-game starter at cornerback Isaiah Wharton was certainly one thing that did. No defensive back graded higher when defending post routes than Wharton this season as he was targeted four times and did not allow a single reception. He came down with an interception and forced another incompletion on those targets and finished the season with a career-high 81.3 overall grade.
Corner route
Stanford Samuels III, Florida State
The Seminoles may have finished the season earlier than they have in over 40 years, and while the defense is largely to blame for some of their losses this year, Samuels' prowess on corner routes is certainly not. On three corner-route targets, Samuels did not allow a reception and brought in two interceptions of his own. In fact, his two interceptions on corner routes led all the nation's cornerbacks. He was able to maintain strong coverage through the route as the average depth of target on these corner routes was a mighty 16.3 yards downfield, showcasing just how sticky in coverage he was on the route.
Go route
Troy Pride Jr., Notre Dame
Notre Dame is (essentially) in the College Football Playoff on the heels of their perfect 12-0 regular season and their stingy defense has certainly been key to their success. While teammate Julian Love was named as one of three finalists for the Thorpe Award, Pride has dominated on go-route concepts this season. He leads the nation's defensive backs who have been targeted at least 12 times on go routes by allowing just 24 yards, one reception and no touchdowns. He has recorded an interception on the route but his seven forced incompletions and national-best 53.8 percent forced incompletion percentage are what set him apart.
Crossing route
Shaun Wade, Ohio State
Notoriously difficult for defensive backs to contend with, Wade is the only defender in the nation to sport a forced incompletion rate greater than 33.3 percent on crossing patterns this season. He's been targeted seven times and forced three incompletions as he's allowed four receptions for just 37 yards on the other targets. A sure tackler, Wade has also made three tackles on his targeted crossers, including two of which were recorded as a defensive stop for an offensive failure.
Best slot cornerback
Amani Hooker, Iowa
So far in 2018, 109 cornerbacks have been targeted at least 15 times from the slot. Of those, no one has come close to Hooker's coverage grade from the inside. On 47 targets, he's allowed just 25 receptions while bringing home three interceptions of his own.
Best box safety
Malik Gant, Marshall
Gant leads the nation in stops from the box, essentially becoming an additional linebacker for the Thundering Herd. Against the run specifically, Grant has lined up in the box (within 8 yards of the line of scrimmage, inside the tackle boxes) on 242 snaps and brought home 25 stops for an offensive failure, leading to the nation's highest overall run-stop percentage.
Best deep safety
Deionte Thompson, Alabama
Thompson makes all the splash plays you'd expect out of a top deep-lying free safety type. In coverage, he's been targeted 30 times as the primary coverage defender and allowed only 14 receptions. He's added two interceptions and six additional pass breakups as his coverage grade mirrors his overall grade atop the leaderboard among all safeties.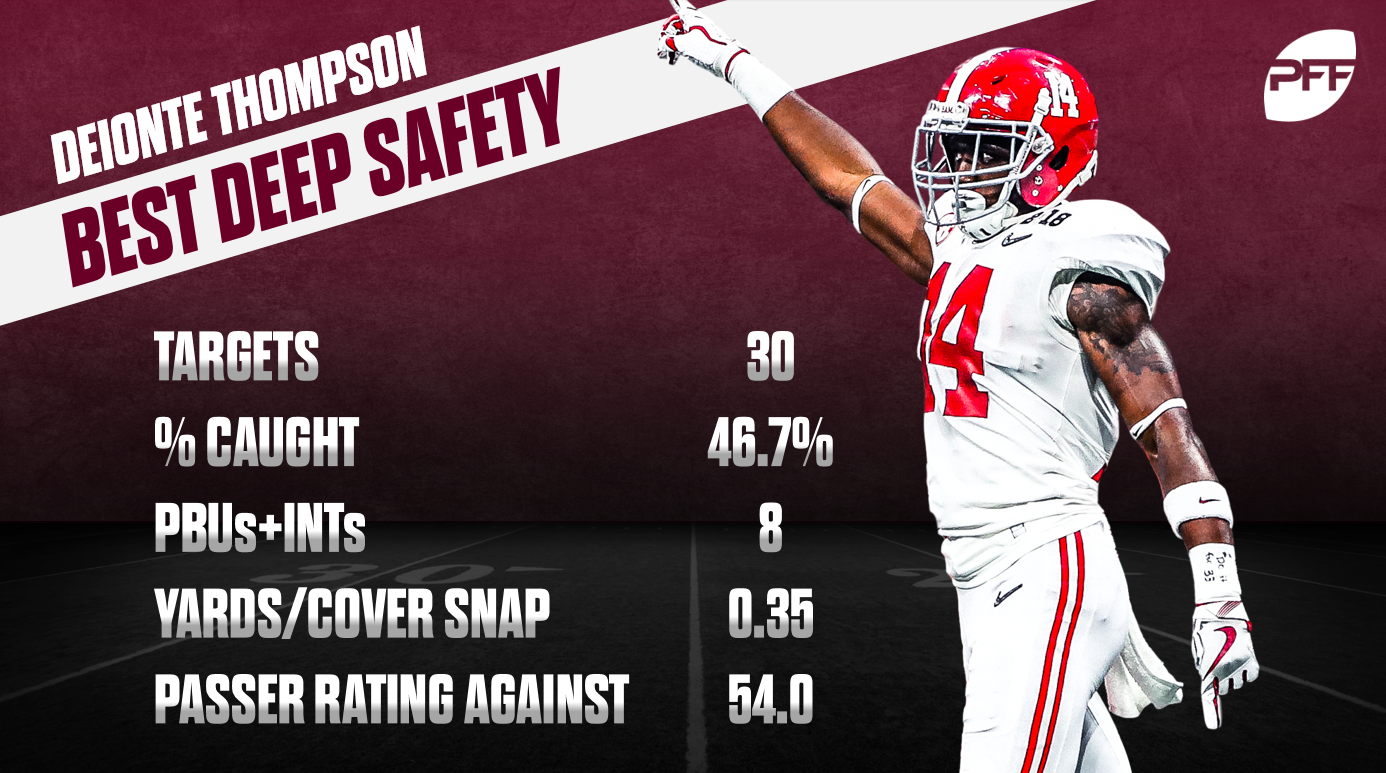 SPECIAL TEAMS
Best coffin-corner punter
Drew Galitz, Baylor
On coffin-corner punt attempts, Galitz has launched 15 punts for 594 yards, netting 35.9 yards per punt. What's even more impressive is the fact that all 15 of those punts have been downed inside the 20-yard line and none have been returned by the opposition.
Best long-field kicker
Alex Kessman, Pittsburgh
Four separate kickers have knocked home four kicks from 50 or more yards while two of them are a perfect 4-of-4. What separates Kessman from the duo is the fact that he also holds the highest make percentage on 40-49-yard field goals, connecting on 3-of-4 from that distance. Of his 48 total kicks made (extra points and field goals), 31 of them have been directly down the middle.
Best kickoff placement kicker
Freeman Jones, North Carolina
On 59 kickoffs this season, Jones has placed his average kick at the 1.3-yard line, eliciting an opponent's starting field position of the 22.4-yard line. With the change in the touchback rule coming into the season, the best thing a kicker can do is make the return man make a decision to fair catch or not, and Jones has been the best at this in the rule's inaugural season.