When it comes to discussing Heisman candidates in the Big 12, there are a couple names that come to mind immediately. Oklahoma QB Baker Mayfield is an obvious pick, and is ranked near the top of most everyone's Heisman watch lists, along with Baylor QB Seth Russell and a strong group of superstar running backs.
But one name that everyone should get familiar with is Oklahoma State QB Mason Rudolph. He's arguably the best quarterback in the Big 12 and easily one of the best in the entire nation. It would not be surprising for Rudolph to play his way into the Heisman discussion early on — and perhaps even win the trophy.
Here are some reasons to get excited about Rudolph's 2016 season:
He's extremely accurate
First and foremost a quarterback needs to be accurate to have success at any level. Last season Rudolph had an adjusted completion percentage of 70.9 percent. While that mark only ranked 24th among returning quarterbacks, it's still a high level of accuracy.
What's even more more positive about his accuracy is that his misses aren't dangerous. He had just 12 turnover-worthy throws last season which came out to 2.8 percent — a very high-level rate. In fact, he had just 15 throws that we graded at -1.0 or worse. His misses were generally just slightly over or under-throws. Considering last year was his first year as a near full-time starter (more on that later) and he was just a sophomore, there's a good chance that a lot of those slight misses will turn into accurate passes now that he's had another year to improve and grow as a quarterback. Here's an example of a perfectly thrown out pass that beats tight coverage for a first down on third and long: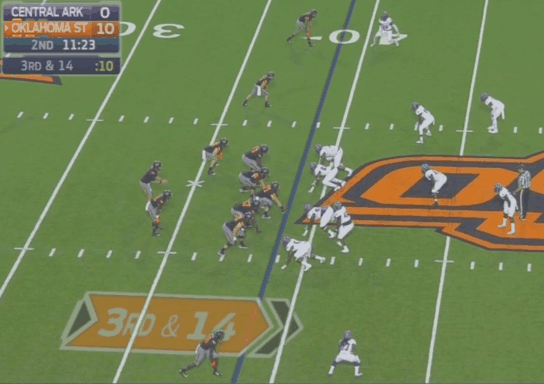 He can throw deep better than anyone
One area where Rudolph really stood out last season was his ability to chuck the pigskin. On passes that traveled more than 20 yards in the air, no returning quarterback threw them better than Rudolph last year. He had the most completions (42) and the most yards gained (1425) among all Power-5 conference quarterbacks on deep throws last season. His adjusted completion percentage on such throws was 57.3 percent. To put that in perspective, Ben Roethlisberger had the highest accuracy rate on deep throws in the NFL last season at 50.7. It's not exactly fair to compare college to NFL, but it just shows that Rudolph's deep ball accuracy is nothing to scoff at. Deep throws often end up in touchdowns, and they did on 13 occasions for Rudolph last season. If he keeps throwing accurate deep balls, the touchdowns will keep piling up for him and Oklahoma State.
He doesn't struggle under pressure
Rudolph didn't see a ton of pressure last season (26 percent of his dropbacks compared to the NCAA average of 32 [ercent) but still enough to show how effective he can be when dealing with it. He completed nearly 50 percent of his passes in pressure situations and averaged 9.4 yards per attempt, more than the 8.6 yards he averaged without pressure. While most QBs had their ratings fall drastically when under pressure (95.0 average QB rating with no pressure to 59.3 under pressure), Rudolph's barely changed (99.0 to 92.9). He had a +5.0 passing grade on pressure plays. He was calm and cool when faced with pressure, keeping his eyes down the field and still making the proper reads and accurate throws. The play below shows his ability to avoid sacks and pressure and still locate the open man downfield, even taking a hit if it means making the throw.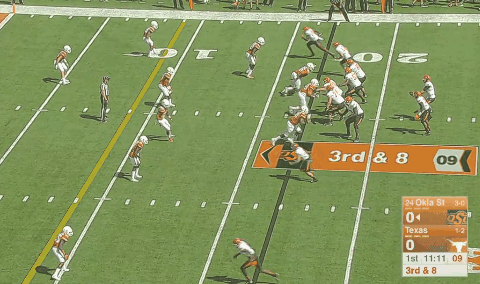 His offense is almost exactly the same
It's hard for a quarterback in college to succeed year-to-year when players are graduating or moving on each year. However the 2016 Oklahoma State offense will be nearly identical to the 2015 team. Two of Rudolph's top three receivers from last year, James Washington and Marcell Ateman, will be back. Ateman is actually the highest-graded receiver returning to the Big 12 this year at +11.4 and Washington isn't far behind at +7.7. He'll also benefit from receivers like Jalen McCleskey (+6.4) and Jhajuan Seales (+3.4) getting more strong snaps than they did last season.
The entire offensive line is back as well, and while they weren't very good last year, it keeps the familiarity there for Rudolph. His running back crew is largely unchanged other than the addition of Barry Sanders Jr. Defensively the team returns a lot of strong starters that should be able to make some key stops when they need to. It would be a stretch to say that they will win games themselves, but with the strength of the Cowboys' offense, they shouldn't have to. All of this represents a strong case for an even better team surrounding Rudolph this season, which should help his case.
It's finally his team
This is the biggest reason for optimism regarding Rudolph's potential Heisman candidacy. Last year the Cowboys employed a strategy that while sometimes was effective, seemed strange and unnecessary at other times. They would frequently bring Rudolph out of the game and put in dual-threat senior quarterback J.W. Walsh, specifically in red-zone situations. There were 84 snaps through the season where Walsh came in to replace Rudolph by design (this doesn't include garbage time snaps where they put in Walsh to help run out the clock). Those may not seem like a ton of snaps, but 54 of them came in the opponent's red zone, with 46 coming within 14 yards of the end zone. That's significant because Rudolph averaged just over 14 yards per completion. So doing some quick math based on the percentage the Cowboys threw the ball when Rudolph was at quarterback, his completion rate and the down and distance scenario, that's roughly 22 touchdowns missed. Now this is obviously just a very basic estimate as there's no way to really know what would have happened on those snaps, but it's not crazy to think he would have thrown a touchdown on a little under half of those red zone snaps. The Cowboys themselves scored 22 touchdowns on those snaps (7 passing, 15 rushing). So if Rudolph plays all those snaps last year, it's very possible that he's looking at 4000+ yards and 43 touchdowns. Those numbers are right in line with the best quarterbacks in the NCAA last season.
Walsh has graduated, which means that Rudolph is the one and only quarterback for Oklahoma State. He's not going to be subbed out in red=zone situations anymore. He'll have the opportunity to make big red-zone throws and contribute even more to his team's success. When you consider that Rudolph had the fifth-best passing grade among all NCAA quarterbacks last season at +43.5 despite missing all those snaps and potential throws, it becomes clearer that this year could be a huge breakout year for Rudolph.
Bottom line
If you look past the raw numbers it becomes very clear that Rudolph was one of the best quarterbacks in college football last season. The Cowboys offense has the potential be one of the best in the nation this year and Rudolph will be leading the way the whole time. While not many people are considering him as a serious threat to make a Heisman run, that could change very quickly. Rudolph has so many elements going for him this season that not only could he make a run at the Heisman, he could very well win it.