The quarterback position has been somewhat of a revolving door for Texas A&M ever since Johnny Manziel made his exodus to the NFL after the 2013 season. Since then the Aggies have seen four different starting quarterbacks and three QB transfers, not to mention the drama surrounding recruiting efforts at the position.
Kyle Allen and Kyler Murray transferring out at the end of last season left the cupboard bare, but luckily for head coach Kevin Sumlin and the Aggies, transfers work both ways. Former Oklahoma starting QB Trevor Knight announced back in January that he would be transferring, deciding to spend his final year of eligibility playing for the Aggies.
Knight has had an up-and-down career, ranging from leading a victory over Alabama in the 2014 Sugar Bowl to being unseated as Oklahoma's starter prior to last season. So what exactly can Texas A&M expect out of Trevor Knight this season? Let's take a look at the PFF data to find out:   
Where he wins
There's no denying that Trevor Knight has the talent needed to succeed at a major college program. Whether he can consistently play up to that ability is another question altogether. Knight certainly has his flaws (more on those later), but there is a lot to like about his game, both through the air and on the ground.
One glance at Trevor Knight's passing chart and it becomes very clear where his comfort zone is: the intermediate route. During the 2014 season, his last as a starter, Knight graded out highest on passes traveling 10-19 yards downfield. He completed over 60 percent of his intermediate throws, compared to his overall completion percentage of just 56.4 percent. It was on these attempts where Knight also tossed 7 of his 14 touchdown passes and where he posted an impressive cumulative grade of +11.8.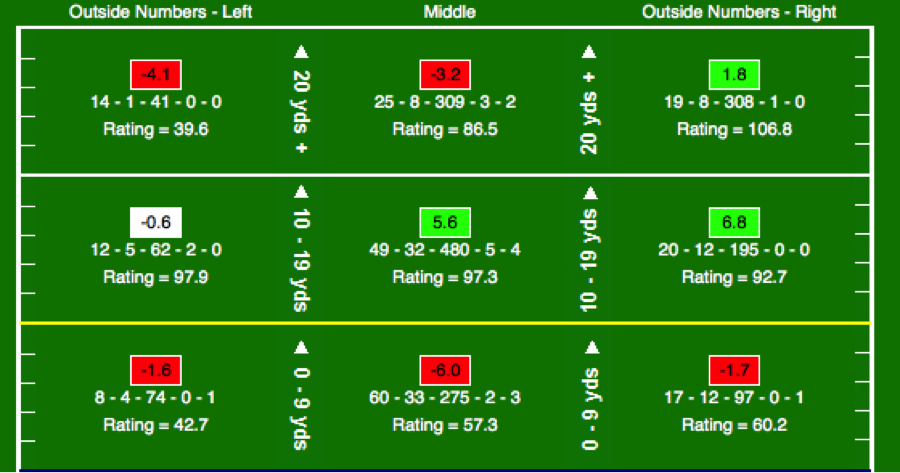 The ability to get rid of the ball quickly was another area where Knight performed very well in 2014. His average time to pass attempt was just 2.45 seconds, one of the quickest rates in the nation. On throws where he was in the pocket less than 2.5 seconds, Knight had a 64.1 completion percentage and a respectable NFL QB rating of 88.2. When holding the ball any longer than that though, Knight's numbers suffered. This is to be expected to a degree, however Knight's drop off was steeper than most. When in the pocket for longer than 2.6 seconds Knight's QB rating fell 28.3 points compared to the 2014 average of just 18.4. Getting into a rhythm and making decisive throws will be key for Knight and should blend nicely with new offensive coordinator Noel Mazzone's quick-hitting passing attack.
While not the most dangerous threat as a runner, Trevor Knight certainly offers a level of versatility to the A&M offense with his ability to gain yards on the ground. In 2014 he had a total of 62 runs, 20 of which were scrambles on designed passing plays. He averaged 6.3 yards per run, as well as 3.1 yards after contact per scramble attempt. More than his rushing ability though, Knight's elusiveness in the pocket is what may be most vital for him this season. Playing behind an inexperienced offensive line with three new starters, Knight will likely find himself trying to avoid pass rushers more than he'd like. Fortunately for Knight and the A&M offense, he's proven to be adept at managing the rush and keeping plays alive. In 2014 only 10.8 percent of his pressured dropbacks resulted in a sack, which was the third-best rate in the nation.
Biggest concerns
There are several areas of Knight's game that A&M surely hopes he's improved upon since his time at Oklahoma. As a passer there was a lot left to be desired from Knight, as he posted a -9.3 passing grade in 2014, ranking 63rd among qualifying Power-5 quarterbacks. Outside of his success in the intermediate throws, his passing chart shows far more negative grades than you'd like to see, particularly on the underneath routes less than 10 yards from the line of scrimmage.
While his ability to get the ball out quickly is nice, it will only be useful if Knight can do so with accuracy. Noel Mazzone's offense last season at UCLA threw over 60 percent of their passes in the 10 yard and under range. Assuming this trend continues at A&M, Knight's performance in this area has to improve for the offense to run smoothly. His deep passing (20+ yards throws) was troublesome as well, ranking in the bottom 10 nationally with a deep ball accuracy rate of just 32.8 percent.
Another area of concern for Knight heading into the season is handling the pass rush. While he's proven his ability to avoid pressure with his legs, Knight still has plenty of room for improvement when it comes to completing passes when under fire. This concern grows even further when you consider the plays where he faced a blitz from the opposing defense. On the 99 dropbacks where Knight was blitzed in 2014, he earned a -10.4 passing grade, completing just 51 percent of his passes and throwing four interceptions. As Knight begins facing SEC defenses on a weekly basis this season, proving his ability to beat the blitz with his arm will go a long way towards his and A&M's success in 2016.
Finally, possibly the biggest question mark surrounding Trevor Knight is his consistency, or lack thereof. Knight's career has been somewhat of a roller coaster ride when it comes to his performance week in and week out. This is easily seen when looking at his 2014 grades: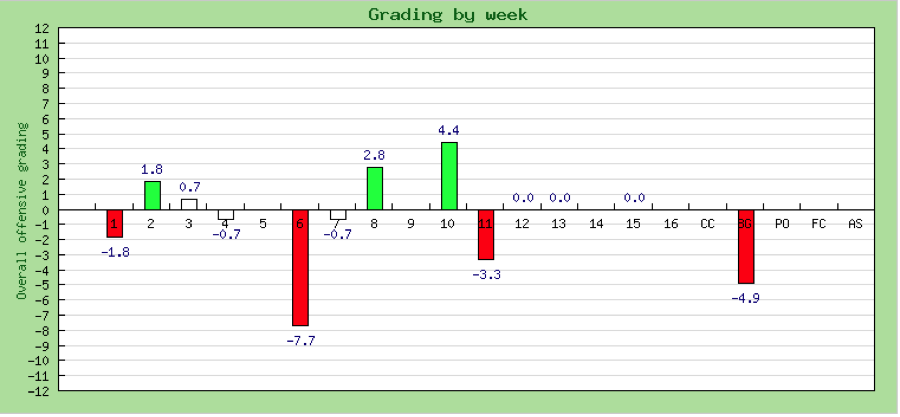 At a position as important as quarterback, you never want to see such extreme swings in grades. Given A&M's schedule this season, Knight will have to prove he can put together a string of strong performances in order for the Aggie offense to meet expectations.
The bottom line
Trevor Knight enters this season as one of the biggest question marks in college football. He's flashed moments of brilliance over the years, but what's concerning are the extended lulls in production that often followed. Knight's a gifted athlete that can use his legs to extend plays and has enough arm talent to win at this level, but can he play up to his ability on a consistent basis? With an offensive minded head coach, an OC known for developing young quarterbacks and a team loaded with skill position talent, Knight will have every opportunity this season to answer that question.