After a full slate of games on Saturday, we at PFF and our team of over 500 analysts have dissected and graded every player on every snap of every game to bring you the most detailed and valid set of picks you can find anywhere.
The Week 9 Eckrich ACC Team of the Week powered by PFF saw some impressive performances and, of course, the strength of opponent also factored into the overall selections as did the PFF player grades.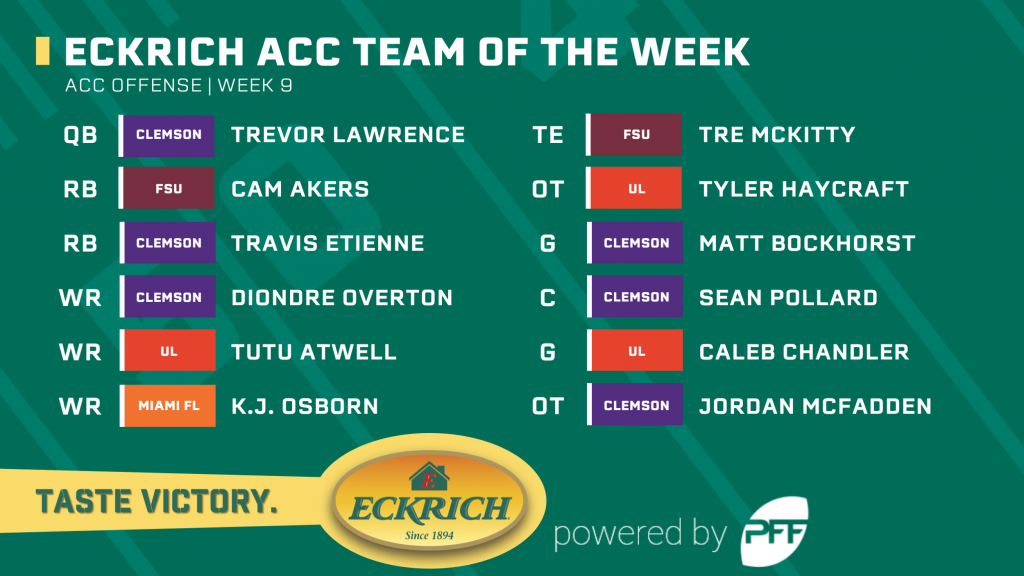 QUARTERBACK
Trevor Lawrence, Clemson
In what may have been Trevor Lawrence's most dominant game of 2019 thus far, the quarterback threw for 275 yards and three touchdowns on 22 attempts. His 72.7 completion percentage is the highest of any game this season, and he did so while managing to throw zero turnover-worthy passes. Lawrence played up to his insane preseason expectations on Saturday, which led to the 52-point destruction of Boston College.
Second-Team QB: Sam Howell, North Carolina 
RUNNING BACK
Travis Etienne, Clemson
Lawrence wasn't the only Clemson Tiger to light up the scoreboard in Week 9. Travis Etienne put up 109 yards on the ground across 16 attempts and contributed three scores. The Clemson running back also earned eight first downs, which resulted in 50.0% of his carries finishing as a first down or touch down. Etienne also caught all three targets that came his way for 33 yards, all of which occurred after the catch.
Second-Team RB: Javian Hawkins, Louisville
Cam Akers, FSU
The Florida State running back did nothing less than light up the scoreboard on Saturday, as he found the end zone on three separate occasions. Akers continued his elusive 2019 campaign, as he has now forced five missed tackles in seven of his last eight games (seven in Week 9). His four touchdowns tied the Florida State single-game record, and his 142 rushing yards were the most in the ACC this week.
Second-Team RB: Javonte Williams, North Carolina
WIDE RECEIVER
Diondre Overton, Clemson
It wasn't the usual Tee Higgins or Justyn Ross show for Clemson in Week 9. Enter Diondre Overton, who amassed 119 yards and a pair of touchdowns on just three receptions. Saturday was also his only collegiate football game where he surpassed the 75-yard mark in a single game. There have been recent transfer portal rumors surrounding the 6'4," 210-pound receiver, but Overton ignored them on his way to a career day.
Second-Team WR: Hasise Dubois, Virginia
Tutu Atwell, Louisville
Atwell was the highest-graded wide receiver in the ACC (82.8) as a result of his 122 yards, 93 of which came after the catch. He collected six of his nine targets, and he averaged 20.3 yards per reception, forcing two missed tackles in the process. Atwell's performance had a significant impact on Louisville's victory over Virginia that put them one game closer to bowl eligibility.
Second-Team WR: Beau Corrales, UNC
K.J. Osborn, Miami
Miami needed a playmaker in their challenging Saturday bout against Pittsburgh, and they found their guy in explosive playmaker K.J. Osborn. The Buffalo graduate transfer caught the game-winning touchdown pass, which ultimately sent the 'Canes home with a win. Before that, Osborn added six receptions—three of which went for 15 yards or more—and four first downs. It wasn't his highest-graded game of the season, but his 11-target workload kept Miami's offense rolling.
Second-Team WR: Dazz Newsome, UNC
TIGHT END
Tre McKitty, FSU
McKitty earned the honors of the highest-graded tight end (74.4) in the ACC in Week 9. Florida State went into their game against Syracuse with limited offensive options, which allowed McKitty to flourish. The tight end secured four of his five targets for 40 yards and a pair of first downs. Even more impressively, the 6'5", 245-pound tight end forced three missed tackles on his four catches.
Second-Team TE: Hunter Long, Boston College
OFFENSIVE TACKLE
Tyler Haycraft, Louisville
Louisville's offensive line slid under the radar in their narrow one-touchdown triumph over Virginia, but they'll get the credit they deserve here. Offensive tackle Tyler Haycraft earned a 78.1 pass-blocking grade as he surrendered just one quarterback pressure. He also contributed to the run game, paving lanes for running backs Javian Hawkins and Malik Cunningham en route to a 67.6 run-block grade.
Second-Team OT: Mekhi Becton, Louisville
OFFENSIVE GUARD
Matt Bockhorst, Clemson
Matt Bockhorst is the first of many Clemson offensive linemen on this list, and for a good reason. The sophomore guard was not penalized a single time across 38 offensive snaps and earned a striking 82.9 pass-block grade. The grade was a result of his perfect 100.0 pass-block efficiency rating, as well as his zero pressures allowed. Bockhorst truly anchored the interior of Clemson's offensive line in their 52-point win over Boston College.
Second-Team OG: Chris Glaser, Virginia
CENTER
Sean Pollard, Clemson
Similar to Clemson offensive line counterpart Matt Brockhorst, Sean Pollard was not penalized one time across 33 offensive snaps. His 71.9 overall grade was the second-highest he's merited this season, which is highlighted by his remarkable 80.2 pass-blocking grade. The center is on quite a tear, as he has achieved an 80.0-plus pass-block grade in five of his eight games played this season.
Second-Team C: Jimmy Morrissey, Pittsburgh
OFFENSIVE GUARD
Caleb Chandler, Louisville
Lousiville offensive guard Caleb Chandler had quite the day, earning positive marks in both pass and run blocking across 62 offensive snaps. The 6'4" 297-pound junior kept off the referee's radar as he managed to evade a penalty call on the day. Chandler only surrendered one pressure, which resulted in a quarterback hurry.
Second-Team OG: Dakota Davis, Syracuse
OFFENSIVE TACKLE
Jordan McFadden, Clemson
Jordan McFadden is our final installment of Clemson offensive linemen on this list on account of his 71.9 game grade across 43 offensive snaps. He extended his seven-game streak of not being penalized, and he did so with just one quarterback pressure allowed. McFadden is part of the 2023 draft class, but his development and ability to maintain a significant role in the Clemson offense shows how reliable a season he's had.
Second-Team OT: Jordan Tucker, UNC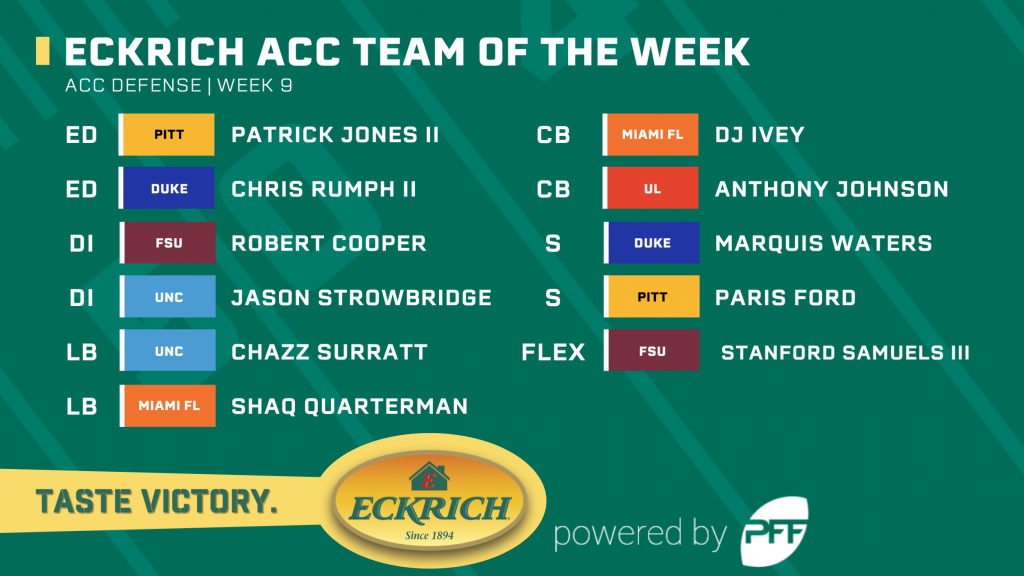 EDGE DEFENDER
Patrick Jones II, Pittsburgh
Pittsburgh touted the highest-graded edge defender in Week 9 in Patrick Jones II (86.7). He generated five total pressures, two of which resulted in a sack, across 30 pass-rush snaps, which comprised his 87.2 pass-rush grade. Pittsburgh didn't do enough to get the win, but their pass-rush, led by Jones II, was a significant reason for the close four-point deficit.
Second-Team ED: Marcus Valdez, Boston College
Chris Rumph II, Duke
This would be Rumph's third appearance on the Eckrich ACC Team of the Week, which nearly makes him a regular on this list. Rumph II has described how the Duke defense has "pinned their ears back" this season, and he's not lying. In Week 9, the Blue Devil edge rusher secured two quarterback pressures en route to a 33.3% pressure rate. Even more impressively, Rumph collected three tackles in run defense that went for zero yards or less, tying his career-high mark. Rumph is one of the highest-graded defenders in the ACC, and his Week 9 performance did nothing but solidify that.
Second-Team ED: Noah Taylor, Virginia
INTERIOR DEFENDER
Robert Cooper, FSU
Cooper's career-high grade (83.3) was also the highest-grade among all ACC interior defenders in Week 9. His 85.6 run-defense mark ranked second among all Power Five interior defenders, as he earned three stops and four tackles while defending the run on 23 snaps. His stop total was also a career-high.
Second-Team DI: Aaron Crawford, UNC
Jason Strowbridge, UNC
The UNC interior defender contributed 81 total snaps on Saturday in their narrow victory over Duke, and he was nothing but the most prolific interior run defender in Power Five football in Week 9, earning an 87.9 run-defense grade across 30 snaps. Strowbridge was dominant, forcing a fumble and adding four defensive stops. His effort in run defense was unmatched, and he even added three quarterback pressures to his already impressive resume.
Second-Team DI: Eli Hanback, Virginia
LINEBACKER
Chazz Surratt, North Carolina
Everyone knows of Chazz Surratt's position switch from quarterback to linebacker, but is he being effective at his new position? The answer is undeniably yes, and he finds himself on the Week 9 Eckrich Team of the Week. Surratt earned the highest grade among all ACC linebackers (84.7), which was comprised mainly of his incredible 88.9 coverage grade. The UNC linebacker dropped back in coverage 45 times but was just targeted only once, allowing three total yards.
Second-Team LB: C.J. Avery, Louisville
Shaq Quarterman, Miami
The 'Canes held the Pittsburgh Panthers to 12 points in their Week 9 bout, which was primarily aided by Quarterman's efforts in run and pass defense. The Miami linebacker earned an 83.0 defensive grade across 75 total defensive snaps, earning positive marks in both run defense (76.8) and coverage (79.5). Quarterman was penalized on zero occasions and was targeted as the primary defender in coverage five times, surrendering just ten total yards.
Second-Team LB: Jeremiah Gemmel, UNC
CORNERBACK
DJ Ivey, Miami
Miami cornerback DJ Ivey didn't top the charts with his 70.4 PFF grade, but his flashy metrics are the reasons for his selection on this list. After being benched a week after giving up two touchdowns, Ivey was targeted twice and secured two first-half interceptions. He's allowed a reception in his coverage in every single game this season but has surrendered less than ten yards in three of seven games.
Second-Team CB: Marlon Character, Louisville
Anthony Johnson, Louisville
Anthony Johnson earned the starting nod over fellow Louisville defensive back Marlon Character, and he did not disappoint. The cornerback earned a season-high 84.1 grade on account of his 84.0 coverage grade. Johnson dropped back in coverage 25 times and was targeted three times as the primary defender in coverage, surrendering just one catch for nine yards.
Second-Team CB: Renardo Green, FSU
SAFETY
Marquis Waters, Duke
The highest-graded defender on this list and the entire ACC, Marquis Waters earned an 89.9 mark across 71 total defensive snaps. Said overall grade and his 91.4 coverage grade are both career-highs for the third-year Duke Blue Devil. Waters was targeted as the primary defender in coverage five times but only gave up one catch for six yards with an interception to boot. Opposing quarterbacks also maintained a 0.0 passer rating when targeting Waters.
Second-Team S: K'Von Wallace, Clemson
Paris Ford, Pittsburgh
Paris Ford, the hometown product, continued his impressive three-game tear, where he earned 75.0-plus grades in each game. In Week 9 specifically, he received a 76.7 overall grade and an 81.7 coverage grade over 61 snaps. Ford forced an incompletion on three of five targeted snaps (60.0%) but dropped an interception in the process. The Pittsburgh safety is on quite the run in the middle of his 2019 campaign, and he continued that in Week 9.
Second-Team S: Tanner Muse, Clemson
FLEX
Stanford Samuels III, FSU
Florida State defensive back Stanford Samuels III earned a season-high 81.3 defensive grade across 65 defensive snaps. He was the most targeted defensive player in the entire ACC (13), but he only allowed four receptions for 25 total yards. Samuels forced four incompletions and collected five stops in the process while surrendering a 40.2 passer rating in coverage.
Second-Team FLEX: A.J. Terrell, Clemson