After a full slate of games on Saturday, we at PFF and our team of over 500 analysts have dissected and graded every player on every snap of every game to bring you the most detailed and valid set of picks you can find anywhere.
The Week 8 Eckrich ACC Team of the Week powered by PFF saw some impressive performances and, of course, the strength of opponent also factored into the overall selections as did the PFF player grades.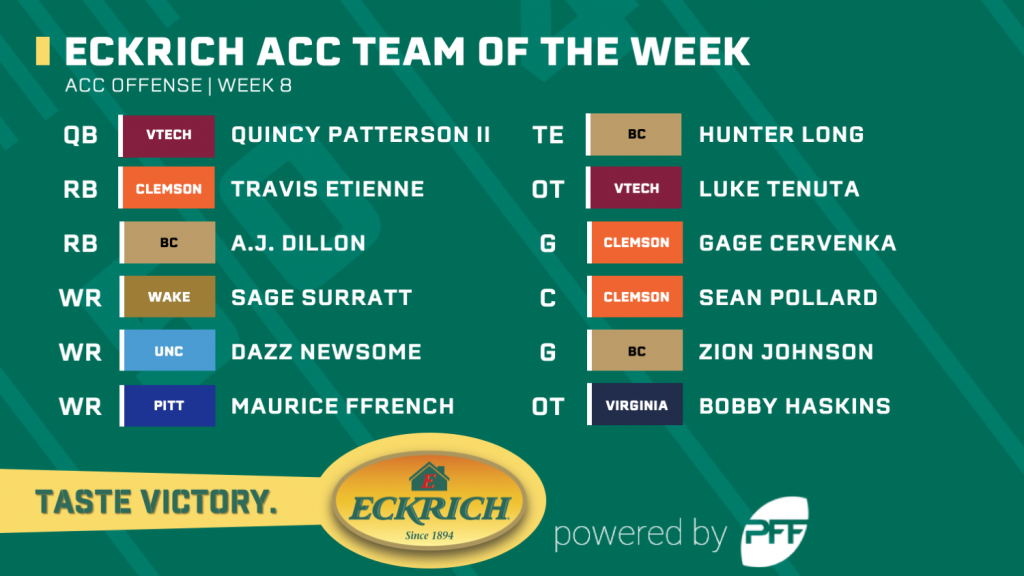 QUARTERBACK
Quincy Patterson II, Virginia Tech
It was a sweaty palms type of game for Virginia Tech and North Carolina fans throughout their six-overtime homecoming bout on Saturday night. Quincy Patterson II, Tech's third-string quarterback, entered the game in the third quarter and had explosive numbers on the ground, rushing for 126 yards and four touchdowns.
Only two of his 23 rushing attempts occurred on quarterback scrambles, the rest coming on designed runs. He also forced seven missed tackle, earning 4.6 yards after contact per attempt. Not only did Patterson II have incredibly impressive personal accolades, but he also brought home to win for the Virginia Tech Hokies.
Second-Team QB: Kenny Pickett, Pittsburgh
RUNNING BACK
Travis Etienne, Clemson
Etienne is no stranger to the Eckrich ACC Team of the Week — and for a good reason. The Clemson running back earned 13.7 yards per carry which is the highest mark he's collected since his Week 1 matchup against Georgia Tech. Even more impressively, Etienne averaged 10.8 yards after contact per attempt — the only time he's reached a double-digit figure in said metric in his career.
No one could bring him down, it seemed, as he forced nine missed tackles, tying his season-high mark, en route to a 0.64 forced missed tackle per attempt rate. It positively was one of Etienne's better games as a college athlete, as his 151 yards after contact mark is also a career-high.
Second-Team RB: David Bailey, Boston College
AJ Dillon, Boston College
AJ Dillon led all Power 5 running backs in attempts in Week 8, and he didn't waste a single one. He earned an 82.0 rushing grade, which is a result of his 228 rushing yards, 10 forced missed tackles and 144 yards after contact. He also found the end zone three times and moved the chains on 13 occasions, finishing the game with 37.0% of his rushes resulting in a first down or touchdown. Dillon did not record a target, but his efforts on the ground were more than enough to power Boston College over North Carolina State.
Second-Team RB: Jordan Mason, Georgia Tech
WIDE RECEIVER
Sage Surratt, Wake Forest
Surratt continued his 2019 tear with a remarkable performance in Wake Forest's two-point win over Florida State. He saw double-digit targets (14) for the fourth time this season. Surratt has proven time and time again that he'll make his impact on the game when given the opportunity — he's gained 150-plus yards (170) through the air in each 10-plus target game. His Week 8 performance sticks out specifically on account of his 24.3 yards per reception and four catches that went for 15 yards or more. Even with the abundance of targets that he saw, he did not drop a single pass.
Second-Team WR: Devin Carter, NC State
Dazz Newsome, UNC
Another participant of the six-overtime thriller finds himself on this list. On eleven targeted passes, Newsome turned those into nine receptions into 112 yards and two scores. He moved the chains five times and also forced a pair of missed tackles. Although the Tarheels were on the losing end of the game, Newsome was truly a bright spot in the Carolina offense.
Second-Team WR: Damon Hazelton, Virginia Tech
Maurice Ffrench, Pittsburgh
Maurice Ffrench and the Pittsburgh offense faced a challenging task in meeting the stingy Syracuse defense on Saturday, but they cooked up a win with Ffrench contributing 92 receiving yards and a score. Three of his six total receptions went for 15 yards or more, a career-high mark for the 5'11" 200-pound senior. Ffrench received two contested targets, coming down with both of them. Six first downs in one game is also a career-high number as the Pittsburgh wide receiver continues to put a solid 2019 campaign together.
Second-Team WR: Justyn Ross, Clemson
TIGHT END
Hunter Long, Boston College
Hunter Long not only earned the highest receiving grade (93.7) among all Power 5 tight ends, he earned the highest receiving grade among all Power 5 pass-catchers. He also accomplished something that we rarely see from a receiver at any level. Long gained 87 yards after the catch, which tops his game total of 84 total receiving yards, and he did so on three receptions, all of which resulted in a first down.
Second-Team TE: Cary Angeline, NC State
OFFENSIVE TACKLE
Luke Tenuta, Virginia Tech
The Virginia Tech offensive tackle Luke Tenuta extended his streak of not being penalized once this season, and he did so across 59 snaps in Week 8. Tenuta also allowed zero quarterback pressures for the second straight game resulting in a perfect 100.0 pass-blocking efficiency rating. He was a crucial part of Virginia Tech's win, even blocking for three different quarterbacks in the game.
Second-Team OT: Mekhi Becton, Louisville
OFFENSIVE GUARD
Gage Cervenka, Clemson
Clemson had some of their star players put on a show Saturday in their imposing win over Louisville, but it was the offensive line that was their anchor. Offensive guard Gage Cervenka was crucial in both aspects of the game, earning a 75.3 and 75.2 run-blocking and pass-blocking grades, respectively. These marks resulted in his 74.7 overall grade, which is the highest he has received since Clemson's Week 1 game against Georgia Tech.
Second-Team OG: Rakavius Chambers, Duke
CENTER
Sean Pollard, Clemson
Pollard was dominant in the run game, but his pass-blocking abilities were really on display. He earned a perfect 100.0 pass-blocking efficiency rating for the sixth time this season, and he hasn't received a penalty since Week 1. His 81.3 pass-blocking grade is just the fourth-highest this season, which shows how consistent he has been at the center position in 2019.
Second-Team C: Jimmy Morrissey, Pittsburgh
OFFENSIVE GUARD
Zion Johnson, Boston College
On 75 offensive snaps, Zion Johnson earned positive marks in both run and pass blocking. Johnson has come a long way this season, earning an 81.2 pass-blocking grade in Week 8 after earning sub-30.0 grades in both Week 1 and Week 2. He surrendered zero pressures this week and has also not been penalized this season.
Second-Team OG: John Phillips, Boston College
OFFENSIVE TACKLE
Bobby Haskins, Virginia
Virginia offensive tackle Bobby Haskins wasn't as impressive in the run game, but he solidified the right side of the Cavaliers' offensive line with his abilities in the passing game. Haskins earned an 83.7 pass-blocking grade after he allowed zero pressures for the first time the season. His pass-blocking grade and pressure allowed rate are both career-highs for the 6'7" 285-pound tackle.
Second-Team OT: Charlie Heck, UNC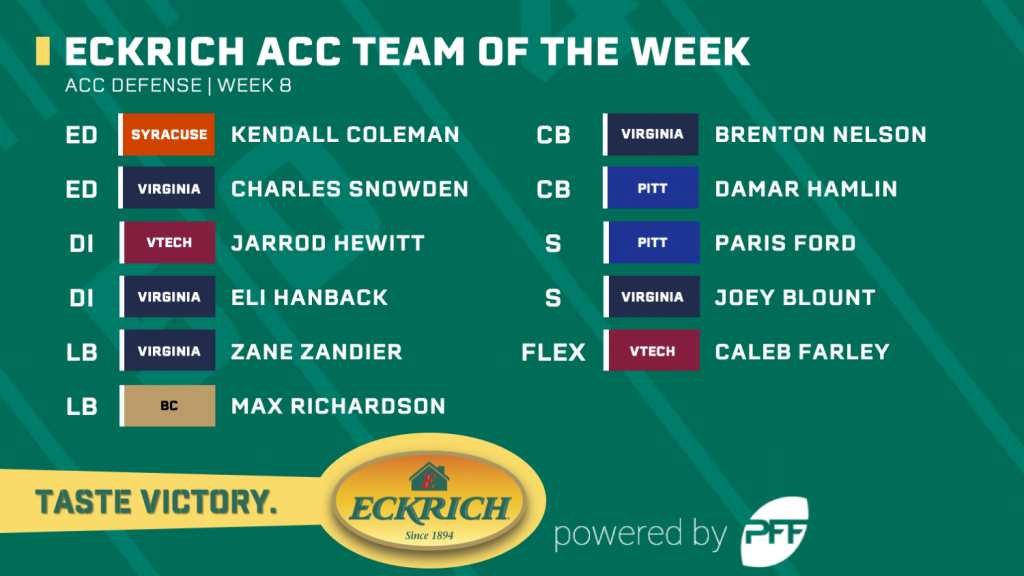 EDGE DEFENDER
Kendall Coleman, Syracuse
Coleman was an absolute force in the pass-rush on Saturday. His 83.0 pass-rush grade resulted in an 81.3 overall grade, which is the highest he's received in 2019. He recorded 10 quarterback pressures, which is the most in a single game throughout his entire career at Syracuse.
Second-Team ED: Brandon Berry, Syracuse
Charles Snowden, Virginia
The Cavaliers dominated the Duke Blue Devils in a 34-point win on Saturday, and Virginia's ability to make the opposing quarterback uncomfortable played a massive part in that. Charles Snowden led the way with an 89.7 overall grade across 49 snaps. His elite 91.9 pass-rush grade is the highest he's received in his career and is a result of his 23.8 pressure percentage. Like Coleman, Snowden also didn't finish with a sack, but his five quarterback pressures were impactful nonetheless.
Second-Team ED: Carlos Basham Jr., Wake Forest
INTERIOR DEFENDER
Jarrod Hewitt, Virginia Tech
Another member of the overtime classic against UNC, Jarrod Hewitt earned a 71.5 grade across 81 defensive snaps. His six quarterback pressures—two of which resulted in sacks—are the most he's secured in a game this season. Hewitt saw a monster workload with 50 pass-rush snaps, and he recorded a pressure on 12.0% of those.
Second-Team DI: Marvin Wilson, Florida State
Eli Hanback, Virginia
The Cavaliers went up against the weaker Duke offense, and they definitely took advantage of their opportunity. Hanback, the interior defender, made his mark in run defense, earning a 79.2 run-defense grade off the back of a solo tackle and two assists all while extending his streak of zero missed tackles on the season.
Second-Team DI: Rondell Bothroyd, Wake Forest
LINEBACKER
Zane Zandier, Virginia
The Virginia linebacker earned the highest grade in the ACC at his position (88.1). Zandier didn't dominate in just one facet of the game, but instead, he was consistent in every area. He earned positive marks in run defense (80.1), pass-rush (63.8) and coverage (83.9). The do-it-all linebacker recorded a batted pass, six tackles and five defensive stops.
Second-Team LB: Shaq Quarterman, Miami
Max Richardson, Boston College
Richardson had a similar game to Zandier in that he was incredibly effective in the three major defensive areas. He was targeted as the primary defender in coverage four times and surrendered just four total passing yards. Opposing quarterbacks maintained a 56.3 passer rating when targeting Richardson in coverage as he did not miss a tackle.
Second-Team LB: Jordan Mack, Virginia
CORNERBACK
Brenton Nelson, Virginia
Nelson was locking down everyone he covered on Saturday, allowing just a 26.7 passer rating and 17 yards in coverage. He was targeted as the primary defender in coverage on five occasions but only allowed three receptions. His 20.0% forced incompletion percentage is the highest he's earned in 2019 when he's been targeted five or more times.
Second-Team CB: Michael Carter II, Duke
Damar Hamlin, Pittsburgh
Across 75 total defensive snaps, Hamlin played in coverage on 57, allowing just a 52.5 quarterback passer rating. He was targeted a staggering 11 times but allowed only five catches for 23 total yards. Hamlin forced four incompletions, which is a career-high mark, and it aided his 77.9 coverage grade, which is also a career-high.
Second-Team CB: Armani Chatman, Virginia Tech
SAFETY
Paris Ford, Pittsburgh
Ford earned the highest defensive grade (91.3) among all ACC defenders in Week 8. He was the only ACC defender to reach the coveted elite (90.0-plus) mark, and he did so by contributing a herculean effort in coverage. Across 32 coverage snaps, Ford was targeted just one time, which resulted in a forced incompletion. He also racked up three tackles with zero whiffs.
Second-Team S: Mike Palmer, Boston College
Joey Blount, Virginia
Blount earned a season-high 77.7 grade in coverage on account of him allowing just nine yards and two catches on four targets, none of which went for a first down. He also snagged an interception for the Cavaliers, which resulted in a 16.7 passer rating allowed.
Second-Team S: Reggie Floyd, Virginia Tech
FLEX
Caleb Farley, Virginia Tech
Farley earns the flex spot and caps off the Week 7 ACC Team of the Week with his 73.3 grade in coverage. The Virginia Tech defensive back allowed one catch on eight passes where he was the primary defender in coverage. Four of the seven incompletions when targeting Farley were forced incompletions, which resulted in his 50.0% forced incompletion rate.
Second-Team FLEX: Tanner Muse, Clemson