PFF provides every fan with the right information to best prepare for Week 6 of the 2019 NCAA season. We offer advanced stats and grades on key players to watch, DFS advice and expert predictions for a handful of noteworthy NCAA games on the schedule for this week.

Friday, October 4
Players to Watch:
UCF QB Dillon Gabriel has come on strong as the team's starter for the future, as the former Hawaii high school standout is currently second in the nation with 622 yards on deep passes attempted at least 20 yards past the line of scrimmage. He's attempted a deep pass on 25.0% of his throws through five weeks, so there will be some shots taken downfield in this one, for sure.
DFS Advice:
Gabriel Davis is the main man for this one, as he's seen the lion's share of touchdowns from Gabriel this season. While the Gabriel-to-Gabriel connection is working, a less-expensive route is Tre Nixon, who doesn't have the touchdown totals as Davis but has just 11 fewer targets. The Bearcats hold only one cornerback with a coverage grade above 65.0, and the task of guarding both Nixon and Davis has proved unstoppable this season. It's a safe bet to say either one of the duo scores, but Nixon may draw the easier matchup.
Expert Prediction:
UCF holds the better quarterback, better offense, and as it stands right now, the better team in coverage. Advantage: UCF. Back the under but take the Knights.
Saturday, October 5
Players to watch:
The nation's third-highest passer rating when kept clean from pressure and the nation's fourth-highest under-pressure passer rating belongs to Oklahoma QB Jalen Hurts, as he's been remarkably consistent no matter the situation. He's found targets deep, and found them often, leading to 509 yards on deep passes, the fifth-most despite just 11 completions on such attempts. He's obviously the star to watch, but freshman cornerback Jaden Davis should lock down Kansas receivers with ease as he's limited opposing quarterbacks to just a 23.6 passer rating into his primary coverage.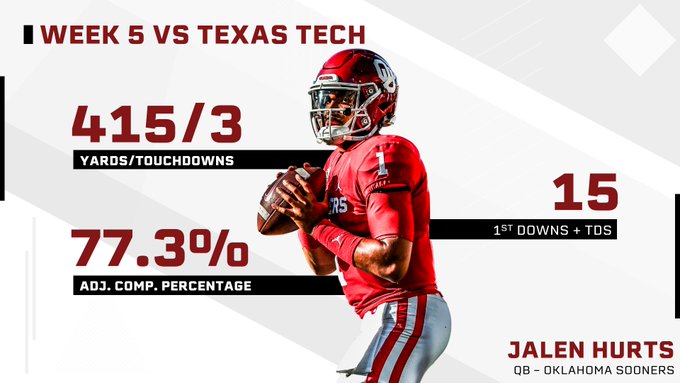 DFS Advise:
With this one likely to get out of hand, your best bet is to take a guaranteed star at playmaker but not spend the high price tag of Ceedee Lamb. Charleston Rambo is a true threat with the ball in his hands and has hauled in 13 of the 15 targeted passes his way for a whopping 373 yards. He's averaging 28.7 yards per catch and more impressively, averaging 15.5 yards after the catch per reception, and he's a threat to house any run-of-the-mill reception.
Expert Prediction:
This one should be ugly, quick. That being said, it would be no strange sight to see the Sooners score at least 60 in this one if they keep the pedal to the floor and with their suspect defense and likely rest coming for their starters in the second half, Kansas would need just a touchdown and a field goal to essentially hit the over. Take the over, but don't touch that spread line for Oklahoma at -32.
Players to watch:
Iowa WR Brandon Smith has seen his target share rise in each of the past four weeks, seeing a season-high eight targets against Middle Tennessee last week, finishing with season-highs in receptions (6), yards (71) and touchdowns (2) as he's come on strong as a reliable big target for Nate Stanley. If Ihmir Smith-Marsette gets bottled up by the Wolverines' secondary, the Hawkeyes will need Smith and RB Mekhi Sargent to have big games, and with Smith's emergence as of late, this could be a true breakout game on the big stage.
DFS Advise:
Ronnie Bell is Michigan's leading receiver in terms of yards and receptions, yet he doesn't have a touchdown on the year. With suspect coverage outside of Michael Ojemudia this season, Bell could have a big game if matched up against another of Iowa's CBs. Bank on him to at least see a game-high in targets from the Wolverines offense.
Expert Prediction:
This game has defensive struggle written all over it, yet both offenses have shown they can score enough to possibly cover the spread. Iowa may be the better team overall, but Michigan's core units should power them to victory with a raucous crowd in The Big House.
Players to watch:
This one will ultimately boil down to quarterback play as each team has struggled this season at the position. However, if Malik Cunningham can play for Louisville, they have the advantage as Boston College QB Anthony Brown has uncorked 12 turnover-worthy passes this season, tying for fifth-most in the country. While he's combatted that with 10 big-time throws, he hasn't quite had the success he had a year ago, and Louisville WR Tutu Atwell's emergence should weigh heavily on the outcome of this game. Don't forget AJ Dillon and the high percentage chance that he totals over 100 yards on the ground, again, this week.
DFS Advise:
Dillon is a near-guarantee to get to 100 yards on the ground whenever healthy, but Louisville RB Javian Hawkins has done enough to get a look in most DFS situations. He ran wild against Notre Dame in the first half and has forced 12 missed tackles this season while gaining 276 yards after contact in the process. Hawkins has only one touchdown but 13 other first-down runs meaning he can convert if he gets touches near the goal line.
Expert Prediction:
Louisville opens as the home favorite in an ACC game for the first time in what feels like a while, or at least since the Lamar Jackson era. That being said, a week after losing a hard-fought battle against Wake Forest may cause a bit of a hangover for BC and we expect Cunningham to make enough plays to get the victory for Louisville. Cards get the win, but the potential to be an ugly, low-scoring affair is there.
Players to watch:
With two new quarterbacks in their respective systems, the PFF grades paint an ugly picture at this early point for the Gators as Auburn QB Bo Nix betters new starter Kyle Trask in just about every facet. The Gators are the nation's sixth highest-graded team when rushing the passer while Nix is the nation's 99th-ranked quarterback against the blitz. If the Gators can pressure Nix on the blitz, his passing grade goes down significantly and will be key to victory for Florida.
DFS Advise:
Remarkably consistent through five games, JaTarvious Whitlow may be worth the high price tag as he's scored in all but one game, the season-opener against Oregon in which he went over 100 yards. He's forced multiple missed tackles in each game and could prey on some suspect tackling in the secondary if he can reach the second level.
Expert Prediction:
The Gators will pressure Nix and blitz seemingly at will against Auburn, but the Tigers offense should be able to show their power against UF. This one comes down to one play from Nix in what could be a true emergence from a PFF grade standpoint against a quality defense. Tigers by three.
Players to watch:
The Big East rivalry that once was isn't quite that, not nearly equaling what it once was. Deejay Dallas is as fun as they come to watch, but after allowing Quentin Harris to throw all over them at home, the Virginia Tech secondary looks keen for a rebound against the Hurricanes and Jarren Williams. Caleb Farley flies all over the field and should make a few plays while Jarrod Hewitt should move the pocket from the interior against a porous Miami offensive line.
DFS Advise:
Dallas is an exciting runner who's broken 17 tackles so far this season while averaging over 3.00 yards after contact per attempt. He's a threat out of the backfield as well and should see a ton of touches against Tech.
Expert Prediction:
The Hokies take an early lead, but the Hurricanes depth along the defensive side of things strap up their boots late to clinch a hard-fought victory. Tech makes Miami fans sweat and ultimately cover +14. Take the Hokies, don't touch the over/under.
Players to watch:
Tanner Morgan blew the doors off last weekend against Purdue with his ridiculous completion percentage while Rashod Bateman may be the second-most exciting receiver in the Big Ten this season, aside from his teammate Tyler Johnson. Bateman is a big target and no stranger to #BigTimeCatch moments, something he should have many in this one. If they decide to double cover Bateman, that leaves Johnson open or Chris Autman-Bell freed up over the middle. This team is stacked at receiver.
DFS Advise:
Really can't go wrong with Bateman as a selection as Tyler Johnson draws the opposing team's No. 1 cornerback in most situations. Bateman has been targeted 29 times, hauled in 21 receptions for 466 yards and four scores while 16 other receptions have moved the chains for first downs. He's a sure-fire bet to see a bevy of targets and a wealth of yards.
Expert Prediction:
The Gophers are cruising right now after a few early season scares. Their defense is better than years past, but this offense is something special through the air. Big points, big win if Morgan can replicate that kind of elite-level success we saw a week ago. Odds are he's good, not great, and the Illini cover the +14 against Minnesota despite a resounding victory for the Gophers.
Players to watch:
Slinging Sammy Ehlinger is the Big 12's second-best quarterback through five weeks of action, no stranger to deep throws and big-time throw moments. Ehlinger is the name to watch, but WR Devin Duvernay should feast even if Collin Johnson returns to action for the Longhorns. Duvernay hasn't dropped a pass since the team's bowl game in 2017 against Missouri, and that is remarkable consistency that Ehlinger can rely on.
DFS Advise:
While Duvernay and Johnson get the looks on the outside for the Longhorns, Sam James has come along for the Mountaineers this season, even with just one touchdown to his credit. Texas has shown they can allow points in bunches and the Mountaineers are certainly expected to score a few through the air. With 165 yards after the catch to his credit, James' after-the-catch ability will go a long way in his total point outage.
Expert Prediction:
The Longhorns need a statement victory heading into a clash with Oklahoma looming. Ehlinger gets that statement victory by putting up 30-plus points easy, but the defense allows WVU to keep it close. Longhorns by seven after a late field goal moves the Mountaineers within one possession.
Players to watch:
This one is easy: Khalil Tate is as exciting a player with the ball in his hands at quarterback for Arizona, while Colorado WR Laviska Shenault is the exact same thing. If Shenault can go, he's a 'must-feed' for the Colorado offense as his best game this season came when he saw a season-high in targets (13) against Air Force. Tate has come along as a passer but is as electric as any running back with the ball in his hands on the ground. Like Shenault, if he can go as a game-time decision, this one is must-watch TV.
DFS Advise:
Tony Brown is the man to go with on the Colorado offense as he stepped up big in Shenault's absence a week ago against Arizona State. Rewarding his team with three touchdowns, if Shenault can't play, Brown is a big-time pickup.
Expert Prediction:
Steven Montez is as hot and cold as a quarterback can be, but at home against a 'not-good' defense the Wildcats have, and you have to side with the Buffs. The Colorado defense does enough to limit Tate (if he can play) through the air and the passing advantage goes to Montez in this one. Run Ralphie Run by a touchdown.
Players to watch:
Justin Fields, Chris Olave, Binjimen Victor aside, J.K. Dobbins will see his first real test on the ground this season against a stout defense in Michigan State. The conference's top-two defenses take center stage in Columbus in this one as Joe Bachie leads the Spartans, and Kenny Willekes will put pressure on the OSU tackles. However, the best football player on any field any Saturday is Chase Young and he'll make offensive plans a mess for Brian Lewerke and Co.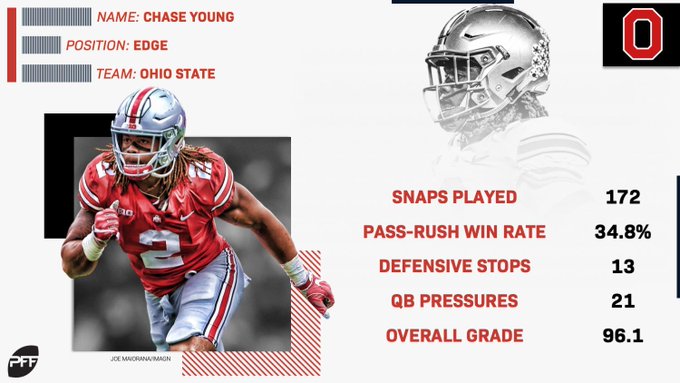 DFS Advise:
If you must start someone, it seems like Darrell Stewart is that guy from Michigan State, but it's likely Jeffery Okudah locks him down in coverage. Michigan State's weakness has been at cornerback this season, and Chris Olave may have a great game in the first half as a lot of attention should slide to Victor and K.J. Hill over the middle.
Expert Prediction:
Chase Young is just that, the nation's best player, and he'll keep the Michigan State offense way off pace and off schedule. This Ohio State defense is as good as they come while the Spartans are beyond lackluster on offense. Ohio State, big, in the first half, but Fields has to play a full game to keep this one above their 20-point spread to cover. Fields gets it done, but this one becomes a sweat to win by 20.
Players to watch:
Jacob Eason has hit his stride as of late after a down game against Cal in Week 2, the team's lone loss. Eason has as athletic a tight end in the country as Hunter Bryant is basically a wide receiver trapped in a tight end's body. Bryant has hauled in 23 catches for 334 yards, 192 of which he's gained after the catch, forcing six missed tackles after the fact. He'll be able to feast over the middle of a depleted Stanford defense compared to years past.
DFS Advise:
Bryant is likely the nation's best tight end and comes with a high price tag. With so few tight ends in play this weekend and the chances for him to have a big game at seemingly all-time highs with a downfield thrower like Eason throwing his way, he's as safe a play at a position you can find.
Expert Prediction:
The Huskies are big road favorites and for good reason. K.J. Costello, if he plays, has not been anywhere near where he was a season ago, and the Washington defense is perhaps the best in the country. The Huskies can run away with this one big if their signal-caller plays up to par. Take the points, take the Huskies, take the over and the cover. Book it.