Now that the first run of our analysis is finalized and available in PFF's CFB Premium Stats+, we get to fill you in on everything you might have missed while providing further analysis on yesterday's games. Here we present to you the PFF Team of the Week, eight big takeaways and player awards from Week 6 of the 2020 college football season.
PFF TEAM OF THE WEEK
Offense
QB: Zach Wilson, BYU
RB: Travis Etienne, Clemson
RB: Michael Carter, North Carolina
WR: Terrace Marshall Jr., LSU
WR: Jaelon Darden, North Texas
WR: Kearis Jackson, Georgia
TE: Arik Gilbert, LSU
LT: Christian Darrisaw, Virginia Tech
LG: Lecitus Smith, Virginia Tech
C: Shane McGough, FIU
RG: Peter Nestrowitz, Navy
RT: Larry Borom, Missouri

Defense
DI: Keenan Stewart, UTEP
DI: Derrick Tangelo, Duke
EDGE: Payton Turner, Houston
EDGE: Azeez Ojulari, Georgia
LB: Monty Rice, Georgia
LB: Jon Rhattigan, Army
CB: Derion Kendrick, Clemson
CB: Eric Stokes, Georgia
S: Macon Clark, Tulane
S: Ben DeLuca, Charlotte
FLEX D: Shaun Crawford, Notre Dame
8 BIG TAKEAWAYS
1. The UNC offense is finally BACK
Sam Howell got off to a bit of a slow start to his sophomore campaign. His deep ball was a key reason why the Tar Heels were so successful in 2019, but Howell couldn't get anything cooking down the field in his two games prior to Week 6. In fact, he hadn't connected on a single pass that traveled at least 20 yards in the air.
Howell turned that around against Virginia Tech, dropping two deep bombs and connecting on each for touchdowns. 
Howell had ~ zero ~ deep ball completions in his two games prior today, after having the second-most among P5 QBs in 2019… HE'S BACK pic.twitter.com/N40Hjfmpjt

— Anthony Treash (@PFF_Anthony) October 10, 2020
Howell made minimal mistakes by posting the fourth-lowest negatively graded throw rate of the week, and he looked more like his 2019 self. Overall, the passing offense generated positive EPA on 61% of their plays, ranking sixth of Week 6. It was also over 15 percentage points higher than their previous two weeks.
If the Tar Heels can be a little bit more aggressive and let Howell take a few more downfield shots per game, this offense can test some of the ACC's best second-tier teams, such as Notre Dame and Miami.
2. Myles Brennan isn't to be blamed for LSU's loss to Missouri
Regression was inevitable for LSU after their historically good 2019 season and losing practically everyone from that squad to the NFL, but no one expected the Tigers to start out the year 1-2.
This losing start really has nothing to do with new quarterback Myles Brennan, who is actually surpassing expectations with his play on the field. Instead, the big issue with this team lies on the defensive side of the ball.
Despite having a great trio in the secondary in Derek Stingley Jr., Eli Ricks and Cordale Flott, LSU allowed positive EPA on 64% of their passes faced on Saturday, the second-highest of the week.
The linebackers were largely responsible for these plays, as Jabril Cox, Damone Clark and JaCoby Stevens (who is a safety but plays predominantly in the box) combined to allow nine catches on 10 targets for 208 yards and two touchdowns. One of those nine catches was a 58-yard score to start out the game on a flea-flicker, and another was a 69-yard play late in the fourth quarter on a busted coverage to help put together the go-ahead scoring drive.
Brennan was solid in his first two games, earning a 79.2 passing grade, even if he did miss a few open receivers down the field. But this time around, he did just about everything he could to help the Tigers win the game. He had the third-lowest negatively graded throw rate of the week while producing a big-time throw to turnover-worthy play ratio of 5-0. Brennan connected on four deep shots of 20-plus yards for 176 yards and two touchdowns, as well. 
As Coach O alluded to postgame, this isn't a quarterback or offensive issue; this is solely on the defense.
3. Sam Ehlinger's legs kept Texas in the Red River showdown, but his arm handed them the L
The Longhorns needed to win this one if they even wanted a glimmer of hope at the College Football Playoff. But instead of prevailing and leading his team to victory, Ehlinger had one of the worst games of his collegiate career as a passer.
First off, I will say Ehlinger's rushing ability came in clutch and was one of the key reasons why Texas even had a shot of winning this one. He had seven total runs of 10 or more yards, and of those seven, six came in the final five-and-a-half minutes of the fourth quarter and overtime (five of which were scrambles).
Ehlinger was all over the place as a passer, though. He was far from accurate with the ball and failed to connect on any big-time throws, despite taking numerous downfield shots. Ehlinger attempted 11 deep shots of 20-plus yards and connected on … zero. He even went 3-of-17 with two interceptions, nine quarterback-fault incompletions and a 2.2 passer rating on throws of 10 or more yards downfield. One of those picks was the game-sealer in overtime: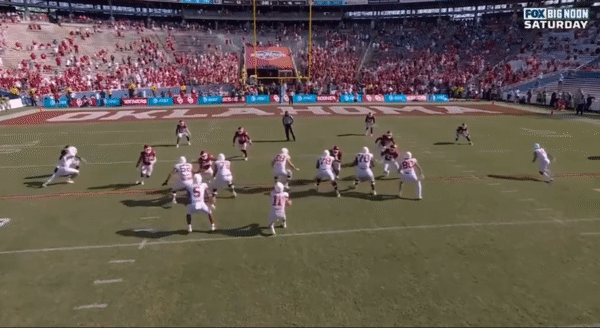 It really could not have been a worse day from a passing standpoint for the Texas QB.
4. Clemson cornerback Derion Kendrick is off to an unbelievable start
Kendrick flipped from wide receiver to cornerback prior to his 2019 sophomore year and ended up earning the starting job opposite A.J. Terrell. He was stingy all season long leading up to Clemson's national championship game, allowing 50 yards or less in every game played. Burrow subsequently picked him apart for 114 yards and three touchdowns in their quest to the national title, but it was a successful year for Kendrick, nonetheless. 
To start 2020, Kendrick looked like he might be taking that next step forward and flashed some impressive plays at the catch point. On his 36 coverage snaps against The Citadel and Virginia, Kendrick didn't allow any of his four targets to be caught, with two of those targets resulting in a pass breakup. Then, against Miami Saturday night, he didn't allow a catch on four targets in coverage while forcing a couple of incompletions and intercepting one pass.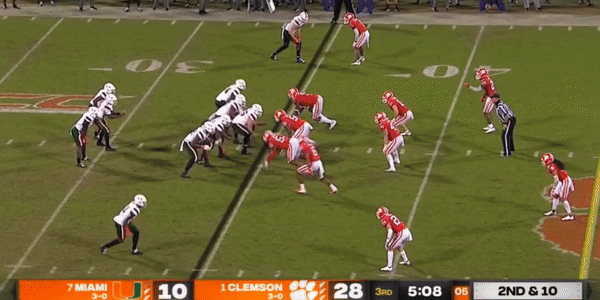 After his stellar showing against Miami, Kendrick is now the nation's highest-graded corner in coverage. He's a playmaker through and through, and he is going to be instrumental in Clemson's run for a national title this year.
5. D'Eriq King proved that he is still a tier below college football's elite
King embarked on the toughest outing of his career on Saturday against Clemson. He had never faced a defense nearly as good as this one in his collegiate career, from the talent on the field to the scheme in general designed by defensive mastermind Brent Venables.
The Miami quarterback did show off his athleticism and mobility, and he did make a pretty big dent in the ground game. King busted off four carries of 10 or more yards on 11 rushes while breaking seven tackles in the process. That outing now makes him the highest-graded rusher at the QB position in the Power Five.
That was rather expected, though, and the real test for King was how he'd fare passing. It did not go well.
King led the Hurricanes to positive EPA on 24% of his passes. King produced a passing grade in the low 50s and averaged just 3.3 yards per attempt on throws from a clean pocket. He attempted 10 passes that traveled 10 or more yards downfield when clean and completed just one while two were intercepted. Those two turnovers were clear underthrows and allowed the Tigers to pull away in the third quarter.
There's no doubt King is a great quarterback, but this performance proved he isn't on that elite tier from a passing perspective.
6. Florida has confirmed my priors
Florida had "boom or bust" written all over it entering the 2020 season, and after losing to Texas A&M in Week 6, it's looking like the latter. 
The secondary had a lot of potential entering the year, but the overall success hinged on the play of Marco Wilson, who is still trying to find his 2017 form after missing 2018 with an ACL and struggling in his return in 2019. He got lit up against Texas A&M this past weekend, allowing catches on all seven of his targets for 132 yards and two touchdowns. And while Kaiir Elam had a great game, with just one catch allowed and one pass breakup, Wilson's performance on the other side was too much to overcome.
While Kyle Trask didn't replicate that elite outing he had to kick off the year, the Florida passing attack was rolling, though this was largely because of Florida's playmakers as opposed to Trask himself. The quarterback ranked 42nd of 57 qualifying quarterbacks of Week 6 in positively graded throw rate as the Gators generated more expected points added (EPA) than any other SEC offense.
Trask is a little bit more refined in 2020 than he was in 2019, and he's made far fewer bad decisions, but he's not looking like that "elite" guy many expected him to become. He can lead an efficient passing attack, as he has so far, but the team is going to have a rough time if the secondary can't figure it out.
7. Lane Kiffin has turned the Ole Miss offense into a juggernaut
After Week 6, the three most efficient Power Five offenses are Alabama, Florida and… Ole Miss. Who would have seen that one coming? Orchestrated by Lane Kiffin, this Ole Miss offense is becoming one of the best in the country and hung 48 on a talented Alabama defense with tempo. 
Last night, Ole Miss generated the second-most EPA per pass play against an Alabama defense in a single game since 2016. They routinely attacked the slot and it paid dividends, as quarterback Matt Corral went 13-of-13 for 208 yards and a touchdown on such targets.
Corral was playing near mistake-free ball, and he continued that into this one. He has now tossed up eight big-time throws and not a single turnover-worthy play. That's helped him produce the fourth-best PFF grade among Power Five quarterbacks, behind Mac Jones, Trevor Lawrence and Spencer Rattler.
The defense, as expected, was the reason they lost in the end. That unit has now allowed 0.62 EPA per pass in 2020, the worst in college football. But I think I speak for everyone by saying I cannot wait to see how Lane Kiffin builds up this program in a few years because he has transformed this offense into one of the SEC's best.
8. Long live the K.J. Costello 2020 Heisman campaign
Just a couple of weeks ago, the college football world was praising Mississippi State quarterback K.J. Costello for his debut as a Bulldog. He threw for an SEC-record 623 yards and helped lead the Air Raid offense to an upset win over LSU.
This caused some way-too-early Heisman chatter, but there were some signs in that game that raised red flags. First and foremost, Costello made multiple bad decisions and came away with four turnover-worthy plays, which played a big part in him earning just a 75.7 passing grade for the game. Next, LSU's defensive strategy was not great at all. They stuck to their guns and played man coverage, which made it too easy for big plays to arise. 
Costello and the offense didn't fare all that well in Week 5, as the quarterback put up just a 51.3 passing grade after the Razorbacks opted to play zone and dropped eight into coverage, which exposed the Mississippi State passer.
Kentucky chose to follow that blueprint. Costello had three turnover-worthy plays and not a single big-time throw, which led to him being benched for a few series. In total these last two weeks, facing almost all zone and three-man rushes, Costello has had just one big-time throw while recording seven turnover-worthy plays.
This is why you never trust the box score. 
OFFENSIVE PLAYER OF THE WEEK
Marshall had the great benefit of playing in one of the best offenses college football has ever seen last year and put up numbers with Joe Burrow throwing him the ball. He hauled in 46 catches for 671 yards and 13 touchdowns in 2019 but had just a 71.6 receiving grade. This partly due to some of that production being schemed with multiple walk-in scores at the goal line in addition to a few coming from busted coverages. 
He had six games in his career with multiple touchdowns entering Week 6, and ended up adding another to that. But this time around, it was different — Marshall blew the doors off the Missouri secondary and had a career day as he posted a receiving grade north of 90.0, over 10 grading points higher than his previous career-high of 80.4. He worked the vertical route tree and carved up Mizzou's secondary, hauling in 4-of-5 vertical targets for 139 yards and two scores. Marshall has some impressive wheels for a guy his size, and it showed on those plays.
DEFENSIVE PLAYER OF THE WEEK
Rice made multiple key plays in every facet, most of which came in the Bulldogs' huge second half after trailing to Tennessee. The biggest play of Rice's came early in the fourth, when he had a strip-sack on a blitz and scooped the ball up for a score to help Georgia score its 27th unanswered point.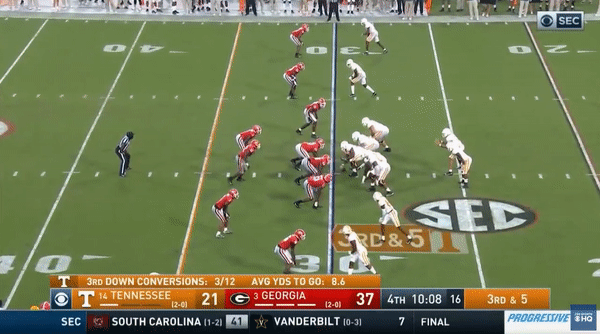 In addition to that game-sealing play, Rice added a run stop and two passing stops to his PFF stat sheet. It was no doubt a career day for the senior off-ball linebacker, as it was the first time of his career he earned an elite PFF grade above 90.0.
TRUE FRESHMAN OF THE WEEK
Gilbert was one of the prized recruits of the 2020 class — the five-star was the highest-ranked recruit at the position and fifth-best overall, according to 247Sports. He was fairly solid in his first two games as an LSU Tiger in Weeks 4 and 5, earning a 62.8 receiving grade while catching eight for 80 yards and a score. This week against Missouri, Gilbert went off. He saw five contested targets on the day and hauled in all five. In addition, he broke a couple of tackles on his six catches, and of those six, three resulted in a 15-plus-yard gain.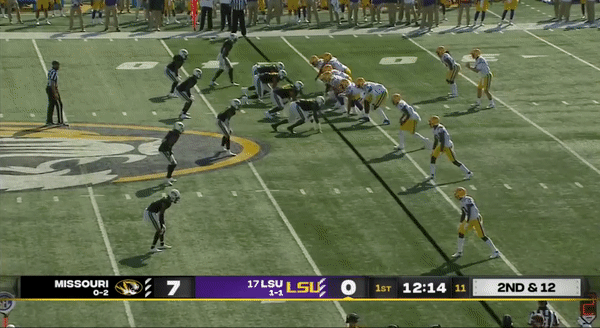 Gilbert is an incredible athlete for a human his size and clearly a monster at the catch point. He is a star in the making and already looks like one of the best tight ends in college football.
OFFENSIVE LINE OF THE WEEK
No offensive line came close to producing at the same level as the Hokies in Week 6. The group put together a combined PFF grade that was over 10 grading points higher than any other offensive line of the week. In all, the Hokies' offensive line allowed just five pressures, but their best work came in the run game where they opened up massive lanes for Khalil Herbert and company.
Tackle Christian Darrisaw, who entered the game as college football's third-highest graded run-blocker at the position, led the way and posted more positively graded run blocks than any tackle of the week. He played a big part in creating one of the biggest runs of the week on this 52-yard score by Herbert.
The Hokies produced the third-most efficient rushing attack of the week thanks to the big men up front.
SECRET SUPERSTAR OF THE WEEK
Narcisse helped the Roadrunners generate 0.75 EPA per pass when on the field, which was the second-best of the week by a quarterback. Narcisse's downfield passing was pristine and featured a couple of beautiful big-time throws.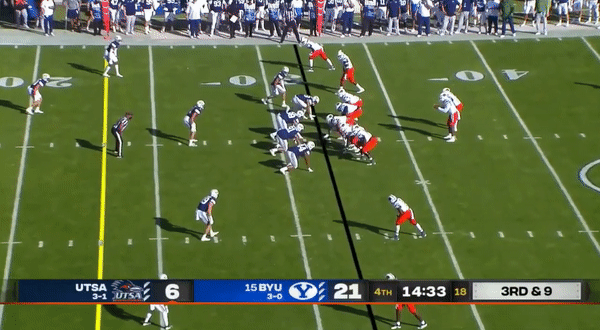 The UTSA passer completed 8-of-9 attempts for 187 yards and two touchdowns on passes thrown 10 or more yards downfield. It was night and day compared to his 2019 season and by far the best performance of his career.
PLAY OF THE WEEK
BIG MAN PICK-SIX
NC State interior defensive lineman Alim McNeil sits at a beefy 320 pounds and had the best play of the week. But it wasn't a great run stop or dominant pass-rushing rep — the unit batted a ball at the line, caught it, then proceeded to take it to the house: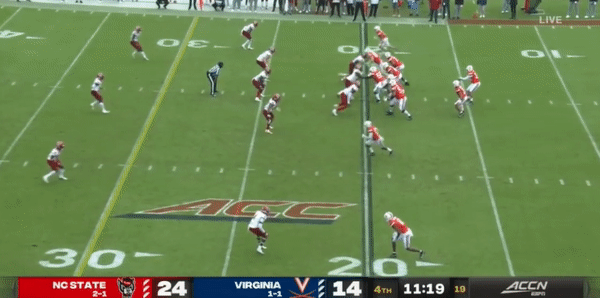 McNeil, a member of the Preseason PFF All-ACC first team, did have a few other impactful plays in the game, including a tackle for loss against the run, a quarterback hit and a couple of other pass-rush wins. That's helped the nose tackle improve his season PFF grade to the best in the Power Five at the position.
AN EARLY LOOK AHEAD TO WEEK 7…
One of the biggest games of the 2020 college season headlines Week 7, as the No. 3 Georgia Bulldogs take on the No. 2 Alabama Crimson Tide — a potential preview of the 2020 SEC Championship Game. 
Georgia can't afford to get off to a slow start in this one. If they don't come out on fire, they are toast. Quarterback Stetson Bennett struggled in the first half against the Volunteers this past week and earned a lowly sub-55.0 passing grade in that span, the second-worst among SEC quarterbacks. The defense wasn't in its usual dominant form, either, as they surrendered 0.41 EPA per pass and 146.0 passer rating in the first two quarters of action.
However, things did change for the better in the second half. Bennett looked more like his Week 4 and 5 self, improving his passing grade to a mark above 80.0 in quarters three and four. The Bulldogs defense put on the clamps and allowed positive EPA on just 18% of their plays in the second half, the best in the SEC by 7 percentage points.
Alabama is coming off one of the best offensive outings we have ever seen in the PFF College era. The Crimson Tide offense generated 0.79 EPA per play, which was the best we have recorded in SEC play in the PFF College era since 2014 (second is at 0.72). 
This one is set up to be a great one with the best SEC's best offense and SEC's best defense going toe-to-toe.