No year in college football will be more memorable than the one we are experiencing now, as the impact of COVID-19 has forced most colleges to cancel the 2020 fall football season with the hope of trying to play in the spring.
We aren't here to give you our opinion on whether they should or should not have played in the fall, nor are we going to do that with their attempt to play in the spring. Instead, we want to shine a light on the players who deserve credit for the performances they have put forth over their college careers.
Without further ado, we present to you what would have been the 2020 PFF College Preseason All-ACC Team.
QUARTERBACK
Lawrence isn't just the best player on Clemson — he's the best player in the country and might end up as the best we have ever seen in the PFF College era. With his arm talent and great mobility, Lawrence earned an elite 90.0-plus PFF grade as both a true freshman and sophomore. Lawrence has produced 2.9 win shares (WAA) over those two seasons combined, which leads all returning players — regardless of position — by a considerable margin (second is at 2.4).
RUNNING BACK
Etienne's greatness is taken for granted. In 2018 and 2019, he posted two of the three best rushing grades we have ever given out. In the span combined, the Clemson Tiger ranks first in rushing grade, broken tackles per attempt (0.35), yards after contact per attempt (4.7) and rate of carries resulting in a first down or touchdown (36.5%). On top of that, he's been the most valuable non-quarterback in the country in that span. It isn't a hot take to say Etienne should be in the conversation for best running back in the history of college football.
RUNNING BACK
Williams is an agile back and can bulldoze through contact. He produced over 5 yards after contact on 30.8% of his runs in 2019, the second-highest rate in the FBS behind only Clemson's Travis Etienne. Overall, Williams broke an impressive 56 tackles on 165 carries, paving the way to an 88.3 rushing grade in 2019.
WIDE RECEIVER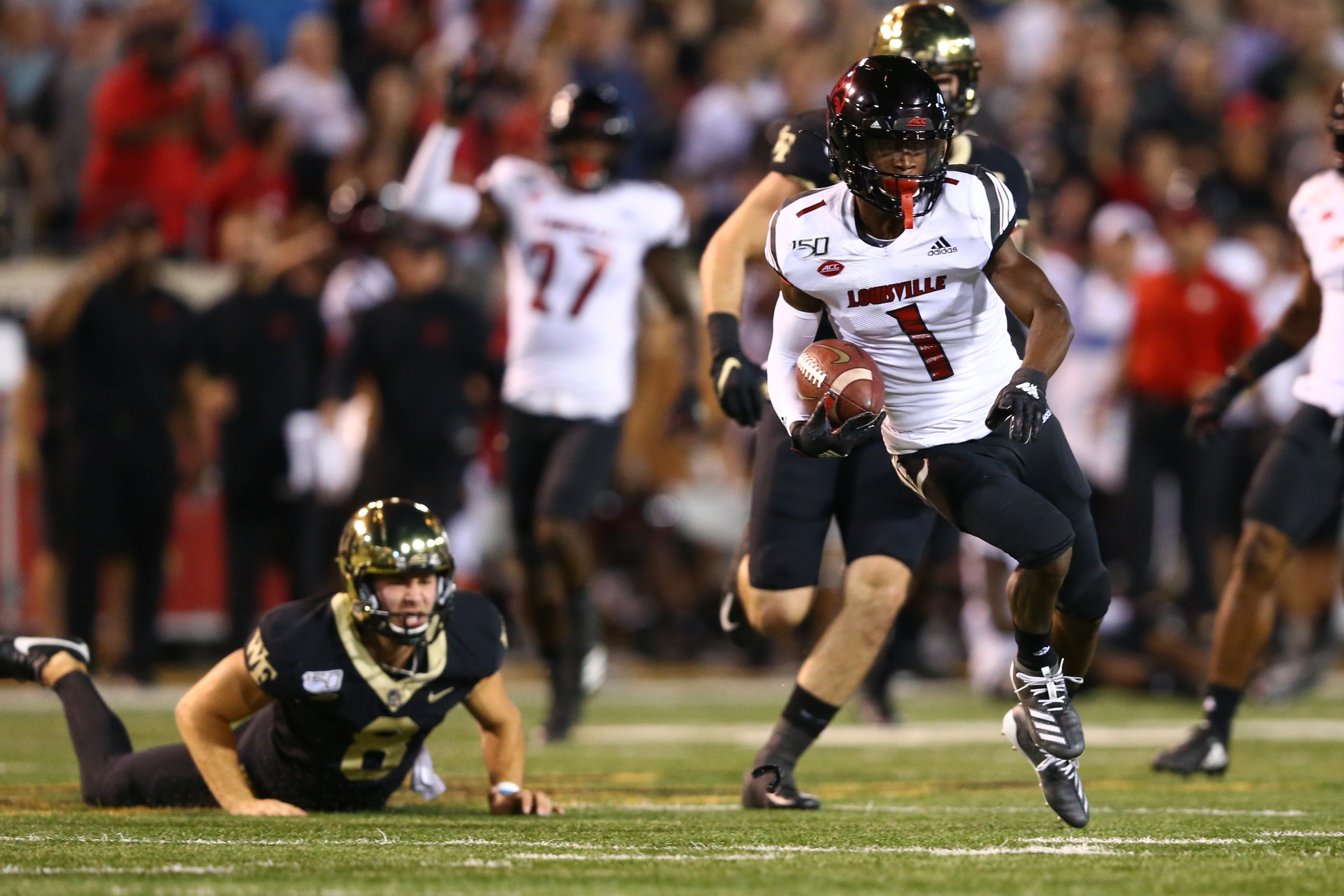 Atwell is just an electric human being. He has reportedly clocked a 40-yard dash time in the 4.2s, and it shows with his after-the-catch ability. In addition to earning the highest grade — by a considerable margin — on screens last year and averaging over 16 yards after the catch on those plays, Atwell had 13 targets that came 20-plus yards downfield in which he was deemed open (more than a couple of steps of separation), which led the FBS.
WIDE RECEIVER
Howell and Newsome's QB-WR connection enables one of college football's most potent deep-passing attacks. Newsome produced more deep catches than any other FBS receiver in the slot last year, with 13. He's also nimble after the catch, as he has broken 45 tackles on 134 career catches.
WIDE RECEIVER
There are not many cornerbacks who can contain Surratt in press coverage. In 2019, he picked up 3.79 yards per route against press, the third-highest in the FBS. He's not an easy man to bring down either, as he broke 17 tackles on 65 receptions in 2019.
TIGHT END
Jordan isn't quite a complete tight end, but he does check the athleticism box at the position. He brings value after the catch, as evidenced by the fact that 13 of his 35 catches came with at least 10 yards after the catch last year. He earned a 63.3 receiving grade as a true freshman in 2018 and raised that mark to 75.7 in 2019, 18th in the FBS.
OFFENSIVE TACKLE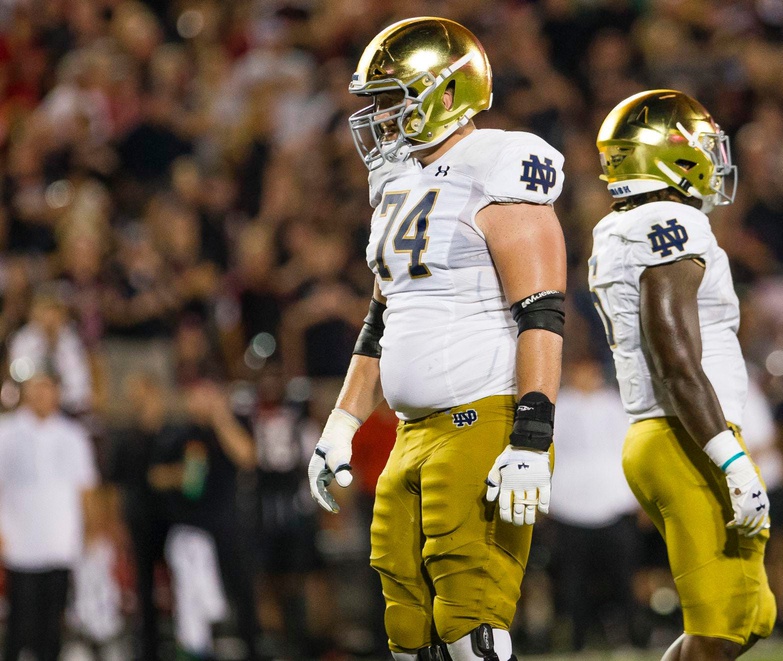 Eichenberg took a noticeable leap from 2018 to 2019, raising his pass-blocking grade from 63.5 to 85.6 while cutting his pressure total almost in half. And he got better as the season progressed, too. Eichenberg already earned the 18th-best pass-blocking grade among FBS tackles over the entire season, but his grade from Week 7 on actually cracked the top-10 (7th).
OFFENSIVE GUARD
Sculthorpe's pass protection still has ways to go, but his work in the run game is in college football's upper echelon. He produced the sixth-best positively graded run-block rate among Power 5 guards in 2019, and over the last two years, the NC State guard has earned the sixth-best run-blocking grade among Power 5 guards with at least 400 snaps.
CENTER
There was a whole lot to love with Patterson's first year starting at center. He was consistent throughout the year, with the only blemish coming against Georgia. Patterson finished as the 19th most valuable player in the FBS at the position and produced an above-average pass-blocking grade on his true pass sets.
OFFENSIVE GUARD
Banks is coming off an exceptional year in pass protection. He allowed zero pressures in seven of his 13 games and dominated against Power 5 competition. He actually produced an 85.6 pass-blocking grade in those matchups, third in the country among those with at least 175 such snaps.
OFFENSIVE TACKLE
Darrisaw is rarely outworked in the run game. His negatively graded run-block rate was by far the best among Power Five tackles in 2019, and he was one of five to rank in the top-20 in both negatively and positively graded run-block rate on the year.
---
[Editors Note: PFF's customizable NFL Mock Draft Simulator gives you the opportunity to be the GM of any team and is now updated with a select group of 2021 prospects]
---
INTERIOR DEFENDER
Wilson has been one of the most productive interior defensive linemen in college football. He is coming off back-to-back years in which earned a PFF grade above 90.0. He's not an impressive athlete, but it doesn't matter with his sheer power and technique. The 6-foot-5, 311-pound Wilson is a versatile piece who can win anywhere on the line — from heads-up nose to 5-technique. He's played over 170 snaps at each of nose tackle, 3-technique and 4/5-technique in the past two years, and he earned a PFF grade at or above 88.9 at every alignment.
INTERIOR DEFENDER
You're not going to find a more productive heads-up nose tackle both against the run and the pass than McNeil. Over 88% of his snaps in 2019 were at 0-tech, and he was one of two Power Five interior defensive linemen to produce 75.0-plus grades in both facets there.
EDGE DEFENDER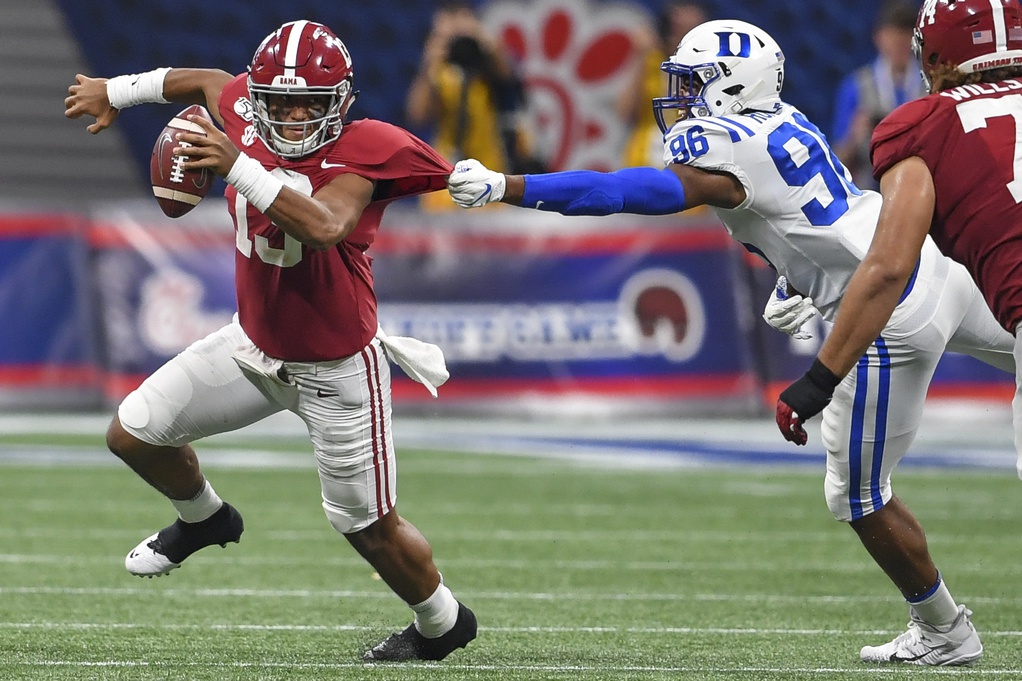 We have been pounding the table over the past year about Rumph's talents, and he is finally starting to get the attention he deserves. There isn't a player in college football with a better pass-rush toolbox than the Duke rusher. That helped him produce a 92.9 pass-rush grade in 2019, as well as an FBS-high 30.8% pass-rush win rate. And he accomplished those feats at 225 pounds, which makes it even more impressive.
EDGE DEFENDER
Roche was a dominant force for Temple this past season, producing a 93.3 pass-rush grade that ranked second to only Chase Young. He had five games last year in which he recorded more than seven pressures, something only one other FBS edge rusher accomplished (only one had four games, too).
LINEBACKER
Owusu-Koramoah broke out in a big way when he was finally given the opportunity to start as the Irish Rover in 2019. His athleticism and instincts make him a valuable player to the defense in every facet of play, and he got better and better as the season progressed. From Week 10 on, Micah Parsons and Isaiah Simmons were the only Power 5 linebackers who earned a higher PFF grade.
LINEBACKER
Bright was one of the best all-around off-ball linebackers in the ACC last year. The only other ACC off-ball linebacker to produce 70.0-plus grades in run defense, as a pass-rusher and in coverage was Clemson's Isaiah Simmons. Bright's blitzing, in particular, is top-notch — no Power 5 linebacker won a higher percentage of such reps in 2019.
CORNERBACK
Farley is as stingy a cornerback as you will ever see. He allowed one or no catches in seven of his 11 games in 2019 and combined for 13 pass breakups and interceptions, four more than his first downs allowed total. Farley has the size and the speed you covet at the position, and all that played a part in him producing a 90.5 coverage grade in 2019.
CORNERBACK
Just like his now-former teammate Farley, Waller had a breakout year in 2019. One of the stingiest cornerbacks in the country, he gave up one catch or less in seven of his 12 games played and allowed just a 39% catch rate on the year. Waller also had the best forced-incompletion rate in the FBS (31.4%). His timing and location at the catch point are simply elite.
SAFETY
Hamilton has the playmaking ability in coverage that every team wishes they had in the secondary. The 6-foot-4 safety allowed only seven catches on 23 targets in coverage while making four interceptions and breaking up another five passes en route to a 1.3 passer rating allowed. And he did that as a true freshman.
SAFETY
Nasirildeen can execute any role you want him to. He can stop the run in the box, blitz, play deep, man the slot — you name it, the 6-foot-4 safety can do it. He was the only safety in college football to earn 80.0-plus grades in run defense, coverage and as a tackler in 2019.
FLEX DEFENSE
What Samuel lacks in size, he makes up for with his quicks. He's in hip pockets all game long — since 2018, 62% of his targets in coverage have had no separation (best in ACC). In the same span, his 24.8% forced-incompletion rate easily leads all ACC cornerbacks who were set to return.
KICKER
PUNTER
KICK RETURNER
PUNT RETURNER