We are about halfway through the college football season, and fates are becoming clearer as teams continue to build toward their ultimate goal of winning a national championship while players add to their NFL resumes. It is no coincidence that the top teams in the country also possess some of the best offensive line play in multiple facets of the game. With that being said, here are the highest-graded collegiate offensive lines through six weeks of play.

5. Louisiana Ragin' Cajuns
The Ragin' Cajuns continue to be the only Group of 5 team on this list and for a good reason. Offensive guard Kevin Dotson is one of four players at his position who has recorded over 100 pass-rush snaps without surrendering a quarterback pressure. In fact, he's only ever been beaten by a defender twice this season. However, the talent doesn't stop there — no other player on their offensive line has allowed more than three total quarterback pressures this season, and just one player has allowed a sack.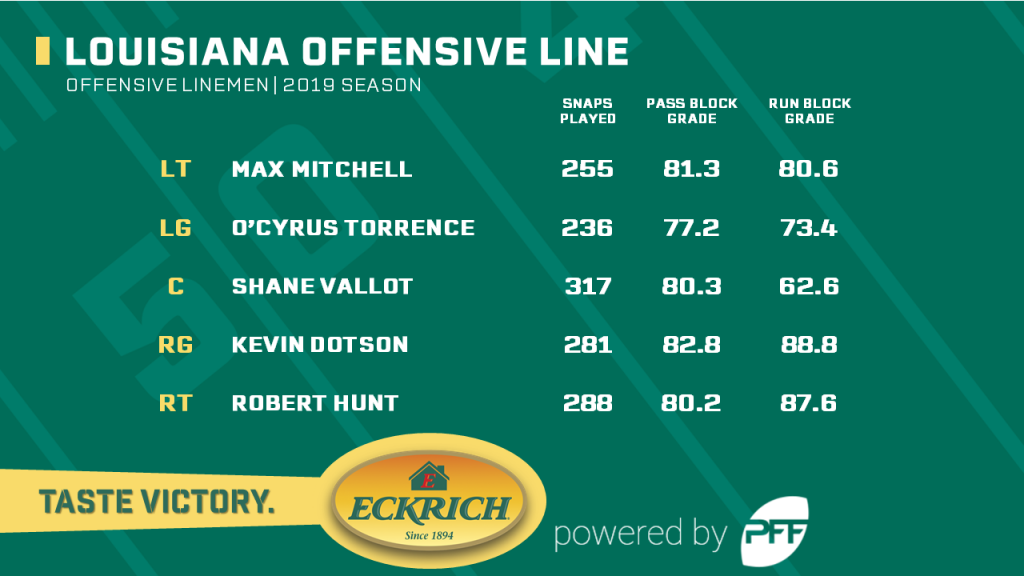 Quarterback pressures are not always attributed to the offensive line, though. Sometimes, the quarterback pressure is credited to the quarterback himself. It just so happens that Louisiana quarterback Levi Lewis has more pressures allowed (10) than the entire starting offensive line (8).
If you need any other convincing that this Louisiana O-line is legit, look no further than their second-ranked team run-blocking grade. Their O-line has been paving lanes for elite running back Trey Ragas, who has earned a 90.6 this season. Although this Ragin' Cajuns' offensive line has played Group of 5 talent all year, they haven't missed a beat, dominating thus far. They'll see game action following their bye on Wednesday against Appalachian State. Look for another will-imposing performance for this unit.
4. Alabama Crimson Tide
Alabama possesses the most awe-inspiring wide receiver depth chart in the nation — led by Jerry Jeudy — but every spectacular play begins with the offensive line, and 'Bama has a great one. Headlined by Jedrick Wills Jr., who has the fourth-highest grade for an offensive tackle this season (88.5), this Alabama offensive line has been one of the most impressive units this season and unquestionably warrants a fourth-place spot on this list.
The Crimson Tide, one of the more pass-happy teams in the SEC, have allowed a quarterback pressure on just 15.8% of passing plays, which ranks fifth out of 130 teams and fourth among Power-5 schools. To put this figure in perspective, the average pressure rate among all 130 FBS teams is 24.9%. Although it is arguably a quarterback metric, it is worth noting that the Alabama offensive line has not been deemed responsible for a single sack this season.
3. Ohio State Buckeyes
Ohio State has run one of the most prolific offenses this season, so it comes as no surprise that their offensive line finds itself on this list. Although quarterback Justin Fields has been thrust into the Heisman discussion this season, the area of play that the Buckeyes' offensive line remarkably excels at is run-blocking.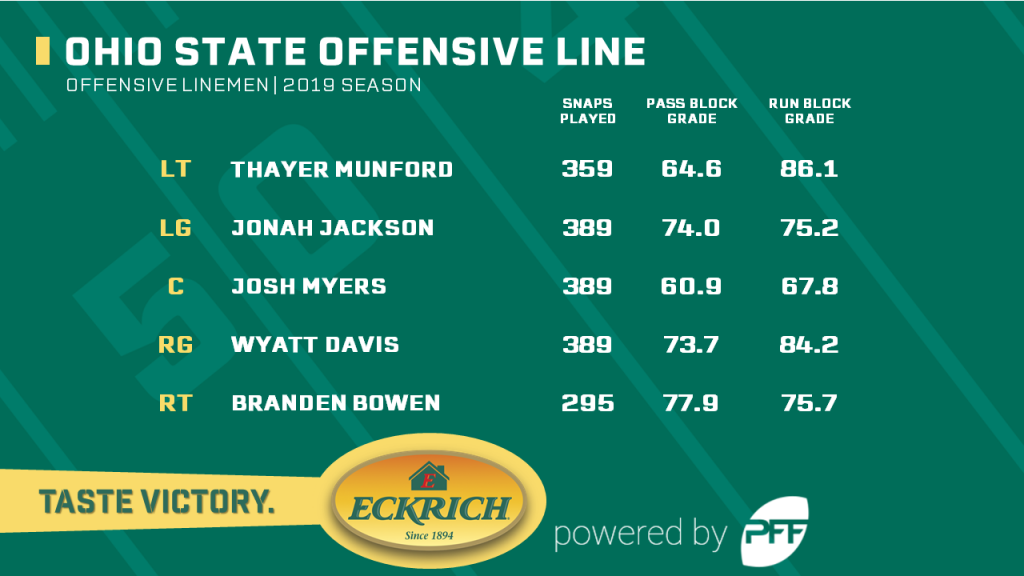 Offensive tackle Thayer Munford and guard Wyatt Davis have earned 86.1 and 84.2 run-blocking grades, respectively, this season — both of whom have been penalized just once. More impressively, this Buckeyes' O-line has aided its committee of running backs with positive yards before seeing first contact on 143 of 221 total rushing attempts this season.
A grueling early-season Big Ten conference schedule didn't slow down this bunch either. The offensive line surrendered eight or fewer quarterback pressures in each of the Buckeyes' three conference matchups this season (Indiana, Nebraska and Michigan State).
2. Georgia Bulldogs
The Bulldogs and Buckeyes tie for third in the Associated Press Top 25, but we'll go ahead and give the former the narrow lead in terms of offensive line talent. Georgia owns the top team run-blocking unit in the country (87.9), which running back D'Andre Swift has enjoyed toting the rock behind.
We've almost been a broken record this season detailing how impressive offensive tackle Andrew Thomas has been this season, but the tackle opposite Thomas, Isaiah Wilson, has been almost as effective in pass-protection this season. Wilson has surrendered just two total quarterback pressures has maintained the second-highest pass-blocking grade along the Georgia offensive line.
Perhaps the most impressive aspect of this unit is its depth. Eleven offensive linemen have recorded a pass-blocking snap this season, with seven of those players notching more than 50. Among those players, offensive guard Justin Shaffer has earned a staggering 86.4 pass-blocking grade as a result of surrendering zero pressures across 66 pass-blocking snaps this season.
1. Oregon Ducks
The Ducks headline this list with one of the most NFL talent-laden offensive lines in recent memory. Each of their five starting offensive linemen has earned a 65.0-plus pass-blocking grade, which is a tough feat to achieve in a Power-5 college football conference.
Each member of this group is worth highlighting, but the players that genuinely anchor this unit are the two offensive tackles manning the ends of the offensive line. Calvin Throckmorton and Penei Sewell have earned 82.7 and 85.3 pass-blocking grades respectively this season. In fact, Penei is the highest-graded offensive tackle in all of Power-5 football (91.7). The standout offensive tackle has also been penalized on a whopping zero occasions thus far.
As a whole, Oregon ranks top-10 in pressure percentage allowed (18.0%), which undoubtedly aids Justin Herbert as he adds to his NFL resume. It is challenging to find a metric that this Oregon O-line doesn't rank near the top in, which perfectly illustrates our reasoning in them owning the top spot in college football.