The college football season is nearing the midway point for most teams and after a full slate of games on Saturday, we at PFF and our team of over 500 analysts has dissected and graded every player on every snap of every game to bring you the most detailed and valid set of picks you can find anywhere.
The Week 6 Eckrich Team of the Week powered by PFF saw some impressive performances and, of course, the strength of opponent also factored into the overall selections as did the PFF player grades.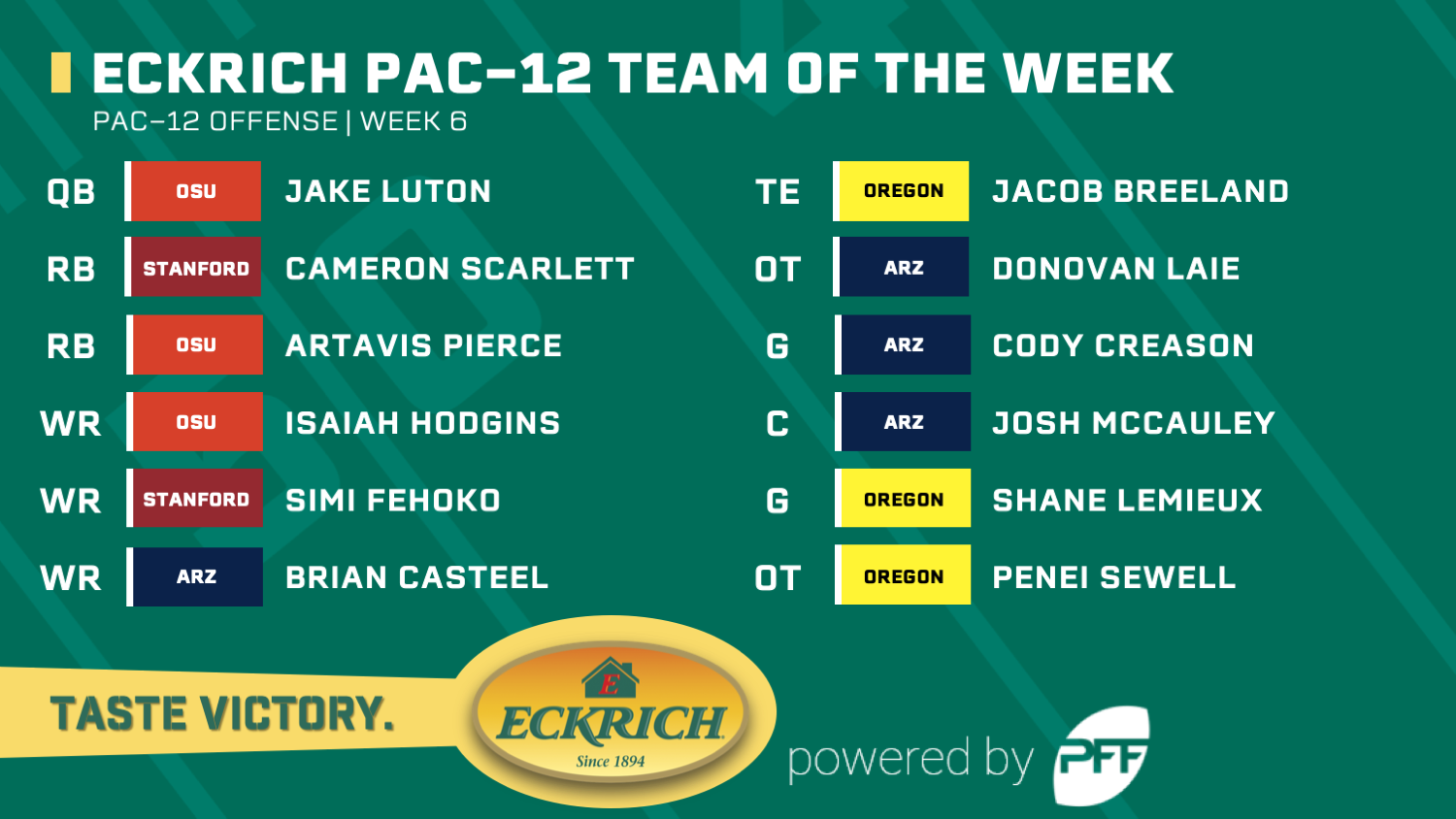 Quarterback
Jake Luton, Oregon State
Leading the nation with five touchdown passes (tying Joe Burrow and Ian Book), Luton dominated on seemingly every snap against UCLA, completing 18-of-26 passes for 285 yards while limiting himself to zero turnover-worthy passes. Of his eight incompletions, two of them were drops, two were thrown away intentionally, one batted by a defender at the line, giving him the nation's third-highest adjusted completion percentage (87.0%) on the weekend. A big-time game from a big-time player as the Beavers will be in need of this kind of day from their signal-caller as they get more into Pac-12 play to contend for a bowl game.
Second-Team QB: Khalil Tate, Arizona
Running Back
Cameron Scarlett, Stanford
Stanford knocked off 15th-ranked Washington despite missing starting QB K.J. Costello. Scarlett's career game was a key reason why, as he carried the rock 32 times for 141 yards and one touchdown, 110 of those yards were after contact and he also forced a conference-leading nine missed tackles, showcasing his elusiveness with the ball in his hands.
Second-Team RB: Demetric Felton, UCLA
Running Back
Artavis Pierce, Oregon State
Jake Luton may be getting most of the hype after the Beavers victory over the Bruins but that does not diminish what Pierce was able to do on the ground. He ran the ball 21 times for 114 yards and a five-yard punch into the endzone. Pierce rattled off 97 of his yards after contact on his way to the highest rushing grade in the conference.
Second-Team RB: Travis Dye, Oregon
Wide Receiver
Isaiah Hodgins, Oregon State
Hodgins continues to rattle off big-time catches for the Beavers despite coming away with only their second win of the season. Hodgins finished Saturday as the weekend's highest-graded receiver by some margin, hauling in all 10 catchable passes thrown his way for 123 yards and three touchdowns. He's a big-time reception machine and leads the country with 13 big-time catches so far this season.
Second-Team WR: Aaron Fuller, Washington
Wide Receiver
Simi Fehoko, Stanford
Fehoko only caught three of his six targets but made the most of his opportunities. He took those three receptions for 91 yards, two first downs, and a 42-yard scamper into the endzone during the first half. His performance rewarded him a passer rating of 135.4 when targeted, fifth in the Pac-12 among receivers.
Second-Team WR: Tony Brown, Colorado
Wide Receiver
Brian Casteel, Arizona
Arizona arose victorious in a 35-30 shootout against Colorado and Casteel benefited from the pass-heavy gameplan, hauling in seven of his eight targets for 74 yards and a touchdown. Tate continued to look Casteel's direction for a reason, as he gained 63 of his yards after the catch which led all receivers in the conference.
Second-Team WR: Kyle Phillips, UCLA
Tight End
Jacob Breeland, Oregon
Breeland has been one of Justin Herbert's favorite targets all season and continued to be so in Week 6. He was the most-targeted tight end in the conference with seven and nabbed five catches for 87 yards. Four of his receptions picked up first downs, showing his ability to make valuable plays even against a stout Cal defense.
Second-Team TE: Brady Russell, Colorado
Offensive Tackle
Donovan Laie, Arizona
Laie not only finished with the second-highest pass-blocking grade in the conference but he tied for the fourth-highest in the nation. He didn't allow a single pressure on 41 snaps in pass protection, granting his quarterback plenty of time to light up the Colorado secondary.
Second-Team OT: Calvin Throckmorton, Oregon
Offensive Guard
Cody Creason, Arizona
Another Wildcat on the list, Creason was solid in the passing game, forfeiting just one total pressure on 41 pass-blocking snaps. He also contributed in the run game, posting the highest run-blocking grade among all guards in the conference.
Second-Team OG: Bryson Cain, Arizona
Center
Josh McCauley, Arizona
The last Arizona lineman to crack the Team of the Week, McCauly gave up zero pressures against the Buffaloes defensive front on 41 pass-blocking reps. His performance rewarded him a tie for the fifth-highest pass-blocking grade among all centers in the nation.
Second-Team C: Nick Harris, Washington
Offensive Guard
Shane Lemieux, Oregon
His second time gracing this list, Lemieux had yet another stellar game for the Oregon offensive line. He allowed two total pressures on 38 reps in pass protection and had the fifth-best run-blocking grade among guards in the Pac-12.
Second-Team OG: Luke Wattenberg, Washington
Offensive Tackle
Penei Sewell, Oregon
No surprise to see another Duck here, Sewell posted a top-10 pass-blocking grade among tackles in the conference, conceding two pressures on 38 pass-blocking snaps. He also was dominant in the running game, as he tied for the third-best run-blocking grade among tackles in the conference.
Second-Team OT: Jared Hilbers, Washington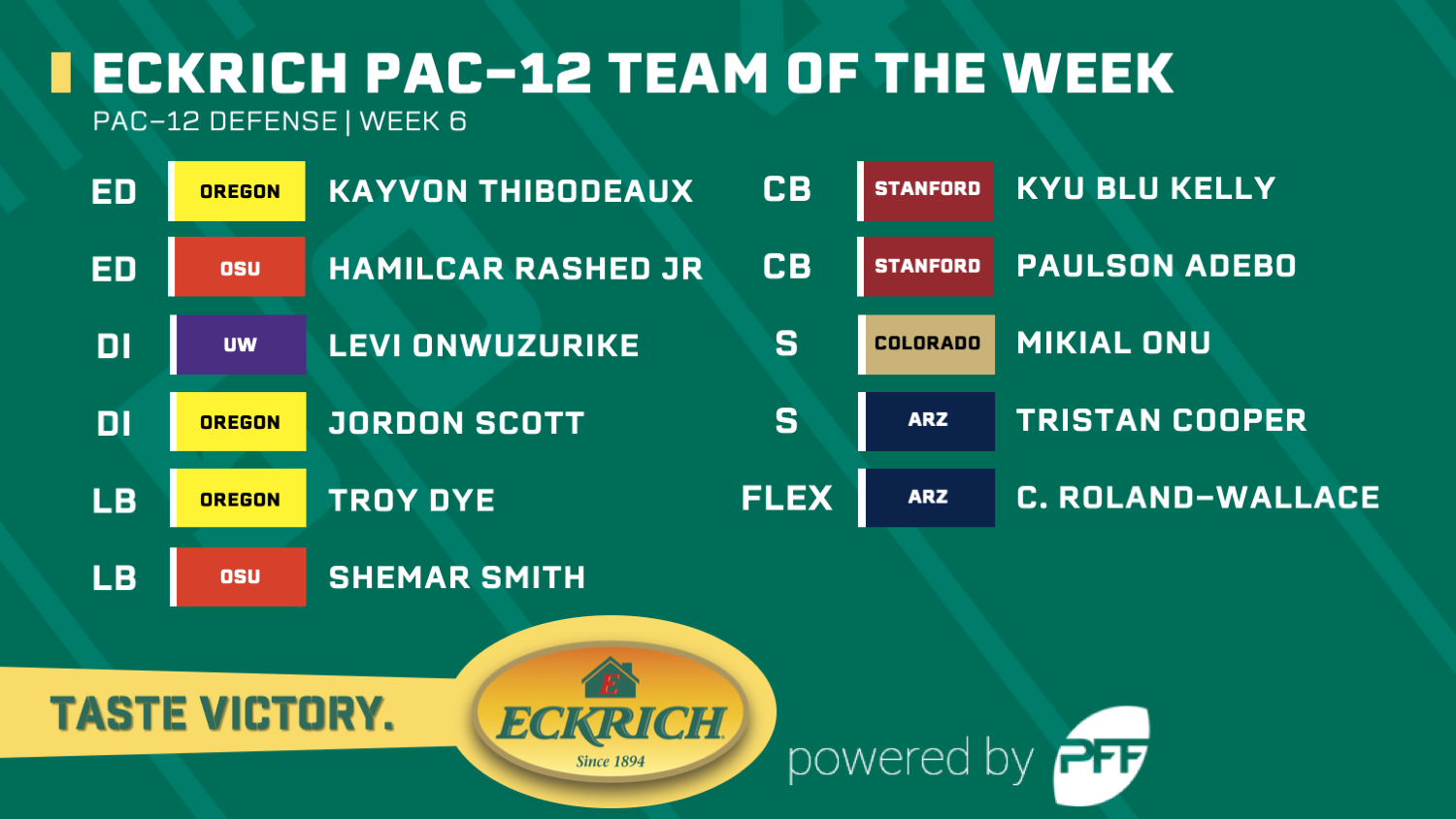 Edge Defender
Kayvon Thibodeaux, Oregon
Thibodeaux was explosive off the edge in limited snaps, wreaking havoc on Cal's offensive line. He had three total pressures, two of which were sacks, on just 15 pass-rush snaps. He posted an elite pass-rush grade which was not only best in the conference but tied for sixth in the nation among all defensive players.
Second-Team Edge: Gus Cumberlander, Oregon
Edge Defender
Hamilcar Rashed Jr., Oregon State
The Beavers defensive front generated 14 total pressures; Rashed Jr. had half of those on his own. He totaled seven total pressures and batted a pass off the edge, also contributing against the run with five defensive stops which were third-most from edge defenders in the conference.
Second-Team Edge: Casey Toohill, Stanford
Defensive Interior
Levi Onwuzurike, Washington
Onwuzurike makes his second appearance of the season so far and this will almost certainly not be his last. He dominated up the middle, generating three total pressures and four defensive stops. His pass-rush grade was top 10 in the nation for interior defensive lineman and his run-defense grade was even better, ranking second.
Second-Team DI: Luc Bequette, Cal
Defensive Interior
Jordon Scott, Oregon
Oregon's defense had a commanding outing, albeit against a Bears team without their starting quarterback, and the defensive line deserves a great deal of credit. Scott required constant double teams and he still had three hurries against the pass and posted a run-defense grade that was second-best among defensive interior players in the conference.
Second-Team DI: Josiah Bronson, Washington
Linebacker
Troy Dye, Oregon
From his linebacker position, Dye contributed all over the field. He was able to cause three hurries, three defensive stops and was even impressive in coverage, allowing one reception on one target for two yards. Dye also nabbed an interception early in the fourth quarter, effectively ending the game for the Bears.
Second-Team LB: Kuony Deng, Cal
Linebacker
Shemar Smith, Oregon State
Despite the loss, the Bruins were able to put 31 points against the Beavers defense but Smith was not to blame. He was key in all facets of the defense, having one sack and one hurry on nine pass-rush snaps, a conference-leading seven defensive stops against the run and allowed just 14 yards on four receptions in coverage.
Second-Team LB: Isaac Slade-Matautia, Oregon
Cornerback
Kyu Blu Kelly, Stanford
Stanford's secondary was stout against Jacob Eason and the Huskies passing attack Saturday night. Kelly was targeted eight times and only allowed three receptions for 42 yards. He also snatched an interception and forced a pass breakup en route to an outstanding passer rating allowed of 15.6 and the second-highest coverage grade in the conference.
Second-Team CB: Elijah Molden, Washington
Cornerback
Paulson Adebo, Stanford
Fellow Stanford cornerback, Adebo bounced back from a recent slump that saw him allow a passer rating over 104.0 since his stellar Week 1 outing. Against Washington, he was targeted seven times and conceded just three receptions for 46 yards. Adebo forced two pass breakups and finished the evening with a 65.2 passer rating when targeted.
Second-Team CB: Isaiah Dunn, Oregon State
Safety
Mikial Onu, Colorado
Onu only played one half of football against Arizona, so him making this list shows how impactful his performance was. In 14 coverage snaps, he was targeted four times and gave up two receptions and despite a touchdown allowed, Onu also had an interception and a pass breakup on the night in which he posted the third-highest coverage grade among all defenders in the Pac-12.
Second-Team S: Ashtyn Davis, Cal
Safety
Tristan Cooper, Arizona
The Arizona defense allowed 30 points and 496 total yards against Colorado, but the secondary had a couple of players have stellar performances. Cooper had the second-best tackling grade in the conference as he racked up nine tackles and did not miss a single attempt. He was also strong in coverage, allowing four receptions on six targets for 34 yards, not giving up a big play over the top.
Second-Team S: Malik Antoine, Stanford
Flex
Christian Roland-Wallace, Arizona
The other Wildcat defensive back was Roland-Wallace who did his best to limit the oppositions passing attack. He was targeted just two times on 23 coverage snaps, allowing one reception for seven yards and causing a pass breakup on the other. His coverage grade was top 10 in the conference and best on Arizona's defense.
Second-Team Flex: Nick Pickett, Oregon